Boldness is the word for this year! Check out 12 Memphis rugs that will complete any interior with boldness and irreverence.
There is no doubt that this is going to be a bold year – the interior design predictions – including the color for this year, indicate that boldness is going to be the word that better translates 2023. To match these tendencies, many interior design movements can give the bravery hint that the year needs and Memphis is one of these daring styles.
Memphis style is one of the well-known design movements, combining Pop Art, Art Deco, and a dash of 1950s aesthetics; it's iconic and is perfect for creating irreverent interiors. The style known for its colorful furniture, geometric pattern, and bright interiors has inspired many rug designs that can give the bold touch that this year and the interiors are asking for.
Are you ready to discover 12 Memphis rugs that will inject the energy that your project needs? So scroll down to explore the best pieces by room.
Memphis Rugs
Even though we have an exclusive article about Memphis rugs, it's' always essential to underscore that the pieces we call Memphis Rugs are inspired by the Iconic Style and feature some of its characteristics, which is why they are so perfect. Unlike the Memphis Style that can, sometimes, be too much, the rugs inspired by this movement can add a hint of boldness without overwhelming a space.
Memphis rugs have the right amount of boldness, irreverence, and usability – they have bold shapes, vibrant colors, or graphic shapes that can be incorporated into several interior design styles. Besides the brave touch, there are many reasons to include those pieces in your design choices – to add a pop of color or create more visual appeal. But the truth is that Memphis rugs can make the statement that any room needs.
As we noticed, boldness is once more in vogue, and if you need to inject it into your upcoming interior projects, maybe you need to find the perfect Memphis rug to make it for you, read on to discover it.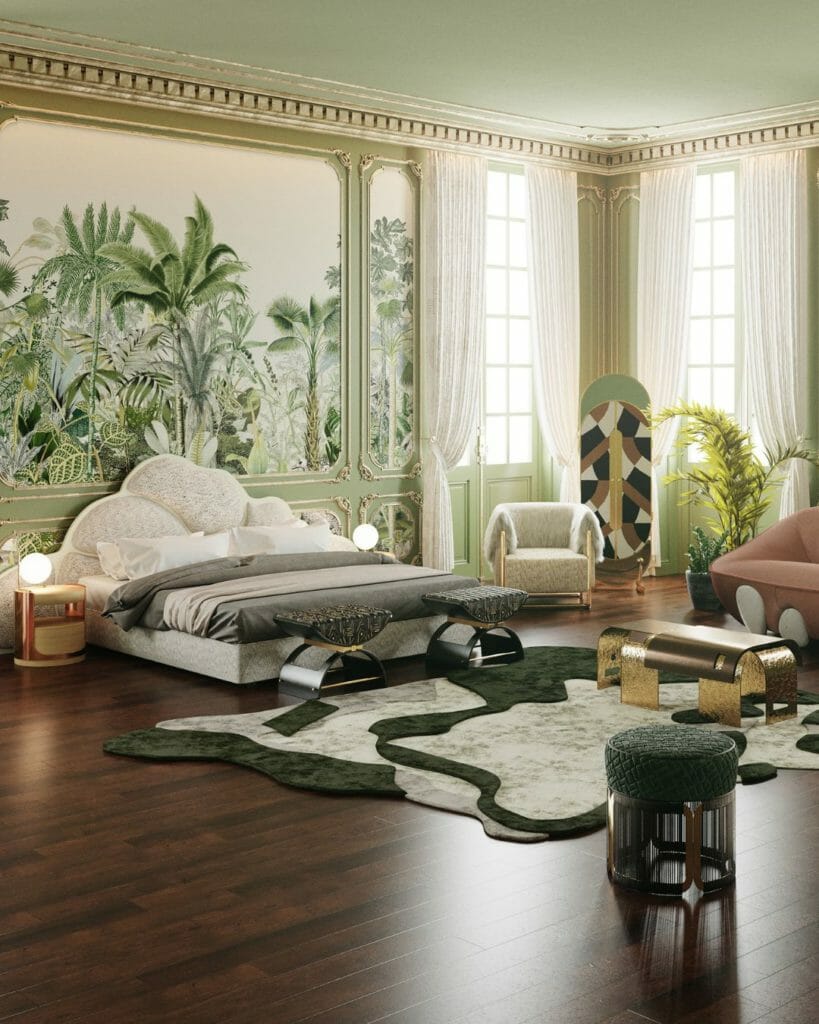 Best Memphis Rugs by Room
To help you to activate a bold and daring look – we have selected the best Memphis rugs for each room division of your interior design project. Check it out and get ready to embrace boldness.
1- ENTRYWAY
For a remarkable first impression, a Memphis rug can add the irreverent vibe that your project entrance needs.  So, roll out a Memphis-inspired piece to provide a red carpet feeling for your interior project that will make everyone feel like entering a stunning space. To match different interiors, we have selected three rugs: TAPIS Magenta #14, which highlights the bold Pantone color of 2023; TAPIS Shaped #23, a bold rug with charming hues and the TAPIS Essential #05, which proves that basic shapes are also irreverent.
2- DINING ROOM
In the dining area, a Memphis rug can help to add more visual appeal and make dinner time much more glamorous. Besides improving the aesthetic, a carpet in the dining room works as a sophisticated floor covering and protects it from scratches and permanent damage. Our selection of rugs for the dining room includes the TAPIS Magenta #12, a piece with a bold color to make the room stand out; the TAPIS Pastel #10, to complete a neutral project while adding more visual appeal with the curvy shape and the TAPIS Shaped #06, rug with solid colors and bold shapes that add a luxury feel to where it is placed.
3- BEDROOM
The bedroom must be the quietest room in the house. The color, materials, texture, and even scents of your main room design may (or may not) set the perfect ambiance for relaxing and recharging. Even though this space asks for an extra dose of coziness, with a Memphis rug, it is possible to make it both – bold and comfortable. As this room requires a relaxed vibe, our selection of rugs includes the TAPIS Shaped #39 for a pop of color, the TAPIS Shaped #47 with green tones that will embrace the space with peaceful vibes, and the TAPIS Essential #06 to create a charming atmosphere.
4- LIVING ROOM
Rugs for the living room are the perfect addition for a comfortable feeling and a stunning aesthetic – there are many reasons to add these pieces – from helping to pull the room together to make it more comfortable; the fact is that a living room asks for a rug. Memphis rugs can be the perfect addition to a living room because it is one of the home spaces that allows you to explore creativity and go for a really extra. Our selection will make you go beyond and inject the boldness and creativity that this room needs; for that, we choose the TAPIS Shaped #50, TAPIS Magenta #03, and TAPIS Shaped #07.
5- WALL
Ok, we know that wall isn't exactly a room division, but it deserves to have its selection o Memphis rugs – because there is nothing more irreverent than a Memphis rug on the wall to add a surprisingly great impression to your interior design projects. In our selection of Memphis rugs for the wall, we highlight some of our art pieces that will shine up your projects, starting with the TAPIS Shaped #57 and its bold colors that will add the right amount of visual interest to your projects. We also featured in our selection the TAPIS Shaped #56, which will have strong patterns inspired by the Memphis style, and the TAPIS Shaped #32, showing that a geometric rug can stand out.
For each room, there is a Memphis rug that adds a touch of boldness to make it even more beautiful! We hope you have enjoyed our curated selection of pieces and found the perfect one to make your next interior design project stand out. For more Memphis rugs, check out our models inspired by this iconic style.