Ready for a touch of boldness? Discover five amazing ways to improve your project with a Memphis design rug.
Memphis rugs are the perfect choice to add an irreverent and bold vibe to any interior – inspired by the iconic Memphis Style; these pieces highlight bold shapes, intense colors, or graphic shapes. Memphis design rugs can improve any interior and make it stand out with its stunning features and cool aesthetic.
From living rooms to entryways – Memphis rugs will add more interest to any space with their bold characteristics, organic shapes, and intense colors. To help you improve your following layout with boldness, in this article, we will share five ways to add a Memphis design rug to your interior design project. Read on for bold inspirations.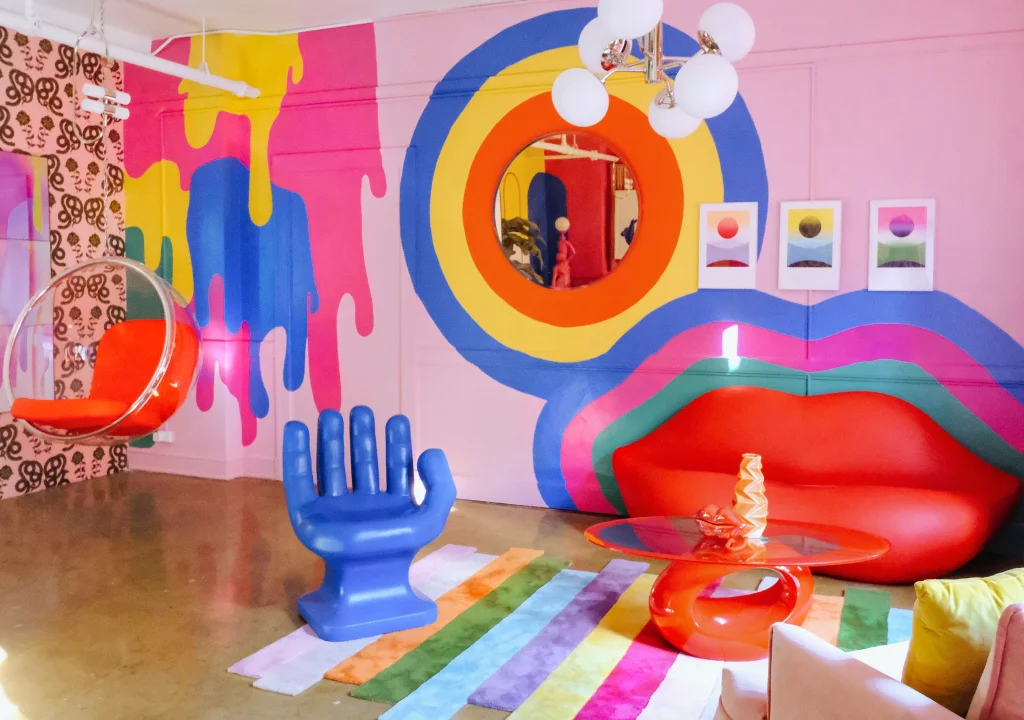 Why Choose a Memphis Design Rug?
Memphis rugs are beautiful and bold pieces that can add the right amount of interest that your room needs, but other reasons make these rugs just perfect to any interior layout; check out some of them:
1 – TO ADD A POP OF COLOR
From bold color combinations to strong hues, Memphis rugs can be an excellent way to add a pop of color to any interior design project. In a neutral layout, it can be used to color the interior, or in a maximalist interior; it can help create a kaleidoscope vibe.
2- ADD CURVE APPEAL
Thanks to their bold and irregular shapes, Memphis rugs can be the ideal choice to add curve appeal to your interior design project and give it a movement sensation and daring aesthetic. Adding a Memphis design rug with round shapes and bulky silhouettes; will add warmth and flow to any room.
3- TO PLAY WITH DIFFERENT PATTERNS
The iconic Memphis style is known for its colorful furniture, amazing prints, and irreverent shapes. The rugs inspired by its style also feature some of these characteristics – such as different patterns. Adding a Memphis-inspired rug to your layout will allow you to play with patterns and create a bold aesthetic.
4- TO CREATE MORE VISUAL INTEREST
Thanks to its bold features, such as strong colors and playful shapes, a Memphis design rug will add a layer of comfort, beauty, and visual interest. The pieces inspired by the iconic Memphis style translate some of the movement's stunning characteristics and share them with where they are placed.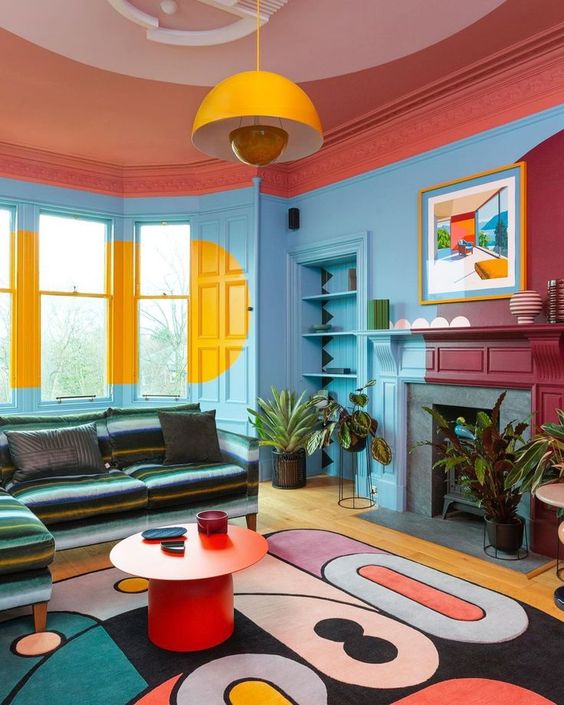 How to Incorporate a Memphis Rug?
Memphis rugs are stunning pieces inspired by the iconic movement that revolutionized the interiors with colorful objects, playful shapes, and bold patterns and which can add more visual appeal to any interior thanks to their strong references and connection with the Memphis Style.
As we saw, there are many reasons to add a Memphis rug to an interior design project, from providing more color, curve appeal, and patterns to creating visual interest; this piece will perfectly give the bold touch that any project needs. Read on to discover tips for incorporating this unique rug into your interior design project.
1 – IN THE ENTRYWAY TO CREATE A REMARKABLE FIRST IMPRESSION
When discussing home layout – we all agree that the first impression is one of the most important, and that´s why when designing the entryway, we should give a remarkable first impression, from a striking welcome to the homeowners to an impressive reception to the visitors. Memphis rugs are bold pieces with irreverent shapes that can be combined with your home layout to create the remarkable first impression it needs.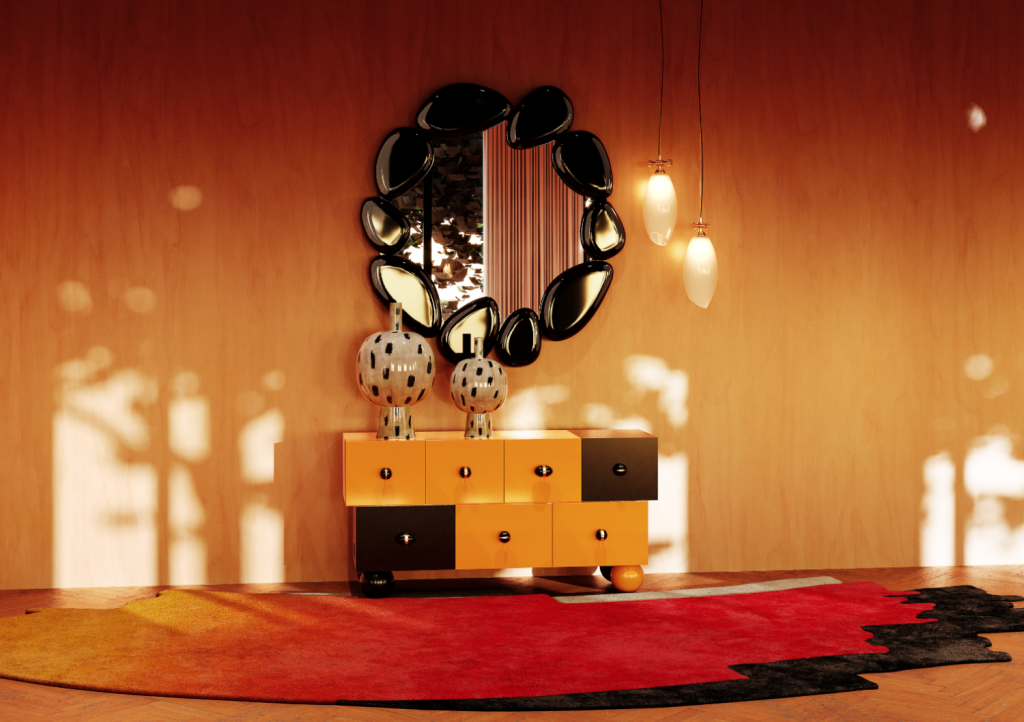 2 – IN THE DINING AREA TO HIGHLIGHT THE SPACE
Food tastes better without shoes on – that´s why we always say that rugs under the dining table are an excellent addition to any dining area. A rug under the dining table can help to improve the room's coziness and delimit the dining area. For an extra dose of bravery – a Memphis design rug can be the better option to add movement and boldness.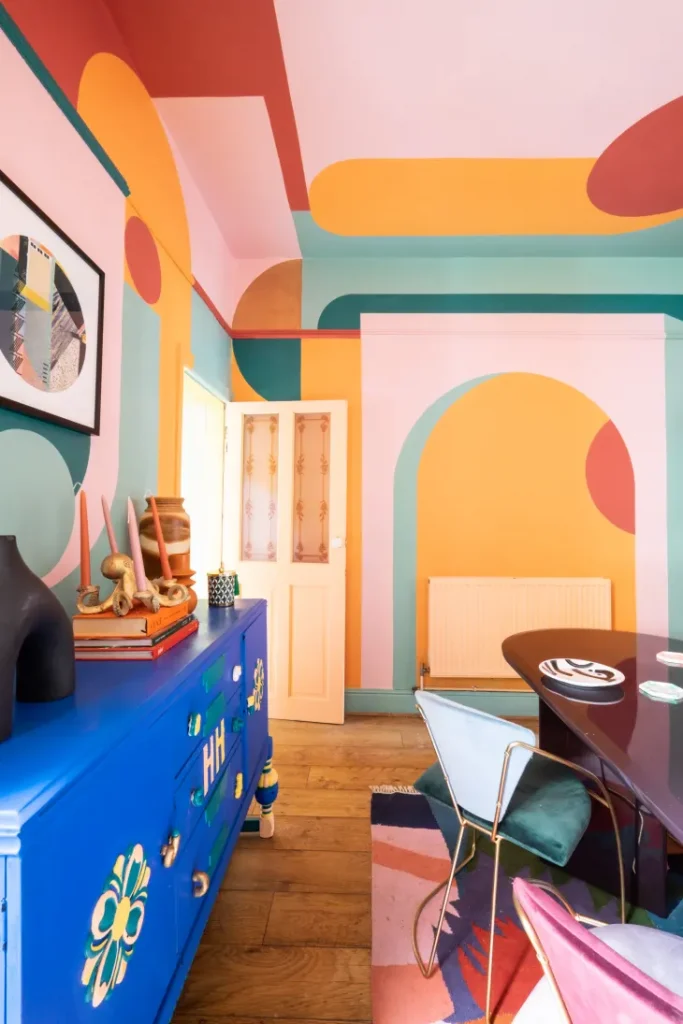 3- IN THE BEDROOM TO ADD AN EXTRA LAYER OF COMFORT
The bedroom is one of the important spaces of any home – everyone goes to find a peaceful atmosphere and refill their energy after a busy day. To create a relaxing space – an extra layer of comfort is always welcoming, and when it comes in the form of a stunning and bold rug, it is even better. A Memphis rug in the bedroom will improve its comfort and add a touch of boldness to highlight the room.
4- IN THE LIVING ROOM TO ADD A POP OF COLOR
Another way to add a Memphis rug to your interior design project is by adding a pop of color to a specific room – thanks to the bold hues, this piece will brighten up the space without the need for other colorful objects. The rug for itself can be the room's star and add the amount of color and boldness it needs.
5- ON THE WALL FOR AN IRREVERENT LOOK
For an irreverent look – a rug on the wall can bring a surprising and bold vibe to your interior design projects. But when you add a Memphis design rug to your wall, you can multiply the boldness and make it stand out. Hanging a Memphis rug on the wall is equal to hanging a piece of art but with a bold touch.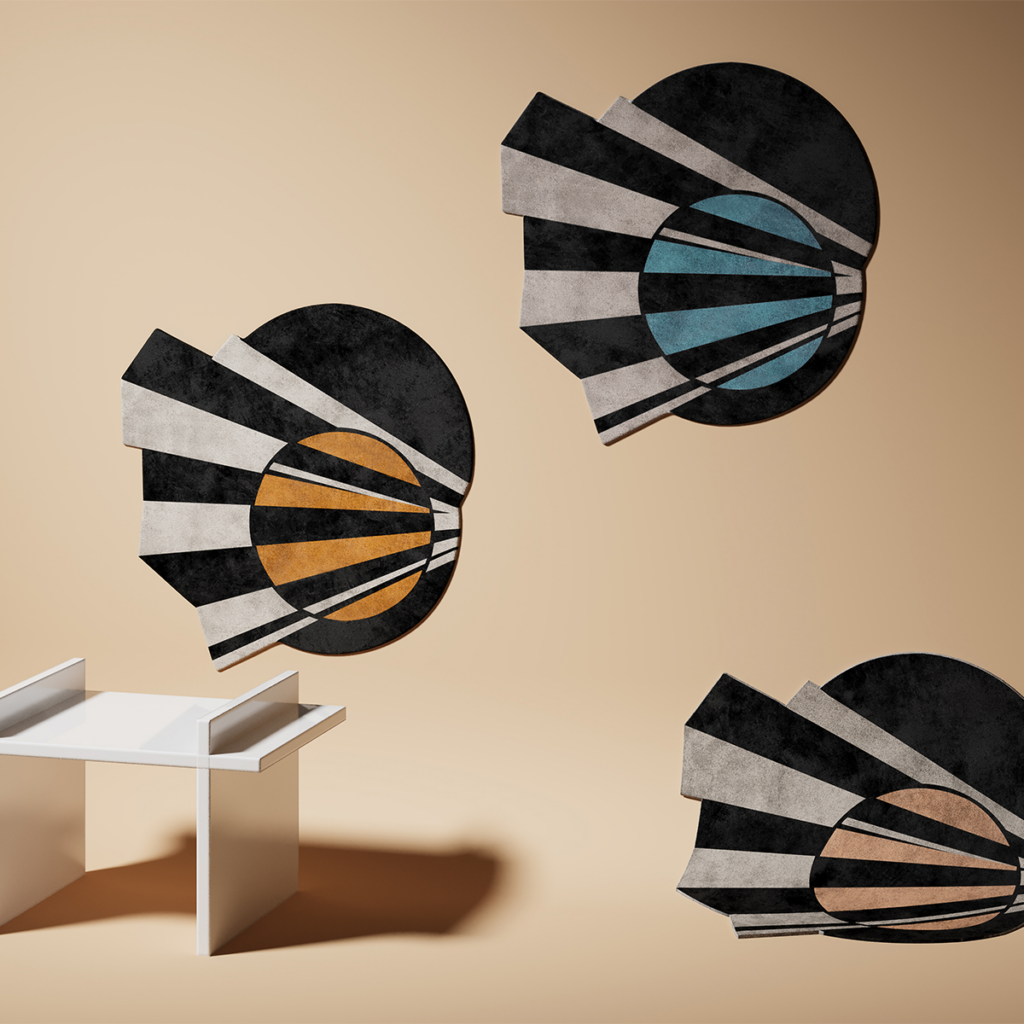 Wow! After these beautiful inspirations of how to add a Memphis Design rug to your interior design project, you must be inspired to create remarkable interiors where the bold touch of this piece will make it stand out, so enjoy checking out 12 Memphis Rugs That Will Add The Boldness Touch That Your Project Needs.