A touch of boldness, please. The Memphis style shows that going extra is never too much – and the rugs inspired by this movement are the best way to add personality to an interior.
A touch of boldness is always welcome in an interior design project – even in minimalist interiors, there is space for statement pieces to make the room more attractive. Sometimes you want to add a wow factor to make your layout stand out – one of the best ways is by adding a Memphis-style inspired rug.
The Memphis style is one of the most iconic design movements and merges Pop Art, Art Deco, and a pinch of 1950s aesthetics. Famous for colorful furniture, vibrant interiors, and geometric patterns, this style has inspired many rug designs.
Even though the style is associated with bold interiors, and when we talk about Memphis style rugs, we are not talking about just incorporating these pieces in brave interiors, but adding some touches of boldness in any layout by using pieces that search the inspiration in a beautiful and unique design style.
A Memphis rug pays homage to the Memphis style and can be the best way to add a touch of personality and boldness to any interior design project – which means that it can be used to complement many styles. In this article, you will discover what is a Memphis Style Rug and the iconic movement that inspired it. Read on to learn more.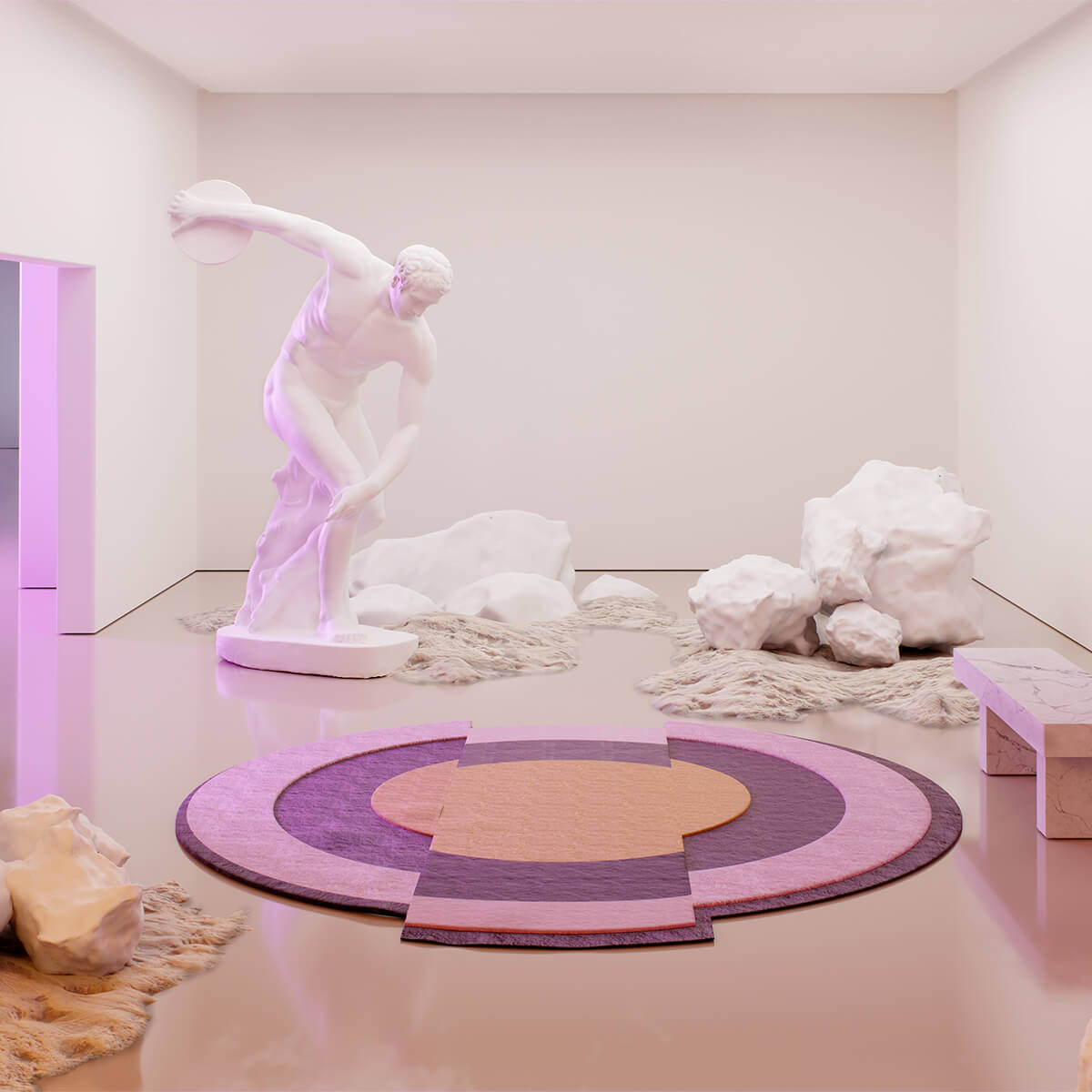 What is Memphis Style?
Before understanding what a Memphis-style rug is, we will make a short stop to comprehend more about the style that has inspired the incredible designs that add an extra layer of boldness and comfort to the floors (and walls).
Memphis is a striking design movement that emerged in opposition to the linear mid-century modern style of the 1950s and 1960s and the minimalism of the 1970s.
The movement emerged with Memphis Milano, a famous collective of architects and interior designers founded by Ettore Sottsass that revolutionized the design world between 1981 and 1987. Working as an anti-design style, Memphis Milano Collective produced unorthodox furniture with a 20s Art Deco and mid-century Pop Art influence.
The style uses bold shapes, round borders, surprising color combinations, geometric shapes, and black-and-white graphics. Iconic and bold, it´s almost impossible not to recognize the Memphis style. Besides its strong characteristics, the movement has inspired many creations that didn't necessarily follow all the bold features.
Following the success of the Memphis movement, it has impacted many furniture designs, home layouts, and – of course, stunning rugs. Scroll down to enter the world of Memphis rugs and discover more about these pieces.
What is a Memphis Style Rug?
The Memphis movement is daring and can brighten up interiors with many graphic references, glowing colors, and audacious shapes; this vibrant style is the source of inspiration for rugs that dare to be bold and make a statement wherever it is placed.
The Memphis rugs are pieces with boldness and irreverent features – which can be bold shapes, strong colors, or graphic shapes. Unlike the Memphis Movement, the Memphis-inspired rugs didn't follow all the rules of the style but got slight references that can be combined in different home styles.
The iconic elements of Memphis design, like geometric shapes and bright colors, are again in vogue. The rugs inspired by Memphis add color and pattern to any interior and make it stand out, showing that going extra is never too much but a way to add more personality.
Characteristics
Inspired by the Memphis movement, the pieces that follow this style can bring more visual interest to any interior design project by highlighting some of its main characteristics with a new approach – bold but at the same time easy to be combined with other references. To help you understand these pieces, check out the main characteristics of a Memphis-style rug:
BOLD SHAPES: Rugs inspired by Memphis style feature stunning and bold shapes that give these pieces a unique and irreverent design. Dynamic Shapes coordinate the room, resize objects, and alter your perception of space and can be the perfect choice to add the touch of boldness that your room needs.
STRONG COLORS: Memphis style usually highlights strong colors, such as blue, yellow, orange, and red. The eclectic color palette is usually paired with neon, pastel colors, and neutrals hues. Memphis rugs feature surprising color combinations and bold hues, making these pieces the statement element any room needs.
Summarily, Memphis rugs find in the Memphis Style the inspiration to create stunning pieces that feature bold shapes, strong hues, and incredible patterns to create art pieces that can add visual interest to any room. Unlike many people think, these pieces can match different styles – from Minimalism to Hollywood Regency.
Now that you know what Memphis style rug is, enjoy discovering five ways to add a Memphis rug to your interior design project.