Who said that rugs are only for the floor? The new rug trend shows that rugs are also for the walls. Discover everything about wall rugs in this article.
There is no place where a rug can´t be – from the walls to the floors, a beautiful rug is always an excellent addition to any interior design project. Following the bold interior design tendencies, we see more rugs highlighting the walls, showing that rugs are not just for the floor but for everywhere.
With irreverent shapes, textures, and incredible ranges of colors – wall rugs come to stay. In this article, you will find everything you need to know about wall rugs; keep reading to discover one of the beautiful ways of adding a rug to your interior design project.
Wall Rug
A rug is a piece of fabric that usually has a nap or pile of synthetic or natural fibers; it is used as a floor cover or as a decorative statement piece. A rug can have different shapes, sizes, and types and can be used as a stylish element of a home or to delimitate a specific area.
Rugs highlight different processes and techniques, which make them art pieces. Like the paints on the walls, a rug also has a sense of originality, a beautiful aesthetic, and craftsmanship. Wall rugs emphasize that rugs are not just pieces to add comfort to a home but also statement elements that can add the personality that a room needs.
Wall rugs are trending in the interiors worldwide, providing boldness and highlighting that rugs are pieces of art that can the star of any space. But this way of placing a rug is not new; if you pay attention to the palaces around the globe, you will realize that wall rugs were always a way to adorn the interiors.
In the Middle East, for example, wall rugs have been used for ages to decorate the interiors because they were always seen as art pieces, so hanging them on the wall was natural, as with paints. But more than highlighting the artwork behind a beautiful rug, there are other reasons to hang a rug on the wall. Are you ready to discover? keep scrolling and discover the reasons to have wall rugs.
Reasons to have Wall Rugs
Wall rugs are a beautiful way to add a rug to your interior design project, but besides boosting your layout aesthetic, it also has many benefits. We will share some main reasons why you should have wall rugs in your next interior design project.
It is not only on the floors that the rugs can improve the coziness of a room; when you hang a rug on the wall, you can also take advantage of the warming feeling that this piece can bring. So, if you want to increase the cozy mood in your layout, you should consider having a rug on the wall.
Wall rugs can create a bold and surprising impression, making a statement in any room. Even though rugs on the wall are trending in interiors, it´s not an average way of using them, so when people see wall rugs, they usually get impressed. Besides, it can also be an excellent way to add personality to a room. To make a statement, you can consider different types of rugs, geometric to boost the boldness, colorful to add the pop of color that a space needs, or pastel to create a calm vibe.
3. Sound-absorbing properties
Rugs are made of delicate materials that look good and feel better; this layer of fabric absorbs footsteps and noise waves. When we place rugs on the wall, we can also take advantage of their sound-absorbing properties. It can help isolate the room's noise and reduce its echo.
4. Adding texture to a wall
From a blank canvas to an impressive one. Wall rugs can add texture and make your layout even more attractive. Besides, it also helps to improve the room's dimension.
Besides being a stunning addition to any room, now you know that wall rugs can also improve the comfort of any room. Isn't that perfect? To complete what you must know about rugs on the wall, we will share how to hang a rug on the wall; keep reading.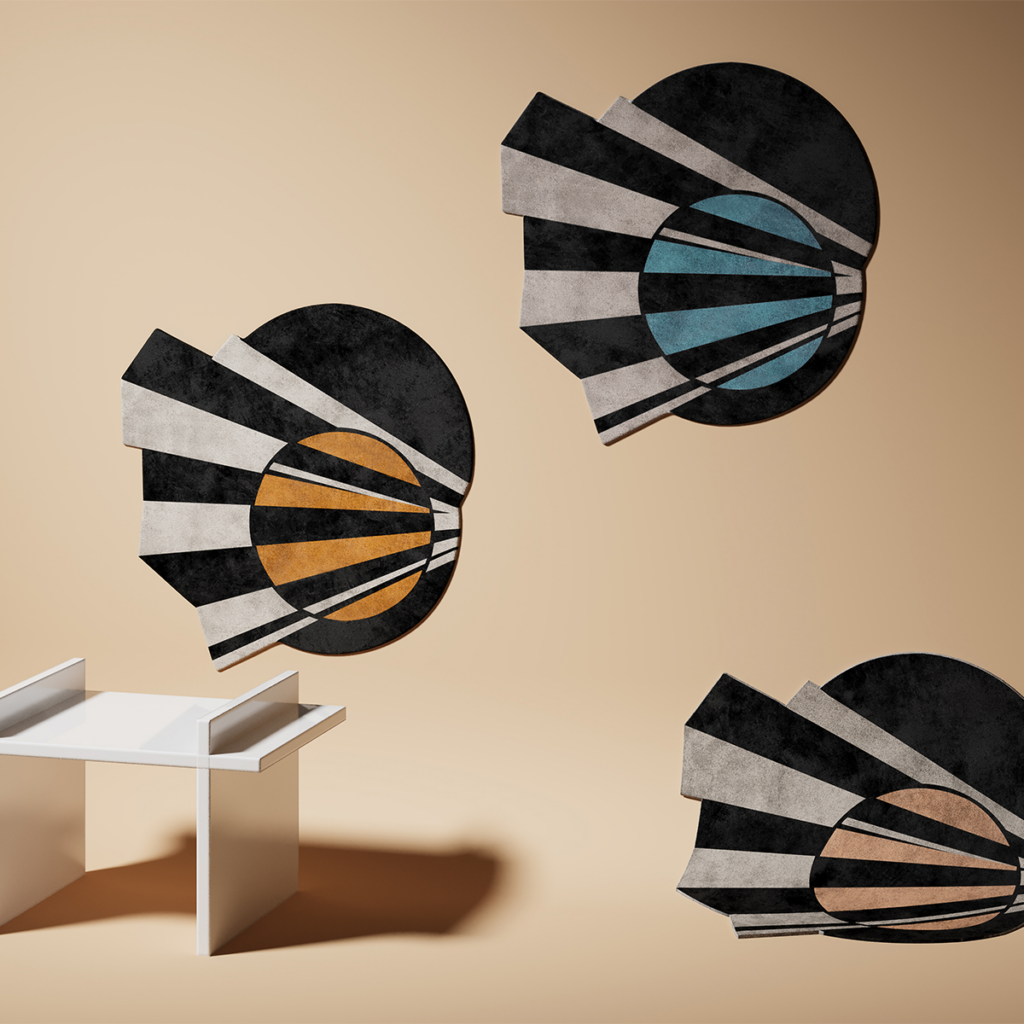 How to Hang a Rug on the Wall?
Now, you have all the reasons to add a wall rug to your next project. But we still have something to share; finishing everything you need to know about wall rugs, we will share how to hang a rug on the wall.
But before hanging a rug on the wall, you should pay attention to three important aspects:
Size / Weight: the size and weight of your rug will determine your hanging technique.
Sunlight: as a caution and to prevent fading over time, it´s important to avoid direct sunlight or heating duct.
Damage: The best approach to prevent rugs from fading and deteriorating is to keep them off the floor. However, the colors and fibers in your rug may be permanently harmed if you use a safe method. Below we will share some secure ways to hang a rug on the wall.
Best techniques to hang wall rugs
Velcro
Velcro is one of the most common solutions to hang wall rugs and one of the best; it is easier to apply and does not damage the rug. To use this technique, one of the velcro sides is applied on the backside of the wall, and the other goes on the rug. When using this technique to hang a rug on the wall is important to use enough velcro to secure the rug.
Carpet Clamps / Clips
Another common technique to hang rugs on the wall is with rug clamps or rug clips, frequently used in museums and rug stores. Rug clamps only have one disadvantage: the weight of the rug is distributed unevenly, and the shape may eventually be damaged. However, the clamp technique is a classic way of hanging rugs and gives them a luxurious appearance.
This article gathered some of the main things you need to know about wall rugs- from their benefits to how to hang rugs on the wall. Now, you can look at some beautiful rugs to get inspired to add a wall rug to your next interior design project.