Irregular shapes, layered rugs, eco-friendly pieces, and a retro flair are some of the rug trends for 2023. Discover 8 trendy rugs for next year.
Following the changes of the atypical times of the last years, our houses have changed – and for the next year, the interior decor trend will concentrate on comfortable and maximalist interiors.
It's time for more – more colors, more textures, and more coziness. 2023 promises to be a year where bold interiors will trend, together with comfortable choices. And what matches a comfy and bold home? A rug, of course.
Regarding rug trends for 2023, we can expect more colors, irregular shapes, layered rugs, eco-friendly pieces, and rugs with retro flair trending in interiors worldwide. But if you want to be into the tendencies for the next year, keep scrolling cause we will highlight everything we can expect for 2023.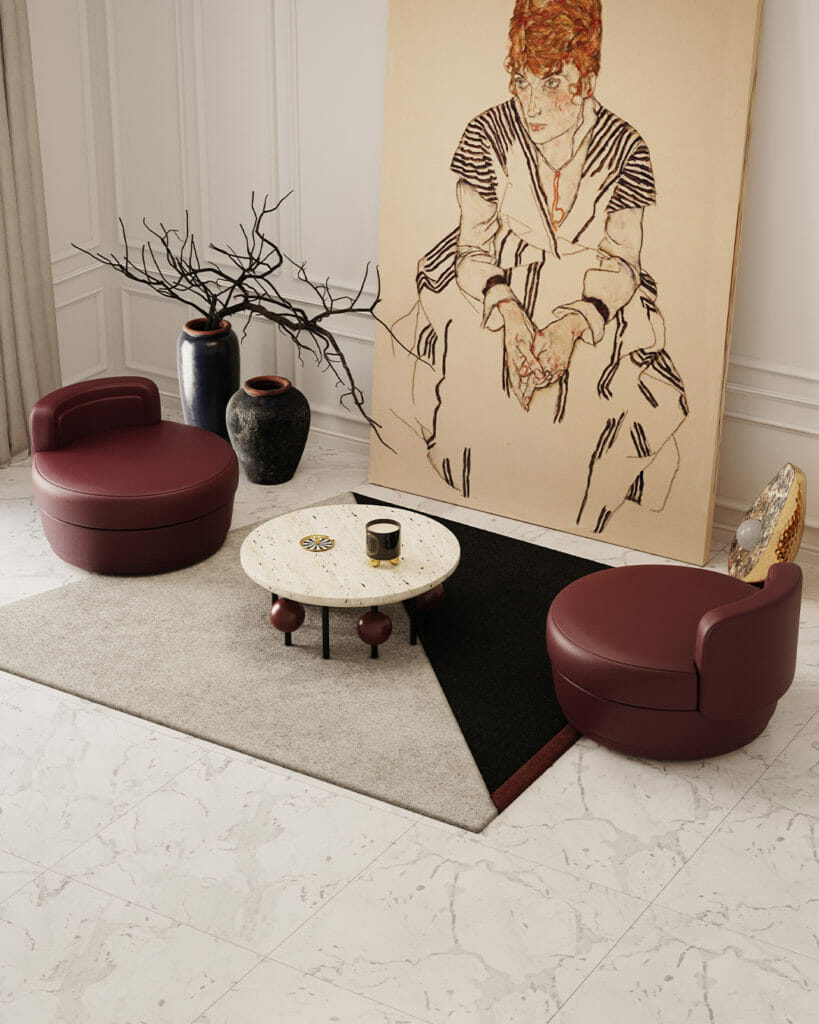 1. Color Block
Timelessness is the trendiest – and some rug trends for 2023 are proof of it. Color block is a rug trend that always comes back to complement sophisticated interiors.
This bold trend combines two or more colors, creating a playful visual composition. We usually find color block moments on walls and furniture, but the rug trends for 2023 take this strong juxtaposition of pigments all over the floor. Color block rugs will trend in interiors and make the floor the star of any space.
If you aim to follow this rug trend in 2023, geometric rugs will highlight contrast and amplify the 'wow' effect that color block rugs tend to create. However, this home decor trend for 2023 can be a bit overwhelming. For that reason, combine the colorful rug with neutral colors.
2. Eco-friendly
More than a trend, eco-friendly is a way of living. Both homeowners and interior designers are paying more attention to the materials, the processes, and the people making the fitouts of their homes and interior design projects.
The rug trends for 2023 reveal a concern about the environment and an adaptation of a home that cares about the world's legacy. Following this, eco-friendly rugs are trending in interiors, showing that it's possible to have good items for the environment that also can make any home more fashionable.
Produced ethically, eco-friendly rugs can be divided into two categories: natural fibers and man-made. Natural fibers, such as cotton, botanical silk, and wool, are biodegradable. The man-made fibers of eco-friendly rugs are made from the ocean and plastic waste, such as Econyl. Furthermore, man-made fibers that are eco-friendly can also be recycled and gain a whole new life.
3. Handcrafted
Authenticity is one of the words for 2023 – bold, maximalist, and authenticity interiors are trending worldwide. Following the seeking for genuineness, handcrafted rugs will be even more requested.
A handmade rug results from a manual process; as a result, each rug is a unique piece, a statement piece that you can display on the floor or the walls. While most rugs are made in a blend of artisan and industrial synergies, there is still possible to find unique rugs, slowly crafted by artisans on ancient looms, that add a whimsical visual interest to your home or interior design project.
Rugs trends for 2023 make room for eclectic interiors with rooms that combine different expressions of arts, materials, colors, and cultures.
4. Earthy toned
The rug trends for 2023 also embrace comfort. While it's easy to feel comfortable when our hands or feet touch the soft pile of a luxurious rug, this rug trend implies creating comfort by playing with shapes and colors.
Earthy hues add warmth and comfort to the room. Colors found in nature range from a calming pastel blue rug, evocative of serene emotions that complements perfectly emotional rooms, to deep oranges that spice the decor and inject a joyful feel into the room.
Homes decorated with natural, earthy colors is a trend that came to stay. The rug trends for 2023 prove it.
5. Irregular Shapes
People are looking for pieces that can add more than comfort to their homes but also an irreverent aesthetic; it's why rectangular rugs are obsolete, and shaped rugs are trending in every interior design project.
In 2023, the rug trends will take over homes and interior design projects with playful rugs. These playful rugs are full of colors, texture, and unsee shapes. These shapes result from the sleek composition of geometric shapes or from an elegant and flowy shape with an organic outline. Pieces that don't look like an average throw rug are probably, the most significant rug trend for 2023.
6. Layered Rugs
Layer rugs are the practice of placing two or more rugs together – combining colors, sizes, and shapes, which shows a stronger sense of style and personality. In 2023, together with the maximalist interior design trends, layered rugs promise to make homes even more cozy and stunning.
In 2023, you can place rugs on carpets or combine rugs with different shapes, colors, and piles in the same room. Furthermore, you can place artistic rugs on walls. This adds visual interest, texture, warmth, and uniqueness.
This rug trend in 2023, more than gorgeous, is functional. Multiple rugs in the same room can delimitate different areas, especially if you're decorating an open plan.
7. Bold Rugs
In contrast with the earth-toned rugs, the next year will also have space to follow the tendency for a maximalism aesthetic; for 2023, we can continue to expect bold rugs – with strong colors and prints trending in interiors.
Don't be afraid to go bold cause in the next year, rug trends will make the floor the standout element of any space. Customizing a rug, giving it the shape, pile, and color combination that you have in mind is the perfect way of having a rug that makes a statement in any room.
8. Geometric Pattern
You might have noticed that geometric patterns are in vogue this year in all textiles – and with rugs, that is no different. Retro rugs with geometric shapes, patterns, or geometric shapes and patterns are the perfect complement for contemporary interiors or midcentury modern interiors with a modern flair.
This rug trend often combines sleek shapes with a palette of colors that is timeless – green, blue, beige, white, and black. These beloved hues balance the bold silhouettes that can be easily too bold for less daring interiors. In 2023, these retro area rugs will also look good on any wall that is lacking storytelling.
Now that you are into the rug trends for 2023, check out our article How to Select the Perfect Rug for Your Room Division to pick the perfect rug for your home.