The perfect bedroom rug elevates both your design and your spirit. But choosing the right one can be challenging.
Being wrapped up like a burrito in your bed is the best feeling in the world. Leaving the bedsheets behind in the morning is so cruel that only the warmest and softest rug underneath your feet can compensate for that. That warm and soft feel belongs to the perfect bedroom rug, the one that makes or breaks it at bedtime as you roam around in your bedroom, getting ready for a peaceful night of sleep.
Choosing the perfect bedroom area rug can be challenging. This simple home accessory can change the mood of your bedroom design entirely. A bedroom rug is an extra layer of comfort and an extra layer of sophistication too.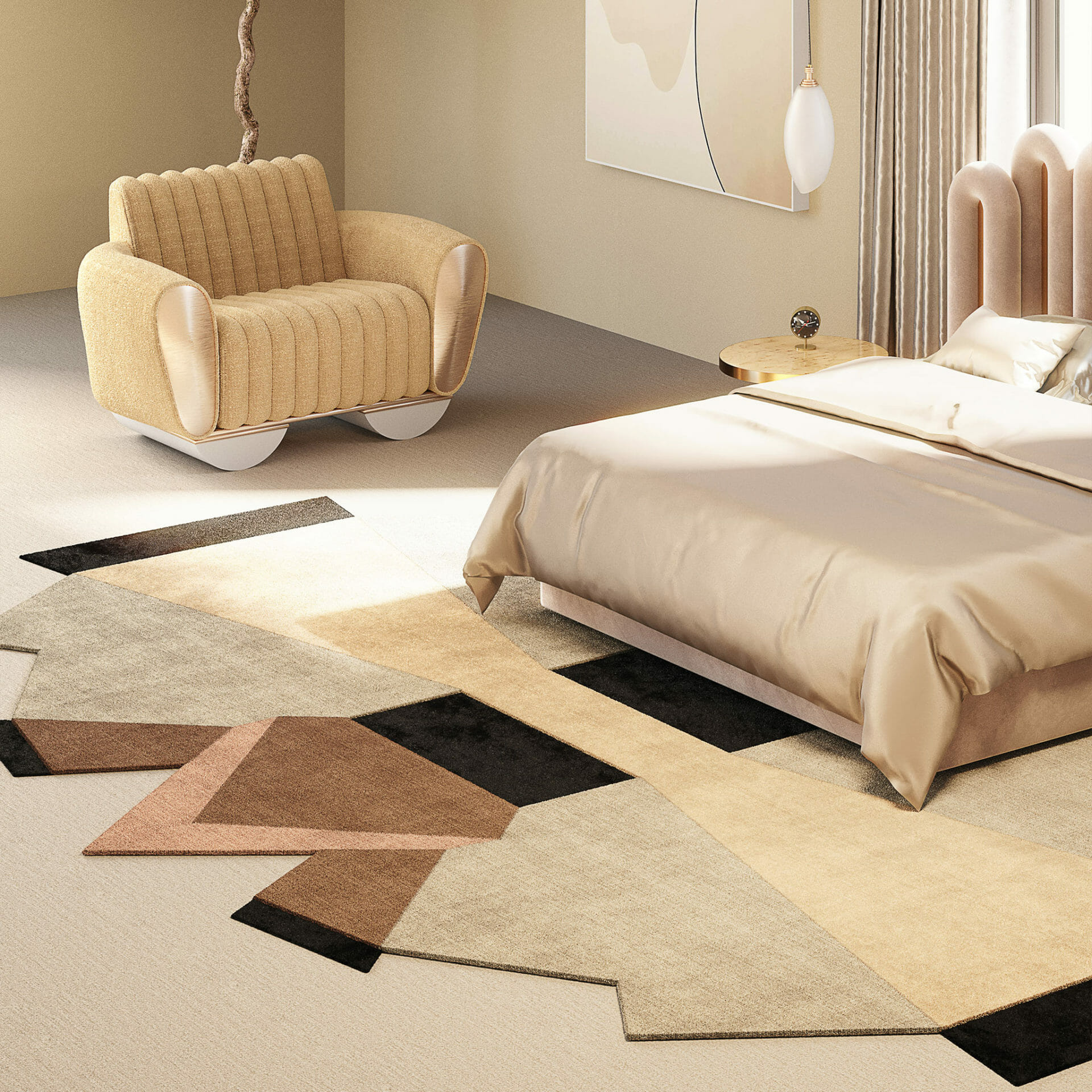 There's a rug for each room division, as they don't need much space to make a big difference. Rugs are the perfect complement for a sophisticated home. Why is that? Because they add warmth to the room, literally. Rugs also make the room cozier and more inviting with their tender texture. While they add a layer of style, modern rugs also work as a protective layer for flooring.
This simple and fluffy home accessory reduces noise since it absorbs sound waves. In addition to absorbing sound, rugs absorb dust. And the right rug can also brighten up your room and work as a solution for an otherwise dark and dull room.
There are many reasons why you need a rug in your home – your bedroom included, of course. But let's start with the basics.
What Is A Rug?
A rug is a piece of fabric that usually has a nap or pile of synthetic or natural fibers that works as a floor covering solution or decorative statement piece. While carpets cover the floor from wall to wall, a modern area rug is an item you can move around the house, placing them in different rooms.
Rugs usually have different shapes, sizes, and usages. A rug can be used to delimitate a specific area in your bedroom or to work as a decorative item that spruces up the space.
Why Using A Rug In Bedroom?
Bedrooms must be the quietest room in the house. The color, materials, texture, and even scents of your main room design may (or may not) set the perfect ambiance for relaxing and recharging.
Around the house, each room can be upgraded with a beautiful piece of fabric – the most daring ones hang them on the wall. Rugs come in different sizes and styles and have different shapes and pile heights. But they all add a different perspective to the room. Revamping the main bedroom design is a good reason to add a rug to the bedroom, but there are other reasons:
It makes the bedroom cozier and warmer: the perfect bedroom rug adds warmth to the space. While the fluffy texture of a room makes the main bedroom cozier, a layer of fabric covering the floor is perfect for keeping your bedroom at a pleasant temperature.
It makes the bedroom quieter: the perfect bedroom rug has a sound-dampening effect and significantly reduces noise since most noise comes from vibrations.
It reduces allergies: contrary to what most people believe, area rugs are great for reducing allergies. The perfect bedroom rug will trap particles and hold them in place until the rug is cleaned.
What Is The Perfect Bedroom Rug?
The perfect bedroom rug is a luxurious rug that will improve your main bedroom design, making it cozier, quieter, and healthier. If you're looking for the perfect bedroom rug for your interior design project, this is what you should take into account:
Design style: pick a bedroom rug that matches the aesthetics of your main bedroom design. You can pick a monochromatic rug with a simple shape or go for something bolder. Try a Memphis Design style or art deco design style rug for a dash of sophistication.
Color: neutral colors and earthy tones are the best hues for bedroom decor. Nevertheless, the perfect bedroom rug can have some pops of color that add vibrancy and sophistication to the room.
Material: wool is one of the most hypoallergenic materials for rugs. If you're looking for a rug for a kids' room, you should pick a rug or customize one in wool. In addition, some man-made fibers are very easy to wash and maintain, helping you keep your bedroom area rug always clean.