The entryway can give the guests a preview of your house – to make your home have an unforgettable impression from the first step; we selected some entryway rug ideas to inspire you.
The perfect entryway is the one that provides a stunning first impression – making your guests wish to discover more about your home. Some details can add the perfect touch to that desire, like adding a beautiful rug at the entrance, making your home more inviting, or giving a bold appearance.
Of course, there are many home styles, and to help inspire you to create an outstanding entrance, we have selected some incredible entryway rug ideas that can make an extraordinary impact on your guest's first impression. Keep scrolling to discover the inspiration that better matches your style.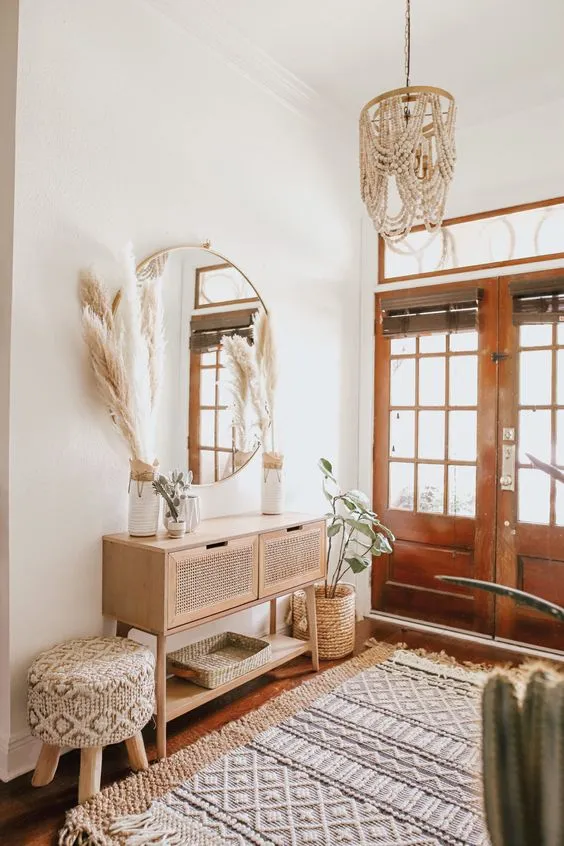 1- Match a Rug to the Wall Color
Matching a rug with the wall color is an amazing solution for a sense of unity and can give your home's first impression a flawless and cohesive look. An excellent way to embrace this idea to your entrance is to pick a darker or lighter shade from your wall. For example, if you have a green wall, you could choose a soft green or a dark green rug. This can be an excellent solution to brighten up a dark space or to implement a dramatic look.
2- Use a Round Entryway Rug
Another way to activate an impressive first impression is by adding a round rug – this can make your entrance looks soft and more balanced; without mentioning that round rugs are unusual, which makes them more likely to be noticed by your guests. Isn't it perfect? A soft look with a remarkable impact?
3- Welcome with Warm Tones
If your home embraces peaceful and comfortable vibes – the perfect entryway rug should have warm tones to give a friendly welcome. By itself, a rug can add a cozy vibe; combined with a neutral tone, this feeling is even more notable. Choosing a warm-tone rug allows you to play with the accessories and furniture to have an impressive entrance without losing its comfortable feel.
Another entryway rug idea for an impressive welcome is to play with patterns; it can give the touch of authenticity that your entrance needs and make your guests impacted by the hello. Play with patterns can be a fun way to increase your home decor – for that, you can combine different patterns – by mixing your rug with your home decor. For example, you can go with a statement pattern rug and mix it with bold wallpaper.
Layer rugs are the practice of placing two or more rugs together – combining colors, sizes, and shapes, which shows a stronger sense of style and personality. Besides being an irreverent idea, it also can add a touch of unexpecting feeling to your entrance combined with a cozy and surprising first impression.
Suppose you are wondering how to implement this at your entrance. In that case, we have two ideas to share: the first is to use one entryway rug at the entrance and a bigger one in the hallway for a welcoming entry; you can also layer the rugs together to have unusual aesthetic combining patterns and shapes.
6- Add flow with a Shaped Rug
Shaped rugs are trending in interiors, which wouldn't be different at the entryway. Shaped rugs have sophisticated silhouettes that can add flow to your home and be the perfect addition for a bold and cool first impression. Shaped rugs can fit different styles – from minimalist to maximalist.
For example, if you have a neutral space, a shaped rug can add the interest that it needs to be impressive by adding color, texture, and movement. On another side, if you have a maximalist interior, a shaped rug will improve it even more. In both ways, it can be the perfect entryway rug for an impressive reception.
Are you into a maximalist vibe? Embrace the maximalist style on your rug by going bold and choosing solid colors and print patterns to highlight your floor and turn your first impression into a daring one. Don't be afraid to go bold cause; a rug can make the floor the standout element of any space.
8- Make a rug the star of your entrance
Lastly, we would like to remember that a rug can be the star piece of your entrance. Give your entryway rug the attention it deserves and surprise your guests with an incredible first impression.
Some many incredible entryway rug ideas; which one is your favorite? No matter what, you can find incredible rugs at TAPIS Studio to complement these entryway rug ideas. Check out a little preview: