Discover how to select the perfect rug for your Boho Chic Interior Design and let the magic of this stunning piece invade your layout.
Boho Chic Interior Design projects bring with them a magical feeling – the enchanting earthy hues mixed with incredible textures and materials create a cozy environment that shares peace while also echoing character. In this magical environment, the perfect rug has the power to increase good feelings and make it even more inviting while also helping to enhance its overall aesthetic.
If you are about to start a new Boho Chic project and want to improve its style feel – we invite you to join us on this journey. Be prepared to dive with us into a magical world as we explore tips to select the best rug to complete a Boho Chic Interior design project and explore pretty insights from top interior designers and their stunning layouts. Let the magic start!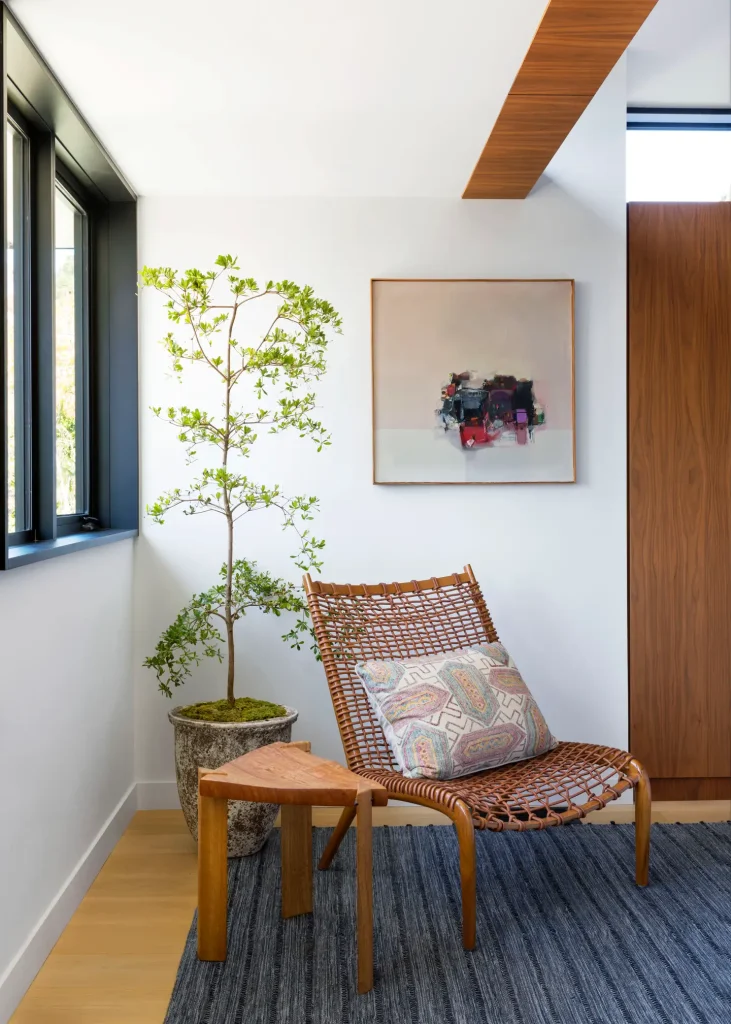 1 – A Whimsical Style: Boho Chic Interior Design
Let´s start this journey with a brief recap of the Boho Chic Interior Design style! Inspired by the bohemian style, the Boho Chic approach adds a touch of sophistication while emphasizing free-spirited self-expression to create living spaces that echo personality and adventurous spirit.
At the core of the Boho Chic Interior Design are earth hues, natural elements, greenery, and a mix of different styles and references. If you want to dive into the main characteristics of Boho Chic; in that case, you can enjoy reading this article and then come back here to discover how to select the best rugs for your projects and also explore stunning Boho Chic interior design projects by top interior designers.
2- Let the Magic In: Tips to Select the Best Rug
Now, we are ready to talk about what we love: rugs! These pieces play a vital role in a Boho Chic Interior Design, helping to tie the room together, and providing the perfect cozy environment that a Boho Chic interior requires. To help you to find the perfect piece to enhance your design, we have gathered some main elements you should consider when selecting a rug:
a) Colors
Colors are a significant element in a Boho Chic design! Enjoy using a rug to bring the pop of color and vibrancy that this style requires. For a striking interior, you can have fun choosing rugs with a mix of energy shades, such as rich jewel tones (sapphire, emerald) and earthy hues (yellow, mud green, orange), while for or a cozy environment, you can opt for neutral and warm colors. When selecting the rug colors, it is important to consider the overall feeling of the room and also the colors that help to bring the boho chic vibes into the layout.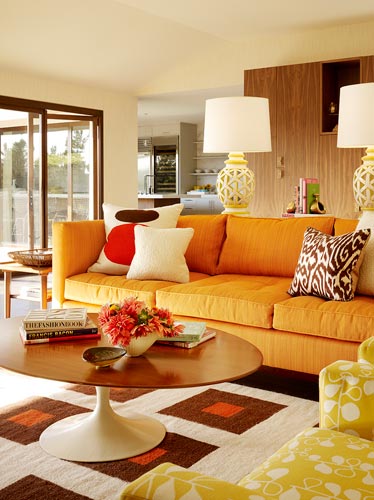 b) Materials
Choosing the suitable materials for your rug will help elevate the Boho Chic aesthetic while enhancing the coziness and overall feelings of the design. Natural materials are at the heart of Boho Chic Interior Design; wool, rattan, natural fibers, and cotton are excellent options for this aesthetic. Not only do they follow the sustainable and eco-friendly conscious of this style, but they also add texture and dimension.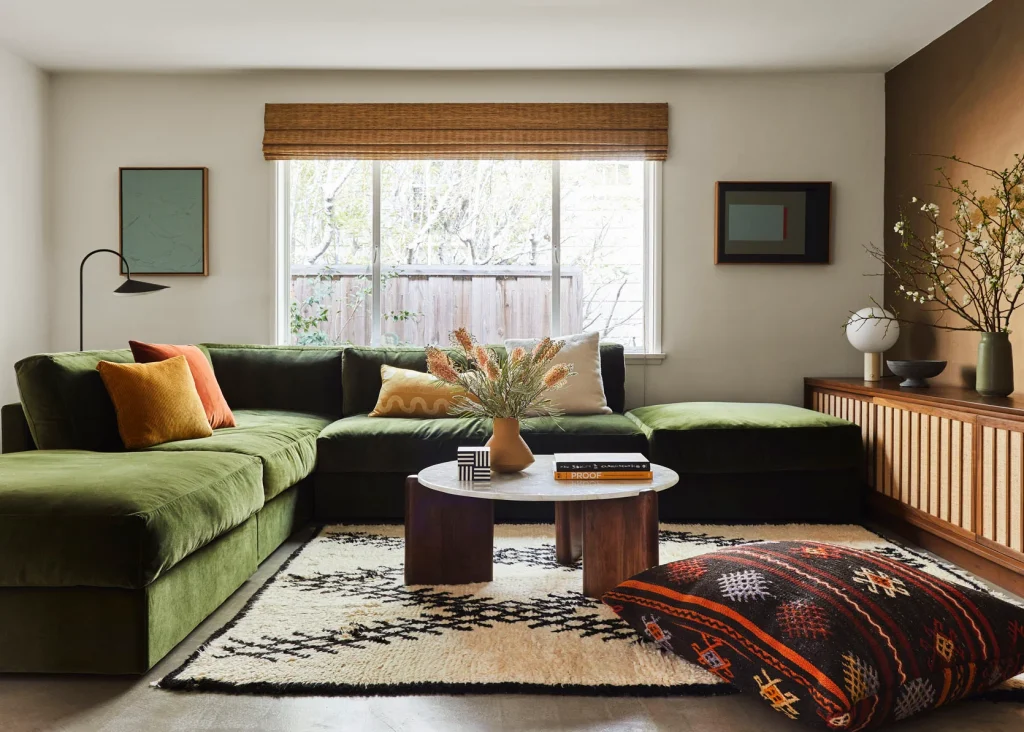 c) Styles
The Boho Chic style vows to explore free expression and infuse interiors with character, for that, this approach encourages mixing and matching styles to craft interiors that resonate with uniqueness and personality. We gathered some styles that can be combined to create stunning designs and enhance the Boho Chic aesthetic:
Geometric Rugs: Choose geometric rugs with designs that incorporate shapes and lines to add structure to the free-spirited Boho aesthetic;
Retro Rugs: Opt for bold patterns and vibrant colors to welcome the nostalgia of the 60s and 70s to your Boho Chic design;
Art Deco Rugs: Select rugs with geometric patterns or stylish floral motifs to infuse your room with the glamour of the 20s.
Mid Century Modern Rugs: Pick pieces with clean lines, abstract patterns, and iconic designs to embrace a retro flair to your Boho Chic design.
Biophilic Rugs: Select rugs with natural materials, natural motifs, and earth colors to infuse your room with peaceful vibes.
Neutrals Rugs: Opt for texture-neutral rugs to create a cozy and harmonious environment in your Boho Chic interior while increasing its visual interest with texture and depth.
Artistic Rugs: Choose rugs with abstract patterns and iconic shapes to reveal the free-spirit expression in your Boho Chic design.
3- Enchanting Insights: Boho Chic Rug Ideas
Since we know how to select the best rugs for Boho Chic interior design, we now head to the enchanting insights! It´s time to let the charm of stunning real-life interior design projects spread and inspire vivid Boho Chic rug ideas. We have curated charming interiors, check them out:
a) Radiant Star | Nicole Hollis
Nicole Hollis designed a bright and vivid Boho Chic living room design where warm tones combined with rich colors create a sense of character and creativity. Since the interior is bright and full of colors, the interior designer selected a rug in a neutral tone to compose the look – even though it´s neutral, the geometric patterns make it stand out as a radiant star in the room.
b) Exquisite Layers | Nest Design
In this open-plan living room by Nest Design Group, natural materials and neutral colors intertwine. The designer's choice to create a cozy atmosphere was to delimit the conversational area with two layered rugs; besides helping to pull the room together, the mix of shapes, materials, and textures increases the overall character and coziness.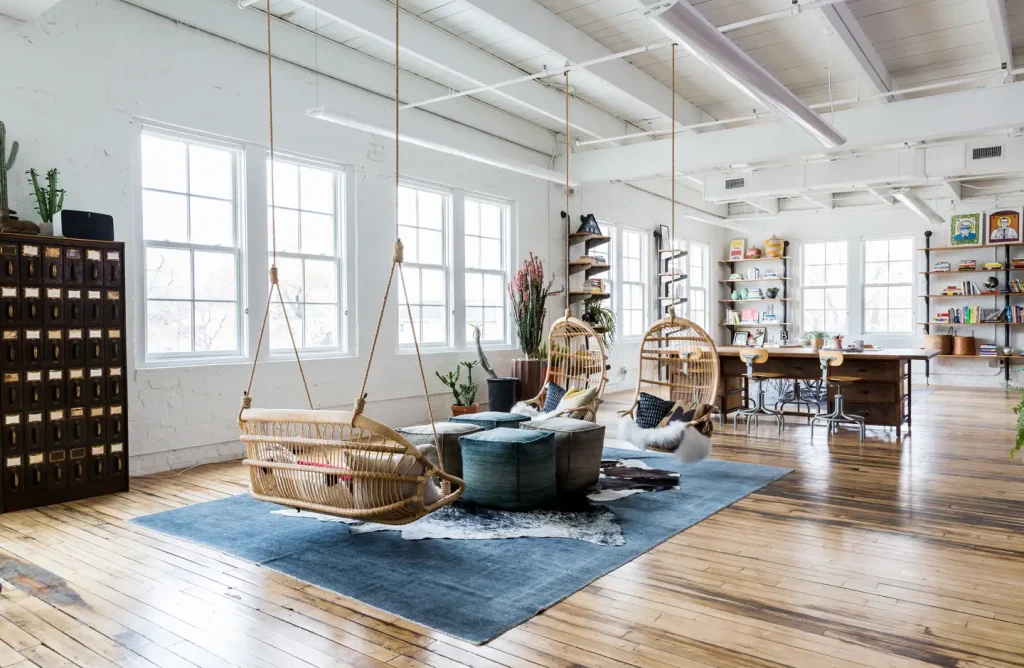 c) Cozy Heaven | Jen Samson Design.
Just like heaven, this bedroom designed by Jen Samsom shares calm and cozy vibes – highlighting a blend of earth tones, emphasizing the terracotta and mud green, the textured rug under the bed increases its overall feeling while also adding a deep layer o sophistication.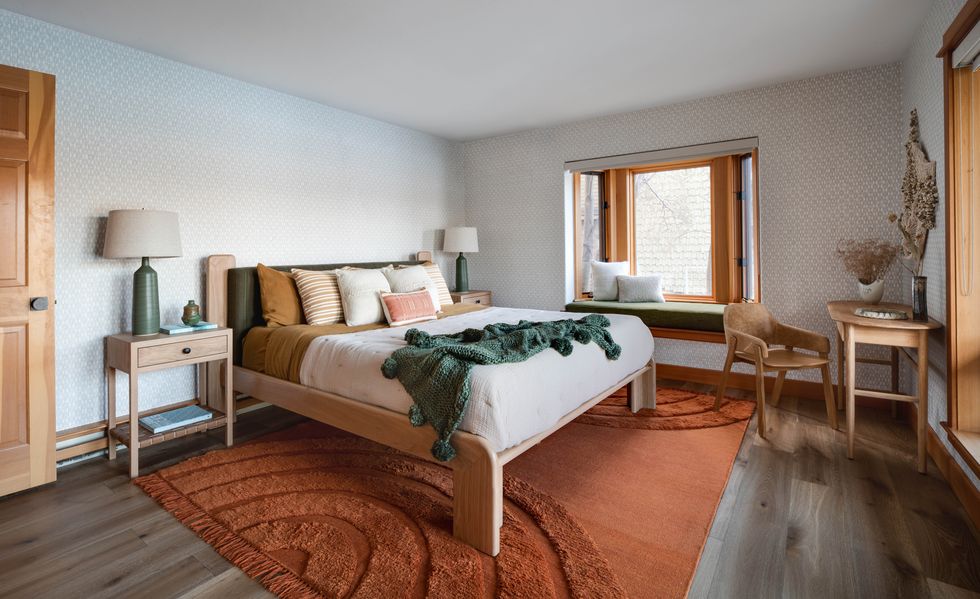 The Magic is here!
Boho Chic Interior Design is an invitation to break from the conventions and create a magical space that celebrates individuality and creativity. With its whimsical blend of colors, textures, and inspirations, this style craft unique interiors where rugs have a vital role in enhancing its comfort and aesthetic, offering the perfect background for amazing stories.
In this magical journey through selecting the best rugs to complete a Boho Chic Interior design, we highlight the role of the colors, materials, and styles in this choice. Besides, we also discovered stunning Boho Chic interiors where rugs are the stars.
Our magical trip ends now- but the magic is still here! We invite you to check out the best rugs to complete your Boho Chic Interior Design style with enchanting feelings.