Biophilic Design aims to connect interiors and nature, irradiating the best feelings on the inside. Discover how to bring this concept to your layout.
Biophilic design is a concept that seeks to bring the natural world into interior spaces, creating environments that are not only visually appealing but also promote well-being and connectivity with nature. If you are looking for a way to bring a touch of nature into your interior design project, you need to explore more about this concept!
In this guide, you will discover the main topics related to Biophilic interior design and, of course, also about Biophilic rugs! Besides, we also gathered some beautiful interior design projects to inspire you! Be ready to achieve the best feelings for your layout and welcome the Biophilic concept into your following works!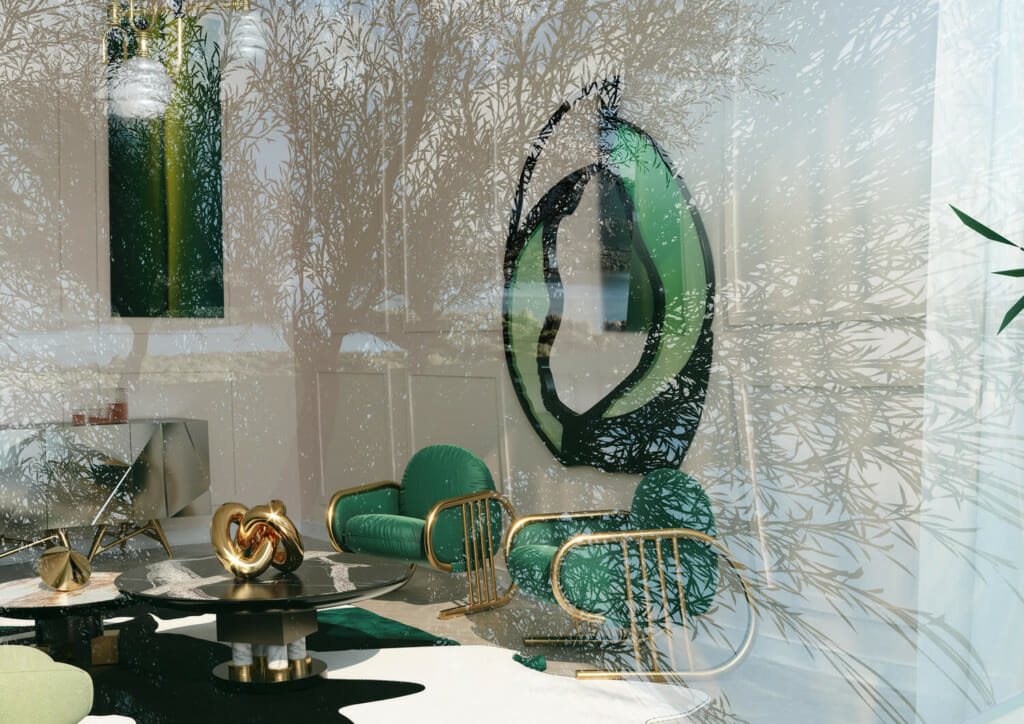 All About Biophilic Design
The first step to active a flawless feeling to your project is knowing more about Biophilic design, its main characteristics, and how to incorporate it into your interior design project – and that is why we will start this guide explaining these questions. Scroll down to become an expert in this theme!
What is Biophilic Design?
Biophilic design is a concept that has gained popularity in recent years, and for a good reason! The term "biophilia" was first seen in Biology studies and referred to the natural human desire to connect with nature. Biophilic design seeks to incorporate natural elements into the interior to promote health, happiness, and productivity.
What are the characteristics of Biophilic Interior Design?
The Biophilic interior design trend aims to bring a little nature to the inside, and for that, this concept uses and abuses the following elements:
Nature-inspired patterns and textures
Use of natural materials such as wood, stone, and plants
Incorporation of natural light and views of the outdoors
Use of water features such as fountains or aquariums
Integration of plants and greenery into interior spaces
Use of earth and natural color palettes
How to Incorporate Biophilic Design into Your Interior Project?
Incorporating the Biophilic principles into your interior design project is easy to active, here are a few to build a connection between your design and nature:
Incorporate natural materials: invest in raw materials such as wood, stone, and natural fibers to create a flawless look for your interior. You can use highlight these materials in the furniture, decor accessories, and flooring;
Highlight natural light: consider incorporating large windows or skylights into your space to bring in as much natural light as possible;
Welcome plants to your design: you can bring this essential element of Biophilic design to your interior by adding more greeny with hanging plants, planters, or even living walls.
Go with a natural color palette: the colors can help to activate a natural feeling, and for that, you can invest in earth shades such as green, brown, and blue to create a calming and peaceful atmosphere.
Roll out a Biophilic rug: another way to incorporate this trend into your interior design project is by adding a Biophilic rug; for that, scroll down and discover everything about this powerful piece!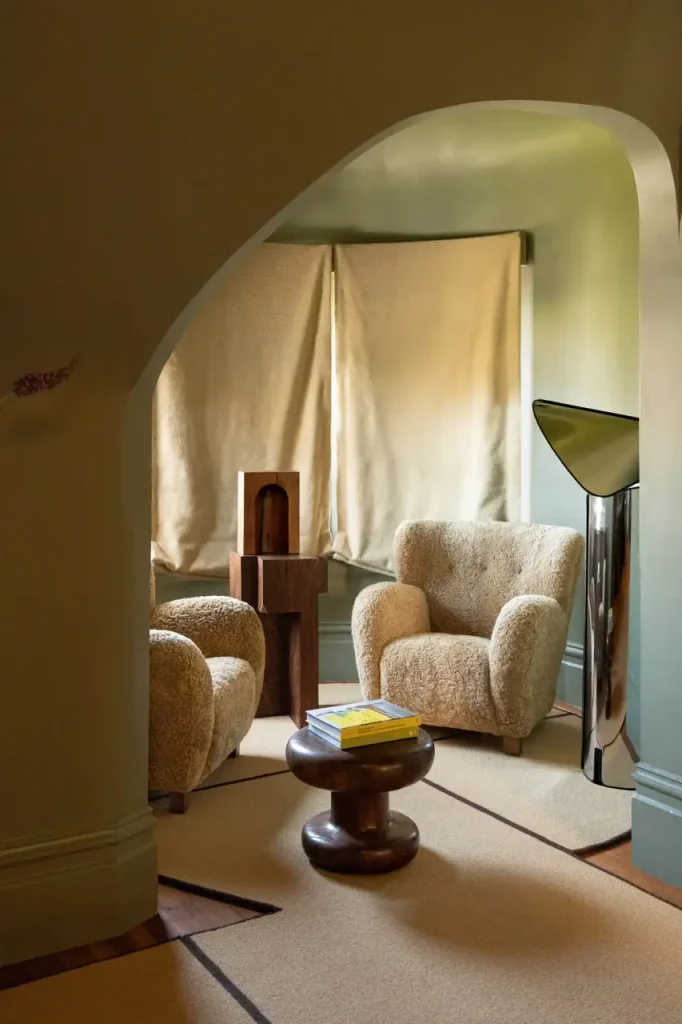 All About Biophilic Rugs
Presentations are done; it's time to explore our favorite part of this guide: the Biophilic rugs! These pieces are perfect for activating a flawless look and welcoming the best feelings to your design.
Biophilic rugs are a great way to transform your layout with the features of the Biophilic design and take advantage of its benefits without the need for many elements – it's a unique piece that can completely change your room feeling or improve it even more! So, no more talking, and let's explore everything about these marvelous pieces!
What is Biophilic Rug?
A Biophilic rug is a piece that incorporates natural elements into its design— it can simulate the patterns and textures found in nature, such as a tree's bark or leaf's surface, or come in earth colors, such as green, brown, and blue. They also can have different materials, such as Wool, cotton, jute, and sisal.
What are the Best Materials?
The best materials for Biophilic rugs are natural fibers – which can emphasize a connection between nature and indoors. Wool, cotton, jute, and sisal are great options because they are sustainable, biodegradable, and durable. But we could say that Wool is a perfect choice because of its properties and overall luxury look.
What are the benefits of Biophilic rugs?
Therefore being a gorgeous addition to any interior design project, Biophilic rugs also have many benefits for well-being and productivity and improve overall feelings. Biophilic rugs can help to bring the positive sentiments that nature evokes to the indoors and create a home that is more than a space – but also a refugee.
Incorporating Biophilic design into your interior projects can also promote sustainability and environmental consciousness. Using natural materials and incorporating plants into your space can help reduce your carbon footprint and promote a healthier living environment.
How to Incorporate it into an Interior Design Project?
Biophilic rugs are a great way to increase the overall feeling of your interior design project and make a statement in your layout – but before adding it, it´s essential to consider the room´s aesthetic and choose the piece that better matches the previous design scheme. You can incorporate Biophilic rugs into any home division- from the living room and bedrooms to the entryway and dining rooms.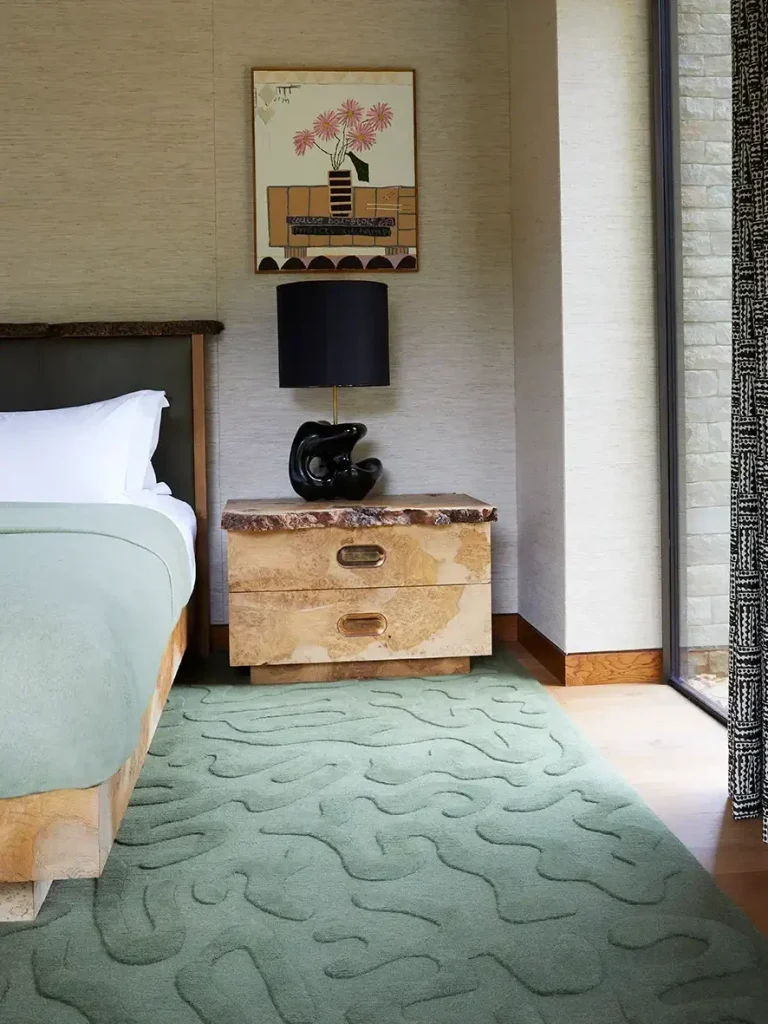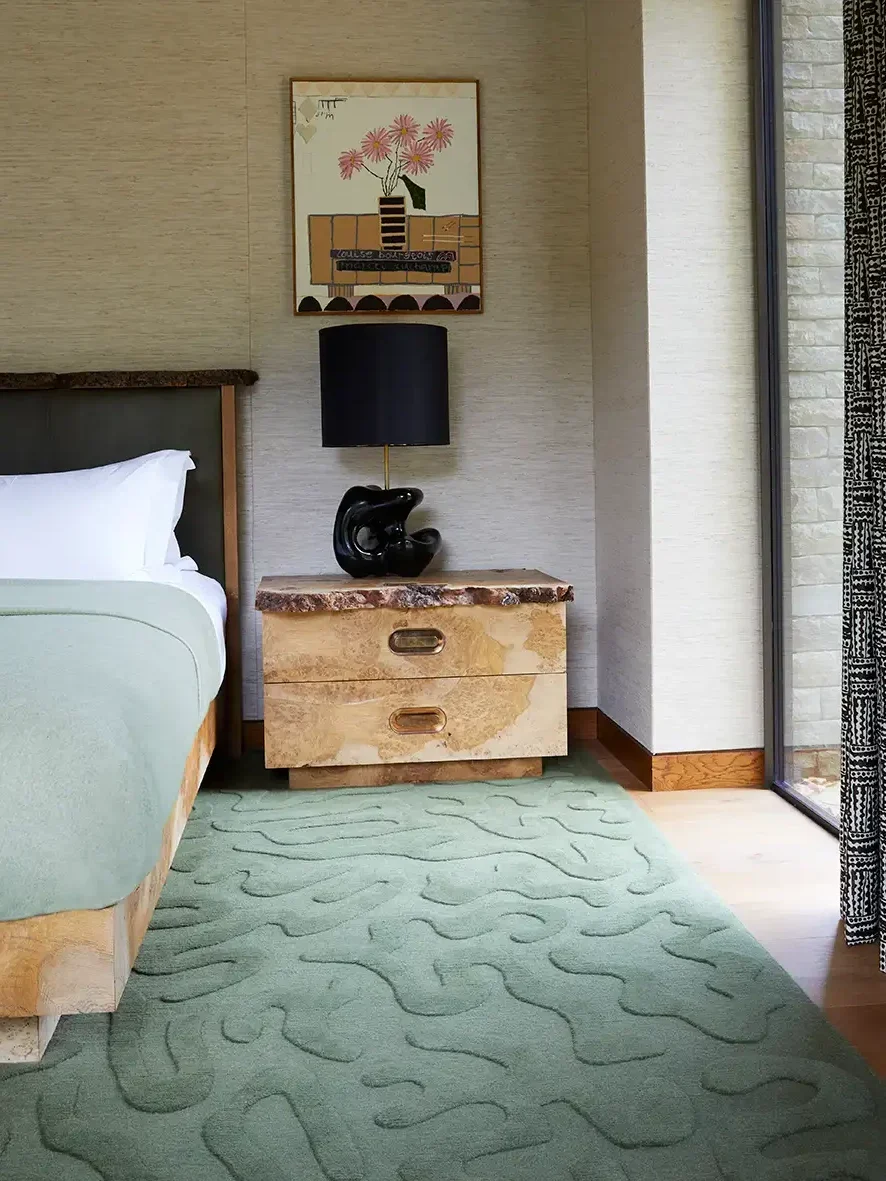 Exploring the Possibilities of a Biophilic Home
To finish our guide about Biophilic interior design and Biophilic rugs, we have selected our favorite examples on how to explore this trend and bring the feelings of nature indoors – plus, we have chosen incredible rugs that can make you active this look! Enjoy it!
Natural Forms
One of the beautiful ways to take advantage of the Biophilic concept in the interiors is by using natural forms – which can be mirrored in the furniture, decor items, or rugs. In this living room, the interior designer Nicole Hollis chose to implement the idea of natural forms in the furniture – which highlights curved and organic shapes. To complete the space, a beautiful Biophilic rug in neutral tones and with charming organic shapes gives the final touch.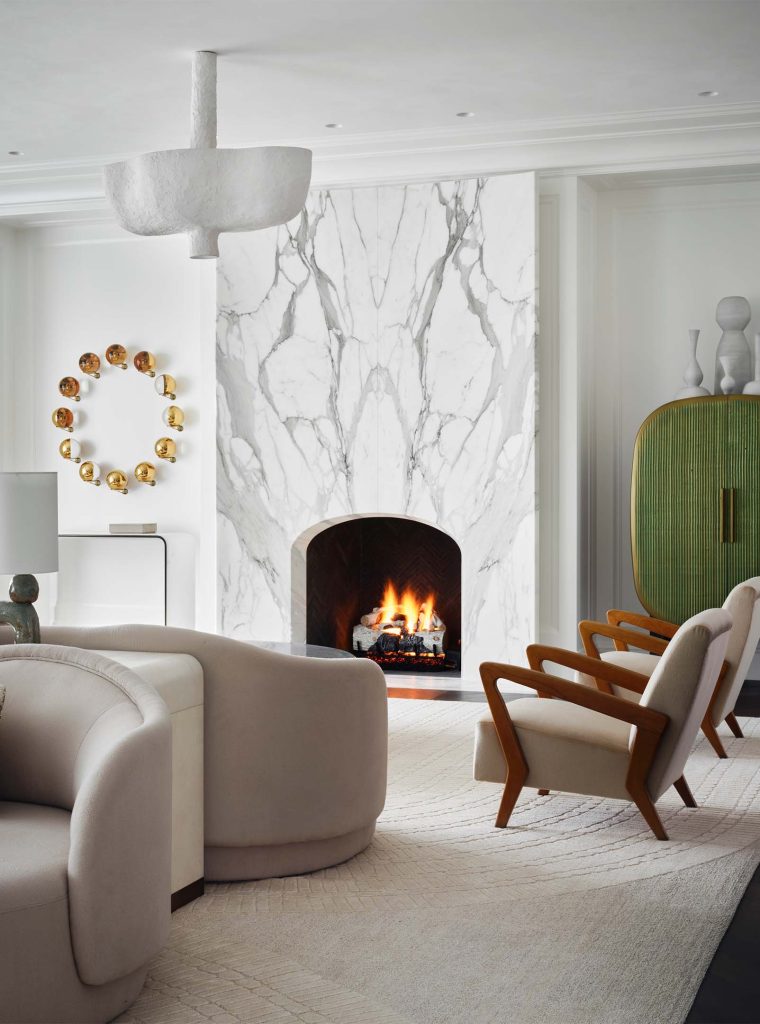 Indulge Green Rooms
Another way to welcome the Biophilic concept to your layout is by indulging green rooms – it´s not a surprise that this hue is one of the favorite ones chosen by interior designers and decorators to help to activate a nature feel. From Casa Botelho´s showroom, we have a beautiful inspiration of how this beautiful shade can help to evoke the outdoor indoor; besides the plants, the space also has the TAPIS Shaped #30 as one of the principal elements of the room for a more greeny look.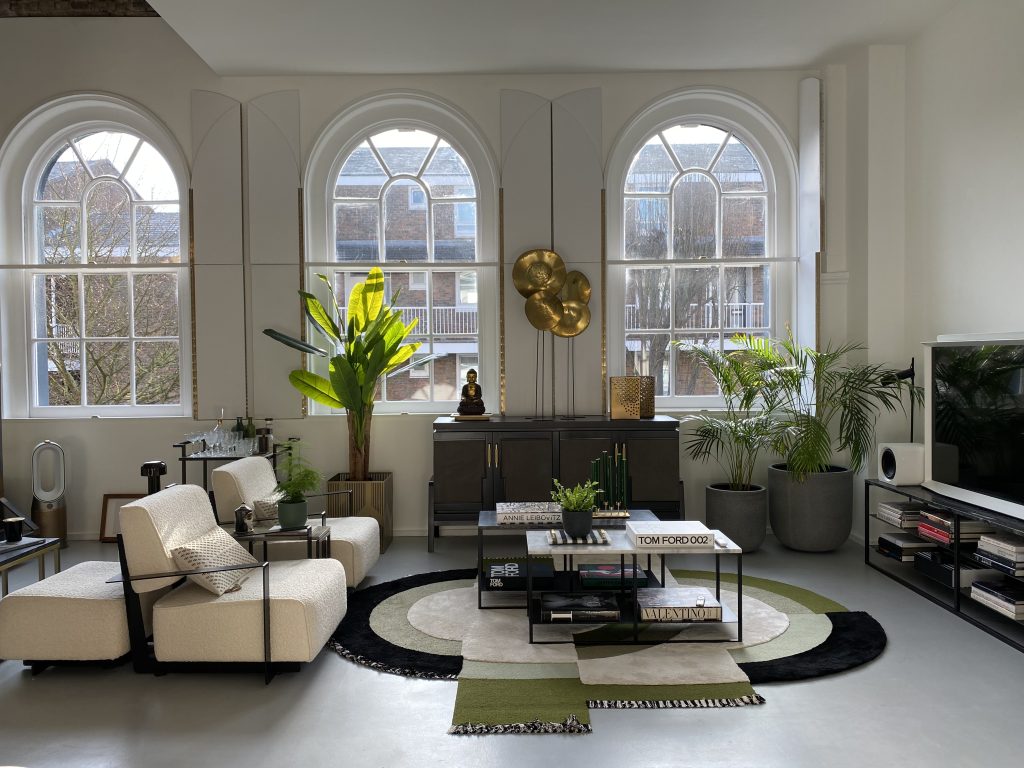 There be light
Last but not least, we chose this bright living room by Studio Gild to show that natural light is one of the best allies to achieve a Biophilic look. More than an attractive choice for the layout, having more ambiance light also helps to boost health and well-being.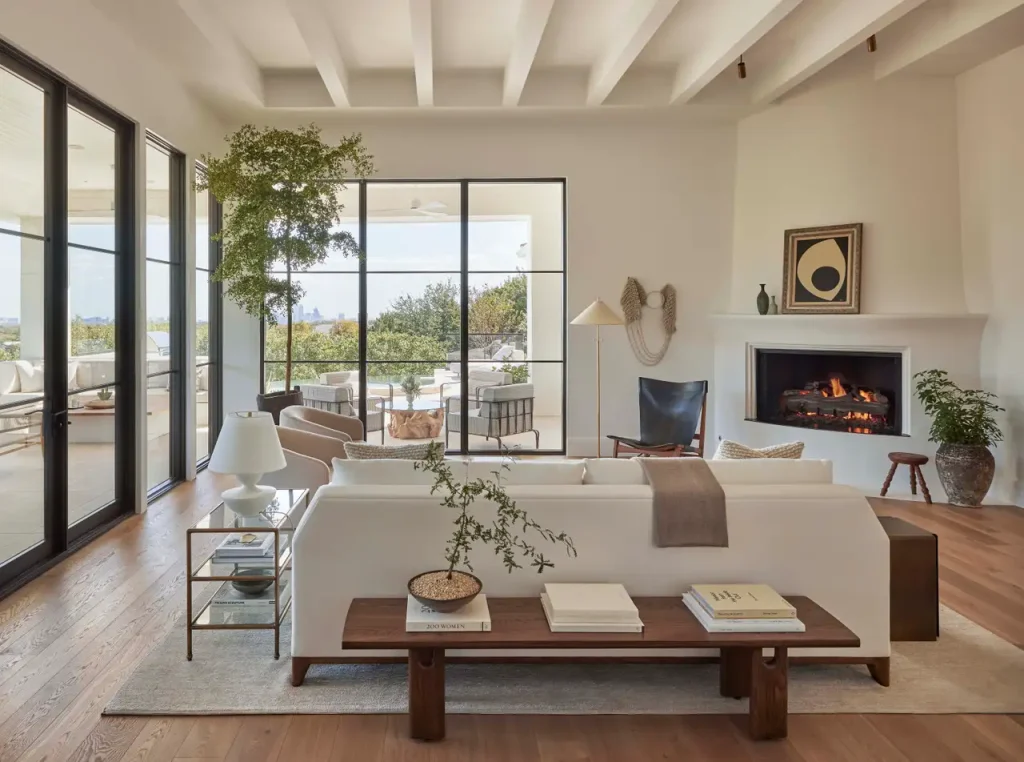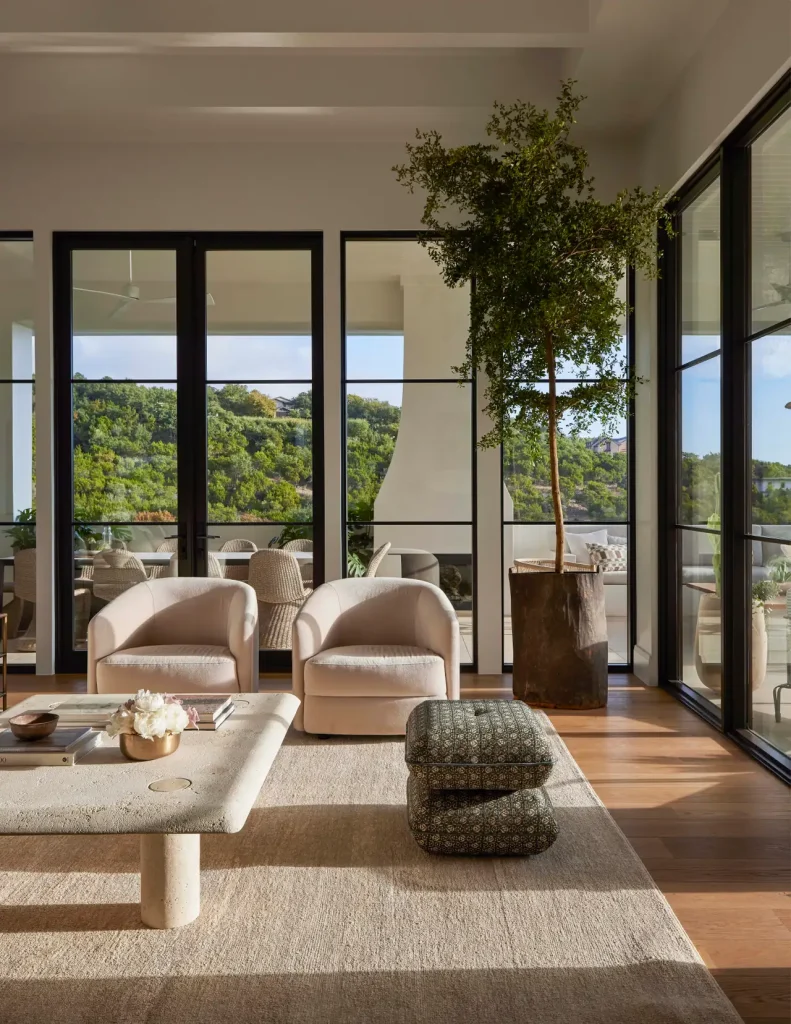 As seen, Biophilic design and Biophilic rugs are not just great choices to achieve a fantastic look but also incredible ways to improve the overall feeling of any room and bring more of the incredible sensations that nature provides. Now that you are into the Biophilic concept enjoy checking out trendy rugs with green hues to complete your Biophilic interior design project!