Let's embark on a journey full of inspiration! Discover how to improve your design with an extra dose of interest by adding geometric rugs.
From the Ancient Greeks to Moroccans, geometric motifs have stood the test of time in interior design and architecture. Using geometric patterns brings visual appeal, interest, and a touch of elegance. Even with the emergence of new design trends, geometric motifs have persisted, with bold shapes making a statement in furniture, architecture, and, of course, rugs.
In this article, we will embark on a journey full of elegance and inspiration, where geometric rugs are the stars. Scroll down and join us while we explore the geometric rugs – from their essence to tips on how to incorporate them into your interior design.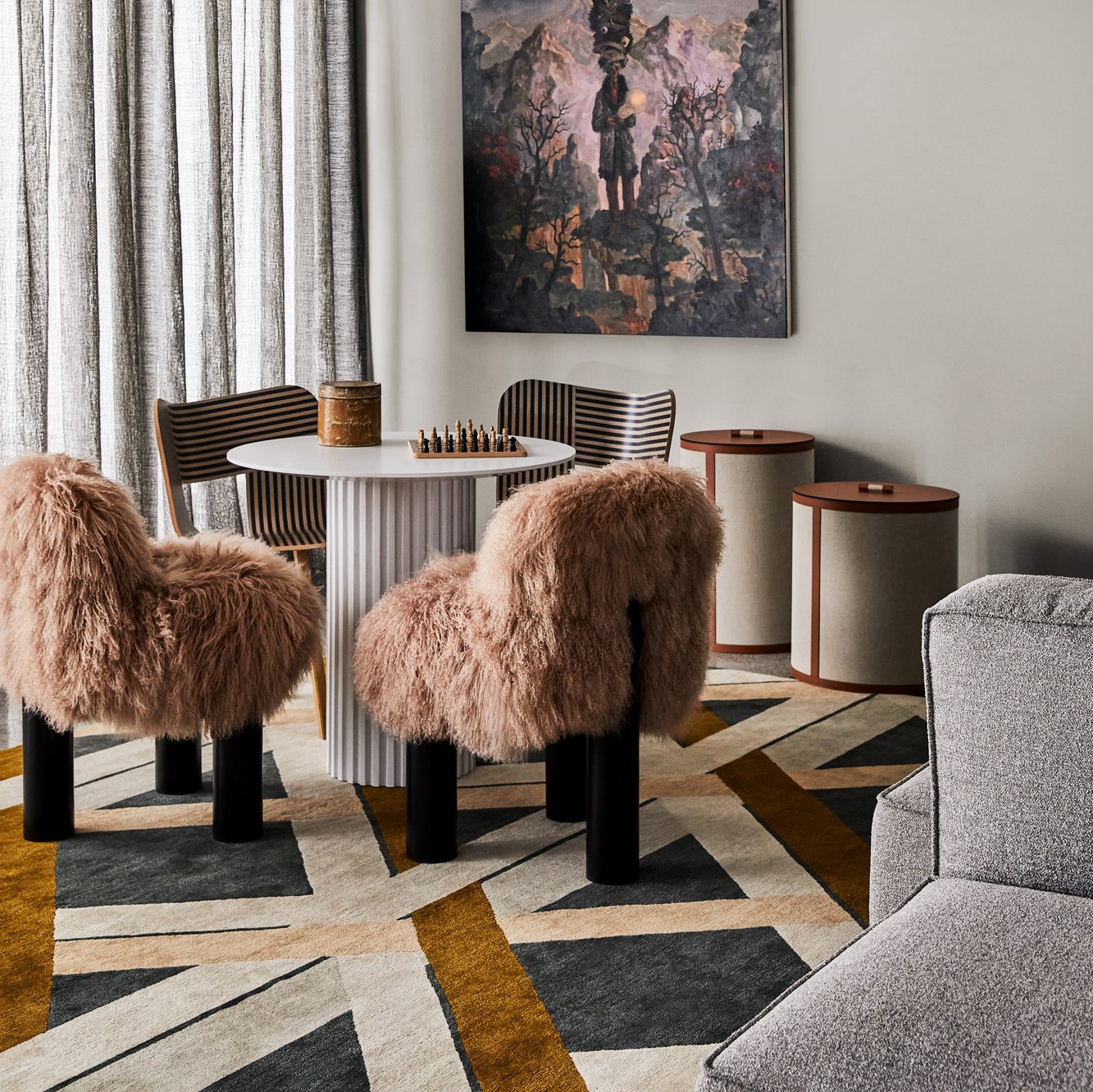 1. What Are Geometric Rugs
The name says for itself, but we could not start this journey without clarifying what geometric rugs are. Geometric rugs are pieces inspired by geometric shapes, motifs, and forms. Thanks to their irreverent design, these rugs are known for adding a sense of structure and visual interest to any room. From triangles, circles, squares, and abstract designs, there are many ways of incorporating those pieces for a modern revamp.
Geometric rugs come in a wide range of materials, including wool, cotton, synthetic fibers, and even natural materials like jute. The fabric choice can affect the rug's texture, durability, and overall feel. Whether you prefer a plush, soft rug for comfort or a flat-weave rug for a more contemporary look, there is a geometric rug waiting for you.
But now that you know what geometric rugs are, it's time to continue our journey and discover how to incorporate these pieces into your design for a bold revamp.
2. How to Incorporate Geometric Rugs?
It's time to start the fun part of our journey, where we will reveal the best tips on incorporating geometric rugs into your design.
Harmonize with Existing Elements: One of the best ways to incorporate geometric rugs into your design is to harmonize it with the overall aesthetic; for that, you can choose a piece that complements the colors, textures, or style of your furniture. It´s also essential to respect the coherence in the room; for example – if you have neutral decor, you can invest in a vibrant rug, but if you have a bold look, you should opt for a subdued geometric rug.
Balance with Solid Colors: Interior design is all about balance, so when choosing the perfect geometric rug to enhance your decor – remember to keep the balance. Pairing geometric rugs with solid colors is an excellent way to activate the balance, which allows the rug to become the focal point of the room without overwhelming the space.
Size Matters: When choosing a rug for your interior design, size is always one of the essential topics to pay attention to; that is why we even have a complete guide about it. But coming back to geometric rugs, a large piece can make a statement in a spacious living area, while a smaller one can add an extra layer of interest to a hallway or bedroom. Remember, size matters, and you should ensure the perfect one for your piece.
Layering for Depth: Lastly, why not layering geometric rugs? This is an excellent way to give depth to a design and increase its aesthetic. You can experiment by layering a geometric rug on top of a larger neutral-colored rug; it will help add depth, texture, and dimension to your design and create an inviting and cozy atmosphere.
Our journey is becoming more and more enjoyable, don´t you agree? And now that you know the best tips on how to incorporate a geometric rug, we can continue our travel – but now entering into the interior design styles. Scroll down to discover how to combine geometric rugs into different styles.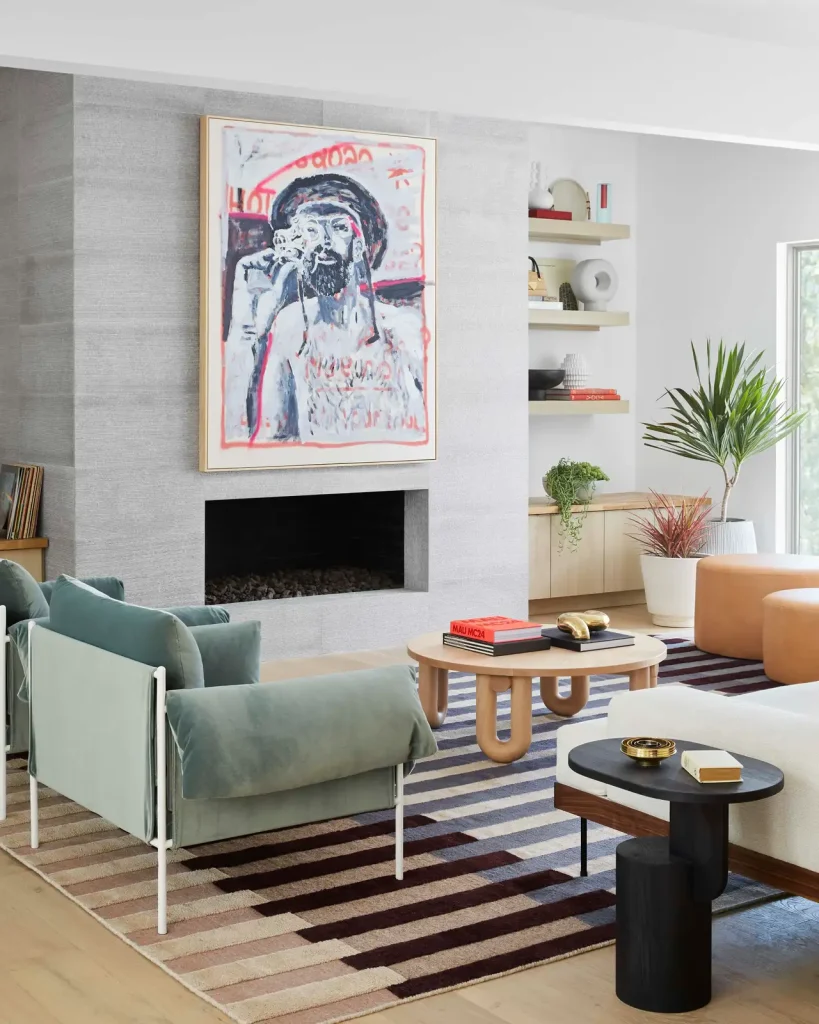 3. Geometric Rugs in Different Styles
The last stop of our journey has begun, it´s time to explore how to combine geometric rugs into different styles: minimalist, maximalist, and contemporary! Besides, we also gathered beautiful inspirations from top interior designers to encourage you to enhance your design with the perfect rug. Let´s embark on this trip:
Minimalist Style
If you are designing a minimalist interior and are looking for a way to add a bold flair – geometric rugs can be your best allies. In this style, geometric rugs can provide a bold accent against a clean and simple backdrop. Opt for rugs with subtle geometric patterns or monochromatic color schemes that seamlessly blend with the minimalist aesthetic. Black and white geometric rugs can add a striking contrast to a minimalist space while maintaining its sleek and uncluttered appeal.
From the top interior designer Kelly Behun comes a beautiful inspiration to encourage you to use a geometric rug in your minimalist design. In this serene living room, the professional chooses a bold rug that infuses energy and coordinates with the existing decor items in the room.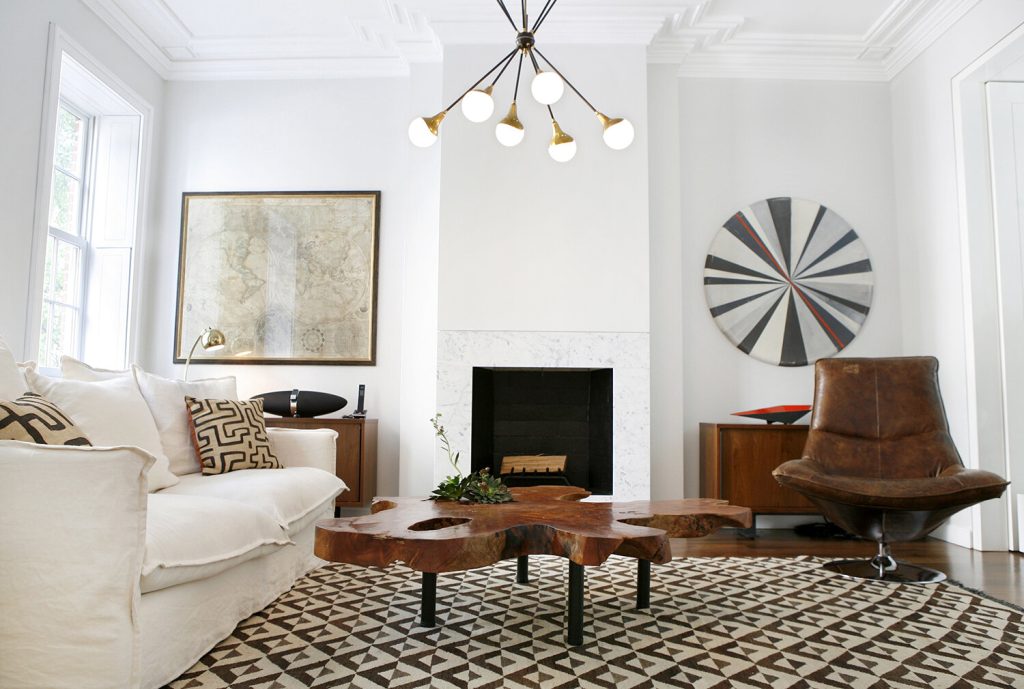 Maximalist Style
In a maximalist interior design project, an extra dose of visual appeal is always welcome, so geometric rugs are perfect to complement it. Let your imagination run wild, and choose a rug with bold designs and contrasting hues. Embrace this style's chaos with rugs with bold geometric patterns and irreverent colors.
Bold with classy, this stunning living room design by Greg Natale is everything you need to be encouraged to find the perfect geometric rug to complete your maximalist interior. Here, the rug works as the room´s central element, giving boldness and colors.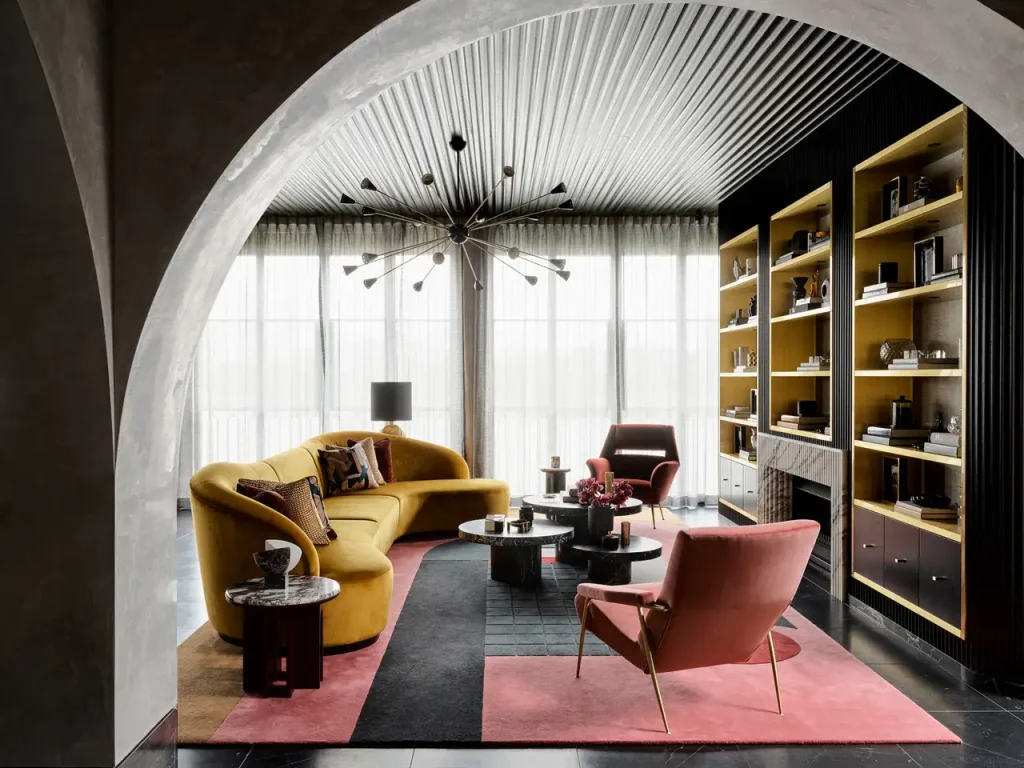 Contemporary Style
Geometric rugs effortlessly enhance contemporary interiors. Consider rugs with clean lines, abstract designs, and a mix of geometric shapes.; these pieces are perfect for providing a modern edge while complementing the sleek furniture and minimalist decor often found in contemporary spaces.
In this contemporary living room, designed by Chango & Co, the geometric rug helps to enhance and elevate the space, providing it with an additional dimension and visual interest. The bold motifs in soft hues add sophistication without overwhelming the interior and work as a beautiful detail that complements the room's decor.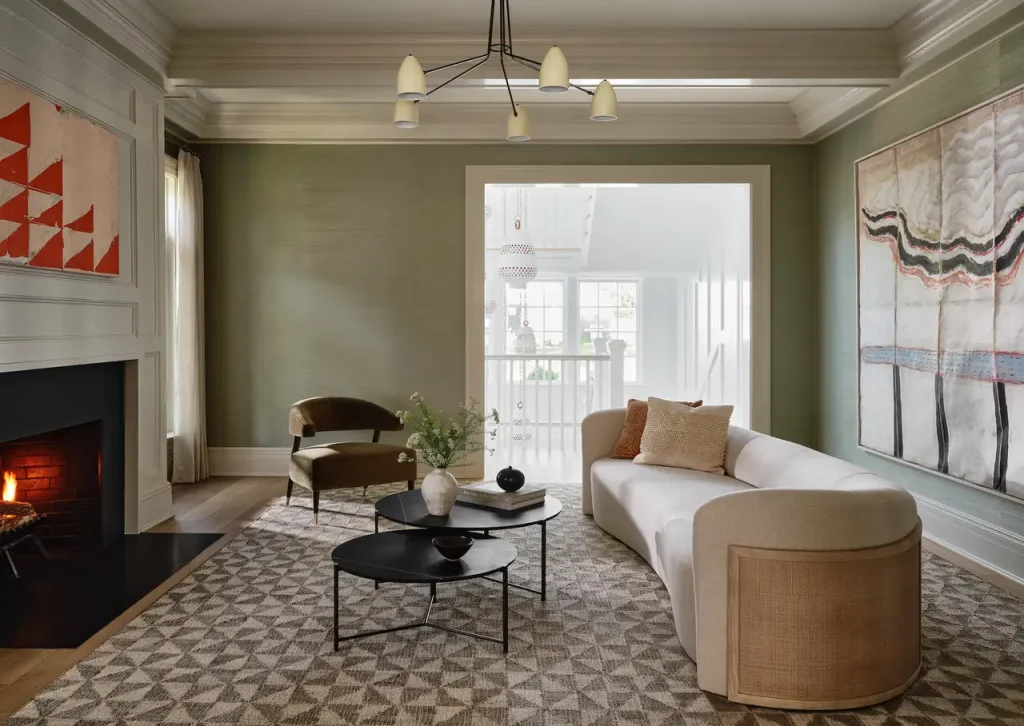 Our journey through the geometric rugs has come to an end – and what a beautiful trip it was. From discovering the essence of these pieces, the best tips on how to incorporate them, and the main styles coordination to inspirations, we hope that you have been encouraged to incorporate geometric rugs into your next interior design project and enhance it with beauty and visual appeal.
If you enjoyed this journey and want to continue your inspiration path, keep exploring the stunning geometric rugs from TAPIS Studio and discover a whole new world to take your projects to another level.