Improve your Boho Chic Decor with these 12 rug ideas that promise to boost your design with unparalleled comfort and charm.
Boho Chic Decor is trending; this beloved design approach known for its vibrant, free-spirited, and eclectic essence promises to bring an extra dose of personality and comfort to interiors worldwide. Regarding this style's main characteristics, rugs reveal essential pieces to create a magical approach – from a cozy background to adding more visual appeal; after all, there is no piece such as a rug to boost comfort and character.
If you are about to embrace the Boho Chic Decor into your next project, this article is unmissable because we will explore the best rugs to elevate your design with unparalleled comfort, charm, and personality. From colorful rugs to bring a touch of life to neutral tones pieces to boost the coziness vibes, here you will find the perfect rug for your project; keep reading to find the next star element of your design.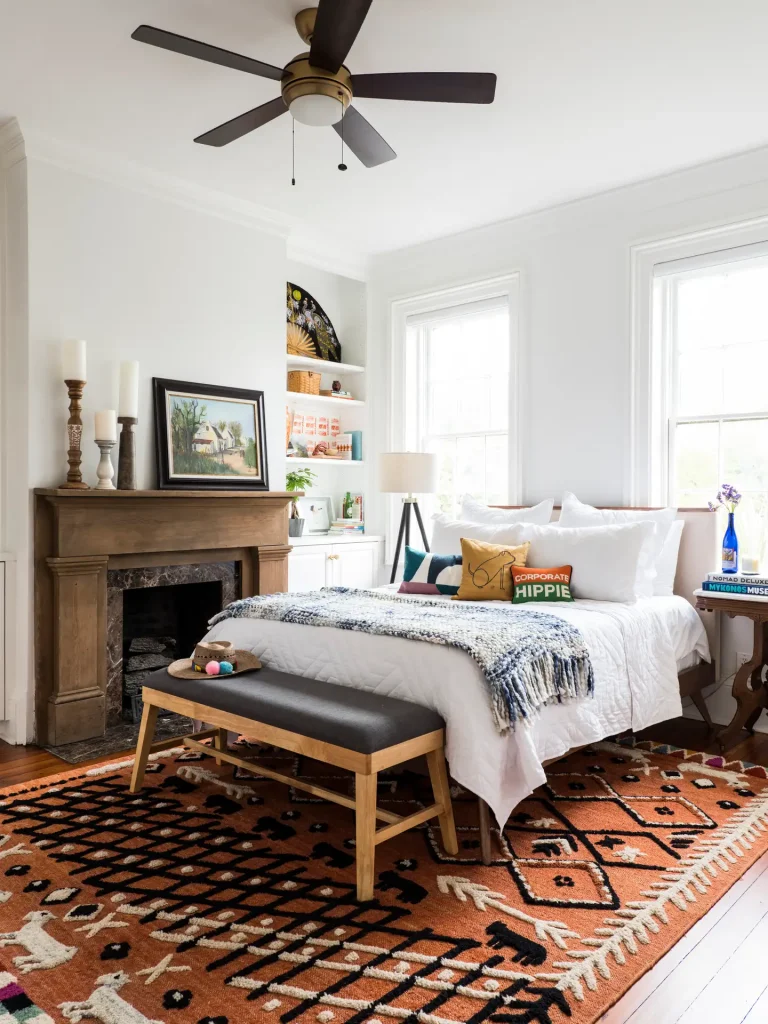 MAGICAL PIECES – Rugs in Boho Chic Decor
Boho chic decor has in its roots a reference to the Bohemian style; bringing with it a feeling of wanderlust and wonder; which creates spaces that reflect nomadic, vintage, and artistic elements and evokes an atmosphere that celebrates individuality and creativity.
In this scenario, rugs are an essential piece that works as a magical element to enhance the interiors' comfort and aesthetic appeal; they help infuse spaces with an extra dose of personality and elevate the overall feeling. It is all thanks to the characteristics of the rugs, as they weave patterns, textures, and colors from different cultures, eras, and styles in a unique and charming piece,
From colorful rugs to create a playful vibe to adding geometric pieces to increase the overall aesthetic, there are many options to create a stunning Boho Chic Decor; below, we will reveal our choices from a Boho Chic Decor; prepare to free your creativity and choose your star piece.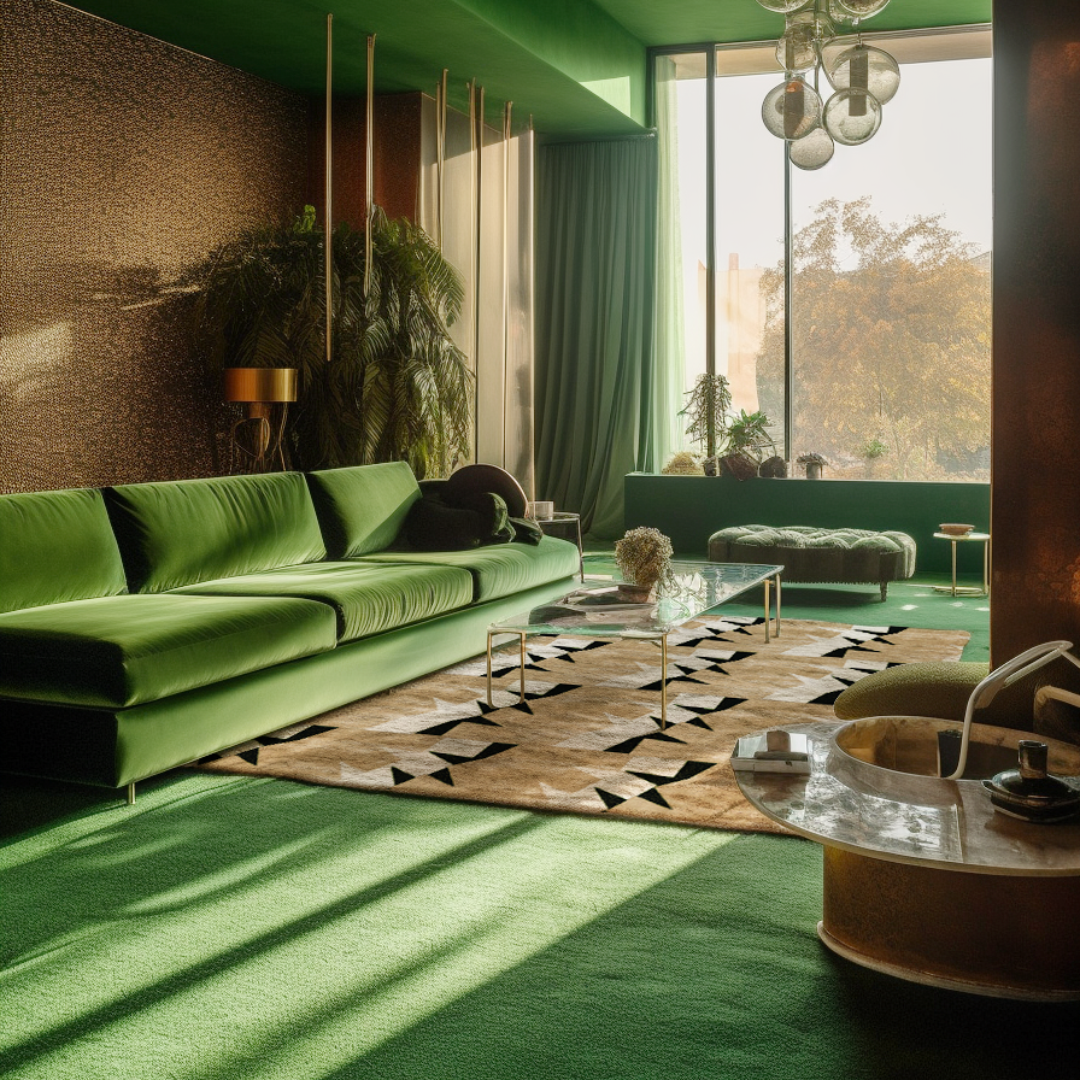 OUR STARS – Meet the Best 12 Rugs for Boho Chic Decor
In Boho Chic decor, rugs are essential to increase its magical and unique feeling; they are the perfect star piece to highlight the interior and make it even more attractive. Thinking about it, we selected 12 rugs from our collection that will be the star pieces of your following Boho Chic Decor. Whether you are looking for a way to make a statement or add a cozy background, one of these rugs can complete your design!
Magical Patterns for More Appeal
In the heart of the Boho Chic style, the patterns work as an element to embrace different cultures, eras, and styles. To increase the appeal of your interior design project, we have selected three stunning rugs from our collection with magical patterns that will beautifully embrace the Boho Chich approach while adding an extra dose of interest to your design. Meet the TAPIS Retro #14, the TAPIS Rectangular #20, and the TAPIS Eco #010, each one with a unique and eye-catching pattern to transform your design:
Vibrant Colors for a Statement
Boho chic interiors embrace colors to express personality and infuse the interiors with the magical feelings that the shades can provide. Besides improving the overall feel, rugs with vibrant colors are an excellent way to make a statement and add a colorful vibe to the interiors. From our collection, we have selected three stunning rugs that will elevate your design with their bold presence and attractive appeal, the TAPIS Magenta #04, the TAPIS Shaped #48, and the TAPIS Shaped #57.
Charming Neutrals for Earthy Vibes
The connection with nature is part of the soul of Boho Chic interiors – from natural materials to earth hues; these characteristics are linked to create charming interiors with a deep connection with nature. Neutral rugs are an excellent option to adopt the earthy vibes and harmony with the soul; for that, we have three stunning rugs with neutral colors that will add charm to your interiors and be the perfect backdrop for your Boho Chic narrative. Meet our charming neutrals: TAPIS Pastel #10, TAPIS Pastel #02, and the TAPIS Essential #02.
Enchanting Artisanal for Meaningful Tales
The magic of Boho Chic Decor lies in creating interiors where creativity can flow – for that; artisanal elements are a great option to embrace the uniqueness and unparalleled beauty. From furniture and accessories to rugs, choosing elements that can embrace tales and embrace meaning are in the soul of this style, discover three rugs from our Menízia Collection, where the luxury of each rug lies in its long history: the TAPIS Menízia #03, the TAPIS Menízia #06 and the TAPIS Menízia #05.
There is more Magic!
Boho Chic is all about magic, and in this article, we discovered 12 stunning rugs that can complete the magical narrative of the Boho Chic decor and boost it according to your project needs. From rugs with gorgeous patterns to elevate the aesthetic appeal; to vibrant colors to make a statement, charming neutrals to increase the earth vibes to the enchanting artisanal rugs; we have presented our star pieces to elevate your Boho Chic Decor.
But there is more magic waiting to highlight your projects, at TAPIS Studio, we have stunning rug options to increase your project's needs – enjoy checking out our Rug Collection and discover that there is more magic waiting to elevate your designs.