Playful colors, textures, and patterns define the Boho Chic Style; learn more about this interior design trend approach!
Boho Chic Style is trending and answers to the moment's needs- where comfort, environmental concern, and free expression are leading the interior design tendencies. This approach that brings playful colors, textures, and patterns, combined with creativity and comfort feelings to the interiors, is a must-trend to follow.
For those who want to create spaces that can be peaceful and full of personality, we invite you to embark on a discovery journey and explore everything about the Boho Chic Style. From the definition, principle characteristics – and of course – the rugs that better match this approach, we have the information and inspiration you need to create stunning Boho Chic Interiors. Read on and be welcome to the charming world of Boho Chich Style!
1 – What is Boho Chic?
Following the recent need to create interiors that resonate with coziness and personality, the Boho Chic Style has taken the spotlight and gained more and more popularity. Even so that this approach is trending now; in fact, the Boho Chic style has a long story with interiors, and it originated from the Bohemian counterculture from the 60s and 70s.
To create interiors that resonate with self-expression, originality and still seem calm; this approach draws inspiration from various sources, including bohemian, hippie, and retro aesthetics. For the Boho Chic Style the personal taste takes center stage together with non-conventional choices.
This approach which has its roots in the Bohemian counterculture, aims to embrace free-spirited self-expression with a more refined and sophisticated aesthetic. For that, its fusion of patterns, textures, and colors creates a harmonious and unique space that exudes warmth and character.
Boho Chic Style is about infusing spaces with personality, warm colors, great textures, and beautiful patterns to create interiors that resonate with character and individuality.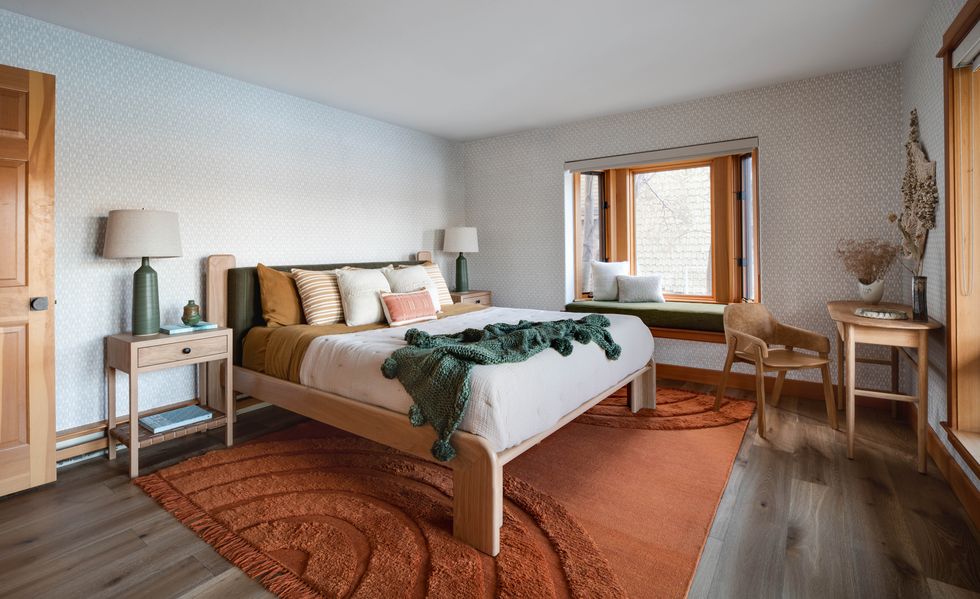 2- Boho Chic, Boho, or Bohemian Style?
Since we discovered that the origin of the Boho Chic style is linked to the Bohemian Style, a question resonates: is there a difference between those two approaches? And even though these two terms are often used as a synonym, they aren't the same, but the distinction is very subtle.
The Bohemian style is more rooted in counterculture and the arts, while the Boho Chic adds a touch of sophistication and refinement to this approach. The Boho Chic style incorporates modern elements, clean lines, and contemporary accents to the whimsical essence of the bohemian, providing a more refined aesthetic.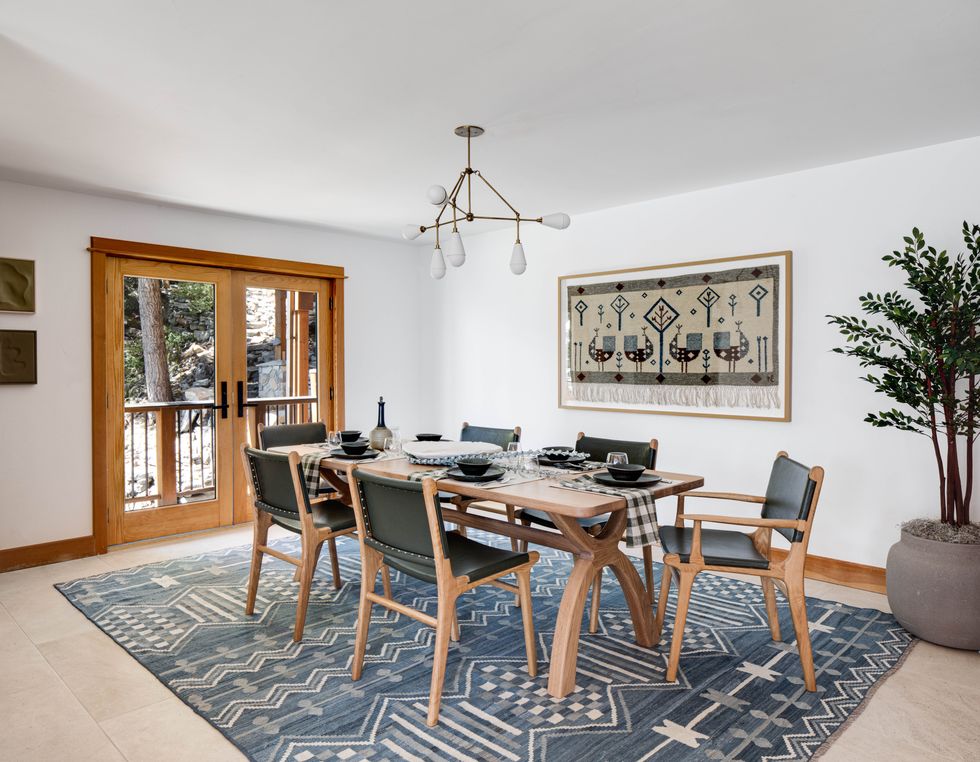 3 – Main Characteristics of Boho Chic Style in Interiors
The Boho Chic Style is an approach that resonates with personality. Still, it also has some leading characteristics that help to define and create spaces that share feelings of coziness and character. It's time to explore the main elements of this style in interiors; check it out:
Natural Elements: Wood, rattan, and wicker are common choices to give a Boho Chic aesthetic; these elements can be incorporated into the furniture, accessories, or rugs;
Layering Textiles: Boho Chic interiors are all about layering – from textiles and rugs to pillows – it can combine rich textiles with different materials, textures, and patterns and bring much more interest to the interiors. Consider layer rugs as an option to infuse a Boho Chic and unique vibe;
Mix and Match: Design styles, patterns, and different references are one of the main characteristics of the Boho Chic style and remain the desire of this approach to encourage creativity and self-expression.
Earth Tones: Rich jewel tones (such as sapphire and ruby), warm earthy hues, and pops of vivid colors come together to create a lively and energizing ambiance. These tones bring a sense of joy and positivity to the space. To not overwhelm the room, rugs and decor items are an excellent way to add this pop of color.
Greenery: Plants and greenery are always welcome to embrace the Boho Chic Style, while they can help to add a pop of green, they also help to establish a connection with nature and enhances the overall bohemian ambiance.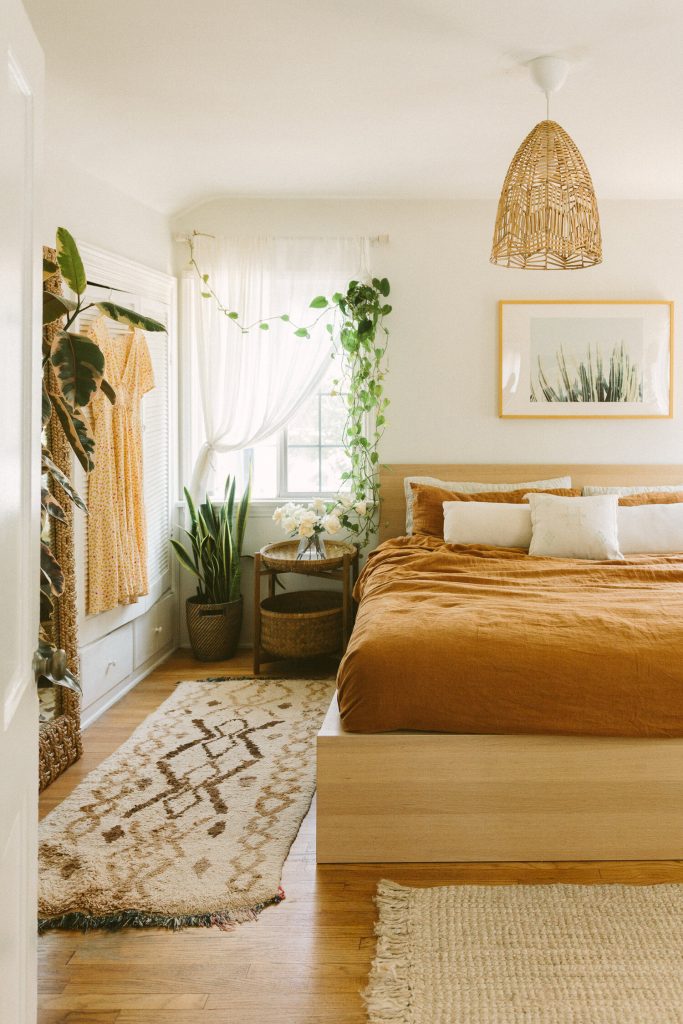 4 – What are the Best Rugs for a Boho Chic Style?
Boho Chic Style aims to create a cozy environment and embrace self-expression and personality. A rug is always an excellent option to infuse an interior with comfort and character – especially in this style that is all about creating a peaceful retreat. To help you discover the best rugs for a Boho Chic Style interior, we will guide you into the colors, shapes, and materials that can add an extra aesthetic appeal.
COLORS: Rugs highlighting earthy hues, rich jewel tones, and neutrals colors are perfect to create a Boho Chic interior. Opt for the bold colors to give a pop of color and infuse more liveness to your design; the rugs in neutral tones will be a great solution if you already have more colors in your layout but still need an extra dose of coziness.
SHAPES: From rectangular to organic shapes – you can choose according to your layout and needs. For a playful vibe, choose a rug with an organic shape that adds more flow to your room; if you want to delimit an area, a rectangular rug can be a great option.
MATERIALS: Boho Chic Style highlights natural elements, so wool, rattan, and ecological rugs are the most assertive choices to infuse an interior with boho vibes.
Remember, there is no rule when selecting a rug for a Boho Style interior – but the principles and characteristics of the style are the main leads to choosing the perfect one to infuse an interior with the desired vibes. Besides, the overall design choices and feel also need to be on the count to select the best rug.
This article provides an insightful journey through the world of Boho Chic, starting with its definition and exploring its subtle distinctions from the Bohemian style. It also went through the main characteristics of Boho Chic and the best rugs to create interiors that truly capture the essence of this style.
It was an incredible tour through this Boho Chic, a style that infuses interiors with coziness and personality. And now we know that this approach goes beyond beauty – but it represents a way to create interiors where free expression and a tranquil environment are the main goals.
We hope this path has been as incredible as the Boho Chic Style is and has inspired you to create interiors that resonate with this style. Continue your discovery tour by exploring our Rug Guide for a Magical Boho Chic Project.