Discover a list of the best Geometric area rugs that will boost your project with extra visual appeal.
No matter the style – from minimalist to maximalist, a geometric area rug can increase it with an extra dose of visual appeal and interest. To help you unlock all the potential of your design and transform it to new heights, we have made a list with bold pieces from our collection.
And, of course, besides the list of incredible rugs from our collection, we also have gathered some tips on selecting the perfect geometric area rug to complete your design; check it out and be ready to elevate your design.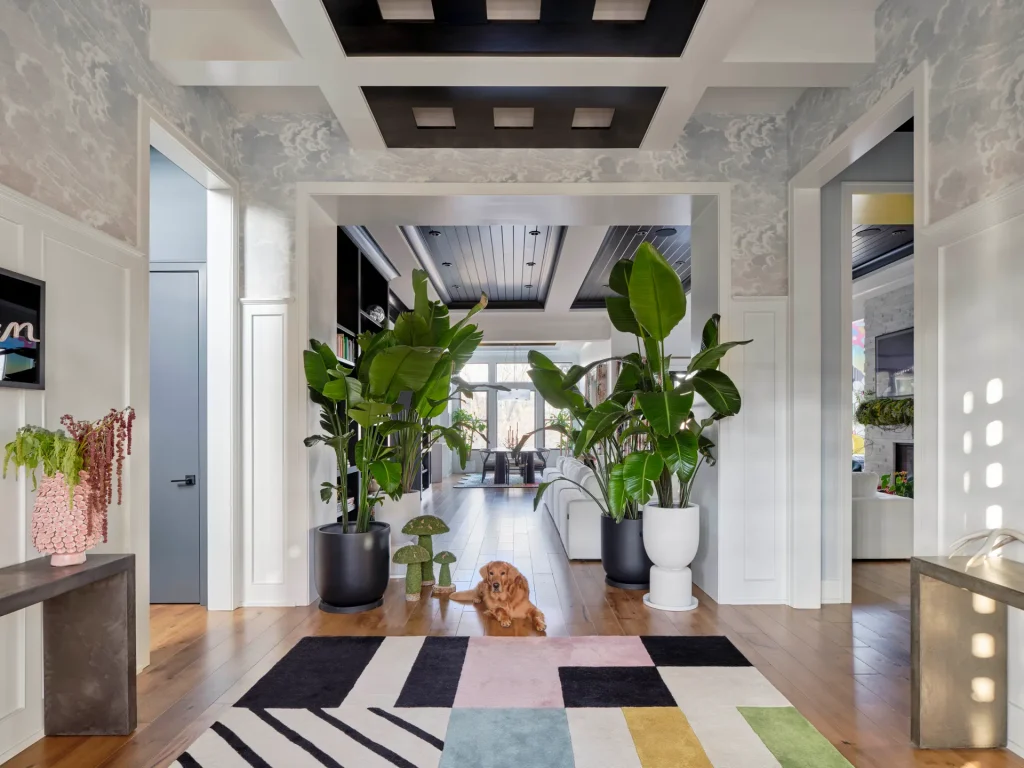 How to Select the Best Geometric Area Rug?
Before we dive into the stunning selection of geometric area rugs, let's remind a few tips on how to select the best piece for your design:
THE STYLE: Before choosing a geometric rug for your design, you must determine your project's overall style and theme. Are you going for a modern, minimalist look or a more eclectic, bohemian vibe? This will guide you in selecting geometric rugs that align with your design vision.
THE SPACE: As what happens when choosing any rug style, when selecting a geometric area rug is essential to pay attention to the room's size and layout. Ensure that your picked rug will proportionally complement the overall look.
THE COLORS: Geometric area rugs come in a wide range of colors – and before selecting yours, you should think about the hues that better match your layout and provide better contrast and visual impact.
THE MATERIAL: As what happens with the colors – you can find geometric area rugs with different materials, so more than thinking just about the aesthetic, you also need to ensure that your selected piece is the better match for your project needs. Besides, the material can also help improve the room's aesthetic by providing an extra texture or complementing the existing one.
THE FUNCTIONALITY: We all agree that a geometric area rug is an excellent way to improve a project aesthetic, but besides, a rug can also play a functional place in the layout – so when selecting the perfect piece for your design ensure its functionality. Is it going to work as a decorative touch, anchor a seating area or define a zone? Thinking about it will help you to find a better rug match for your design.
With those tips in mind, we can head to the selection of the best pieces to boost your layout.
No more searching: Discover the Best Abstract Rugs
From the TAPIS Studio collection to elevate your interior design project, discover the best geometric area rugs that promise to add an extra layer of visual appeal wherever placed.
1- TAPIS Shaped #39
TAPIS Shaped #39 boasts a truly geometric design that is sure to captivate the attention of all who encounter it. Its intricate patterns and unique shape combine to create a visual masterpiece that transcends traditional rug aesthetics.
This geometric area rug is perfect for making a bold impression in a spacious living room. Made in Lyocell, this rug can be customized to fit your design – from colors to size.
2- TAPIS Pastel #07
TAPIS Pastel #07 is an assertive choice to give an extra layer of character for a neutral decor- blending mid-century modern and Memphis Design styles it creates a bold geometric pattern that is sure to stand out in any room, giving an extra layer of deepth and visual interest.
3- TAPIS Retro #09
TAPIS Retro #09 promises to be a bright addition to any space! The irregular shape, bold colors, and stunning materials promise to make a statement wherever it is placed. Inspired by the architectural lines, this piece has a unique texture that adds a new sense of motion to the room.
4- TAPIS Eco #03
The geometric design of the TAPIS Eco #03 adds a touch of contemporary elegance to any space. Its captivating patterns and bold color palette make it a statement piece. From a living room, a bedroom, or even a home office, this rug exudes a sense of artistic expression and individuality.
By choosing this stunning geometric area rug, you are making a conscious decision to support sustainable living. Not only does this rug contribute to reducing waste and promoting recycling, but it also reflects a personal commitment to a greener future.
5- TAPIS Shaped #10
From the floors to the walls, there is no spot where a geometric rug could not stand out. If you are looking for a bold statement for your walls, TAPIS Shaped #10 and its geometric shape is the perfect ask. This eclectic rug brings back mid-century modern vibes mixed with Memphis style to add the modern look that any space needs.
6- TAPIS Eco #06
Continuining our list of the best geometric area rugs, we have the TAPIS Eco #06 – a rug with a vanguardist design that is perfect to create an harmonious space. More than beautiful, this rug is part of our Eco Collection and highlights eco-friendly materials and the concearn for a better world.
7- TAPIS Shaped #21
Finishing our list, we hate the TAPIS Shaped #21 wich is a timeless addition to any space – with a stunning striped-pattern and beautiful color compositions, this rug will make a statement in any spot and add a new dimension to any room,
Geometric area rugs are a powerful tool to enhance any interior design project – from the walls to the floors – these pieces will surely add the flair that your interior needs.
We hope you have found the perfect geometric area rug that you were looking for, but you also can enjoy discovering all the options that we have for you; check out our geometric rug selection and be ready to fall in love with stunning designs.

Photo: Ryan Kurtz | Designer: Fawn Galli