Choosing the best color for a rug can be a challenging task. This article will explore the best Color Rug Trends for 2024.
Choosing the right color for a rug is essential since it can enhance the overall look of a living space. Even a simple design or color choice can create the ideal atmosphere for a room, from soft colors to bright ones that you can use in your home design.
We have compiled a list of the latest color rug trends to help you select the perfect option for your living area. Let's explore the top color rug trends for the year 2024!
1. Ruby Red Rugs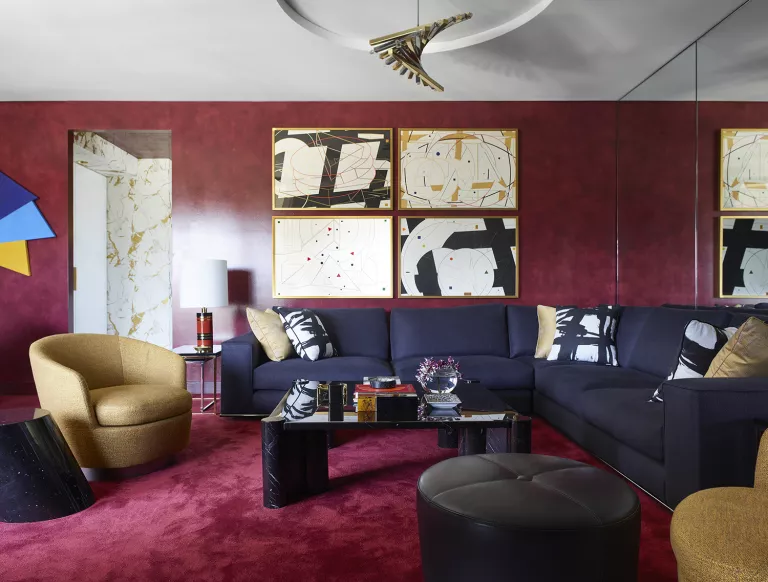 Red is a popular color choice for rugs these days. Its luxurious shade can infuse a room with vitality, energy, elegance, and personality. This color rug is especially suited for living and dining areas, where it can deliver a sophisticated and modern look. A wall-to-wall red rug can perfectly blend with the furniture and artwork in any room, creating harmonious and eye-catching decor.
2. Blue Tones Rugs
Incorporating a blue rug can create a tranquil and soothing effect. The gentle and subtle shades of blue are particularly appealing when creating a cozy and serene environment, as they can make a room feel more open and lively.
Interior designers frequently opt for this color scheme, as it complements various decor styles and contributes to a peaceful ambiance. Whether opting for a light or dark blue, this color is a timeless choice for those seeking a calming and inviting living space.
3. Orange Color Rugs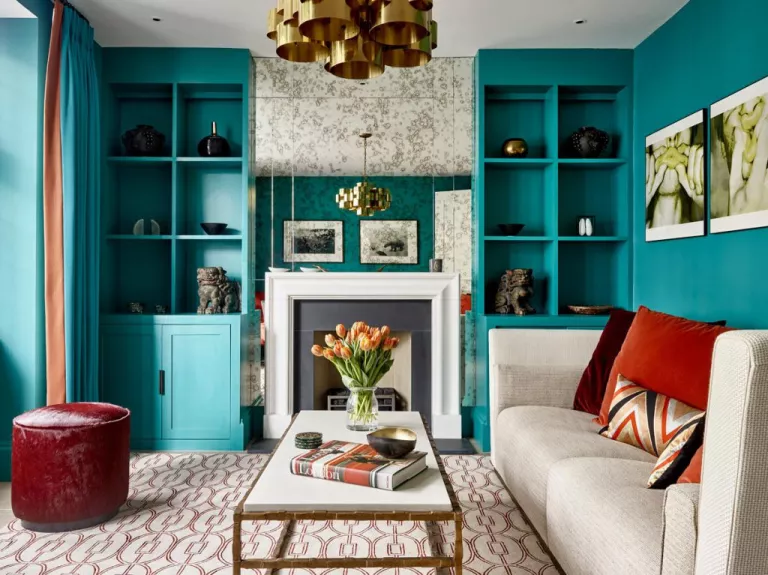 The latest trend in rug colors for 2024 is orange. This vibrant color exudes optimism and adds a playful touch to your interior design. Orange rugs are versatile and complement neutral tones beautifully.
Incorporating orange into your living room can add a pop of color to your space and pair well with earthy greens and blue hues. In this living room, an orange rug was ideally added to combine with the color cabinetry and neutral sofa.
4. Green Shades Rugs
Incorporating green tones into a room can create a natural and refreshing atmosphere. This color rug is particularly fitting for a serene living space as it promotes a peaceful and inviting ambiance while adding a touch of earthiness and wellness to the overall design.
In 2024, green shades are predicted to be a popular choice for living rooms, dining areas, and bedrooms, allowing you to cultivate a tranquil garden-like setting within your interior design endeavors.
5. Rust Tone Rugs
Rust-tone rugs are a great way to enhance the furniture and artwork in the room while also reflecting natural light to create an elegant and glowing atmosphere. This color rug is perfect for creating a relaxed and welcoming interior.
Rust tones usually consist of hues like avocado green, mustard yellow, and reddish-brown, commonly used in interior design to create warm and earthy vibes. This color is also reminiscent of autumnal shades, which can add a cozy touch to any space.
6. Yellow Color Rugs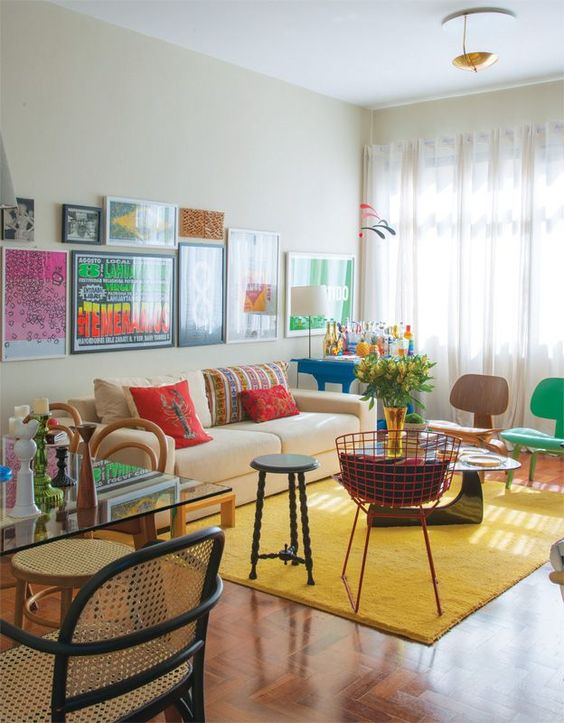 Adding yellow to your living space can enhance the overall ambiance by infusing it with energy, confidence, and optimism. A yellow rug is an excellent choice to create a bright living area. A yellow rug can bring warmth, coziness, and sunshine to your room.
When combined with lighter shades such as muted blues and greys, this bright hue can create a sense of calmness and well-being, making it a delightful and inviting space to relax.
7. Pink Shades Rugs
Pink is expected to be a popular and stunning color choice for interior design in 2024. Including a pink rug in your project can add a unique and sophisticated touch to any space, creating a warm and cozy atmosphere. This color provides a sense of style and irreverence, adding personality to your living area.
Choose the Perfect Color Rug
In this article, we've carefully selected the top seven color rugs projected to be the center of attention in 2024. These colors are sure to inject a renewed sense of energy into your interior designs, going from shades of red to bright hues of yellow.
We hope these stunning Rug Color Trends inspired you to make the right choices for your interior designs and create the best living space. w that you know the best color rugs for 2024, we invite you to explore How to Choose a Rug Color, a professional guide to improve your interior designs.