With these nine Mid Century Rug ideas, it will be easy to add an extra dose of timelessness and elegance to your project. Check it out.
There is no other piece capable of instantly cozying up a room as a rug, knowing by being the perfect addition to any layout to enhance a colorful vibe and add more comfortable and personality, rugs are essential for any home design.
And as we all agree that rugs are essential, when it comes to timeless rugs that never go out of style, it´s almost impossible to find other pieces that can be glamourous, timeless, and fashionable as the Mid Century Rugs.
Inspired by the Mid Century movement that emerged in the 20s, Mid Century rugs feature geometric patterns, organic shapes, and vibrant color schemes; they are a timeless addition to any space. These rugs go beyond the beauty and promise to follow the usability while improving the aesthetic.
So, if you are looking for the perfect piece to elevate your interior design project with elegance and beauty, you are in the right place. This article will share nine Mid Century rug ideas to boost your layout aesthetic with glamour and comfort. Read on to discover more!
All about glamours
Mid Century rugs are all about glamours and function – inspired by the Mid Century style that emerged in the 20s, these pieces follow the style's main characteristics, including geometric patterns, clean lines, vibrant color scheme, organic shapes and a focus on usability.
Following the idea that every home needs a rug, the pieces inspired by the Mid Century movement can be the perfect choice for many projects – they are easy to combine with different styles, add a color hint, and can be a timeless piece to anchor any home layout. Mid Century rugs are an excellent way to enhance a room's mood with more comfort and glamour.
All about glamour in different ways, the Mid Century Modern rugs can go from neutral to colorful pieces, and that is why they are perfect for any room and any project that need an extra dose of coziness and elegance. Keep reading to check out the nine rug ideas that will cover your project needs and make it stand out.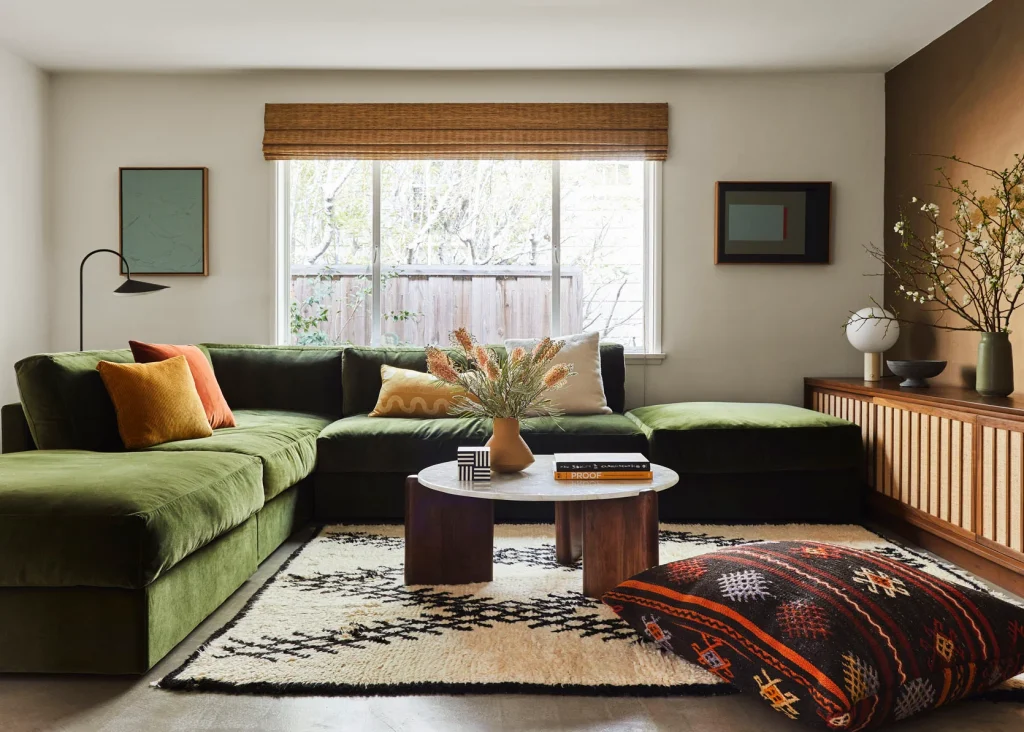 Mid Century Rug Ideas
Mid Century Rugs are the perfect choice to boost a room with more comfort, beauty, and timelessness. From the living room, bedroom, and dining room; from minimalist and modern to Art Deco style; with colorful accents or neutral color schemes; highlighting stunning patterns or organic shapes, check out the nine unmissable rugs that promise to boost your project.
Colorful Mid Century Rug Ideas
Rugs have many benefits, add a colorful accent is one of them. Colorful rugs are a great addition to any style – from the maximalist to minimalist ones, where they can complete the interior with a colorful vibe while also improving its comfort.
To enhance your layout with more colors and have a little fun twist in your interior, the pieces inspired by the Mid Century Modern style can be an excellent option, usually ranging from a bright warm color palette – these rugs will add the touch of color that your project needs while giving a unique look thanks to their incredible features.
From warm to cool colors, we have selected three beautiful rugs that can complete any interior with Mid Century Modern vibes and also give a touch of color to make it stand out:, TAPIS Shaped #49, TAPIS Shaped #27 and TAPIS Shaped #20.
Geometric Mid Century Rug Ideas
There are many ways to create a remarkable interior – and adding more visual appeal with geometric shapes is one of them. The Mid Century Modern style is known for highlighting sleek lines and geometric shapes and the rugs inspired by this style also feature these characteristics.
For any room division and style, geometric shapes can add an extra dose of boldness, vibrancy and provocation, completing the interior with a new perspective and improving it layout. We have selected three rugs inspired by the Mid Century style that emphasize geometric shapes and can be the central element for any project while also adding an extra layer of glamour.
TAPIS Shaped #33, TAPIS Eco #09 and TAPIS Retro #01 have in common geometric shapes, sleek lines and timeless color combinations. These three rugs are the perfect addition for a room that needs to be bold, timeless and comfortable.
Neutral Mid Century Rug Ideas
Even the neutral layouts have space for a touch of boldness, and the rugs inspired by the Mid Century Modern style show that it´s possible to be both – bold and minimal. Neutral rugs can be an excellent addition to modern designs and also for irreverent spaces that need a comfortable touch.
Highlighting stunning shapes, neutral colors, and irreverent details, TAPIS Pastel #08, TAPIS Pastel #04 and PASTEL #02 are the perfect choice for a stylish and cozy environment. In a cozy living room or in a dreamy bedroom, these Mid Century Rugs are promised to be the best option.
From colorful, geometric, and neutral rugs, these nine pieces have in common timeless, glamour, and elegance. Featuring the main characteristics of the movement that emerged in the 20s and year by year proves that it never go out of style, this selection of rugs brings the best of the Mid Century Modern to boost your project.
Do you still in need of more ideas? Check out our Mid Century rugs selection and find the perfect piece to match your project needs.