Mid Century Modern rugs add timelessness and elegance! Here are some tips for staging these rugs in different interior styles!
Mid Century Modern rugs are synonymous with timelessness and elegance. They can be the perfect piece to elevate your decor while giving an extra dose of comfort and glamour – and if you think these rugs are exclusives for interiors that follow the Mid Century Modern style, we are here to show that they can be the perfect match for any style. Read on to discover tips for combining these elegant rugs with any interior style and elevate your layout with timelessness and beauty.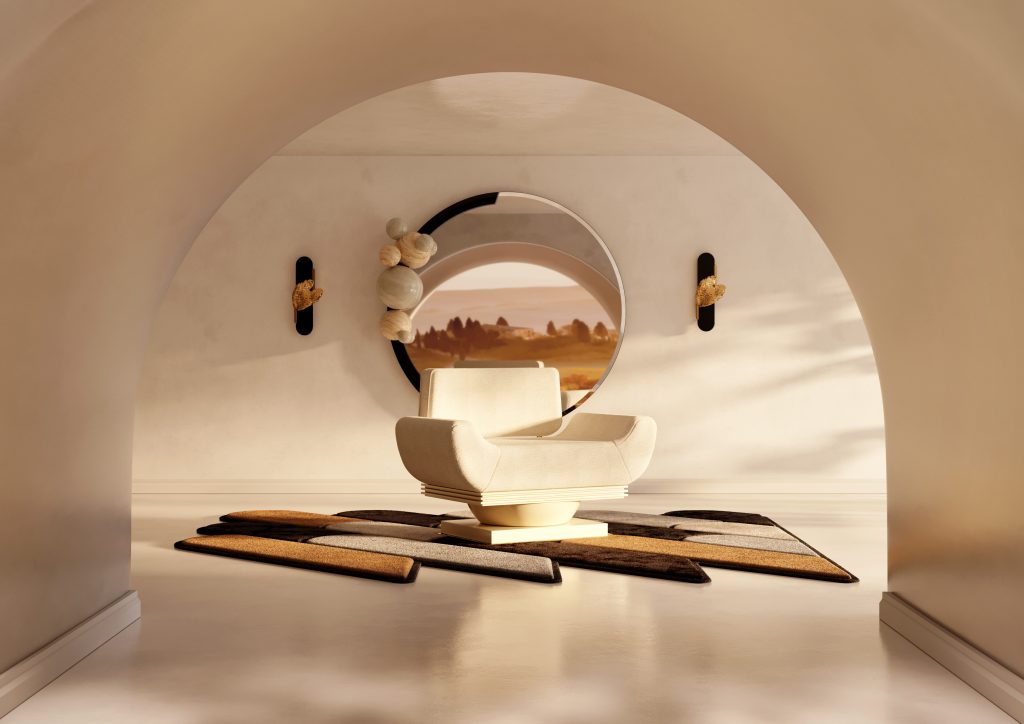 Mid Century Modern Rugs
Mid Century Modern Rugs translate all the beauty and elegance of the Mid Century Modern style into versatility pieces that can add glamour to any home space. Following the characteristics of the style, Mid century rugs have bold colors and geometric patterns as their key element.
As the colors and patterns are the main features of these rugs, they are an excellent addition to add more visual interest and colors to a specific layout. With huge patterns of rectangles, circles, and geometric shapes – the Mid Century Modern rugs can be the central piece for any space.
Even though it highlights stunning patterns, abstract art, and vibrant warm colors, Mid Century Modern rugs have a special vibe; they are the perfect complement to any style. From Modern to Hollywood Regency, there is no place where a Mid Century modern rug can add a charming atmosphere. We will explore more about it in this article, so keep reading to discover how to combine these pieces in different interior design styles.
How to Mix Styles?
Combining different room styles can be fun and result in stunning and unexpected layouts – it can also add more interest to a room, so why not mix eras and styles? And for that, the Mid Century Modern rugs can be your best friend because they are versatile and easy to pair with different styles.
To create the perfect layout that better reflects your project's needs and personality – sometimes the best way is to mix and match – different furniture styles, decor accessories, and rugs that can set the dream space. It´s fun to play with other styles, but it also requires some tricks. We will share some tips to help you combine different styles, which will help you combine Mid Century Modern rugs to your layout and any rug! So, time for some advice:
Choose a thread of consistency: when combining styles, it´s essential to decide on a line of consistency that will help create unity in the room; it can be a color, a specific shape, or a material, for example. Regarding Mid Century Modern rugs, you can choose a piece that highlights the room's color scheme or shape.
Work in a neutral background: it´s easy to mix and match different interior design styles when working on a neutral foundation. Your room is like a blank canvas, where you can play and combine various elements to active a flawless result. In a neutral background, you can add a Mid Century rug to add a colorful vibe and allow you to play with other styles, furniture, and accessories.
Choose your anchor piece: every room needs its central point, and having this clear will help you to select the pieces that better match the room vibe.
Repeat shapes and patterns: repetition can be an excellent way to create unity in a room, so when mixing different interior design styles, focus on repeating shapes and patterns to create an integrated sense. Your Mid Century Modern rug can be an excellent way to help you to find this consistency with patterns and shapes.
Have fun with it: last but not least – have fun with it and remember that there is no specific rule about combining different styles; the only rule is to create a space that allows the best home narratives.
With those tips, combining Mid Century Modern rugs in different interior design styles will be easier, so when choosing your perfect piece, remember that advice. But we still have some tips for you, and now we will give examples of combining Mid Century Modern rugs with some of the main design styles. Scroll down for more inspiration.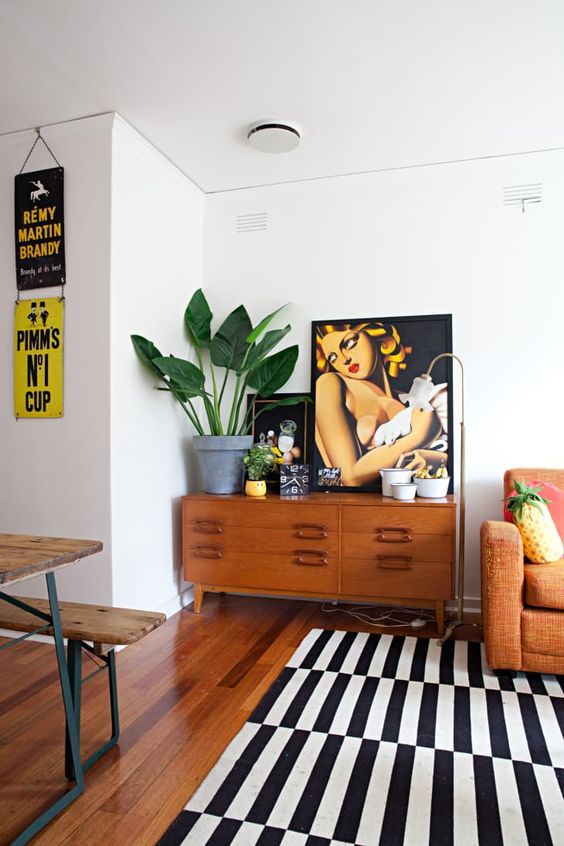 Mid Century Modern Rugs in Different Interior Styles
Mid Century Modern rugs can be paired with various interior design styles for a touch of elegance and personality; they are beautiful pieces that can set a timeless and cozy vibe. Check out some ideas to combine these pieces with the main interior design styles:
MINIMALIST / CONTEMPORARY
One popular way to incorporate Mid Century modern rugs into a room is to pair them with minimalist or contemporary decor. In that case, you can go for a Mid Century rug with clean lines, geometric patterns, and neutral colors, such as black and white, to complement the room's simplicity.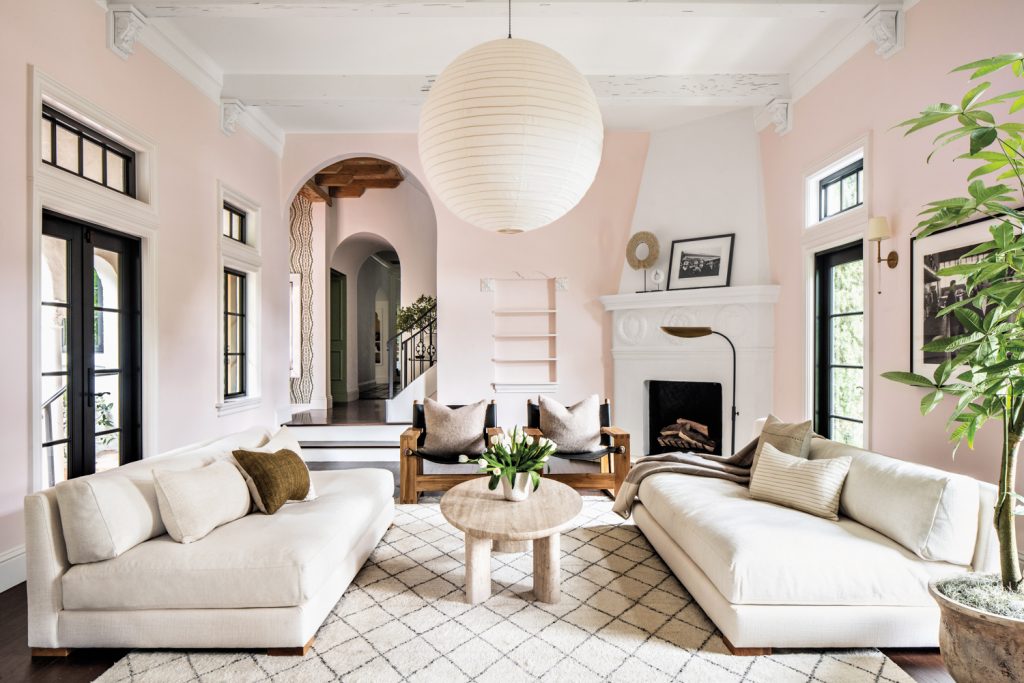 Another way to incorporate Mid Century Modern rugs into a room is to pair them with Bohemian or Eclectic decor. For those styles, you can choose a rug with a bold, colorful pattern and pair it with vintage or unique furniture and decor items.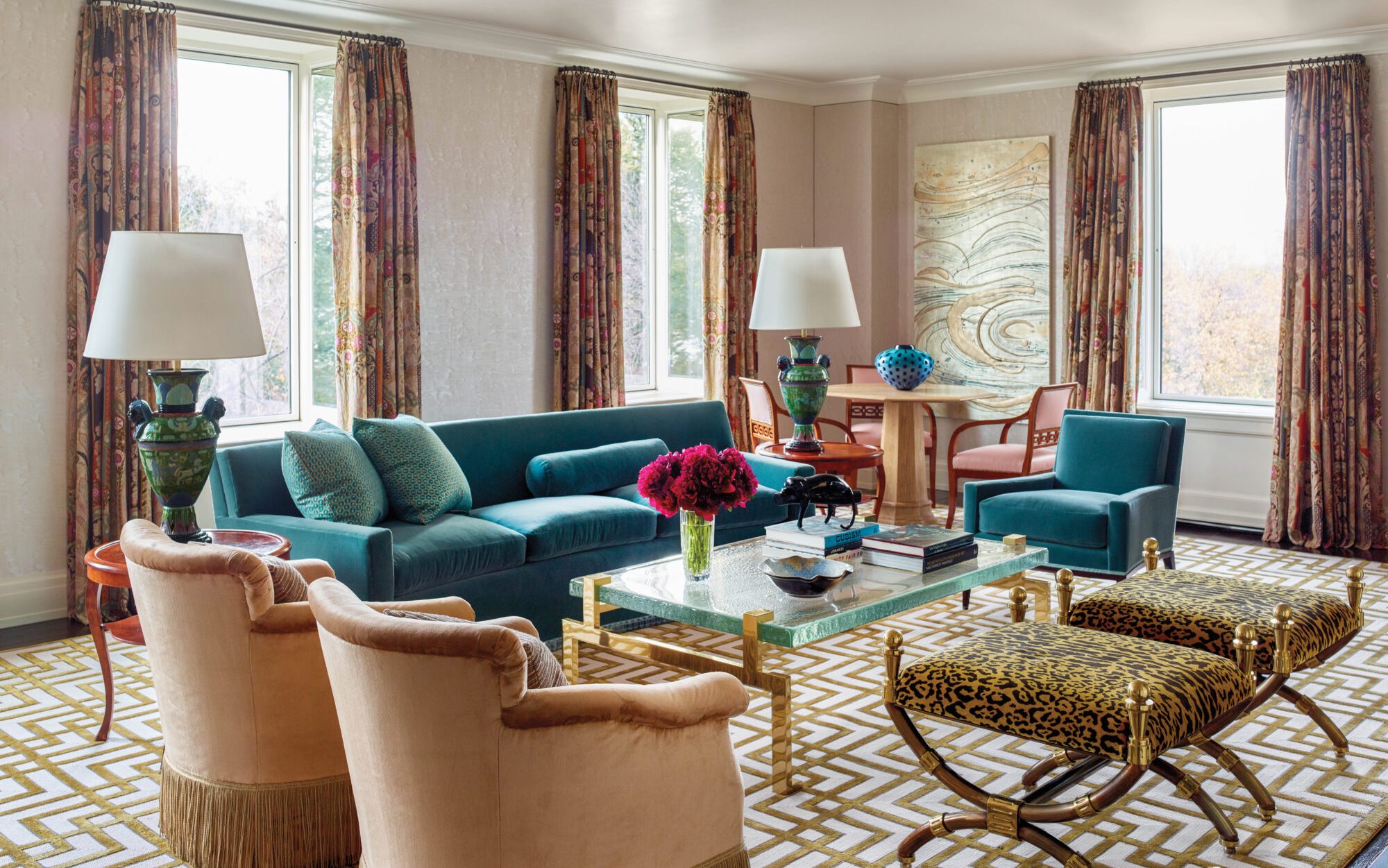 If you are into a classic or traditional interior design style, you can also paired Mid Century modern rugs to activate a timeless and glamorous decor. For that, you can concentrate on a rug with a timeless design, such as a floral or geometric pattern, and pair it with traditional furniture and decor items.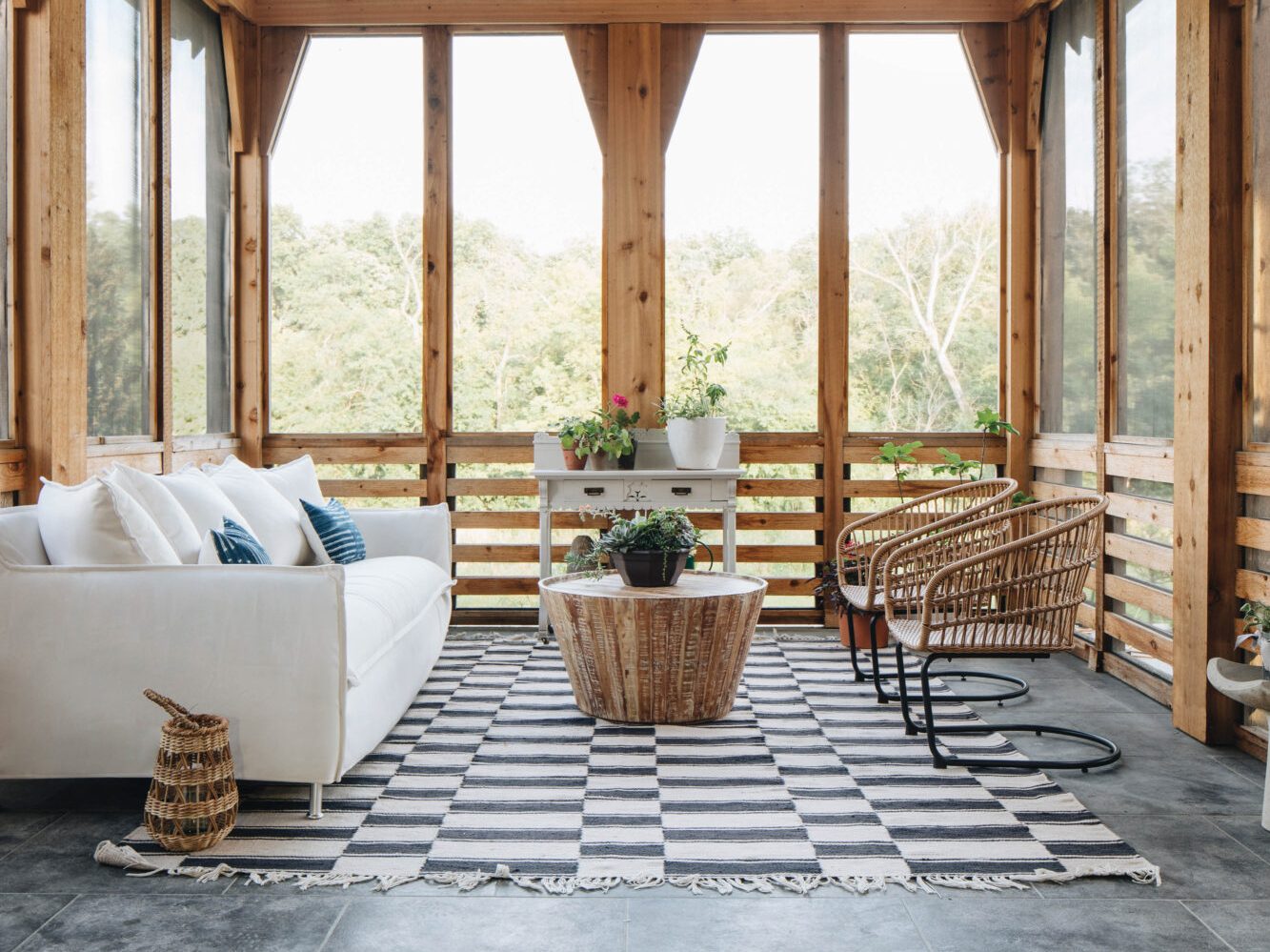 Mid Century Modern rugs can add timelessness and beauty to any space; the key to successfully pairing these pieces with different interior design styles is to choose a rug that complements the existing room aesthetic. Now that you know how to combine Mid Century Moder rugs with different styles, discover nine Mid Century rug ideas to boost your project.