Dive into the world of California luxury as we unveil the enchanting interior of Mary McDonald's estate. From classic charm to modern elegance, explore how this California estate captures the essence of opulent living.
In the heart of California's scenic beauty, a word of opulence and exquisite design unfolds within the enchanting estate of Mary McDonald. This Californian dream home not only boasts classic charm and modern elegance but also holds an intriguing connection to the founders of the cosmetics brand, Too Faced.
Mary McDonald's California estate is a true masterpiece, showcasing the incredible talent and creativity of its owners. Every detail of this resident has been thoughtfully curated, resulting in an atmosphere of timeless beauty and sophistication. As you explore its interiors, you'll find yourself immersed in a world of luxury.
As you step into this California estate, the grand entryway welcomes you with a stunning blend into traditional and modern elements. The color scheme here is a harmonious marriage of soft pastels and rich jewel tones.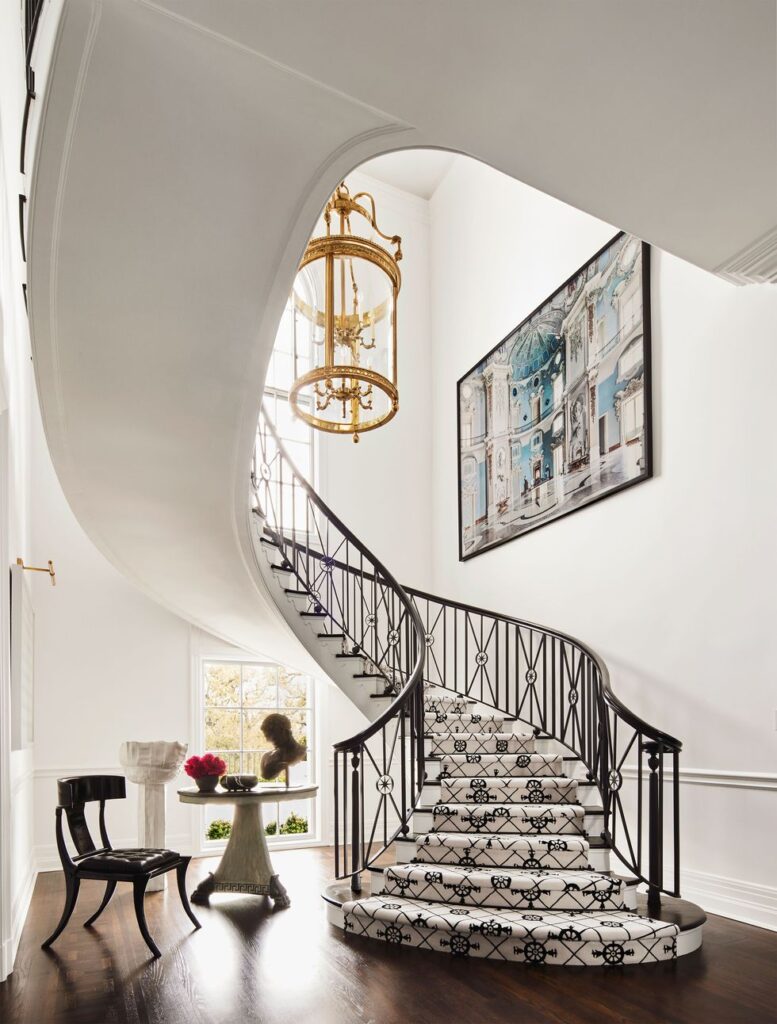 The tea room of California estate is the epitome of comfort and style. It's a space designed for relaxation, where modern sensibilities meet timeless elegance.
The tea room boasts a palette of shades of powder blue, soft pink, and subtle cream. These colors create an atmosphere of serenity and sophistication, where every detail is thoughtfully curated. Large windows bathe the room in natural light, allowing guests to savor the beauty of the estate's surroundings while enjoying the area.
The state also features the family room, designed with a very distinct style of the tea room. In this family room, classic design elements take center, with luxurious pink and gold hues dominating the color palette. The soft and muted pink shades of the oriental rug take center stage, which also defends the seating area, anchoring the room in both style and traction at the same time.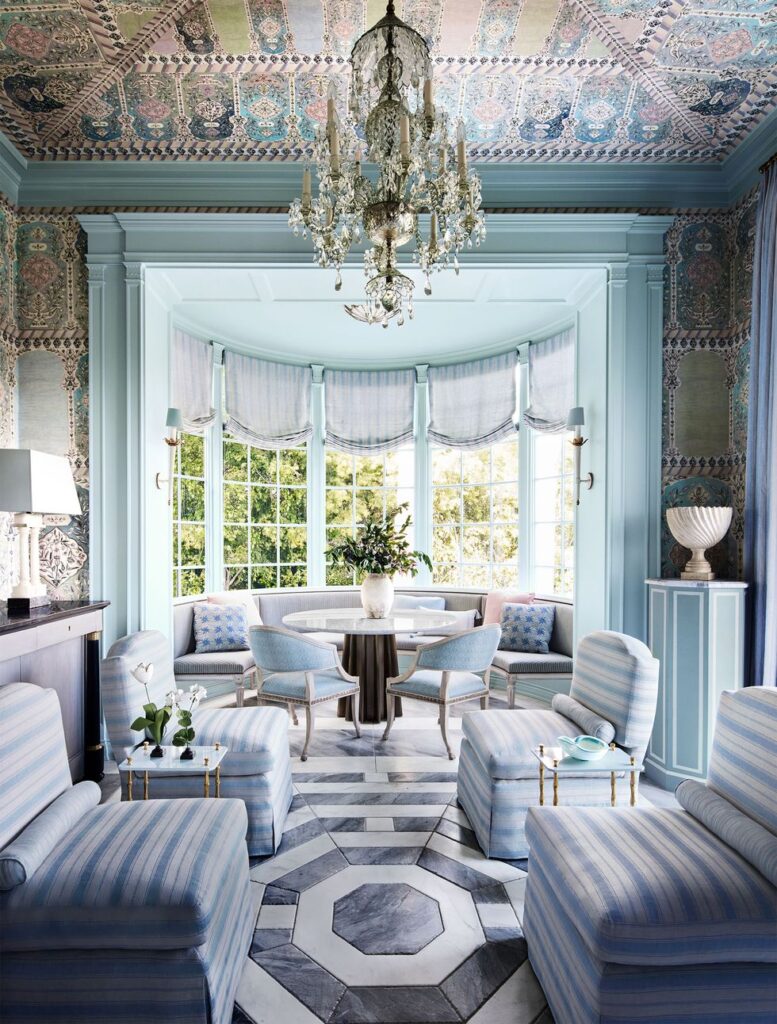 The final gathering room of this California state, is the house's living room, with a completely different style and color palette too. The living room exudes an air of classic opulence, primarily through its carefully curated color palette. The walls are adorned in soft, neutral tones, offering backdrop of understated sophistication. Warm ivory, cream and soft gold hues dominate the room, creating an inviting and light-filled ambiance.
What steals the spotlight in this living room is the magnificent rug beneath the coffee table. A handwoven Aubusson rug graces the floor, displaying a grand tapestry of intricate patterns in soft and muted gold. This rug not only adds an element of artistry to the room, but also serve as a focal point, anchoring the space in classic elegance.
The overall effect is a space that strikes a balance between traditional opulence and modern luxury. It's a room that invites you to linger, basking in the richness of surroundings and appreciating the careful curation of every detail.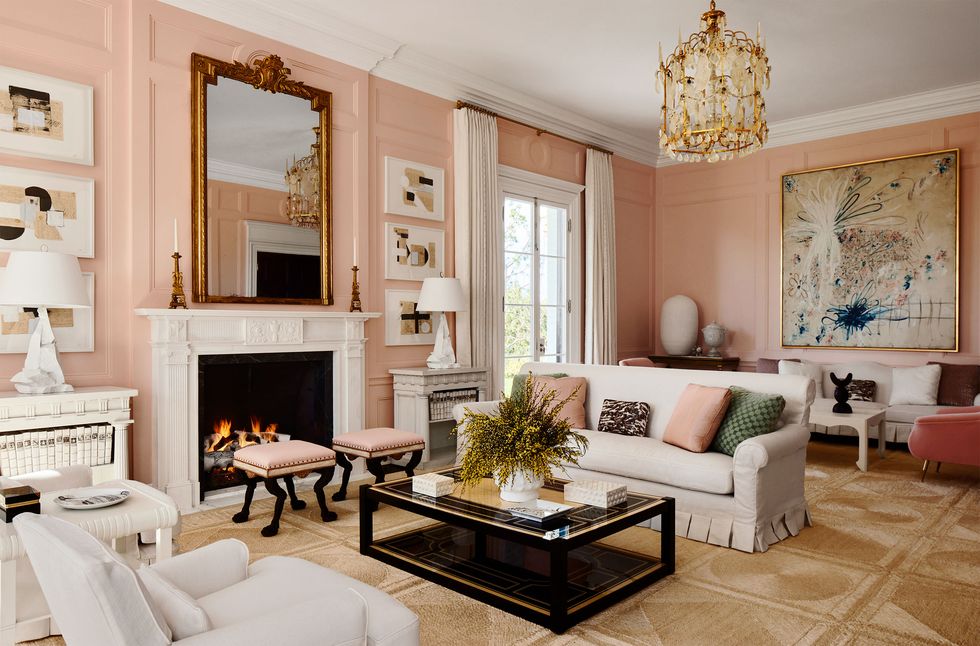 The dining room in Mary McDonald's California state is a testament to the essence of timeless elegance and traditional charm. With its elegant crown molding, wainscoting and graceful curves, the room creates a sense of refined sophistication. It's a space that celebrates the art of dining.
The color palette in the dining room is predominantly neutral, with a warm ivory and black and cream hues dominating the space. These shades create an inviting and timeless backdrop that complements the room's formal setting.
What truly captivates your eye in the dining room is the magnificent rug that takes center beneath the dining table. A custom rug takes the center stage, unfurling a captivating tapestry with amazing patterns and soft shades of blue, white and black. This exquisite rug is not merely a floor covering but a work of art, adding an unmistakable layer of grandeur to the room and serving as a truly stunning focal point.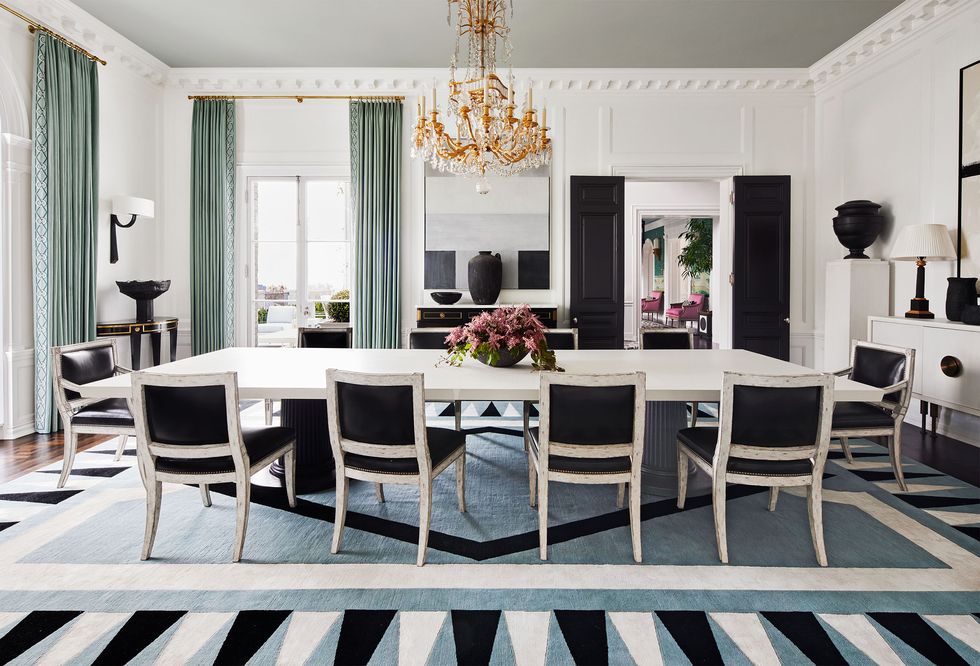 Mary McDonald's California state boasts a master bedroom that is a true haven of serenity a timeless beauty. This space is designed for rest and relaxation, enveloping you in an atmosphere of tranquility and elegance.
The master bedroom is awash in a palette of soft, soothing hues. Soft pastels, muted grays, and a gentle beiges dominate the room, creating a tranquil ambiance that's conductive and rejuvenation. The walls are adorned with subtle wallpaper in a delicate pattern, adding a touch of understated charm.
What would enchase more the serenity of the master bedroom would an exquisite rug beneath the bed. A hand-knotted Persian rug that would grace the floor, with motifs and shades of blue, beige, and cream. This rug would add both a touch of artistry and a sense of warmth underfoot, anchoring the room in classic beauty.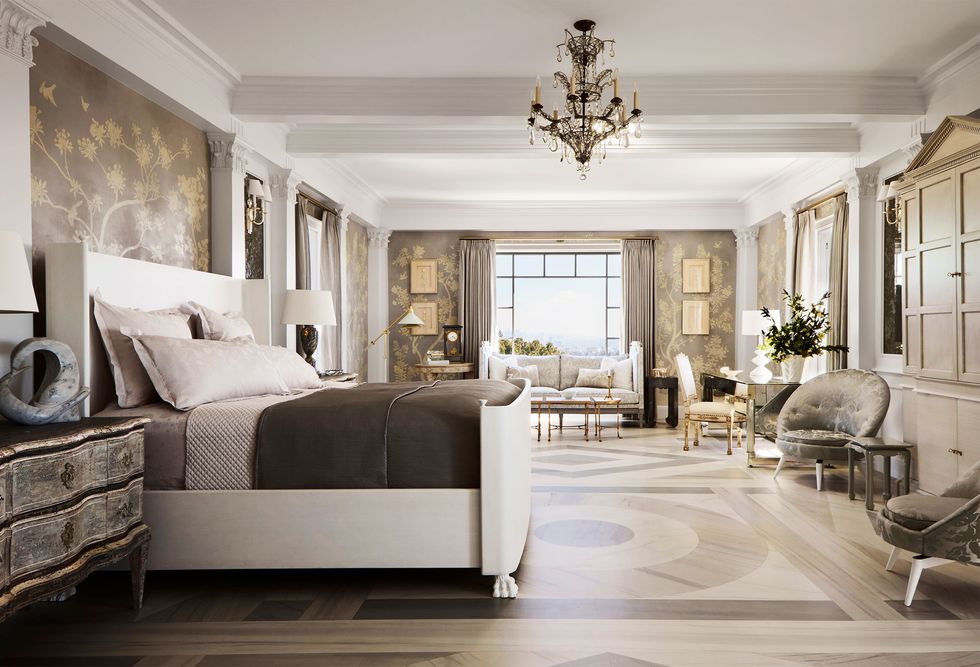 Within Mary McDonald's master bedroom, the closet is a reflection of both elegance and meticulous organization. This space is designed to provide ample storage while maintaining a sense of luxury and style.
The closet carries forward the soft and soothing color palette seen in the master bedroom. Soft blue pastels, muted grays, and gentle whites dominate, creating a seamless transition from the bedroom to this functional yet elegant space.
The master bathroom is a private retreat that exudes classic charm and modern convenience, ensuring that every visit to this space is a soothing and luxurious experience. This room features the same color palette to the bedroom and closet, creating a sense of tranquility.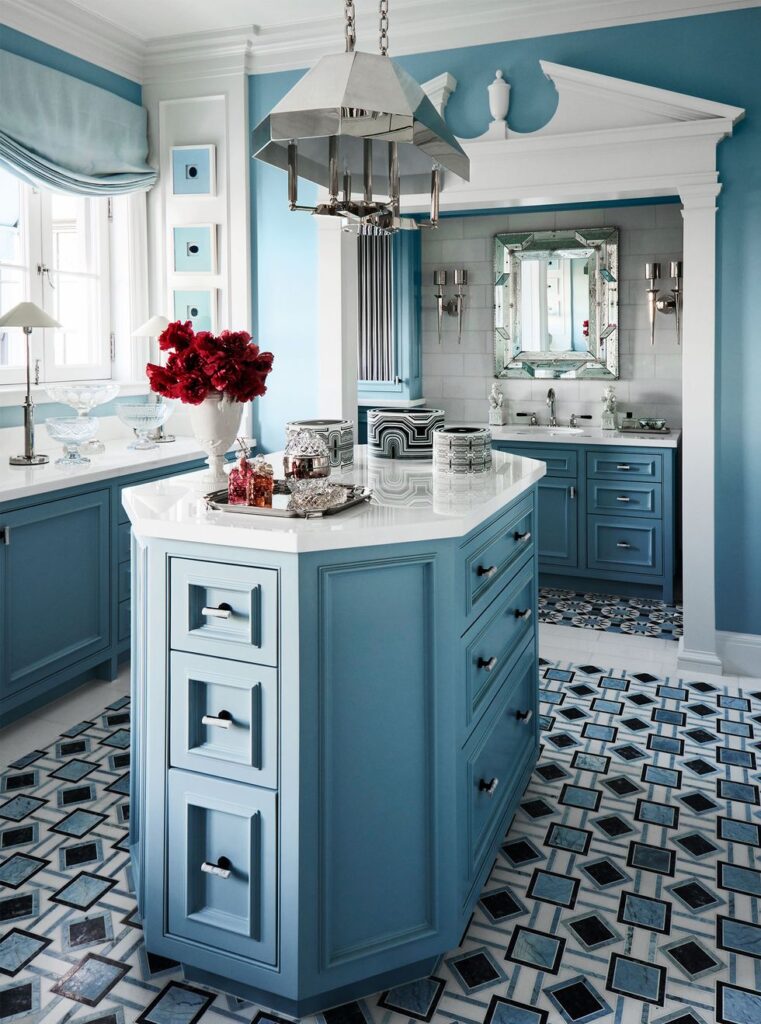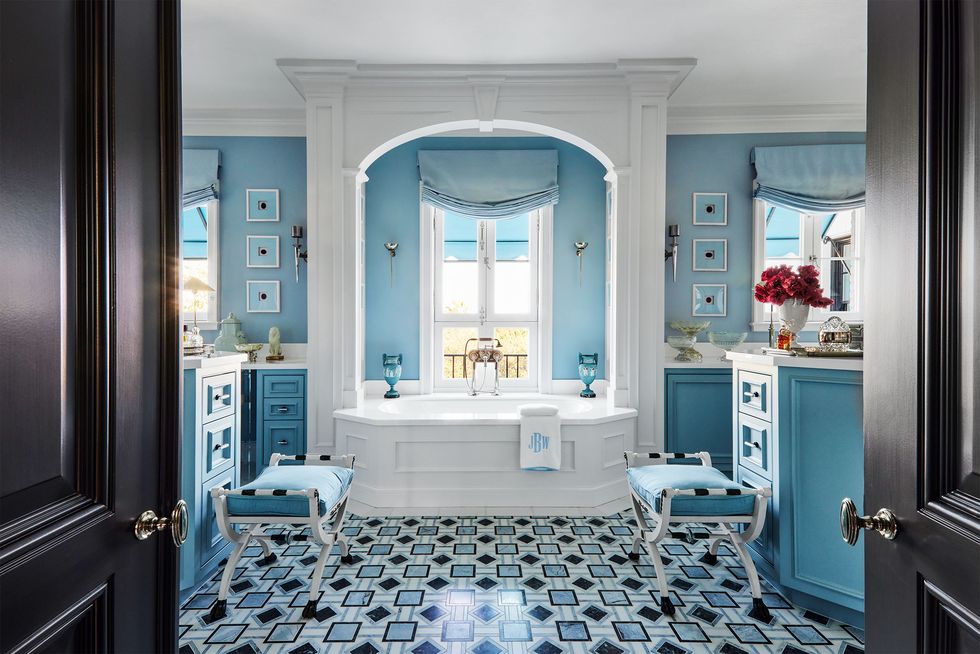 Mary McDonald's California state is a masterpiece that embodies the very essence of opulence living. Each room, from an elegant living room with its exquisite rug to the serene bedroom, reflects the perfect marriage of classic charm and modern luxury.
Creating spaces that are not only beautiful but also functional and harmonious is very important. This estate offers a masterclass in achieving this delicate balance. It's a testament to the fact that, in the world of interior design, every detail counts.
We invite you to explore our colorful rug collection to draw more inspiration from exceptional spaces like this California estate as you want to elevate your projects and create spaces that are not just visually stunning but also deeply reflective of the personalities and lifestyles of those who inhabit them.