Inspired by the timeless elegance of the Mid Century Modern Style, Mid Century rugs can add the perfect flair to any room.
In the beautiful interior world, many inspirations help create the perfect home. Thanks to the variety of interior design styles, it´s easy to find one that better matches your projects' needs. Each movement can help activate a certain feeling and mood in a room, thanks to the different perspectives.
For a timeless feel, Mid Century is the style that will help you, and this article is where you will discover everything that you need about Mid Century rugs; the pieces that translate this style with an extra layer of coziness without losing the elegant aesthetic. Scroll down because we are about to travel to the world of the Mid Century rugs.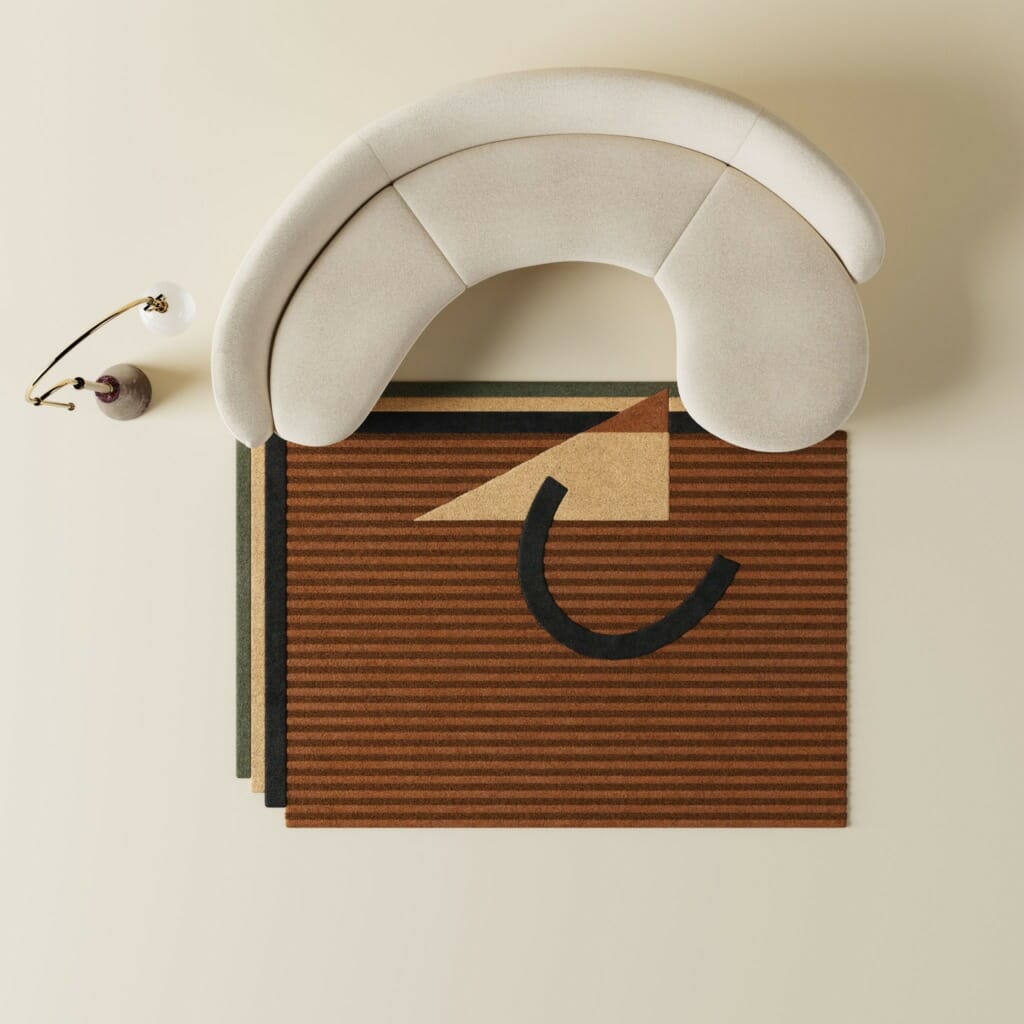 What is Mid Century Modern Style?
For our first stop, we will explore the Mid Century Modern style, the movement that inspired and gifted Mid Century rugs with their timeless elegance.
The Mid Century Modern style represents a break between the previous styles that ornamented homes and the new needs that emerged in the middle of the 20s. The style date between 1933 and 1965 and shaped a new vision for architecture, furniture, interior design, and even lifestyle.
As with most of the movements in interior design, the Mid Century Modern was a reflection of the needs of a historical period – between wars, emerging technologies, and the discovery of new materials; the movement reflected the new necessities and possibilities, but it is still in vogue until nowadays in interiors worldwide.
What makes Mid Century Modern timeless is its characteristics that have in the foundation the use of clean lines and simplicity- a reflection of the needs raised in the middle of the 20s when homes were more angular and focused on maintaining a nuclear family unit.
Simple lines, neutral colors mixed with bold accents, and raw and manufactured materials are some of the main characteristics of the Mid Century Modern Interior Design. Better than just reading, you can check out some beautiful examples of the Mid Century Style below.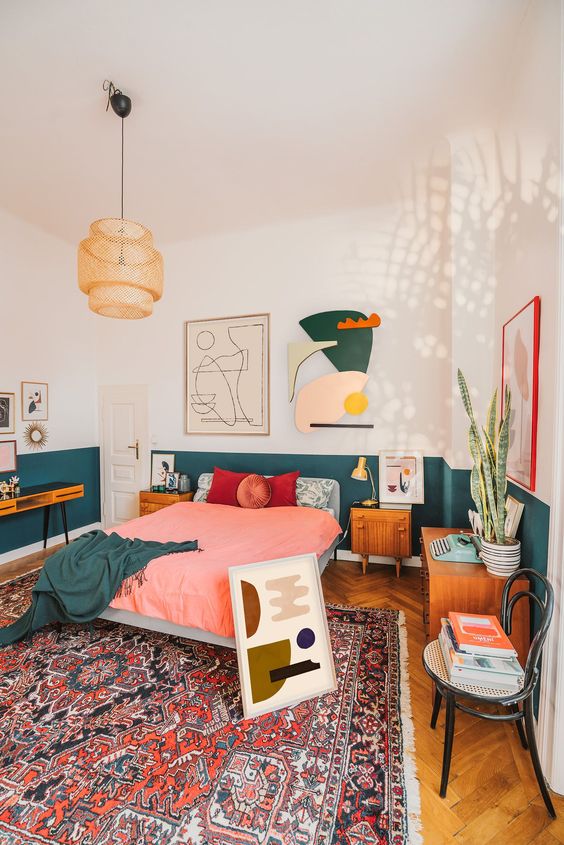 This timeless style brings to interiors the simplicity combined with touches of colors and geometric patterns – but the movement aims to create valuable and simple spaces where living would be the focus. Now, to summarize what Mid Century Modern style is, here are some of the main characteristics of this style:
Organic And Geometric Shapes: the Mid Century Modern style focus on the use of sleek line blended with geometric and organic shapes;
Function Over Form: One of the principles of the style is to create useful interiors – so from the furniture to the decor item, functionality always comes first.
Minimal Ornamentation: Mid Century Modern style follows minimal movement – but for the Mid Century Modern style, it is common to have statement pieces, pops of colors, and geometric patterns to add a bold accent to the interior.
Neutral colors with bold accents: the Mid Century Modern style is easy to recognize thanks to its color palette that blends neutral colors with pops of colors.
Nature inspiration: In Mid Century Modern interiors, there is an intention to bring nature inside – with more plants and color palettes inspired by nature.
Now that we have clarified the Mid Century Modern style and its main characteristics, we will discover how this style is translated into rugs. Read on to find out what Mid Century Rugs are.
The timeless touch – Mid Century Rugs
Mid Century Modern Style is all about timelessness and elegance! But how can this style be translated into rugs? The answer is quite simple: by featuring the main characteristics of the Mid Century movement, more specifically, the colors and the geometric patterns.
Mid Century Modern rugs are all about colors, and patterns, and, of course, are a timeless addition to any space. These pieces brighten up many homes and are not just a good choice for a classical or vintage vibe – but a great addition to any interior design style that aims to bring more color, visual interest, and a timeless aesthetic. From Modern to Hollywood Regency, there is no place where a Mid Century modern rug can add a charming atmosphere.
Inspired by the characteristics of the Mid Century movement, the rugs featuring this style frequently feature enormous patterns of rectangles, circles, and organic shapes. Mid Century rugs have a minimalist vibe and are sometimes inspired by abstract art, but they also frequently have a vibrant color pop, especially in warm color schemes like orange and brown.
Mid-century rugs are synonymous with casual elegance and timelessness, and they go well with any decoration – mainly to add pops of vibrant, warm colors and abstract patterns.
In a Mid Century rug, there are some essential characteristics that we highlight:
GEOMETRIC PATTERNS: As in the Mid Century Modern style, the rugs inspired by the movement highlight sleek lines, geometric patterns, and organic shapes to add more visual interest to any space.
RETRO ELEGANT: A mix of elegance with a retro aesthetic is usually seen in Mid Century rugs, which can set the perfect vibe for a cozy and sophisticated room.
TIMELESS: Mid Century style is still in vogue – and year after year, it continues inspiring interiors with its elegance and timeless aesthetic, thanks to its simple features. Mid Century rugs are timeless!
POPS OF COLOR: Mid Century rugs blend neutral tones with bold accents of colors – and they are easy to recognize by their nature-inspired palette composed of warm tones, such as orange, green, yellow, and brown.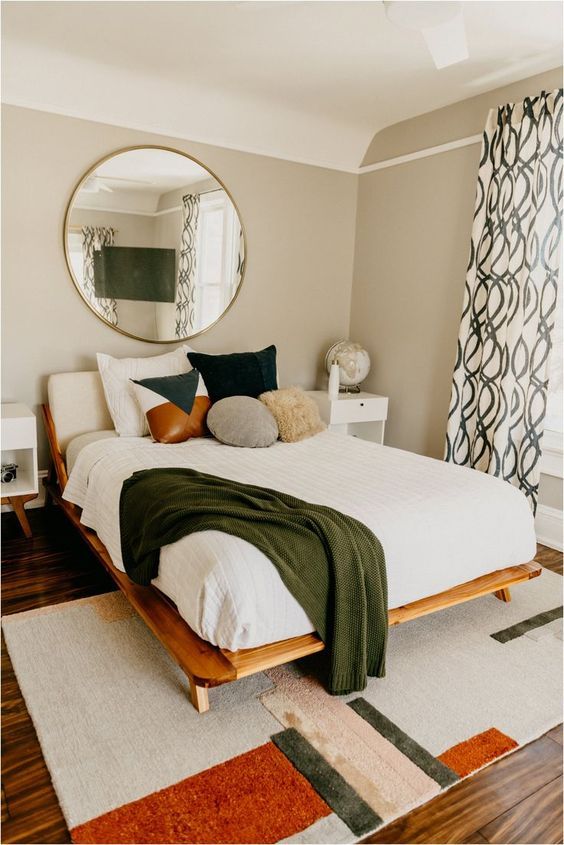 Mid Century rugs are the translation of a movement that revolutionized the interior world with its retro flair, sleek lines, and pops of warm colors. These rugs combine the beautiful features of the main movement and bring timeless sophistication to any home. Discover how to pair mid century modern tugs with any style and get a timeless aesthetic for your interior design project.