Be ready to welcome interior design trends 2023 to your project by embracing the power of colors. Meet the best rugs to create a colorful look.
As the year is just beginning, we are still all about the interior design trends 2023! A while ago, we shared an article about rug trends. Do you remember it? Basically, we highlight that this will be a bold year concentrating on maximalist tendencies and comfortable interiors.
The interior design trends 2023 in the rug world concentrate on more colors, coziness, and textures! And as the year is starting to show some sneak peeks, we can already notice it, especially when the topic is about colors. Colorful interiors are taking all over, spreading beauty and meaningful feelings.
Celebrating the start of this year that promises to be colorful and going to the encounter with the interior design trends 2023, TAPIS Studio presents the Color Gambling, a selection of colorful rugs that gain new meaning in each texture, shape, and material.
This selection also aims to contribute to the interior design industry and mark a special moment when professionals concentrate on the tendencies that will make the interiors even more beautiful. As great events occur – such as the Mason&Objet trade fair, which is happing from January 19th to 23rd in Paris, this is the perfect moment to endorse the interior design trends 2023.
Be prepared to enter a colorful world and welcome the interior design trends 2023 for your interior design project!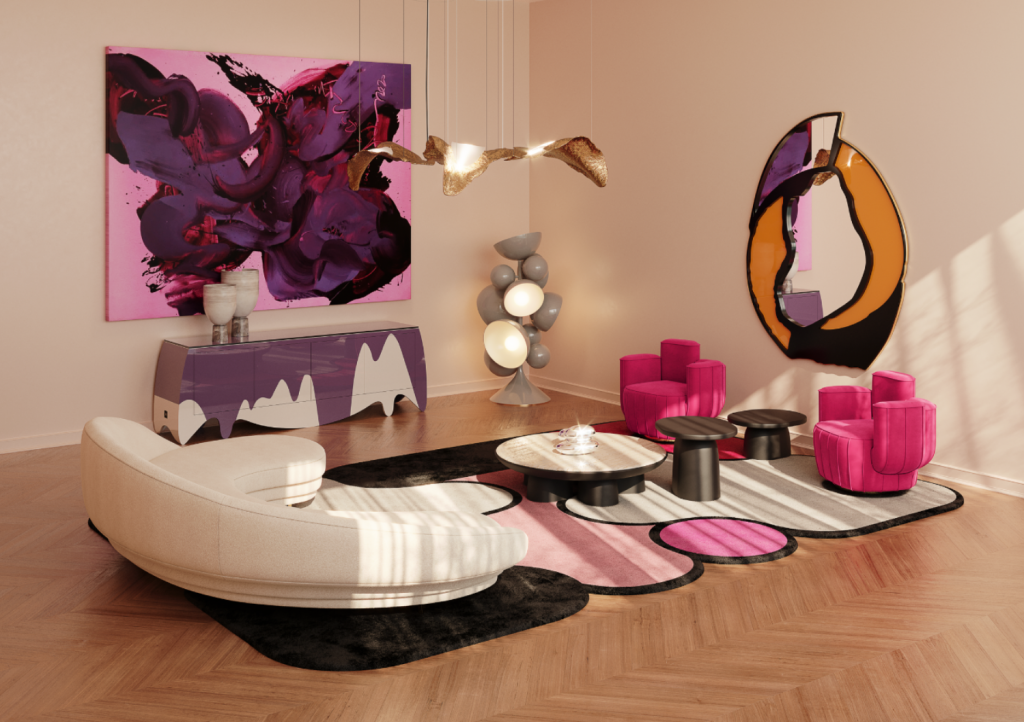 All About Colors!
More colors, please! The interior design trends 2023 ask for more colorful choices where different feelings and sentiments can emanate in the interiors creating the perfect dream scenario.
There is a reason why this year promises to be full of hues – not just because we live in a colorful world full of beautiful shades but also because colors help to shape how we look at the world and hugely impact our interior. The interior design trends 2023, are going to be a little more colorful, so it´s time to forget the black and white and embrace the beautiful meaning behind each hue.
Colors are captivating and important when creating an interior design project; they help to connect our perceptions, feelings, and sentiments. Choosing the color to embrace a layout should not be an arbitrary choice but something that goes to the encounter of the room's needs.
Each color in our kaleidoscopic universe has a distinct meaning and may be used to provide the right tone for an interior design project, ranging from upbeat to serene vibes.
Color Psychology
Colors can evoke emotions and sentiments, but how do we know the perfect one for a project? Color Psychology can provide excellent clues to update a more colorful and meaningful layout.
Color Psychology studies the relationship between color and human behavior, giving excellent indications about each shade and the feelings that it provides. This is a vast study, but to simplify a little bit, we will divide the color by their temperature – warm and cold – and focus on the meanings of each group.
Among shades of pink, orange, yellow, and red, warm hues are associated with strong emotions, passion, and joy; while between green, purple and blue, the cool colors help to activate peaceful and refreshment feelings.
In the interior design trends of 2023, colors will be the central element when creating stunning interiors. To help you to forget the black and white and embrace all the beautiful feelings that the colors evoke, TAPIS Studio created the Color Gambling, a selection of palettes that gain new meaning in each object, texture, and shape. Scroll down to discover more.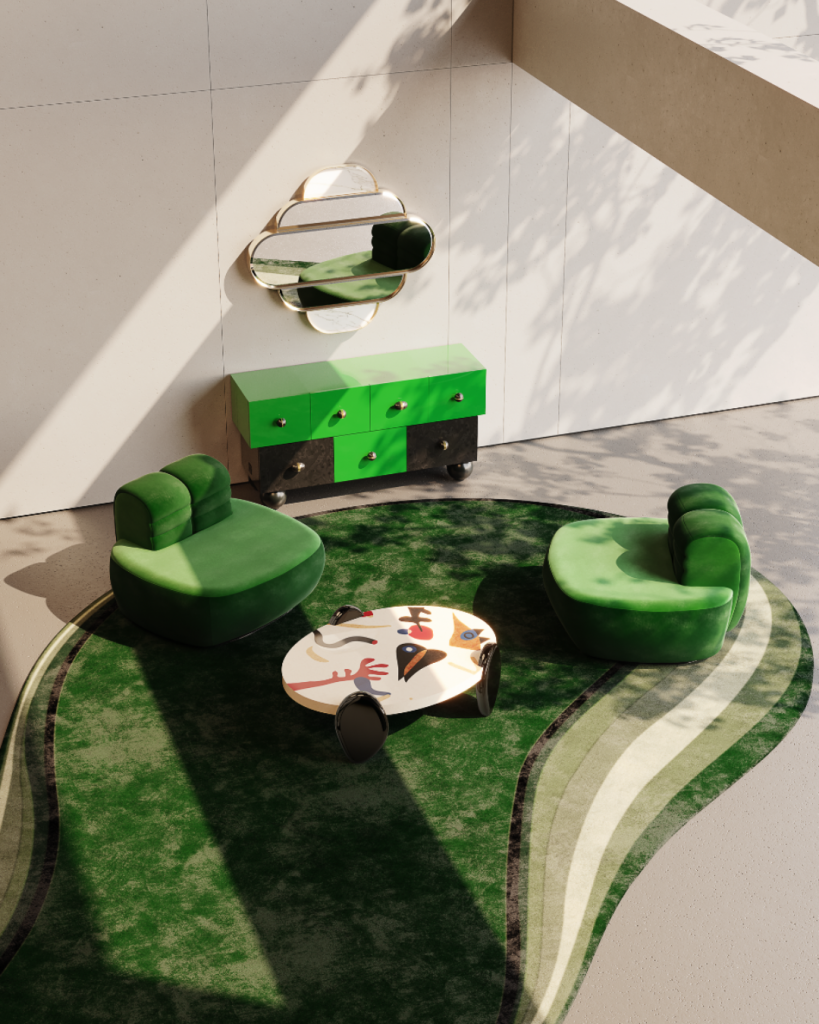 Color Gambling by TAPIS Studio
We have already explored the power of color and discovered that they are perfect to set the mood a room needs, but why colorful rugs? Rugs are the perfect pieces to give a kaleidoscope vibe to your interior design project – they can be used as a room accent or complete the colorful feeling. A rug will improve your layout with the perfect feeling while adding visual interest and comfort.
For a color gambling look – forget the black and white and welcome the different hues of your interior by playing with various palettes and color combinations. Discover the rugs as the perfect complement to your colorful layout! Embrace the interior trends 2023 to your layout with a selection of rugs with different shapes, textures, and colors! Take a look at some of our suggestions:
Why Pink? From a charming to a bold mood, the different shades of pink can bring different sensations. While a soft pink is relaxing and related to femininity, love, and kindness, a strong pink will add a dose of boldness to your interior. Discover some rugs that can improve those feeling and add the right amount of beauty to your interior design project.
From the cool colors palette, green is perfect for a fresh and energic look! Embrace the interior design trends 2023 in your project by adding a stunning green rug that can provide your layout with tranquil and peaceful vibes. Meet some of our pieces highlighting the green shade that can be the perfect start for a colorful look.
With this warm color-palette tone, you can create a friendly ambiance. This color, which sits between red and yellow, exudes positivity and is ideal for making a statement in any space. Ready to embrace the orange to your layout? Meet some of our stunning rugs with this shade.
The interior design trends 2023 are bold and colorful. Are you ready to embrace it in your next interior design project? So, download our Color Gambling – the future of trends look and get inspired with a palette of nine finely selected shades that gain new meaning on each object, shape, and material.