There are good reasons for wanting a modern Christmas rug in your Holiday home decor that fills every room with warm and cheerful energy.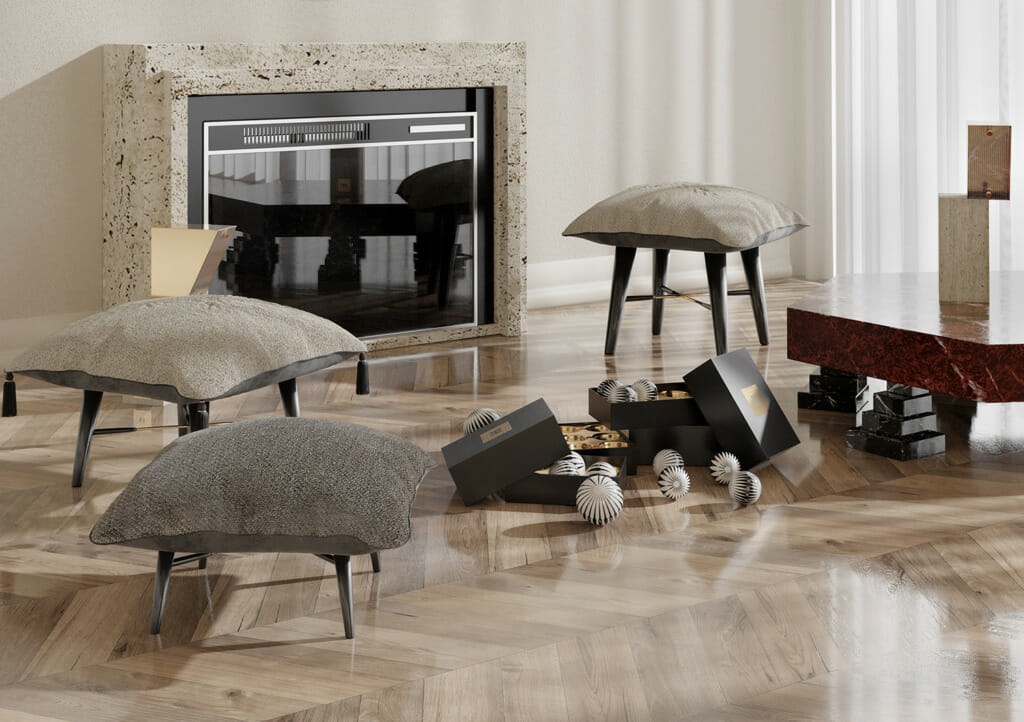 What Is A Christmas Rug?
A Christmas rug or a holiday rug is a decorative rug used to adorn homes during the winter's festive season. Traditional Christmas rugs are rectangular, red, and have short pile – the most famous Christmas rug is the doormat – small, rectangular, and red with wintry motifs, such as snowflakes, Christmas trees, or Santa's beloved reindeer, Rudolph.
Someone in the neighborhood probably owns one, just look around, and you'll feel the electrifying Christmas spirit emanating from one of these tiny Christmas doormats.
Christmas rugs are more than Christmas doormats. For some people, one of these themed rugs is an essential holiday decor. For others, homes are dressed for the occasion with tabletop ornaments, pillows, and throws, but their floor covering goes unnoticed and untouched.
The truth is, Christmas-themed rugs can be overwhelming, and only some people want to give up their home's identity for the holidays, mainly because it is a seasonal phenomenon. There are good reasons for not wanting a red rug with a snowman in your living room. But there are better reasons for wanting a modern Christmas rug in your Holiday home decor that fills every room with warm and cheerful energy.
Why Use A Christmas Rug In Your Holiday Home Decor?
Adding a rug to any room is always a good idea. This stylish item makes rooms cozier and is easy to move around the house and store away. In other words, rugs are a simple and effective way of elevating living spaces.
Christmas rugs and holiday rugs are no different. A simple rug can immerse the room in the festive spirit – and when the holiday season is over, you can hide the red rug with green motifs. However, with homes stripped from the holiday home decor, some people feel the holiday blues. The warmth and excitement of the season seem to disappear with the storage of decorative ornaments.
Holiday home decor helps to dress homes for the occasion, but it is possible to keep homes with the best of the festive spirit all year long – with a rug.
Here's why a Christmas rug is essential to your Holiday home decor.
1. A Holiday Rug Warms Your Home
If you feel your home is cold, try laying a rug on the floor. Rugs make the room feel – and look – warmer. This happens because of the soft touch and the delicate fabric of rugs that absorb heat and sunlight. As soon as you stage a rug in a room, it becomes more inviting.
You'll want to keep the welcoming atmosphere beyond the Holiday season. Do not compromise your interior design with a traditional Christmas rug. Instead, be bold with your Holiday home decor and install a rug that is seasonless. The right shape and texture can infuse the room with the beautiful emotions of the Holiday season all year long.
2. It Makes The Room More Comfortable
The Holiday home decor must be about comfort. The room must be comfortable enough to host everyone. At this time of the year, we open the doors of our home to welcome family and friends.
With the room full of people and children, you'll want to add a holiday rug to your holiday home decor. A rug is an extra layer that we place on the floor and brings many benefits to the table. In addition to making any room warmer, it is a protective layer that absorbs sound, footsteps, and impacts.
3. A Christmas Rug Brings The Room Together
Rugs are more than a finishing touch, even in Holiday home decor. Decorative rugs can be the central piece of any room, bringing the entire space together. One good way to start your Holiday home decor is by selecting the perfect rug for decorating the room.
This year, you can use a decorative rug to delimitate a small area within an open space or to highlight the dining area. A holiday rug can also be a good acquisition to integrate the space and furniture – giving the perfect festive vibe to any room.
4. A Holiday Makes The Room Quieter
Silent night, holy night. All is calm, all is bright. The only way of bringing this feeling inside your home with your holiday decor is by using a decorative rug.
Noise reduction is another benefit of rugs. Made of delicate materials that look good and feel better, this layer of fabric absorbs footsteps and noise waves.
With family and guests welcomingly occupying your home, a rug will balance all the hustle and bustle, which can be particularly disturbing for pets.
5. A Decorative Can Balance Your Holiday Decor
If you're a traditionalist and can't resist bringing together holiday home decor in green and red, consider combining it with a decorative rug to balance the interior design.
A shaped rug with neutral hues is a modern option that blends in with many design styles and moods, holiday spirit included.
Using a decorative rug in your holiday home decor with a sophisticated shape and a timeless color composition is seasonless. Nevertheless, you'll feel it's of Christmas spirit, even when the Christmas decor is packed again.
6. It Adds Personality
Rugs are primarily used as a floor solution, both functional and decorative. Luckily, interior designers have been using modern rugs as wall decor. This holiday season is the perfect time for being bold.
Add tons of personality to your holiday home decor with a wall rug. You can get a themed rug distinguished from conventional Christmas rugs by customizing it. With a custom-made rug, you can get the perfect festive ornament for each room of the house.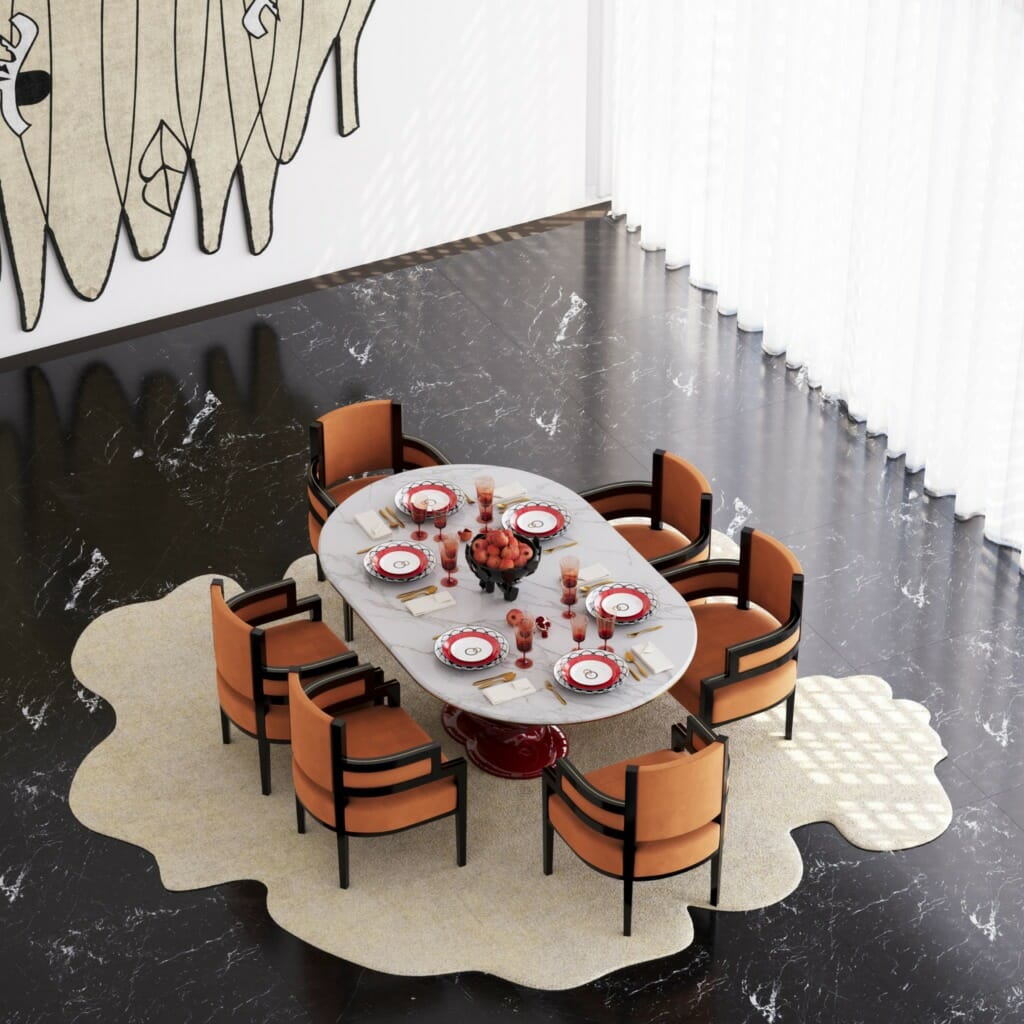 Adding a decorative rug to your holiday home decor is really tempting. The benefits are delightful, and this is a decorative piece that you adorn your home all year.
The coziness and warmth of rugs are seasonless. Read on Holiday Decoration Guide: The Best Decorative Rugs By Room before choosing the best rug for your home.