Characterized by bold colors and patterns, the maximalist interior design style is expanding and captivating more and more people.
Even though this style has existed for a long time, its appreciation is growing more each day. Consequently, several people try to find out more about this style and how to perform it in the best way possible. In this article, we have selected everything you need to know about this interior design style, including how to create the best possible project out of it, and also debunk some myths about this design.
What is maximalist interior design?
Contrary to what many people think, maximalism is not about just adding a bunch of things to a space. Maximalist interior design is indeed chaotic and loud. However, it is a thoughtful chaos. It's about avoiding leaving naked areas and filling the room with a combination of colors, materials, textures, and modernity with traditional elements.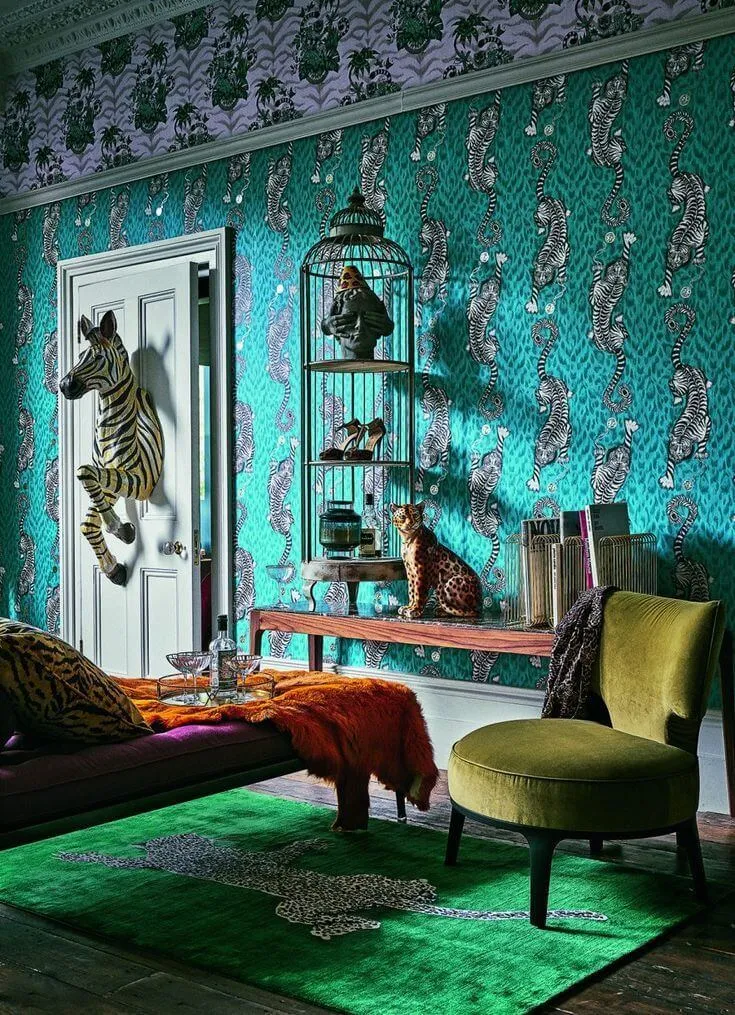 Over the last few years, some designers like Luke Edward Hall and Kelly Wearstler have promoted maximalist interior design and generated more recognition for this style, although this design has been around for a long time. In fact, this style is very connected to the Hollywood Regency, which is also characterized by its signature patterns, colors, and textures blended together.
Even so, despite the fact that a maximalist house frequently involves a lot of concepts, the design style is well-rested and clean. Maximalism should not be confusing, over-decorated, or a bewildering busy design. It's very easy for maximalism to slip into a messy, so you have to be very careful. But no worries, fortunately, in this article we will share some design tips on how to avoid this.
Maximalist interior design's History
Maximalist interior design has existed for centuries. In contrast to a more restrained, conservative interior design style, maximalism extends all the way back to the Victorian era, when individuals were really attempting to make a statement in their homes.
This concept also appeared in various interior design trends throughout the years. One of the most frequently mentioned examples is the Hollywood Regency aesthetic, which emerged around the same time as Art Deco in the early 20th century. When considering maximalism as an aesthetic founded on excess, the Gilded Age and even the Baroque era exhibit maximalism's goals. The maximalism concepts may also be found in other types of art, such as music and the visual arts, like many other trends in interior design.
However, even though this style used to be associated with exhibits of wealth, things have progressed over the years, and nowadays, this design can be mostly used to express feelings of happiness, for example, and less about creating something enviable.
For instance, at the moment, maximalism design isn't accomplished through costly objects that weren't approachable to everyone, such as immensely crafted and detailed furniture and lavish chandeliers, as often as it was in the Victorian Era. Now, this is optional to achieve a good maximalist interior design, as bold colors and patterns mainly define this style. The concept of this type of design is simpler to reach despite the social status.
Characteristics of maximalism
The maximalist design makes a simple house gush with its owner's personality. Contrary to minimalism, which is based on clear and simple rules, maximalist interiors are much more challenging to define and push into organized structures. It's much more peculiar and personal.
In this type of design, an intensive color palette definitely leads. Colors such as warm orange, emerald, navy blue, and sapphire usually are used in the first plane as the main key colors. Some people lighten their effect with light furniture and accessories. Others highlight them even more by adding colorful furniture.
Something that can certainly change a whole maximalist interior design project is patterns. White walls and soft colors, which had previously been favored, fade into obscurity and are replaced by garish wallpaper. Usually very colorful, unique and has a claw that catches the eye.
In addition to giving a glamorous look, golden accents are also easy to apply in space. They can be used on lamp bases, to decorate mirror frames, and to create glittering candlesticks. Even though these are superficial details, their influence in space is noticeable, especially when it comes to transmitting that maximalist aura.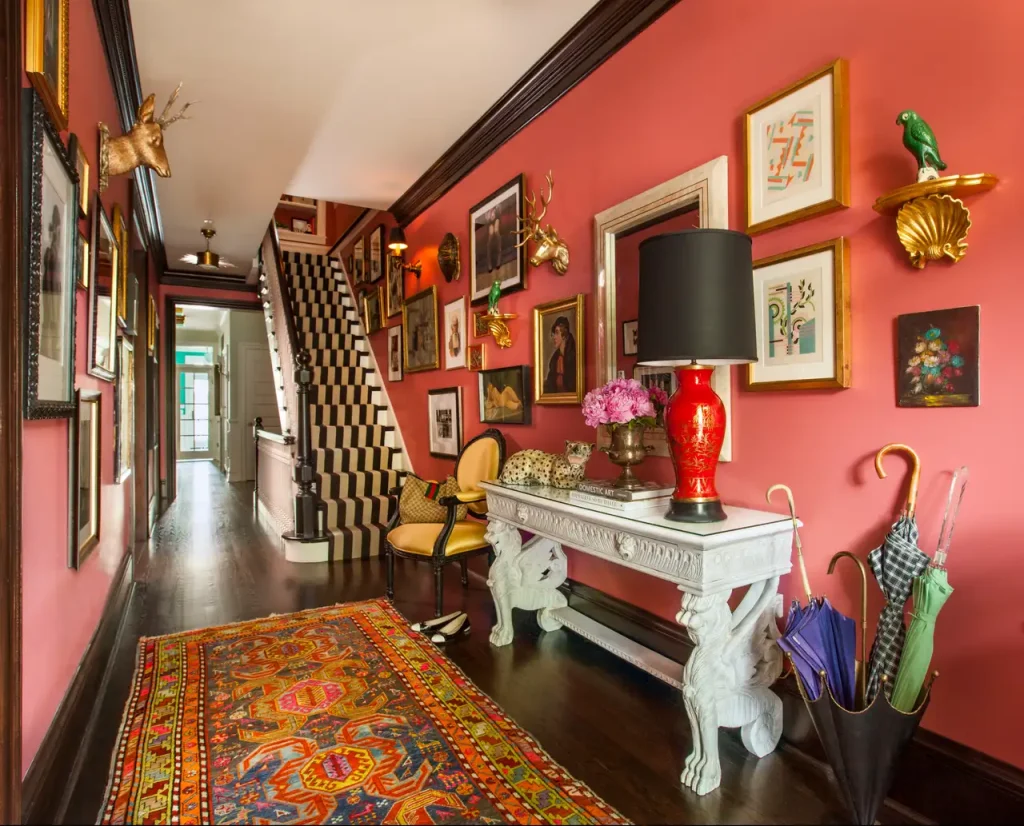 How to achieve the perfect maximalist look
Pick a cohesive color palette
As you have seen, the color palette is one of the most important factors when it comes to maximalism. Choosing a color scheme is crucial when you're creating your maximalist design. Select a color scheme based on the feeling you wish to express. Choose between chilly blues, grays, and whites or warm colors like reds, oranges, and yellows, for example. Run with that hue after that. Decorate the space in your selected color scheme with furniture, artwork, and accessories.
A single item can make a significant maximalist statement. Some designers create their entire project around a luxurious, bold object. This is great for inspiration or to showcase a lavish item, for example.
Display artwork on one wall
Putting all of your artwork together in one area and displaying it there so that it completely fills the space is one of the most appealing maximalism design techniques.
Adding a bold rug to your design is an excellent way to improve its maximalist vibes – for that, you can choose a piece with strong colors and irreverent shape.
Now that you understand more about the main characteristics of this style discover How to use Geometric Rugs and learn how to revamp your design with an extra dose of boldness.