Let's explore Jessica Schuster 's intriguing project and discover how she uses a dark color palette and minimalist style to create stunning works of art.
Jessica Schuster is a renowned interior designer who has gained recognition and acclaim in the industry with her unique approach and exceptional talent. With an undeniable passion for creating stunning spaces, she has the power to transform environments and bring a sense of harmony and beauty to any project she engages in. As the designer describes, "Our work strives to maintain a harmonious balance between the unusual and the familiar while creating original and composed spaces for our clients".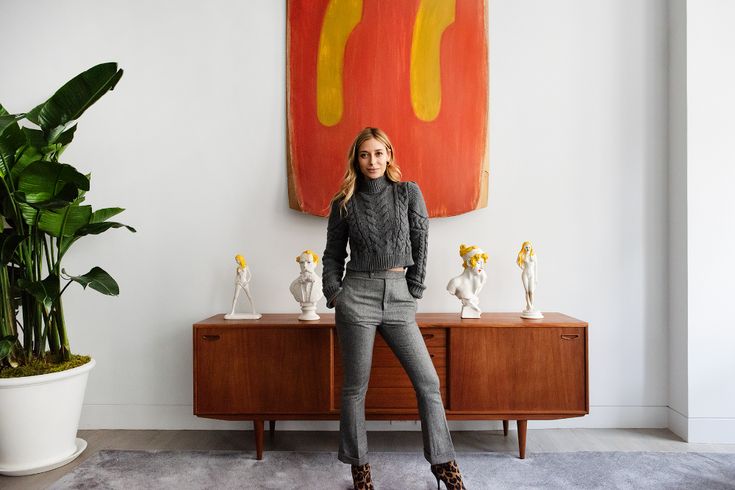 Coming from Boston, Massachusetts, Jessica Schuster is the founder and president of Jessica Schuster Design, founded in 2013. Her work is spread all over the USA, New York, Palm Beach, Boston and Miami, for example. One of the most distinctive features of Jessica's work is her ability to balance functionality and aesthetics. She understands that a well-designed space not only has to be visually pleasing, but also needs to be practical and adapted to the daily needs of the people who use it.
Additionally, Jessica's passion for sustainability is evident in her work. She is constantly looking for ways to incorporate eco-friendly materials and environmentally conscious practices into her designs. In doing so, she not only contributes to a more sustainable future, but also creates healthy and harmonious spaces for her customers.
The Project
Located in New York, we will explore and navigate before Jessica Schuster's project. Get ready to dive into the designer's world of creativity and innovation, where we'll understand how she works on her projects and what styles she transports to their interiors.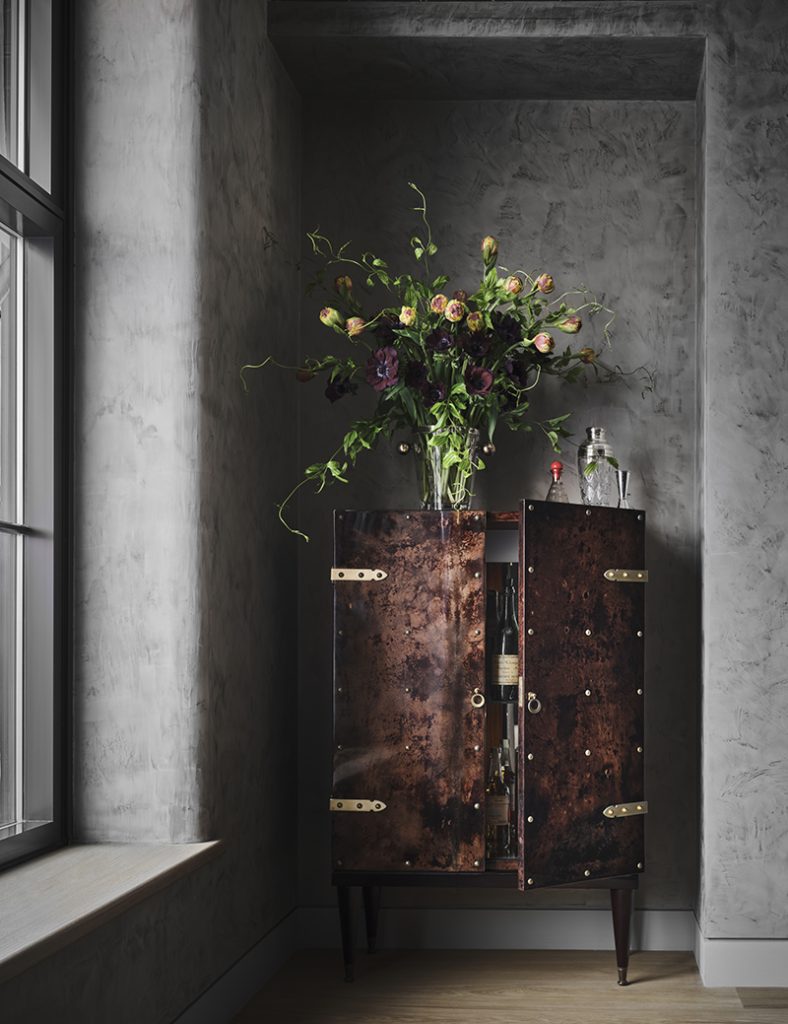 In this project by Jessica Schuster, what will first come to the eye in a first analysis will be the color palette that the designer has chosen for this space. We have a dark environment with black throughout almost the entire area. As we can identify in the living room, we have a black background, on a wall ledge, just like in furniture items. We were able to understand that black is not the only color present in this space, it shares it with colors such as gray or other distinct elements present in decoration elements. However, black carries prominence with its presence, becoming the primary color of this environment.
In addition to the color palette that we have already been able to identify, this project by Jessica Schuster has other characteristics that are homogeneous throughout all rooms. We were able to identify a minimalist trend in this space, with the scarce presence of elements or items, making the space as functional as possible and working with a smaller number of elements, characteristics of this style. This minimalist tendency used by the designer is evident. Again taking the example of the living room, we were able to identify that this space only has two sofas, a pair of center tables and a chair, and nothing else.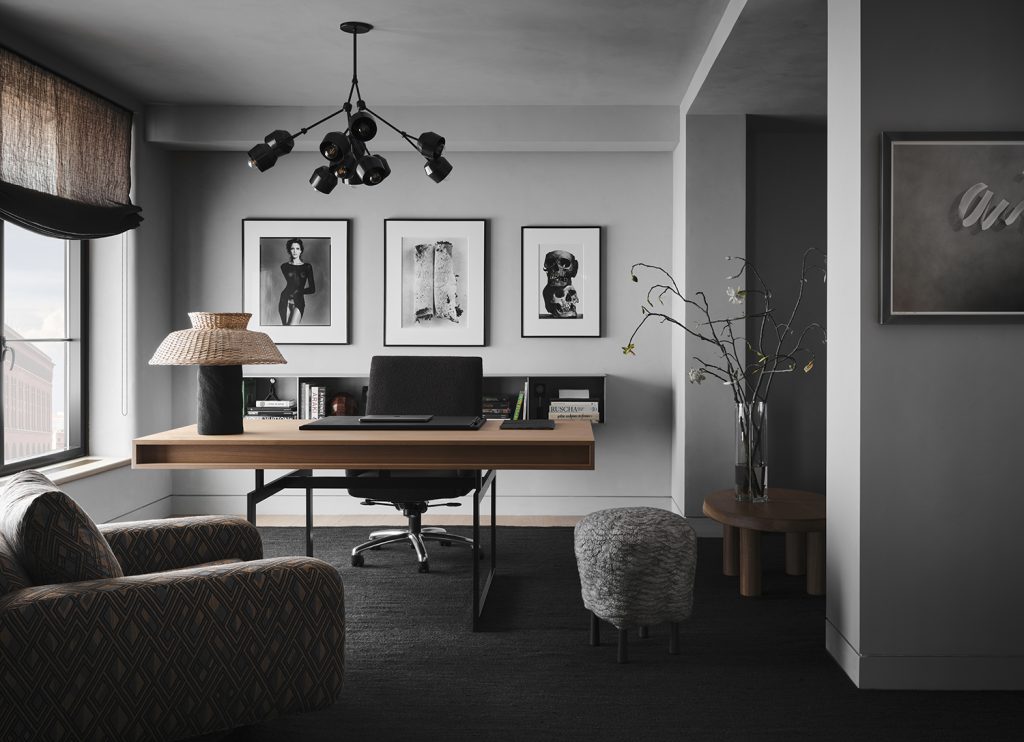 The office is another space that affirms what Jessica Schuster has presented for this project. We keep the dark color palette in harmony with the rest of the house, as well as the minimalist style. In this division, this color palette becomes ideal for the practice and actions that apply to it, promoting an atmosphere that stimulates concentration. As a contrasting element, we have the wooden desk, which completes the elegance of this space. Also worthy of mention is the magnificent suspension lamp above the desk.
In both bedrooms, things really change a bit. We have these two spaces as the divergent base style of Jessica Schuster in this project. Continuing to share characteristics, these spaces were created by the designer in order to create a different atmosphere for such a private space. Keeping the dark tones, these are now not the only ones present in the space. We have the presence of more elements with brighter colors and contrasting colors, which bring more life to the space.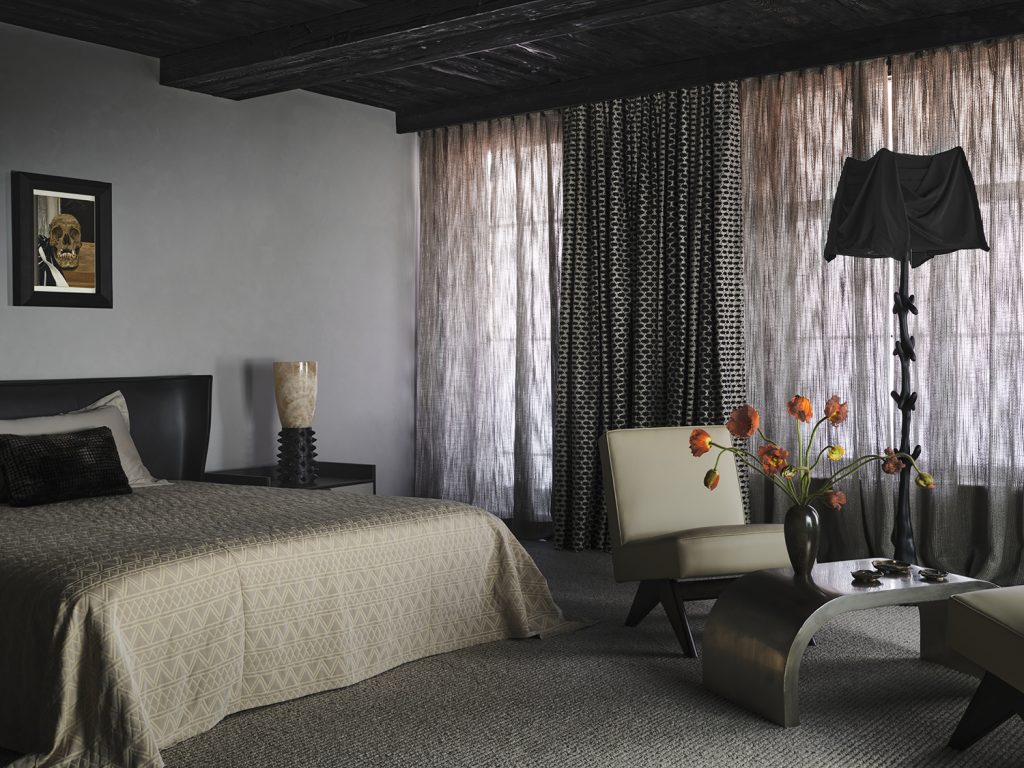 Finally, let's talk about the dining room. This will perhaps be the perfect example of modern and minimalist style in this project. Despite being able to identify characteristics of this style in almost the entire project, Jessica Schuster seems to have left the sovereignty of these characteristics to this place. We have the harmony between the dining table and the chairs with their clean and simple features. Just to add to this space, we have a plant on the table and a suspension lamp.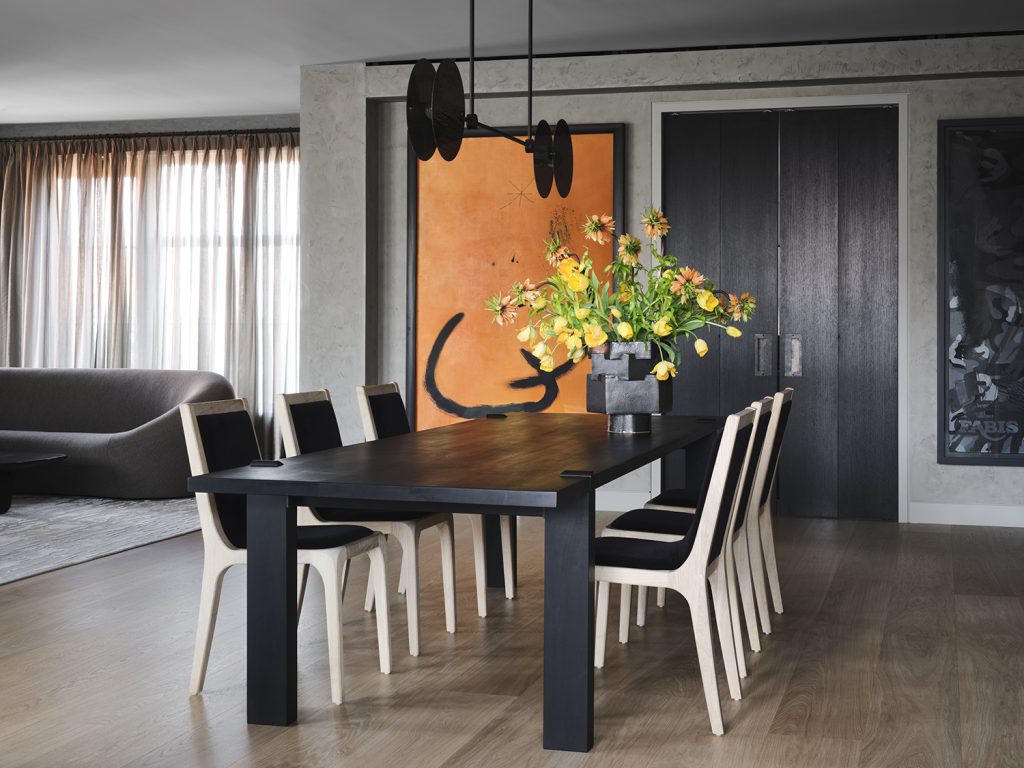 In summary, Jessica Schuster's innovative design captivates through the deft use of a dark color palette, combined with a striking minimalist style. Its unique approach and refined aesthetics result in visually striking creations, prioritizing the functionality of spaces, never sacrificing its elegance. If you want to find more inspiration, we invite you to visit our website at TAPIS Studio.