Revamp by the AD100 Martyn Lawrence Bullard, Cher´s eclectic home mirror the fame of the goodness of pop. Step in and explore all its details.
Cher is the name of pop – with a long and successful path in the music and entertainment industry, she is always inspiring with her incredible work, which innovates year after year. And, of course, her eclectic home also mirrors the artist's talent and is full of outstanding inspirations.
Cher´s mansion is a real luxury oasis located at one of the most famous beaches; the Italian Renaissance-style building is filled with art and lsuh touches and was revamped by the top AD100 Martyn Lawrence Bullard. Read on to discover more about this eclectic home.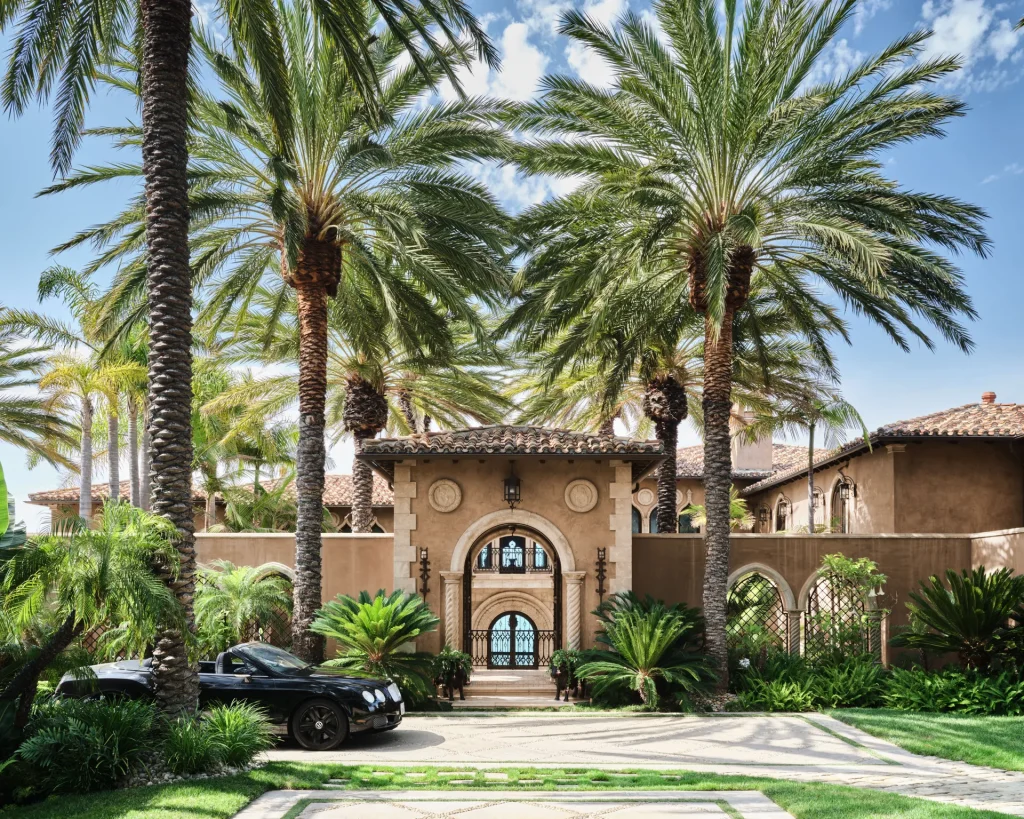 An Oasis Worthy Of A Queen
As you can imagine, it took time to create an oasis, and this specific one took almost five years to be completed. The paradisiacal location on Malibu´s beach was discovered by Cher in 1998, and then the singer started to transform the enchanted location into her ultimate eclectic home.
Cher is magnificent, and her house too- a remarkable space that reflects her individual preferences and interest in design and architecture, built with the art and personal collection she made through the years, showing that more than a stunning spot, it´s also a meaningful place.
The style reference also came from Cher and her numerous magazines where she looked for references to create her ultimate home – which, most of the time, presented Venetian palazzos, the great Renaissance villas of Europe. The result is a stunning build with more than 16,000 square feet sharing an Italian Renaissance style, stunning ocean views and a mix and match of different interior design styles – creating an eclectic and unique design. When we look at this eclectic home, we can notice that it's worthy of a queen – and, yes, it belongs to one.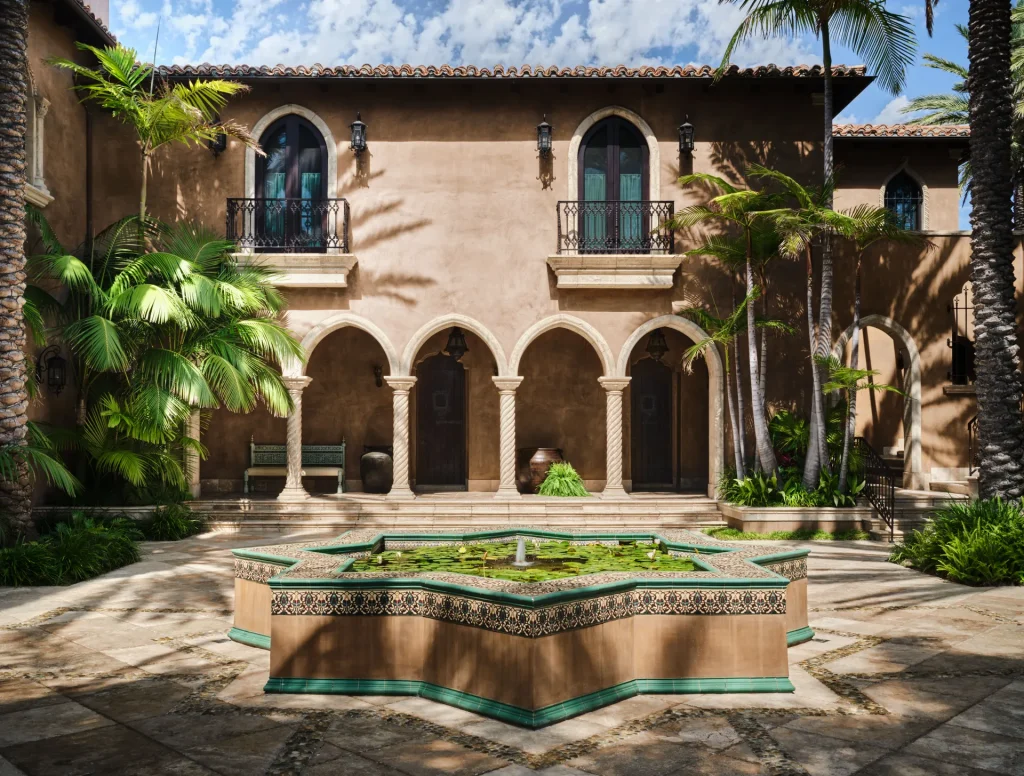 Inside The Luxury Oasis
If the outside of this eclectic home is outstanding, the interior completes its magnificence! Cher got involved since the beginning to create her ultimate home; originally she worked with the interior designer Ron Wilson and years later invited the AD100 Martyn Bullard to a design revamp. Together, Cher and Bullard recreated every detail in her signature manner, which combines sumptuous comfort with theatrical grandeur and a classic color scheme.
The Eclectic home interior is a beautiful blend of luxury, story, and personality; the tone of the interior is set by Renaissance-style references, which combine high-quality materials, arches, and a mix of textures but also incorporate modern elements, vintage pieces and a lot of references from Cher´s personal taste.
Art is everywhere in Cher´s luxury oasis, from the art objects that help to create the home narrative to Eastern-inspired ceiling paintings, hand-distressed mirrors that produce magically reflecting walls, and warm Moroccan-inspired lighting.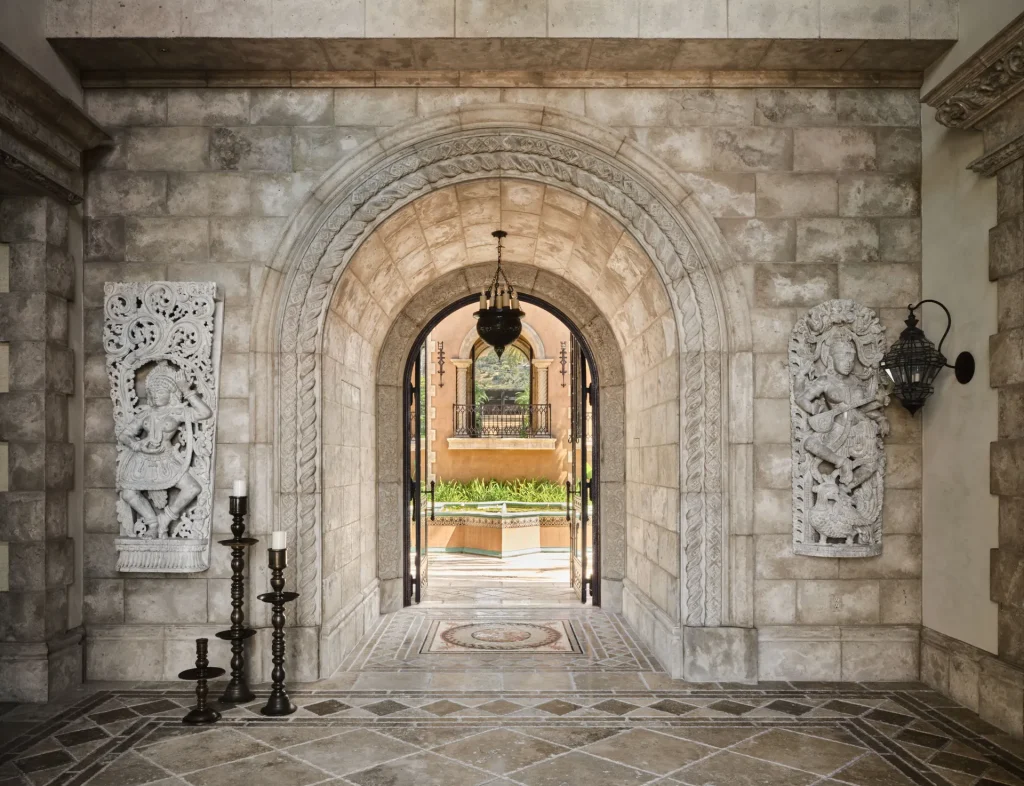 Get Inspired Room by Room
Every space of this Eclectic interior design has beautiful details, which is why we will explore room by room and what transforms this luxury mansion into an idyllic paradise.
Starting with the bedroom, which Cher recalls as her sanctuary, where the highlight goes to the walls and curtains – made using a blend of leaves and coffee grounds, recreating a henna a traditional henna design; the inspiration came from a wedding that Cher attended in India, where she got a henna painting on her hand. In the bedroom, Cher also created an living space where a rug create the division between the sleep area and the living.
And if in the bedroom, Cher´s meaningful memories helped to make a real dream space, in the living room, the light and breathtaking views are responsible for creating the perfect room. Together with the incredible landscape, a curated selection of antiques from the 19th to 17h century embodies the room with a vintage and historical atmosphere. Cher didn't forget to add an extra layer of coziness to her living, and choose a neutral rug to delimitate the room´s space while also give a dose of comfort and warmth to the space.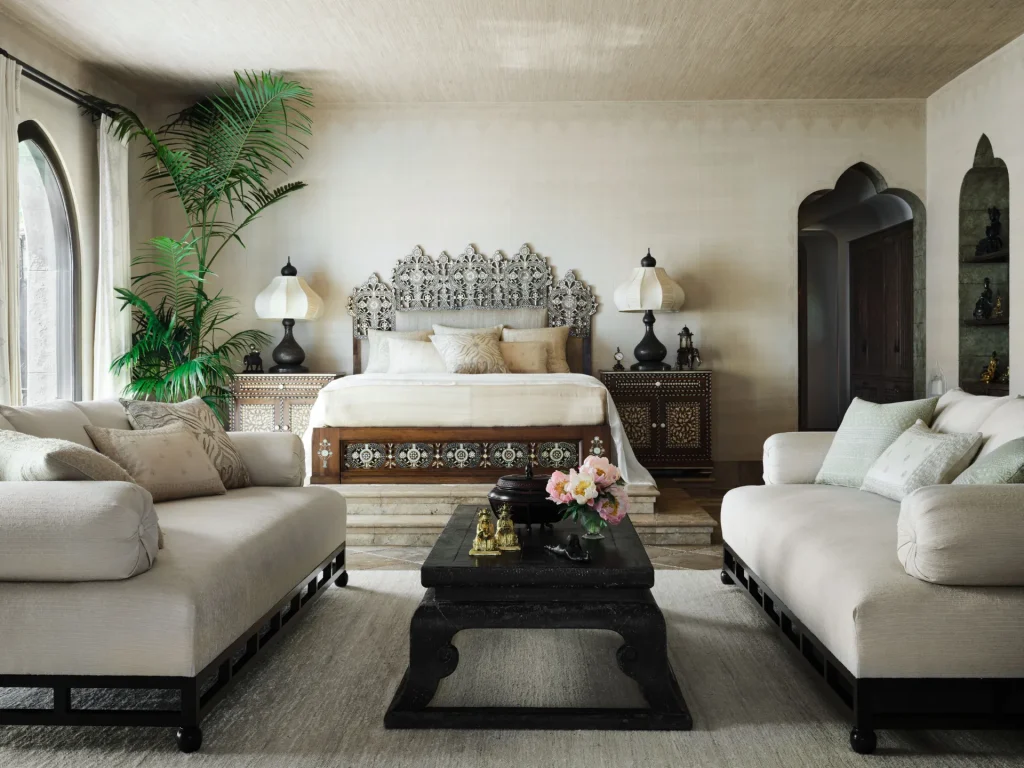 In the dining room, soft white reigns while the vintage decor items and mid-century furniture give the character that this eclectic interior home deserves. While in the kitchen, black and white are the backdrop for the beautiful landscape, which can be seen from the charming window, which welcomes the natural shades and gives the hint of color that the space needs.
In contrast with the neutral color palette from most home spaces – a powder room covered with limestone rises in this eclectic home design. In addition to the room, wall sconces, bronze faucets, and walls with aged mirror panels create all the charm and glitz that a Hollywood star deserves.
Balinese panels that form a hanging headboard dangle over a bed in one of the mansion's guest suites. Following the master bedroom design, a lovely pair of old Moroccan lampshades are displayed on the bedside tables.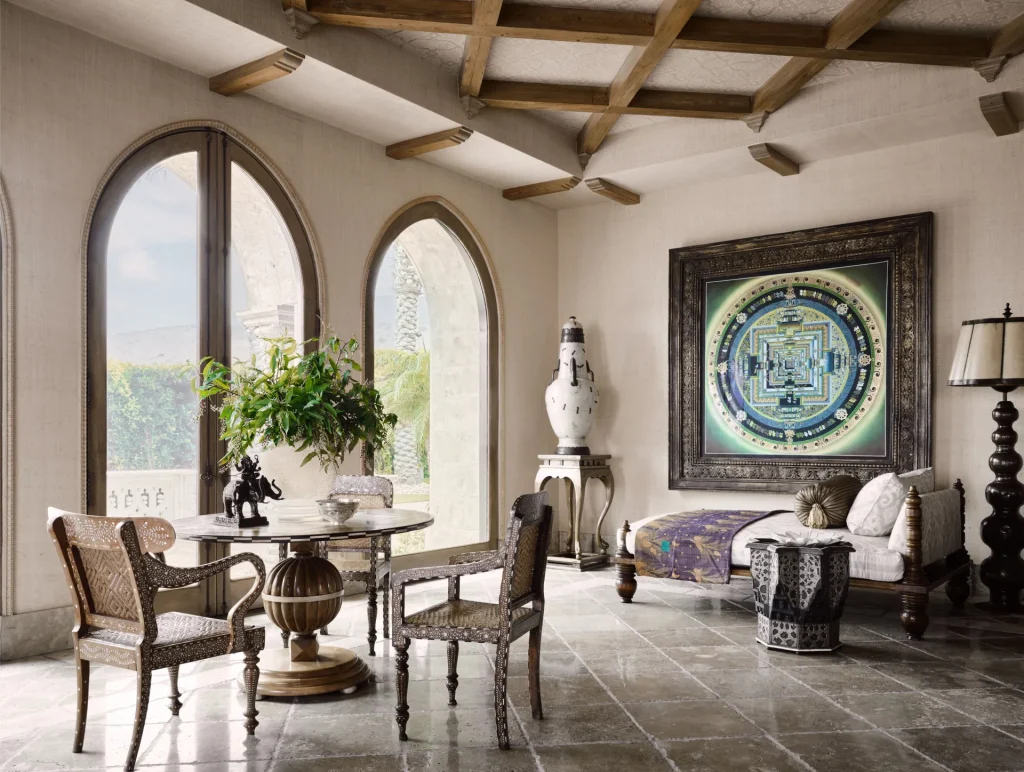 Cher´s Eclectic home is the real definition of paradise, an oasis in the middle of the beach that reveals stunning ocean views and a mix of references, styles, and materials. It´s a home worthy of a queen! We hope that you get inspired by this stunning interior design – find more inspirations at our project page where we gathered the best of interior design projects by TAPIS Studio.