Between blue, green, and purple hues, cool colors evoke peaceful and refreshment vibes. Discover nine trendy rugs that will welcome these feelings to your interior.
Life is colorful! From nature, inspiration, and feelings, colors help to shape how we interact. In a rainbow of beautiful hues that covers our life – each shade has a meaning and helps to evoke certain feelings. Some are brave, and others are peaceful; the truth is that we live in a colorful world.
In this colorful world, we usually divide the colors by their temperature – warm and cool. While the warm shades are associated with strong emotions, passion, and joy, the cool colors help to activate peaceful and refreshment feelings. In this article, we will highlight the best nine trendy rugs with cool colors that will help set the perfect vibe for your interior design project; keep reading to discover and enter this colorful rug world.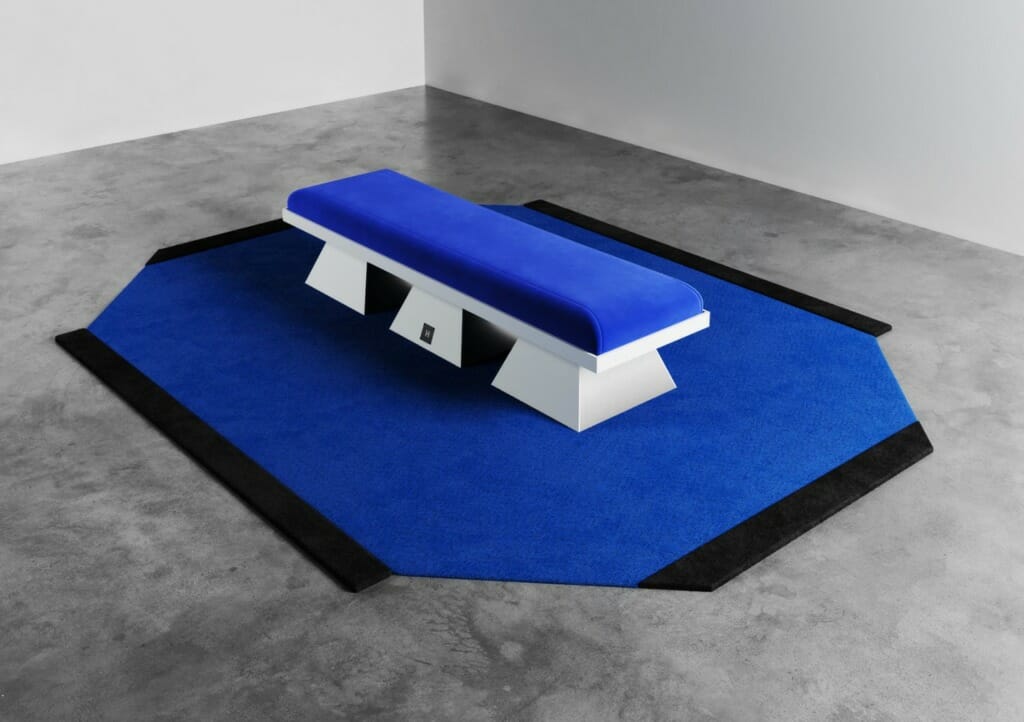 Cool colors
Color shapes how we look at the world – they are in every detail of our daily lives and directly impacts our feelings and emotions. Understanding the hues and their meanings is essential in a world shaped by colors. For that reason, before we present trendy rugs with cool colors – we will enter the world of these shades. Enjoy the journey, and in the end, get your reward: the nine trendy rugs to elevate your interior.
First things first, we will start our journey by discovering more about the basics of colors. From the color theory, we learned that the primary colors are red, yellow, and blue; with these shades, we can create the rainbow of colors we know. By blending the primary shade, we have the secondary colors, and by mixing the primary with the secondary, we have the tertiary colors.
And in the heart of the color theory, we have the color wheel, which consists of 12 hues related to the primary, secondary, and tertiary combinations, divided by warm and cool. Usually, we say that the cool colors are greens, blues, and purple, but in fact, all colors contain warm and cool tones because they result from the primary color combinations.
Shortly, we can say that the colors with a blue undertone are cool color variations. So when working with color, the better way to understant its temperature is by comparing the undertone; if it´s blue is cool, and if it's red or yellow, it´s warm. Understanding the color temperature will give you clues about the feelings associated with the specific hue.
Cool Colors in Interiors
The look and feel of a living area are greatly influenced by color temperature. The size, mood, and general balance of the spaces in your interior design project can all be impacted by color temperature.
One of the best uses of cool colors is in small spaces, where they can help make the area look bigger. You can use a cool color scheme in tiny spaces like the kitchen or living room, where, sometimes, warmer tones could make them feel crowded.
You can also take advantage of cool colors to actively feel peaceful and calm vibes. In a bedroom or other space designed to relax purpose, the cool hue can help to set a cozy spot. The office is another home space where the cool colors can help to activate the feeling that the room needs – by giving the area the peaceful needs that a working space requires.
Now, to incorporate the perfect feeling your interior design project needs – we have selected nine trendy rugs; scroll down to check them out.
The best rugs by color
BLUE –
Let´s start with blue – one of the primary colors and one of the most flexible hues, which can be both serene and exciting. A cobalt blue offers flashes of energy, a navy blue is a classic shade necessary in timeless settings, and a pastel blue establishes a tranquil mood.
For our selection of trendy blue rugs, we have selected the TAPIS Essential #10, a cobalt blue rug with an unseeing geometrical shape for a boldness touch; TAPIS Essential #9 to brighten up any space with its beautiful blue shade and irreverent shape and the TAPIS Shaped #28 for a playful interior.
GREEN –
Now, if you are looking for a way to make your interior look fresh – a green rug can be the perfect way to boost your layout. Green is a color based on nature, which lies between blue and yellow, and is ideal for energizing and encouraging a healthy state of mind.
We have selected three incredible green rugs with irreverent shapes to add a touch of boldness and also make your room more greeny: TAPIS Shaped #50, TAPIS Shaped #24, and TAPIS Shaped #44; you can choose between any of these charming rugs to active a look that will be both – bold and fresh.
PURPLE –
Purple emanates peaceful, dreamy, and nostalgic feelings to complete your interior feelings. This hue can be charming and bold, and the rugs with this will add the charm and boldness that any interior needs.
Regarding our selection, we have chosen three rugs with different styles to different moods: TAPIS Shaped #58 will embrace the dreaming vibes of purple blended with a touch of boldness, TAPIS Menízia #6 will welcome the beauty of the craftsmanship together with the nostalgic feelings, and the TAPIS Round Lavand #8 will help to improve the peaceful vibe.
Our life is colorful, and why not embrace the power of the colors in our interiors? As you discovered in this article, cool colors are perfect to set the perfect mood for any interior, and our selection of trendy rug with cool colors show that there is no limitation to using these incredible pieces. We hope that you have enjoyed our journey and selection. To continue exploring the power of colors, you can download our e-book.