An abstract area rug may seem eccentric, but it is much more helpful than you think!
Bold, unique, and full of personality, we made a list with some models that you can't miss in your decoration!
Designed to meet the needs of every style, every room, and everyone, an abstract area rug is easy to decorate and fits into any decor! Now that you are an expert on how to decorate your home with an abstract rug, be sure to know the right models that will make your room more luxurious and stylish.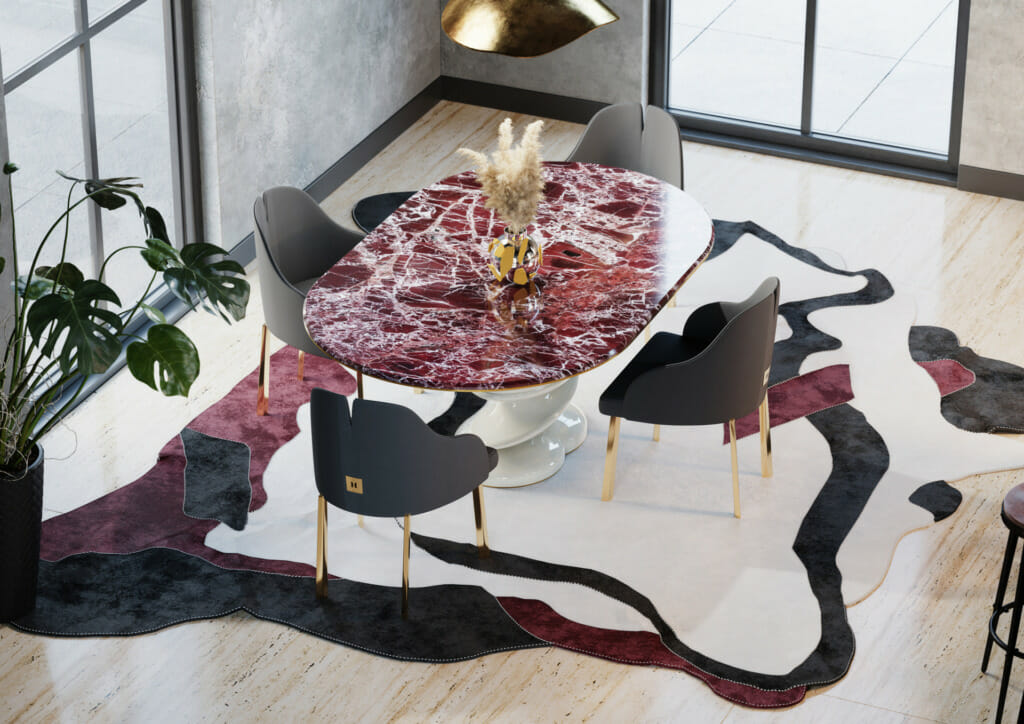 Just remembering a few quick characteristics about what an abstract area rug is so you can incorporate it into your home decor:
SHAPE EMPHASIS: The rule is creativity and thinking outside the box. An abstract area rug makes a bold statement in any room and the more thought-provoking and unique your ambiance becomes.
THE WORLD OF COLORS: Although colors are an interesting distinguishing feature of abstract rug designs, they don't necessarily have to be warm and strong. Since the shape of the rugs is eye-catching in itself, the choice of color for an area rug can be simpler – but no less elegant! -. Complementing the other furniture and decorative objects present with an abstract area rug in pastel shades, for example, is an excellent idea.
FIBERS AND TEXTURE: For those who love sensations, having an abstract area rug at home can be a real pleasure! This is because, with the aim of creating sensations, the combination of high-quality fibers and materials gives your rug a more sophisticated and sensorial finish. Therefore, when choosing a model, it is essential to have a notion of where the rug will be positioned (whether indoors or outdoors) in order to have an idea of the choice of material.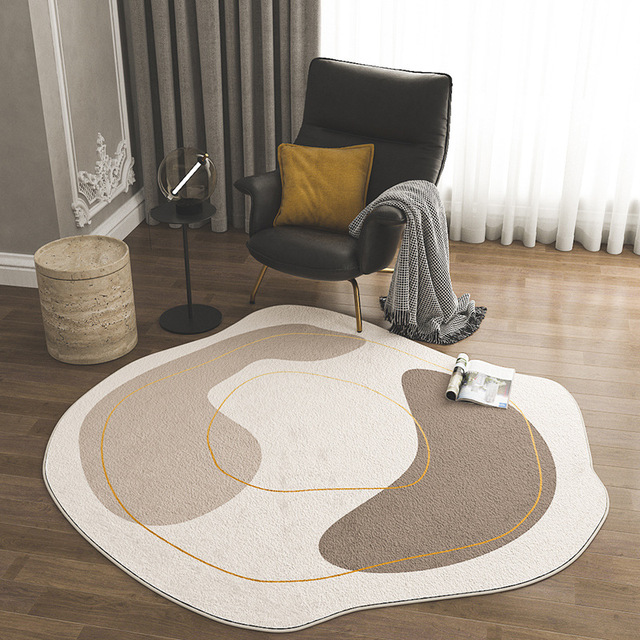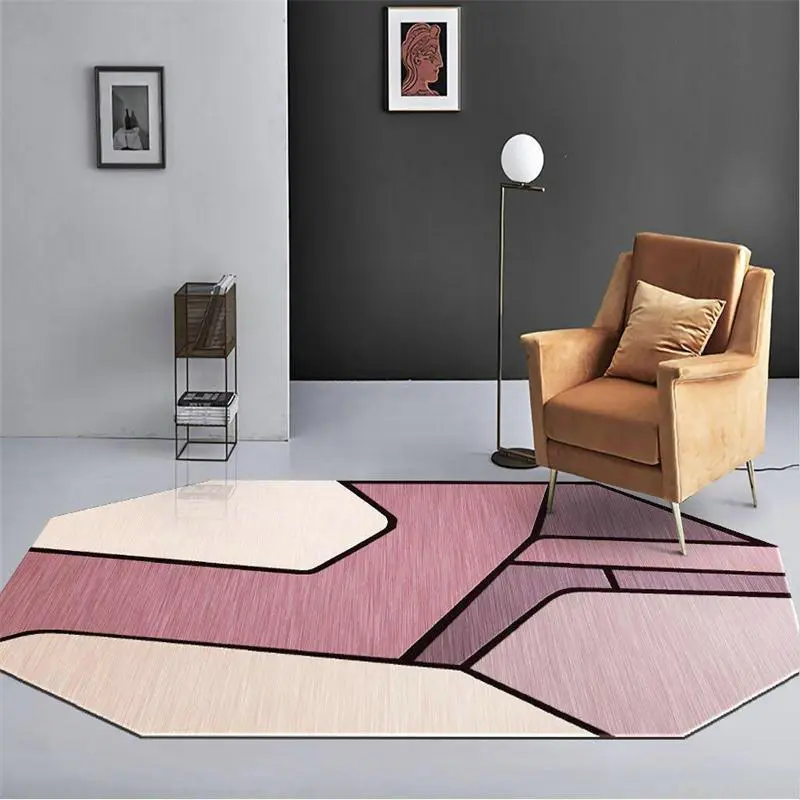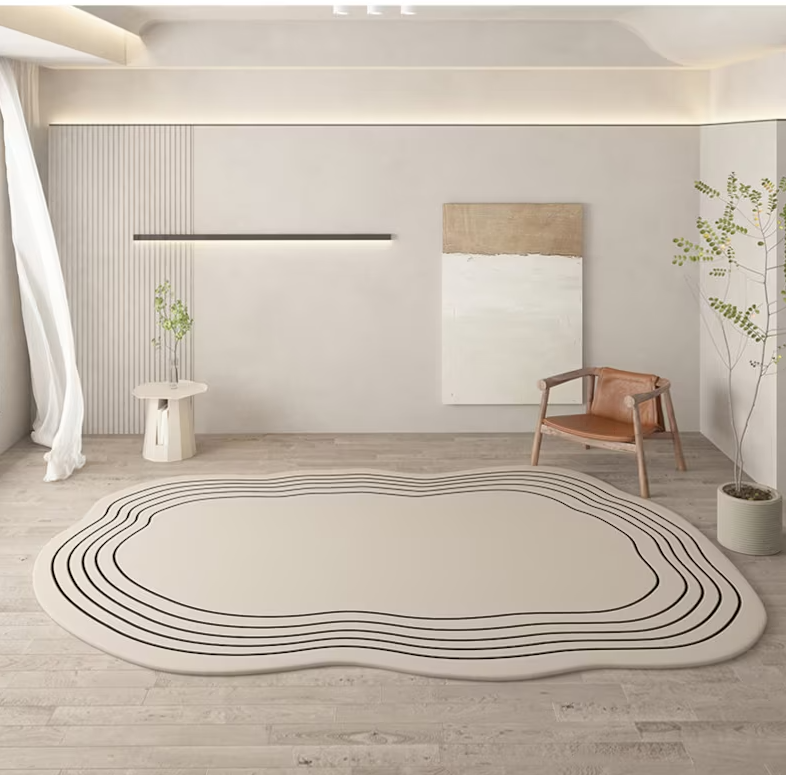 Abstract Area Rug Models for Living Room:
A modern living room deserves a decor to match, as this space in the house is designed to bring extra coziness to family and guests, sharing and caring moments. Also known as Ray Rug, TAPIS Shaped #029 is an avant-garde piece and part of the abstract area rugs model collection that is perfect for an irreverent interior look, from the floor to the walls. Besides being comfortable and with a luxurious design, this abstract area rug model is designed to be the star piece in any room. More than rugs, they can be a piece of art!
If shapes catch the eye, colors can do the talking too! Tapis Shaped #043 also known as Piano Rug is a modern piece that besides being an abstract area rug by shape, it adds a touch of luxury and dynamism through vibrant hues.
Perfect for pairing with a gorgeous armchair and sofa set, or else housing an imposing coffee table, the Tapis Shaped #017 is our third indication of an abstract area rug for the living room. Made with botanical silk, an eco-friendly material that makes for a comfortable and luxurious rug, this piece is an eclectic rug that brings back Mid-Century modern vibes mixed with Memphis style.
Abstract Area Rug Models for Dining Room:
If there is a better place to position an abstract area rug than below a stunning dining set, then I don't know! For this space, it's important to take into consideration the shape of the dining table and the arrangement of the dining chairs, so that everyone feels comfortable and mobile.
The combination of black and sandy tones present in Tapis Pastel #29 adds elegance and warmth to any home. To top it off, this abstract pastel area rug has an organic shape that makes it perfect for a contemporary interior design project.
Made to be the star piece in your dining room, the Tapis Shaped #044 (also referred to as the Antelope Rug), This abstract area rug is part of the Collection perfect for an irreverent interior look, from the floor to the walls.
Also highlighting the distinctive shape, Tapis Essential #002 is a modern rug selected to complement an interior design for those looking for an eye-catching yet elegant piece.
Abstract Area Rug Models for Entrance:
The entrance hall is always the first glimpse your guests will get when they arrive at your home, so it is worth paying special attention to the details in this space to make a good impression. Tapis Shaped #042 or "Crina Rug" is perfect for adding curiosity and composing a relaxed and elegant atmosphere at the same time. This abstract area rug is a contemporary piece for those who have a wide space, considering its large dimensions.
If your entryway is smaller, a great way out is to opt for the Combo Rug, or Tapis Shaped #038. Although part of the Shaped collection, this abstract area rug has a shape that facilitates narrower spaces. And for those who want to draw attention too but with an artistic touch, Tapis Shaped #045 is an eclectic rug that brings back mid-century modern vibes mixed with Memphis style.
A cubist pattern inspired by Pablo Picasso proves that rugs can be more than rugs… They can also be a piece of art!
Did you like the content? These are just a few of the many options available. Visit the TAPIS Studio website, check out all the Abstract Area Rug options… And let your imagination flow!