In this Eclectic interior design project, the TAPIS Shaped #43 is the star piece of the room. Discover more about this incredible layout and style.
Eclectic interior design is all about mixing and matching – textures, colors, and shapes to create a harmonious space full of life. The Miami-based interior designer Christie Fantis beautifully explored the style and chose the TAPIS Shaped #43 to add dynamism and flow to her layout.
From this beautiful Eclectic interior design, we can take many inspirations on creating a unified layout and how rugs can give the perfect flair – by adding an extra layer of comfort, textures, and colors. In this article, we will explore this inspiring project and take some notes about its style and, of course, the best rugs to combine in an eclectic interior design. Read on to start this journey of inspiration.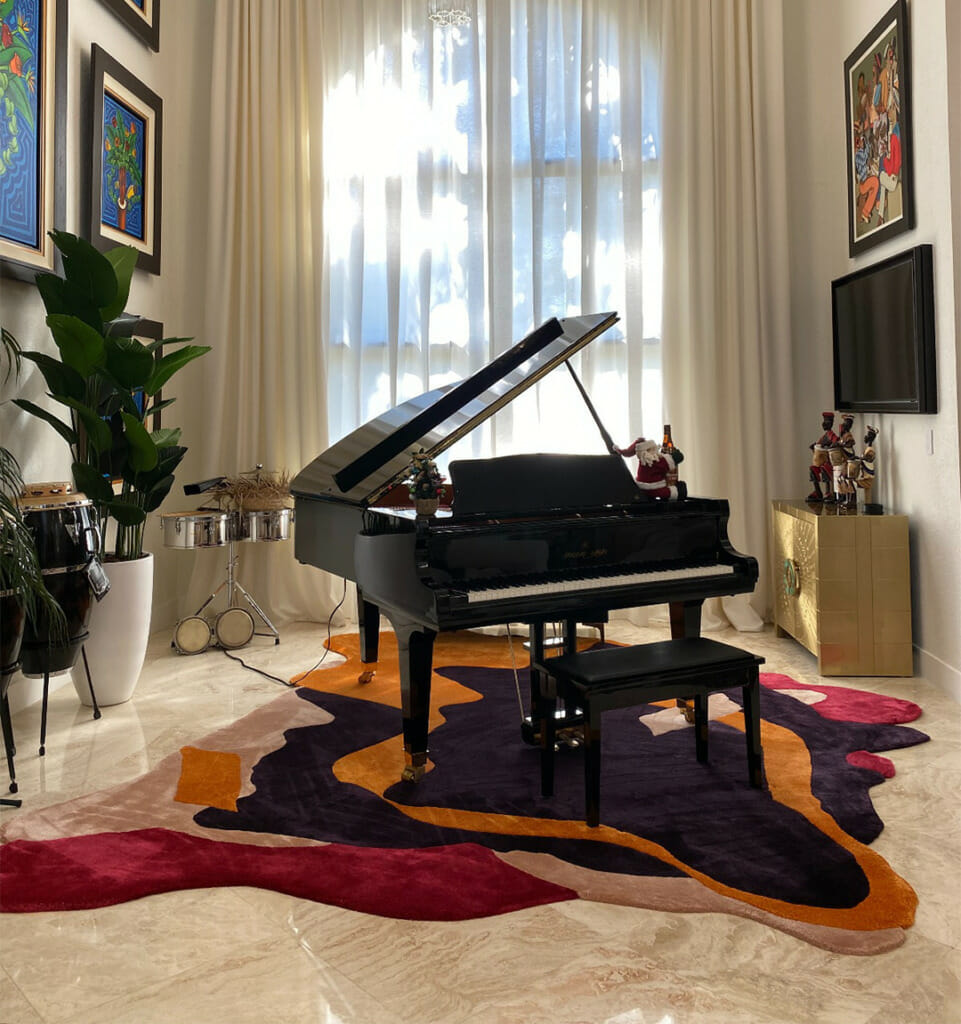 The Project
Piano on Piano, as we affectionately call this project, is a residential Eclectic interior design signed by the Miami-based interior designer Christie Fantis; a vibrant interior that mixes artsy and modern vibes, which has the TAPIS Shaped #43 as the room's protagonist side by side with a beautiful Piano.
In this Eclectic interior design project, the generous living room is a blank canvas for the stunning selection of furniture and decorative items that transform the space with energy and boldness. Even though in an open plan, this layout welcomes two different areas: the living and the music space.
Dressed in neutral and warm hues, the living space highlights organic lines, contemporary furniture, and a mix of materials – from marble to glass. The soft textures in the armchairs and sofa, combined with a warm burgundy rug, give the space the layer of comfort that a conversation area needs.
The quiet living space finds energy in the music area – where an artistic vibe provides the inspiration that any creative space needs. The corner is full of instruments and artworks – but there are two eye-catching elements: the vibrant shaped rug and the imponent Piano.
To give rhythm and energy, the Shaped #43 is beautifully placed under the Piano – which adds a playful vibe to this music room and creates a stunning contrast between the rug's irregular shape and the classical Piano lines, making the space even more attractive. 
Creativity is not limited to this eclectic interior design; every design choice works alongside the music room to create a playful, harmonious and inviting space without losing its glamour. From here, we can take many inspirations to create a stunning layout. Keep reading to discover more about eclectic interior design and the best rugs to improve its coziness and boldness.
The Style
We have a glimpse of Eclectic interior design, such as in the Christie Fantis layout; this style is known for harmoniously combining different styles.
The Eclectic style can combine textures, colors, shapes, and furniture designs to create aesthetically pleasing and well-balanced home decor. It's a style of experimenting, mixing, and matching different elements; a style for those who have no limit to their imagination and love beautiful and harmonious layouts.
Eclectic design is about creating a personality-filled house that can be playful, whimsical, and full of visual interest. It's a style for people who enjoy a variety of references and want to incorporate them elegantly. There are some key elements to create a stunning eclectic interior design layout:
Mix Patterns;
Combine Textures;
Add pops of colors;
Blending Vintage and Modern pieces;
Add a statement piece;
Integrate different furniture styles;
Care about harmony.
In the layout created by Christie Fantis, many of these elements can be found – but there is a particular highlight that adds a unique flow to the space – the stunning shaped rug that is the statement element while giving the area a pop of color and boldness.
Adding a rug with an irregular shape can be an incredible way to improve any eclectic interior design, thanks to its unsee shape and color combination. TAPIS Studio has a collection that can make any eclectic interior more attractive, scroll down to discover more.
The Shaped Collection
Piano on Piano features a stunning shaped rug from the TAPIS Studio collection as its statement element and adds a harmonious flow to the eclectic interior design. This incredible project highlights what we constantly repeat: rugs are the best friends of a stylish home, and the Shaped Collection can be the best ally for any eclectic interior design project.
As we discovered during this journey, the Eclectic style is about creating a layout full of personality, harmony, and visual interest. The Shaped Collection by TAPIS Studio has a selection of rugs with sophisticated silhouettes that can add flow to any space and be the statement piece that an Eclectic interior needs.
Less is never more when it comes to texture, especially when designing an eclectic interior design. For that, the Shaped collection is perfect because it combines different delightful textures that add an extra layer of luxury and comfort to any room. Besides, the unique design of each rug in this collection share history and beauty.
Such as, in the fantastic project by Christie Fantis, rugs can work as more than an accessory, but especially as the cherry on top of the cake in any room design. So, considering eclectic interior design, a shaped rug is the best match.
Piano on Piano is an Eclectic interior design project that can inspire many beautiful creations and shows that the perfect rug is always the best friend of any interior. Now, you can continue your inspiring journey by discovering how to combine trendy rugs in different room divisions.