The house of Patina Miller is colorful, bright, and full of beautiful details. Explore this dream Eclectic Home Style designed by Evan Edward design firm.
The acclaimed actress, singer, and dancer Patina Miller opened the door to her dream house – where colors bring a stunning eclectic home style to life. Designed by the top architectural firm, Evan Edward, the abode in the Chelsea neighborhood of Manhattan is full of beautiful inspirations and stunning details that assemble the home that the actress has always dreamed of. Discover what makes this the realization of Patina's home goals as we explore it in a spectacular tour!
The Eclectic Home Style
Before diving into this home tour, let´s briefly review the style that helped turn the Patina Miller dream house real. The Eclectic Style is an excellent way to infuse interiors with playful and whimsical vibes while making it aesthetically pleasing and balanced.
The eclectic home style combines textures, colors, shapes, and furniture to bring to life stunning interiors with no limit to creativity while preserving the space's harmony; in the core of this interior design approach, we found a mix of patterns, textures, pop of colors, vintage and modern furniture pieces, statement objects and mostly harmony between all its choices.
Eclectic home style is all about creating dream interiors where imagination can come to life – and that is what happened with the home of the actress Patina Miller, where this style helped to transform a dream into reality.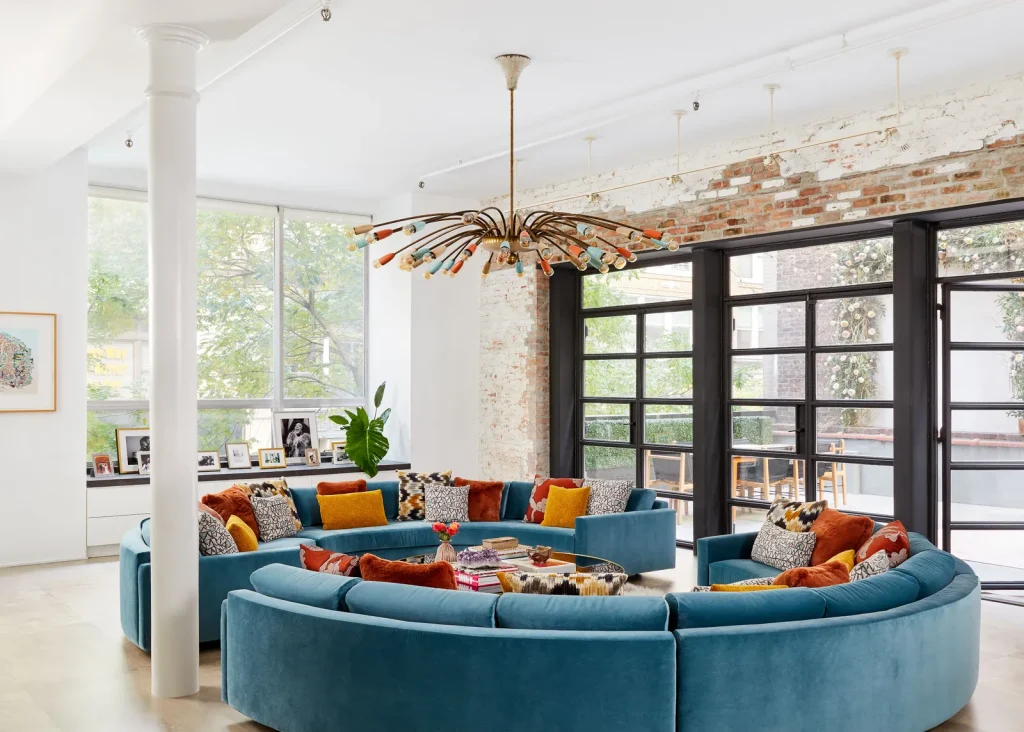 A Dream Eclectic Family House
Creativity, a mix of textures, pops of colors, and a lot of imagination are the main characteristics of the Eclectic Home Style – and we can also say it for the house of Patina Miller.
The actress always dreamed about an open-plan space to create her family home – and when she and her husband, David Mars, found a 3.500 square-foot loft, they had no doubts that this would be their dream house. The couple then trusted the architectural firm, Evan Edward, to revitalize their family house- and design a scenario that would fulfill their desires and needs.
For the family's luck, it all happened right before the 2020´s lockdown, so this eclectic home style was also their salvation for those hard pandemic days – as they could spend it in this bright and full of character house. Are you curious about its design? So let´s explore this beautiful house and see what a dream would look like!
The Open-Space Area
Patina Miller always loved the idea of having integrated spaces – and this house is just as she dreamed of but with a rainbow twist that invites cozy and happy moments.
This eclectic home style's interior assembles a colorful dream full of modern pieces, meaningful objects, and stunning details. Even though in an open space, the designers, Josh Evan and Michael Edward from Evan Edward firm, delimited different zones for specific uses – a kitchen, a formal living room, a dining area, a cozy living, and even a library show up in the giant colorful open space.
Each area has its beauty but complements the overall looking, creating a lasting impression that makes the eclectic home style the realization of Patina Miller's home goals.
The first area that pops ups when entering Patina Miller's home is the formal living room and its stunning glamour – with a conversational sofa in blue tones, a stunning chandelier, a cozy rug, and beautiful furnishing (that creates harmony with the other areas). In resume, the space is glamorous simultaneously, original and unique.
Leading to the dining room, the eye-catching table paired with coral-tone chairs and a meaningful painting by Patina Miller's close friend, Troy Michie, balanced luxury with art. While in the friendly living, a blue navy sofa sets the tone for a meaningful area where blue, purple, and pink tones help to create a harmonious and inviting spot.
The open-space loft also has a functional white kitchen that gives space to the other areas to shine and a charming library in pastel pink tones designed to complete the area without needing more furniture.
Every spot and detail of this eclectic home style creates a balanced aesthetic and a sense of division, from the glamorous living area to the charming library. To make individual spaces, the designers used different rugs to delimit the areas, showing that these pieces are more than beautiful additions but also practical features to a home design.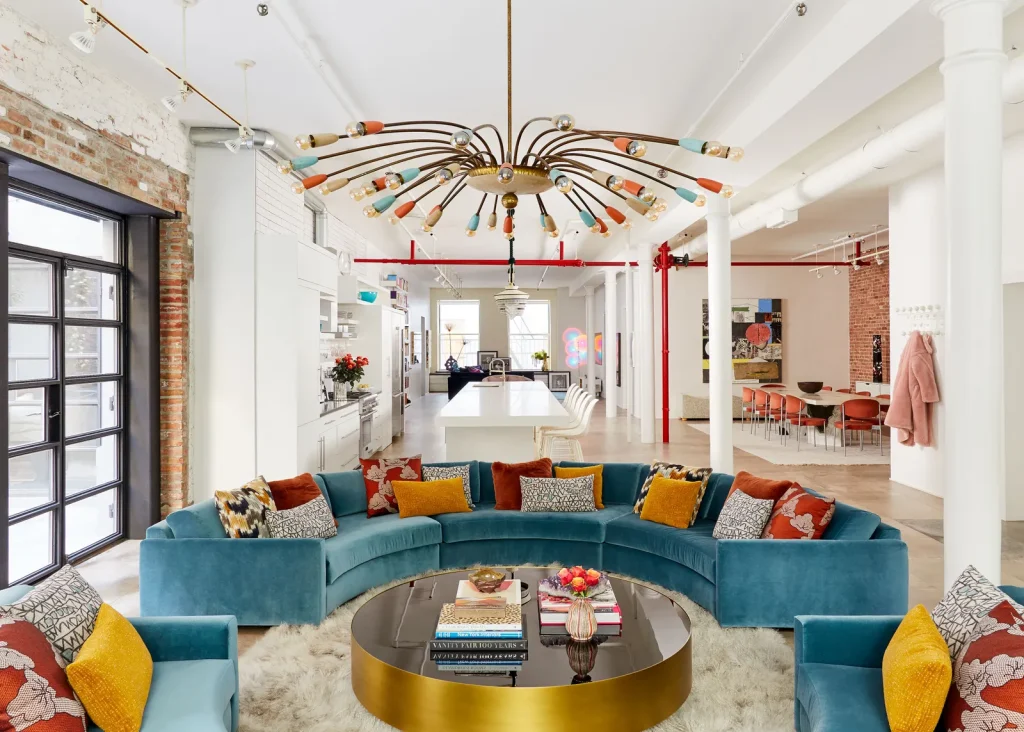 The Private Rooms
Therefore, the colorful open-space area and this eclectic home style also have beautiful private rooms. The couple's master bedroom was the first room the designers worked on; having this space was a specific desire from Patina Miler, who wished that her bedroom would look like a charming hotel room inviting more one night.
As a result of Patina Miller's request, the room is neutral with comfort furnishes and well-selected furniture; the big star here is the glass wall door that welcomes the inside in and highlights the beautiful balcony outside.
A colorful world in pink tones appears in Patina Miller´s daughter's bedroom and playroom – for that spot, the designers went for more creativity and embraced the colors to create a playful vibe. In both spaces, cozy rugs welcome a fun time on the floor and increase the space's comfort and beauty.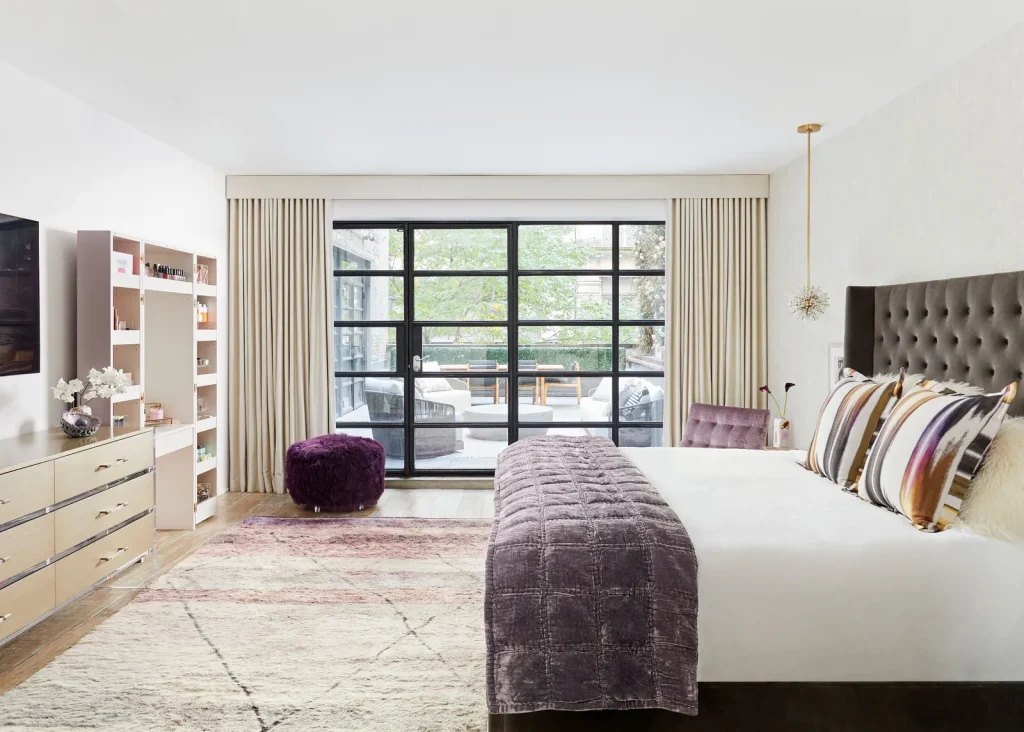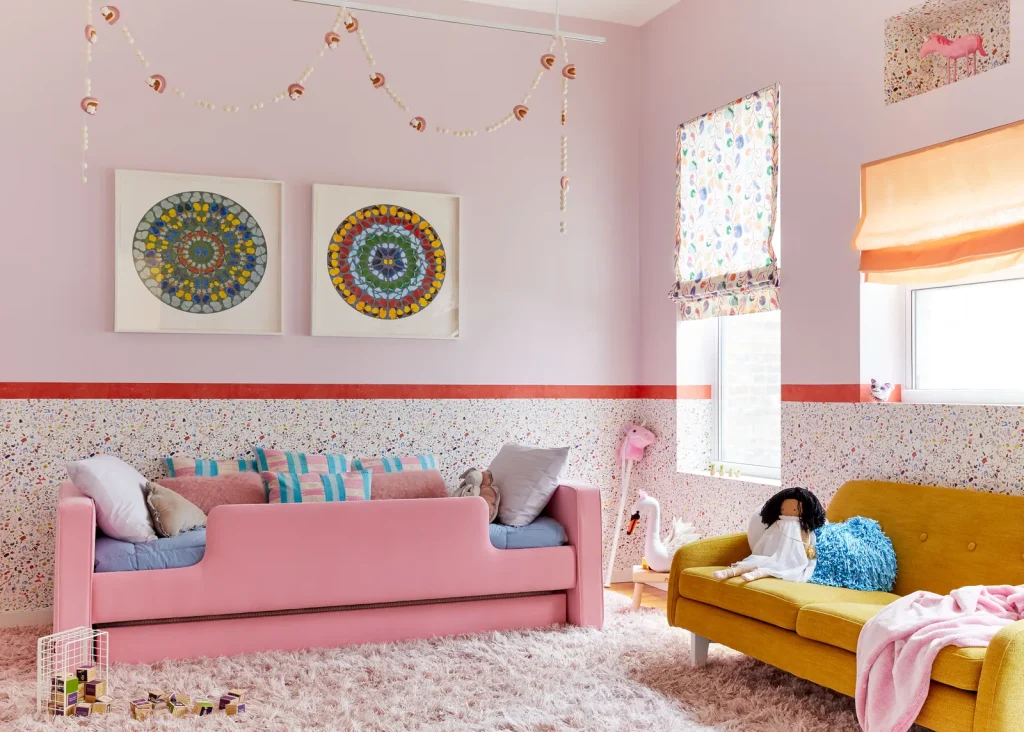 Shop Inspired by This Look
In this colorful home, the eclectic style approach gives the interior a unique vibe full of personality and stylish choices, but the rugs have stolen the scene and helped to create a unique design. Inspired by Patina Miller's stunning home, we have selected some rugs from the TAPIS Studio collection that would excellently match this scenario. Be inspired:
Bright, colorful, and with the right personality – Patina Miller´s is the correct definition for a dream house and demonstrates that eclectic home style could be the perfect choice for an interior that calls for playful and harmonious vibes. We hope you have enjoyed this home tour and been inspired to create stunning interiors. Explore more stunning interiors on our project page.