Colorful rugs are the perfect addition to the kids' space – with vibrant colors, these pieces can set a playful vibe to any playroom or bedroom.
The interior design of the kids' area is a wonderful opportunity to express the child's enthusiasm and individuality while creating a space that flows well with the rest of the house design. Rugs for kids are an excellent choice to elevate their space. As we know, young ones love colors, and to add a bright vibe to their space – it's simple: colorful rugs can be the best option to improve the kid's room with a bold personality and playful vibes and still have a place that matches with your home design.
Colorful rugs can provide a playful vibe to the kid's room while also elevating the room's feel. From happiness to creativity and fresh feels, colors are always an assertive choice for the little ones. Colorful rugs can add the pop of color that the kid's room needs without overwhelming the space. We selected five projects with colorful rugs to inspire you to create a beautiful playroom or bedroom. Keep scrolling for a bright motivation.
1. Kaleidoscope Playroom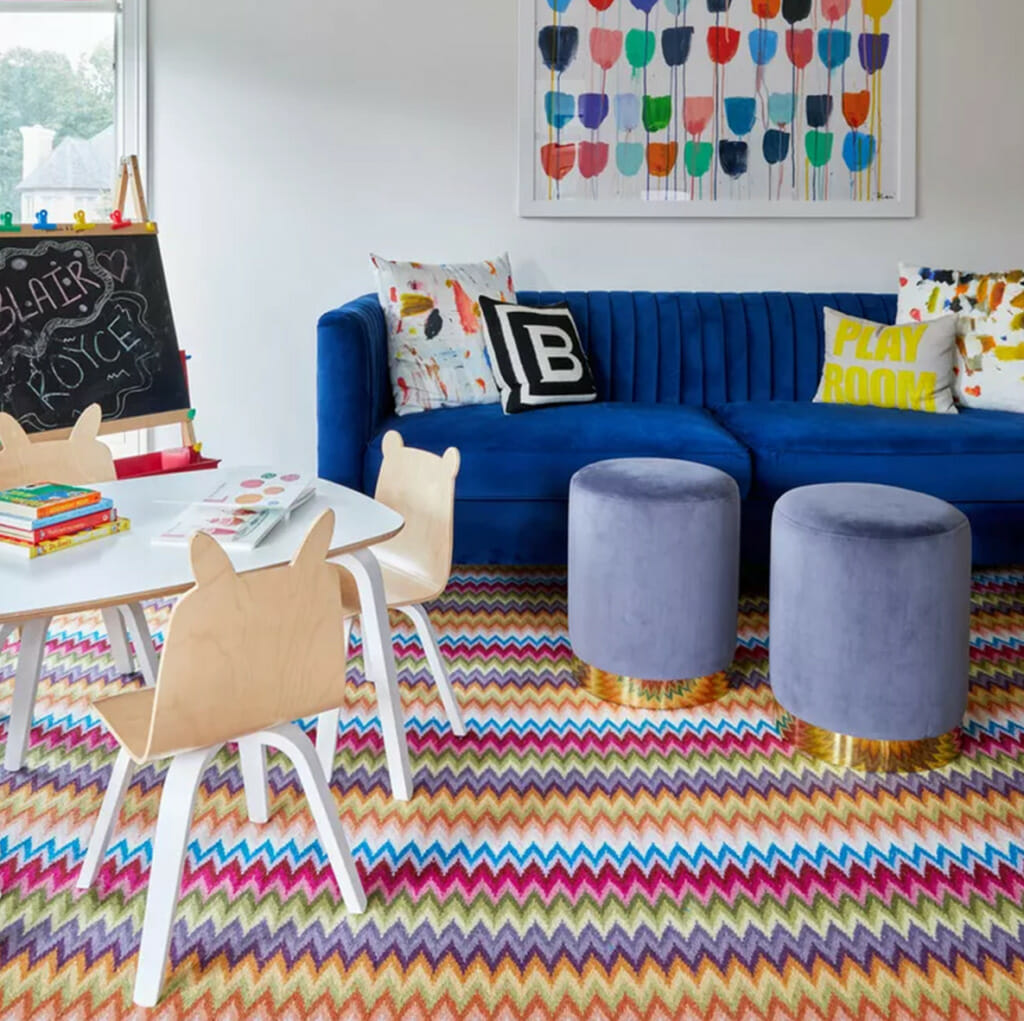 A kaleidoscope area rug is the star of this playroom – where all the interior design choices integrate the colors from this colorful rug. Even though this space has a playful vibe, the room designed by JLA Design also has a comfortable sofa for the parent's rest while watching the kids play.
2. Bright & Fun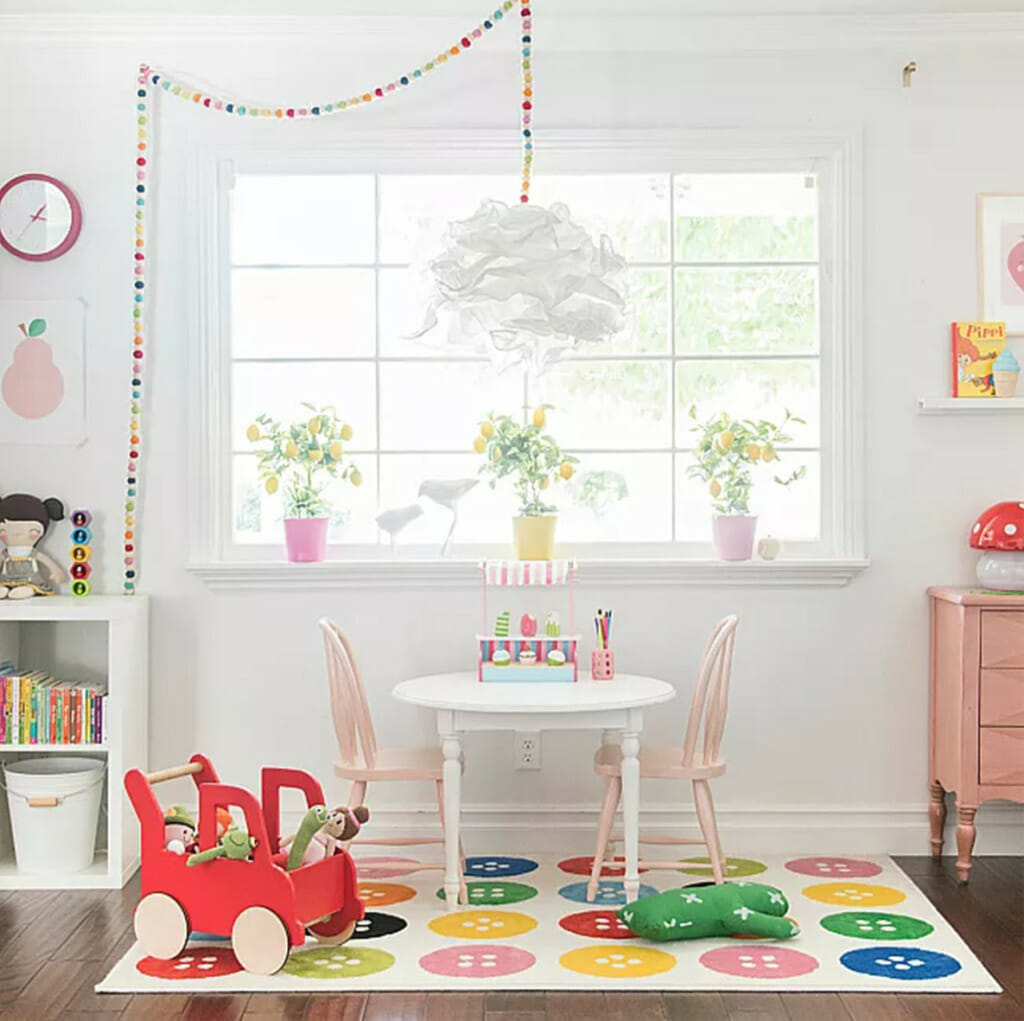 Colorful rugs are perfect for kids" rooms, we all agree. But when we combine colors and playful vibes, the result is a stunning space full of joy. In this bright and airy playroom, the interior designer This bright and airy playroom was given charm by Norwegian-born interior designer Jannicke Rams of Tiny Little Pads chose to go with pops of colors and timeless furniture to create this charming space.
3. Soft & Colorful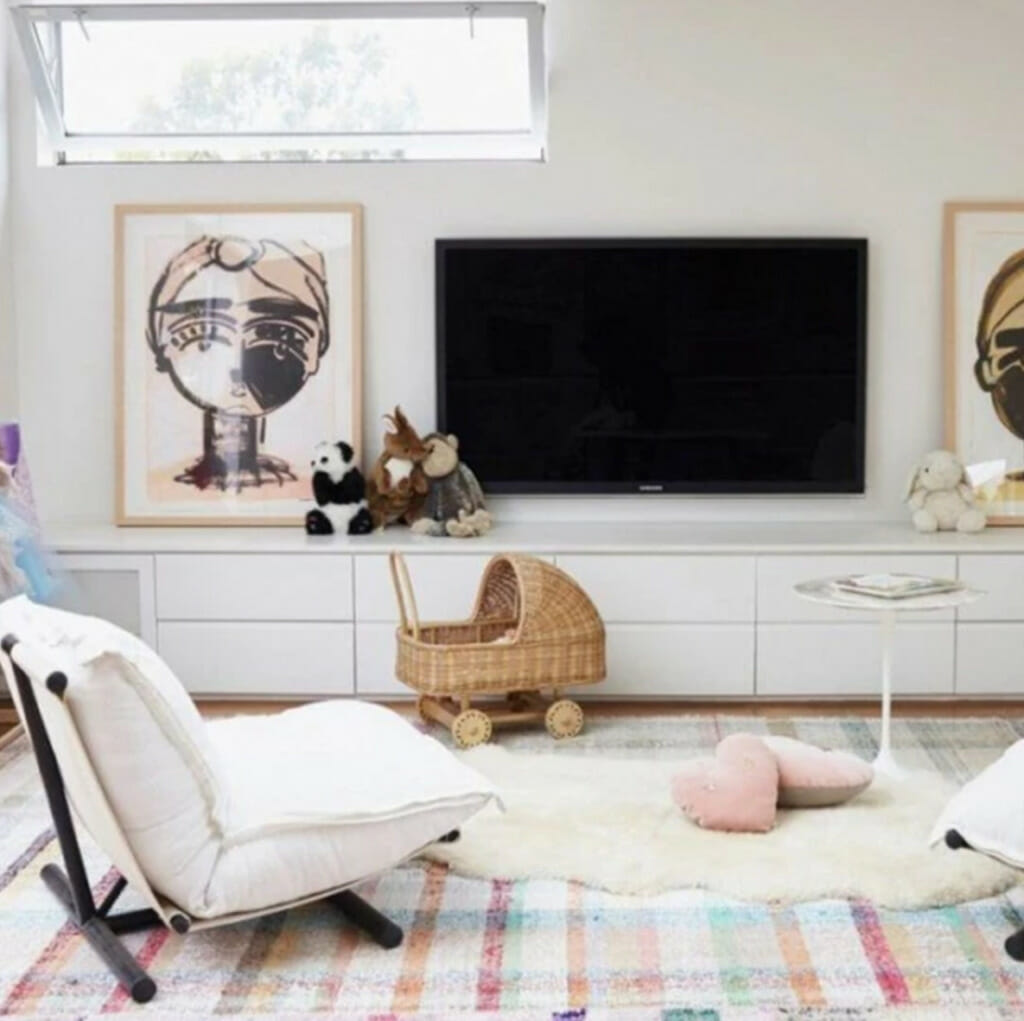 Of course, colorful rugs with bright colors are incredibly beautiful, but it's also possible to have a pop of colors with soft and colorful tones, like in this charming play area. This lovely space that seems like a living room is a kid's room for a little child. The idea was to create a comfy, small space that could dialogue with the rest of the house.
4. Cool & Bold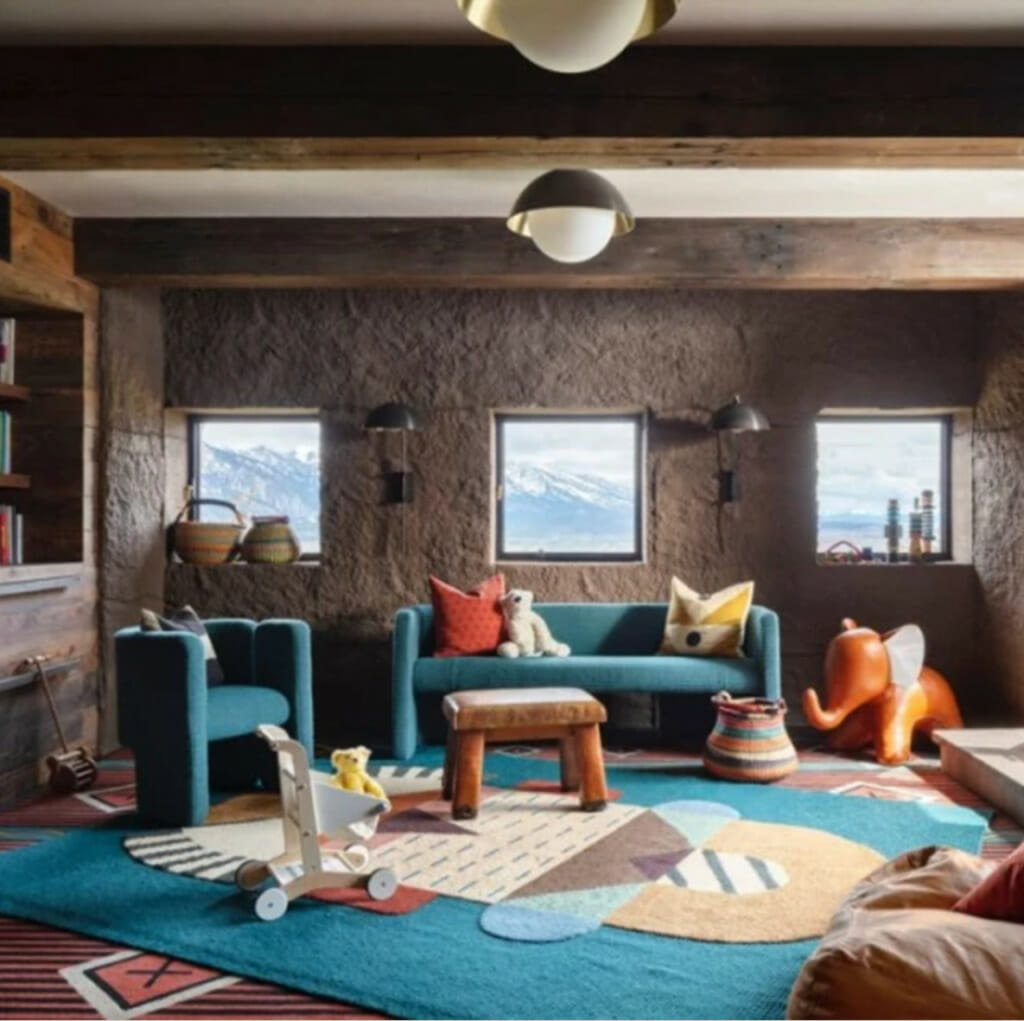 This playroom, which blends whimsical choices with rustic materials, has views of the Snake River Valley in Wyoming and a somber architectural palette. Hammer & Spear created the project. Here, the geometric and vibrant rug is also a focal point of the space and contributes to its playful atmosphere.
5. Layered Rugs
This lightful open playroom designed by Kristine Irving from Koo de Kir was a request of the clients for an exclusive space for the kids. The room is situated between two bedrooms, and the layered rugs with colorful vibes help to delimit the space where the fun moments happen. Layer rugs are a trend in interior design, and in this space, it helps to give the color that the kid's space needs but with a subtle touch.
6. Rainbow feel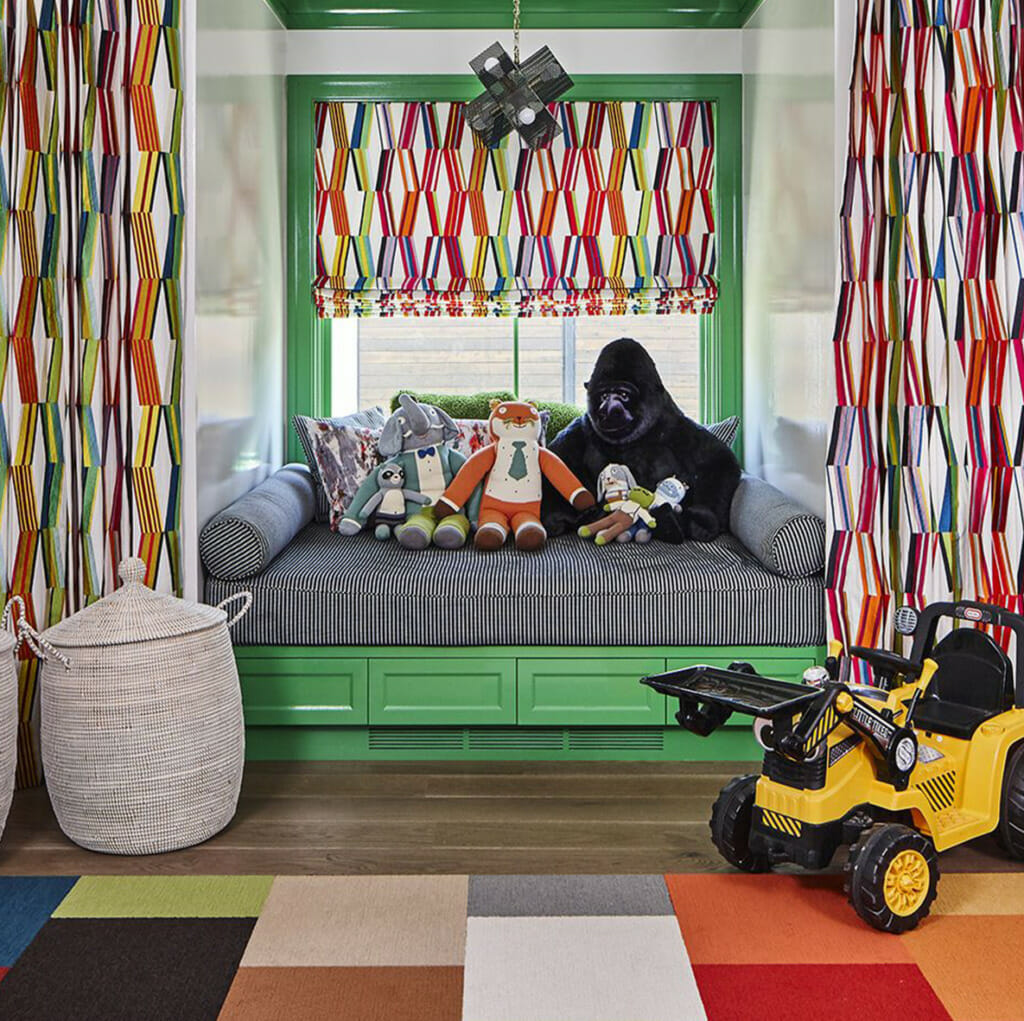 This playroom will make you feel like you are entering a rainbow and show all the beauty that colorful rugs can bring to the kids space. For those who love daring choices, this can be a perfect inspiration. Here, the designer Bailey Austin Birddidn'tt hold back, painting the walls and floor a vibrant array of colors – where the beautiful rug follows the room aesthetic and gives extra comfort for the playtime.
7. A touch of color
Do you like colors but don't want to go with a rainbow room? Colorful rugs are perfect, giving some pops of color to the room decor and still making it neutral. For this playroom, designed by Hecker Guthrie, which is also a homework zone, the option was to add a touch of color with a beautiful and colorful rug.
These beautiful playrooms show how a colorful rug can positively impact the kid's room design, elevating the space with fun and creative vibes. We hope that you enjoyed our selection of projects and got the inspiration that you need to add more color to the kid's space. Discover TAPIS'ss studio colorful rugs to complete your kid's space with playful and happy vibes.