Playful, Creative & Unique. Here are the best nine kids rugs by TAPIS Studio that will give the final touch to any space.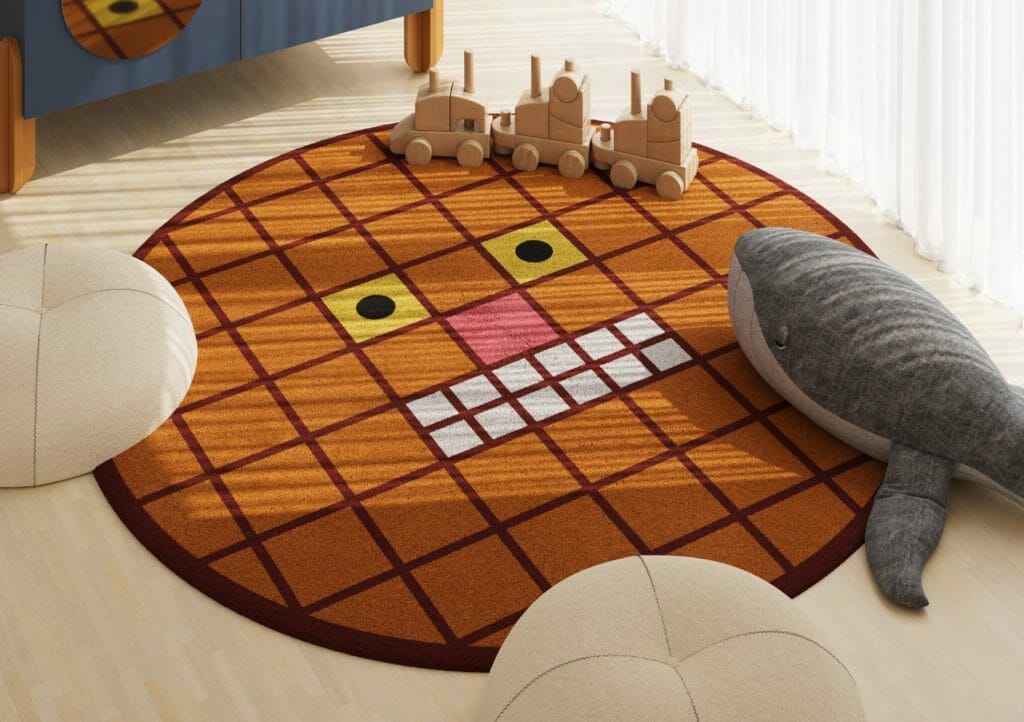 The creative process of designing a home involves the essence of the clients and personal tastes. Such as, we say that a home should reflect its owner's personality; when creating a space for the little ones, some elements like playful vibes, colors, and creativity can't' be missing to reflect their essence and also to create the perfect area to where the kids best moments will happen.
Kids Rugs

In the kids´ room, the floor is one of the star elements of the area. It's on the floor where babies give their first steps, the family gathers to play board games and many fun moments happen. Kids rugs can elevate the moments on the floor by adding comfort and coziness and also giving the room the final touch it needs.
The best kids rugs should complete the room's aesthetic, provide the comfort the little one needs and be practical to care for (because you all know that the fun time can also sometimes mean a little mess). If you are wondering about what is the perfect rug for kids, you can check our article about it and then come back to discover the nine best kids rugs by TAPIS studio.
Creating a space for kids where they can play and grow it´s a fun experience, but with some challenges, such as assembling a beautiful and functional room that will still be loved over the years and that can evolve as the kids grow.
Kids rugs can also be an excellent element of a functional room – by completing the aesthetic. For example, if you want to add a playful vibe to a neutral room, you can add a colorful rug that will give the pops of colors that the little one needs, or if you already have too many colors, a neutral rug can add a cozy vibe.
From colorful to essential ones – we select nine incredible kids rugs by TAPIS Studio that will complete your project, adding comfortable and assembling the perfect space for the little ones to create their best memories. Are you ready to discover?
TOP 9 KIDS RUGS BY TAPIS STUDIO


It´s time to reveal the top nine kids rugs by TAPIS Studio; in this selection, we gather rugs with different styles, colors, and shapes that can complete any playroom or bedroom. These rugs have good materials for kids -easy to clean, non-toxic, and non-allergenic, to make the playful moment even more fun.
BY TYPE
To match personalities and rooms, we divide our selection of kids rugs by type – so you can discover the best one for you according to the vibe that it transmits. Playful, colorful, and essential, there is one rug that will perfectly meet your project needs.
Playful
If there is one thing that kids love is fun – you can incorporate a fun element to the little ones' space by adding a playful rug – from irreverent shapes to creative ones, we can ensure that the kids will love it and that it will also give more personality to the space. Discover our selection of kids rugs with playful vibes:
Colorful
Children's rooms can feel more stylish and have a more lively atmosphere with colorful rugs. Colors are always a good choice for kids; they can give the room a feeling of joy and creativity without overwhelming the space. Without mentioning that colorful rugs can add the splash of color that the kid's room requires. Time to check out some of our colorful kids rugs:
Neutral
Even though we love colors – neutral rugs are also a good option for the kid's room; they are easy to combine and give a perfect touch to the space. With different shapes and muted colors, there are many options – from shapes that go from  Rectangular, Oval, Round, Irregular, and Pastel colors. You can enjoy playing with the textures and colors to give a playful vibe. Explore our selection of essential rugs for kids.
This was our selection of the nine best kids rugs; which one was your elected one? We hope you have enjoyed our curated selection, and remember you still have more discoveries of rugs for kids by TAPIS Studio to complete your projects.