Kelly Wearstler Projects are synonymous with good taste and sophistication. Check out the interior designer's TOP projects where rugs are the star!
Among the most important elements in interior decoration, rugs play a fundamental role in creating a cozy and sophisticated atmosphere. A well-chosen rug can be the focal point of a room, bringing color, texture, and pattern to the space.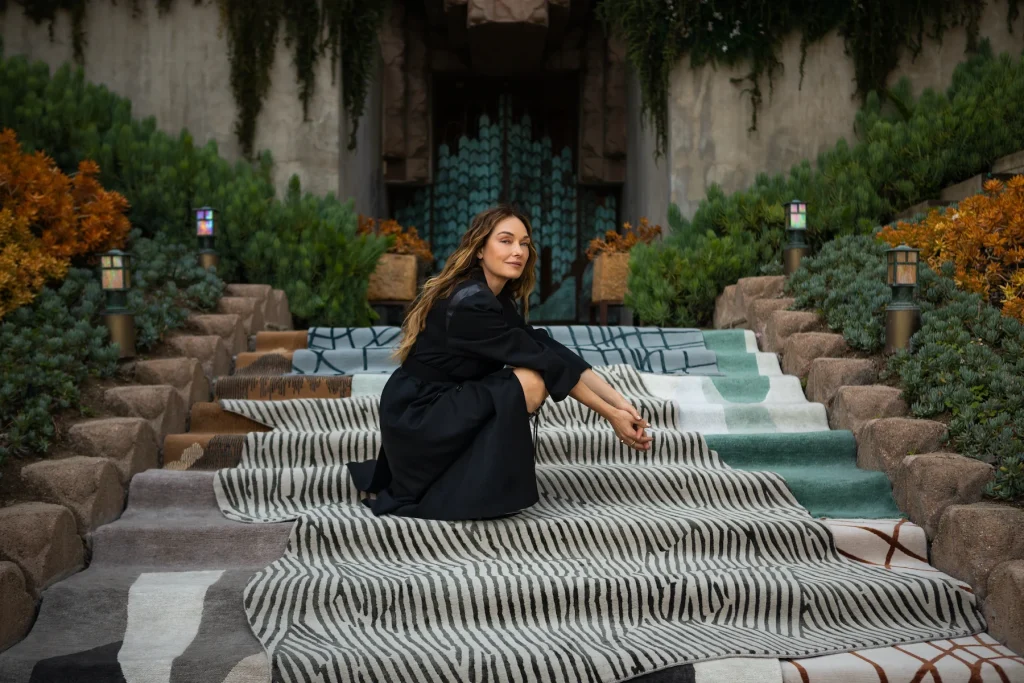 Kelly Wearstler is a renowned interior designer known for her eclectic and bold style. She has a keen eye for art, architecture, and materials, and is famous for combining elements from different eras and styles in her projects.
Kelly Wearstler is a master at using rugs in her projects to create elegant and comfortable spaces. She is known for using rugs of all sizes and shapes, from the simplest to the most elaborate, as a way of bringing personality to her designs.
Below, we will look at some of Kelly Wearstler's most striking projects where rugs are the star of the show:
Kelly Wearstler Projects: The Power of Rugs in Interior Design
When using a rug as a focal point in a room, it is important to consider several factors to create a cohesive and visually appealing space. In the content on Memorable Living Rooms Where Rugs Are The Star we listed some more in-depth tips on this, but we've summarized here a few that you should keep in mind:
COLOR: The colors in the rug should be reflected in the room's decor, creating a harmonious color scheme. For instance, if the rug features bright and bold colors, balance the space with neutral furniture and accessories. Conversely, if the rug is neutral, add pops of color to create visual interest.
PATTERNS: When working with a rug with a bold pattern, it's best to keep the rest of the room's decor understated. On the other hand, if the rug is solid-colored, patterns can be introduced through accent pieces like throw pillows or curtains to add texture and interest to the space.
TEXTURE: Rugs add texture to a room, which can be amplified by introducing other textures into the space. For instance, pair a shaggy rug with velvet throw pillows or a leather couch to create a cozy and inviting ambiance. In Kelly Wearstler Projects, texture is key to creating a luxurious and sophisticated atmosphere.
1 – TRIBECA LOFT
This project is a loft located in New York and is a perfect example of Kelly's ability to mix different textures and patterns. The rugs chosen for this space have a bold geometric pattern that acts as a centerpiece that defines the style of the couple's bedroom, while following a monochromatic pattern in the composition of the other room.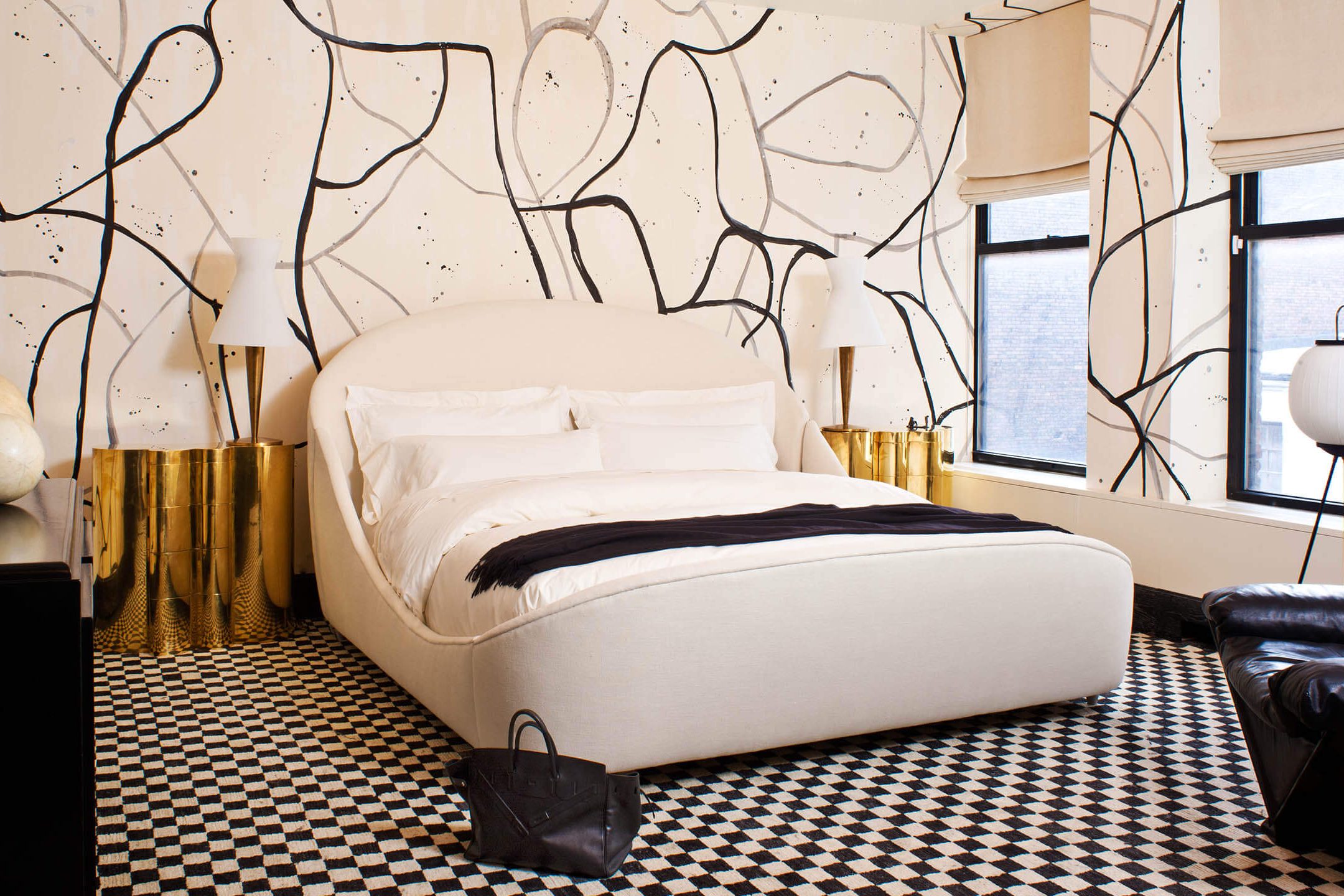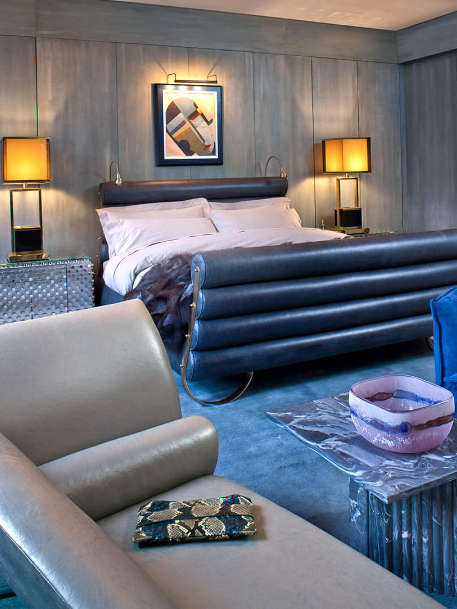 2 – MALIBU BEACH RESIDENCE
This Malibu Residence project is an example of the sophisticated and relaxed style that Kelly Wearstler is known for creating in her design. Here we have an example of the use of wall-hung rugs as a piece of art, and also a cozy choice for the living room, with a light gray, textured wool fabric.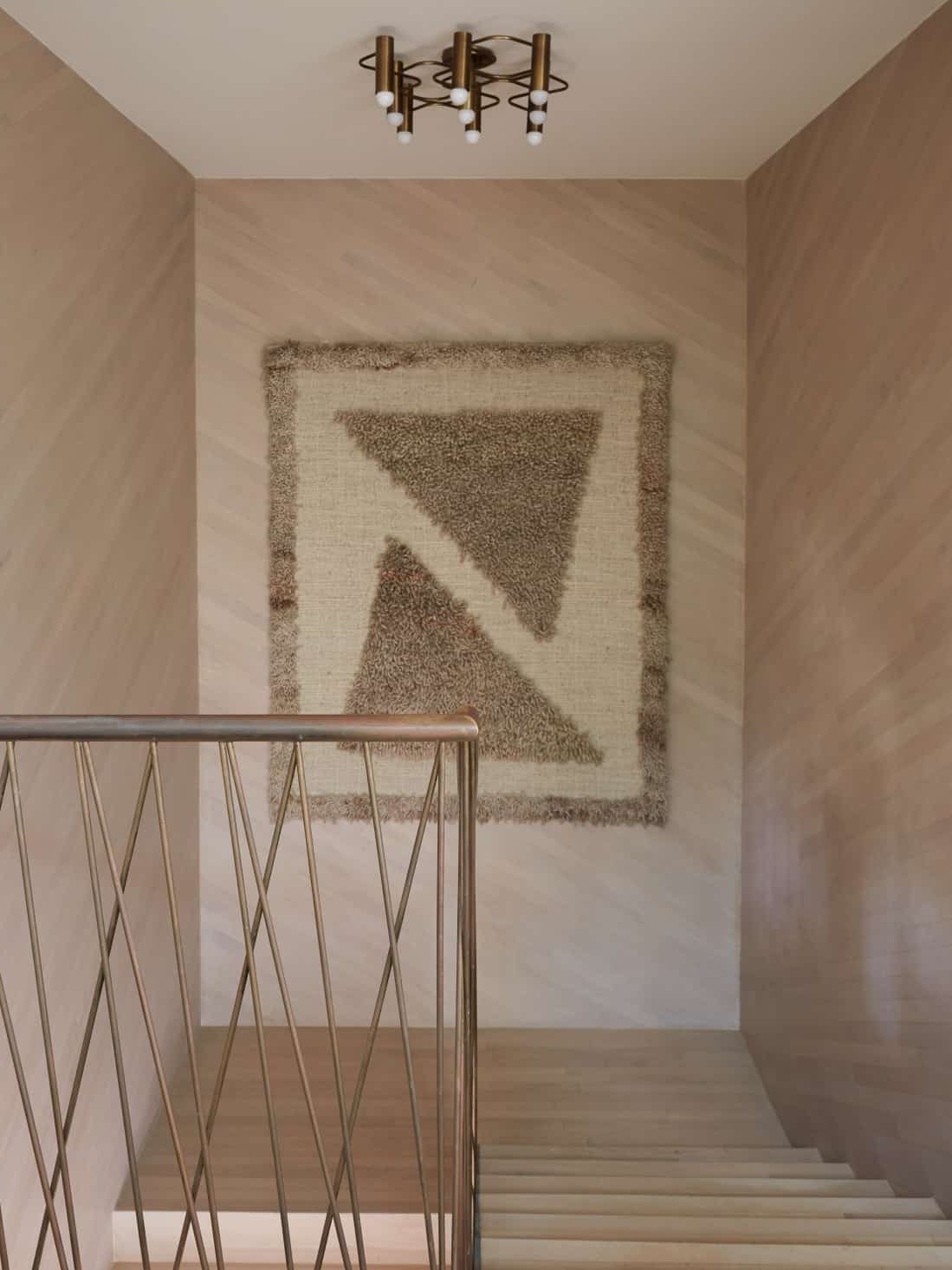 3 – MADISON AVENUE RESIDENCE
Stair runners are a great way to add a touch of elegance, color, and style to the staircase in your home. This New York project is an example of how a rug can be used to add color and pattern to a minimalist space. The rug chosen for this space brings a modern and energetic vibe to the environment.
4 – SAN FRANCISCO PROPER HOTEL
This San Francisco project is a celebration of the city's history and heritage, taking its design cues from a variety of pre-modernist styles, among them Cubism and Viennese Secession. With many fabric details in curtains and wall covering, the chosen rugs also play on a combination of soft colors and abstract patterns, which bring a sense of sophistication and comfort to the room in the Kelly Wearstler Projects.
5 – SANTA MONICA PROPER
This Santa Monica project is an example of how a rug can be used to unify a multifunctional space. The rug chosen for this space has a bold graphic print that combines with the Mid-Century decor of the environment.
6 – TIDES SOUTH BEACH HOTEL
This Miami project is an example of the power of color and how a rug can be used to bring a sense of luxury and glamour to a space. The rug chosen for this space has a soft texture and a bright golden color that reflects natural light and creates a sophisticated atmosphere.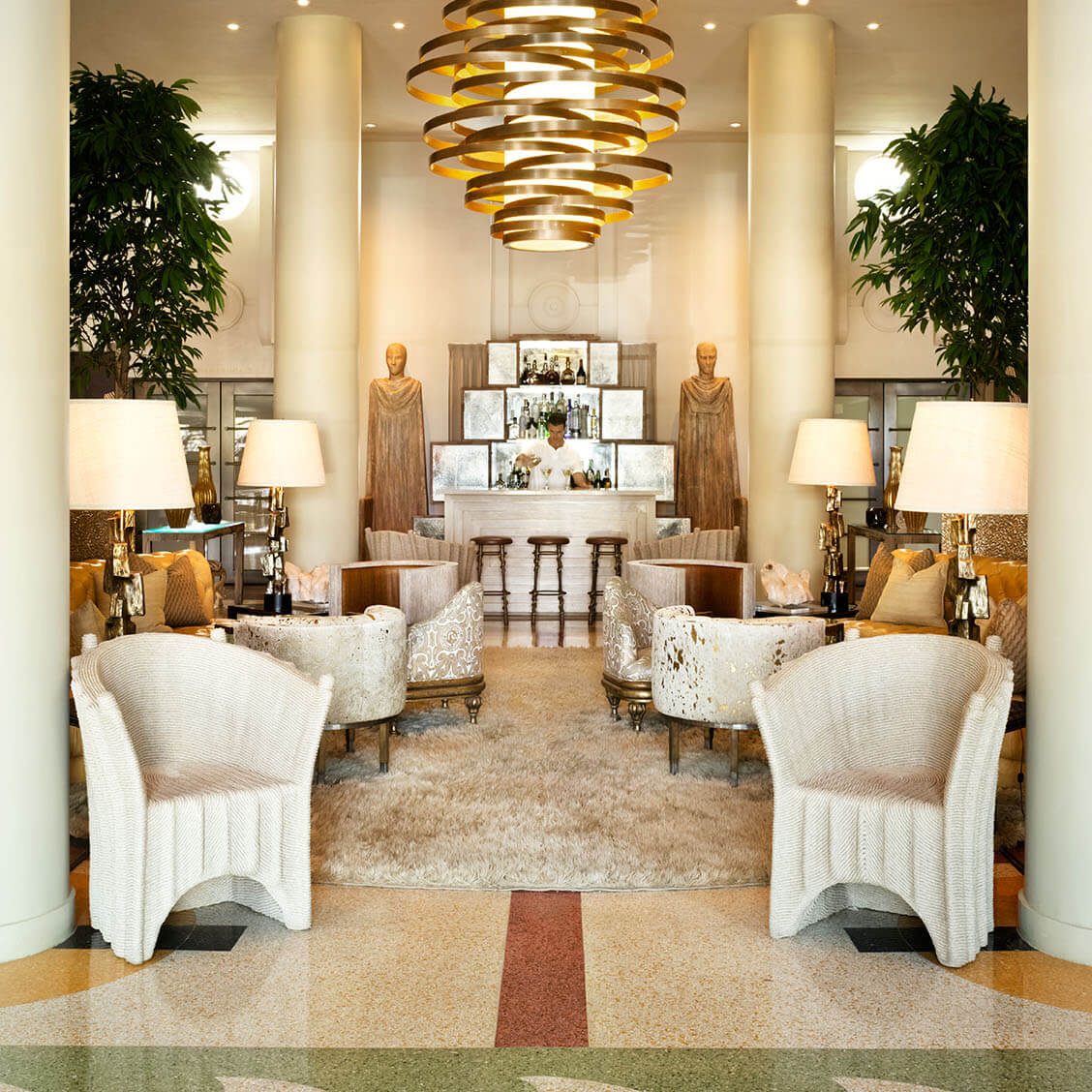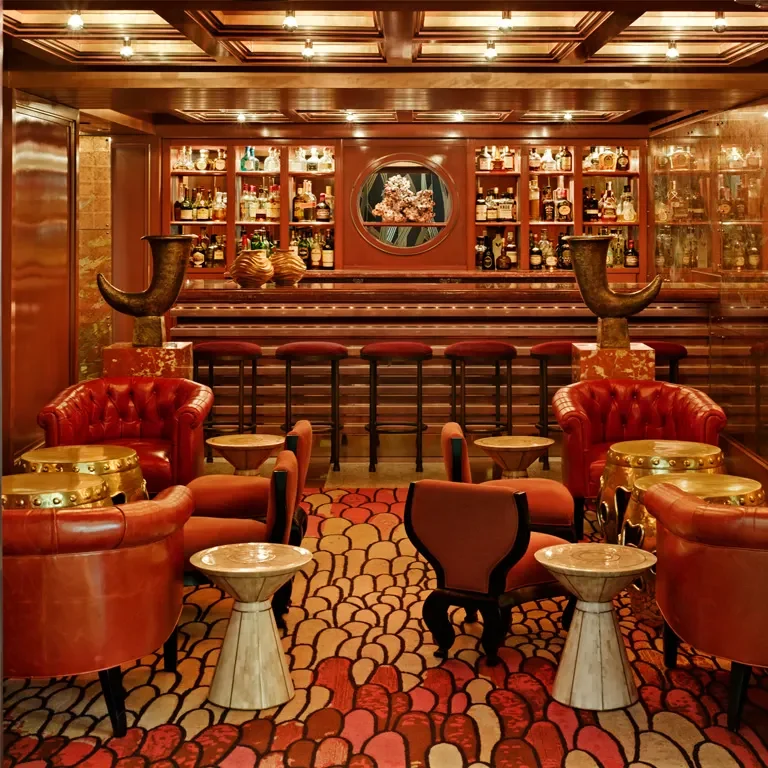 7 – BROAD BEACH RESIDENCE
The interiors of Broad Beach reflect a palette of earthy, rustic tones and a mélange of design styles. The rug chosen to compose the space in one of the living rooms has an abstract print in shades of blue and white, which creates a nice contrast with the woody tone, common in Kelly Wearstler projects.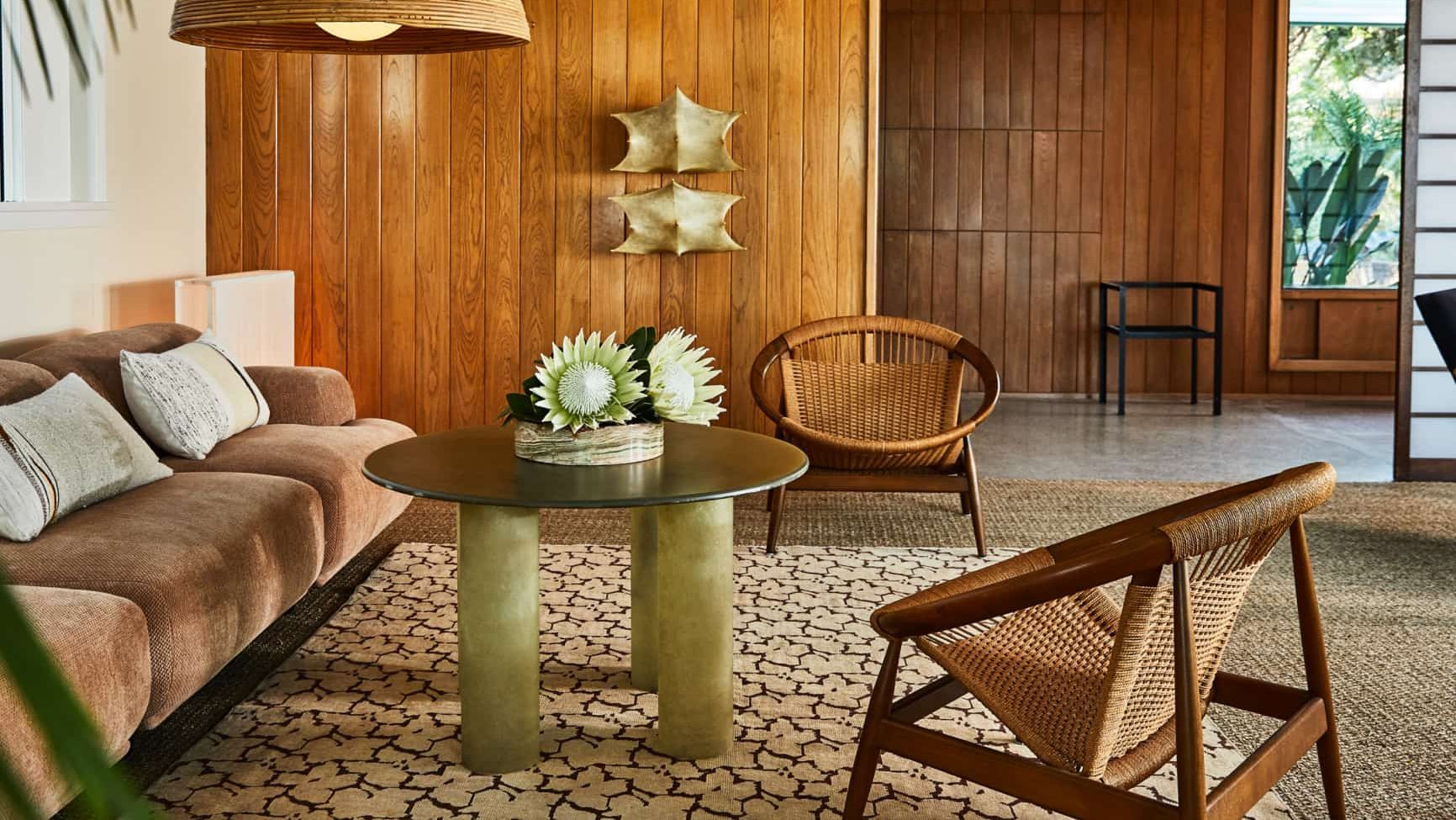 We hope you have enjoyed being inspired by the power of rugs in these interior designs by Kelly Wearstler Projects.
To keep engaged, be sure to also check out our exclusive content of 12 Memorable Living Rooms Where Rugs Are The Star!