Different types of rugs have different shapes, materials, and finishings in addition to various styles, colors, and patterns.
Every home needs a rug. That rug can have a short pile for a minimalist interior or be a shaggy rug with a deep pile for an eccentric room.
The color and pattern also determine the type of rug. While beige, brown, or blue are essential, timeless colors for rugs, yellow, red, or green are bolder colors, perfect for making a statement of sophistication.
A floral rug differs from a rug with animal print, a classic option for homes with a dash of vintage flair.
An area rug ties the room together, adds personality and warmth, and boasts many benefits. But choosing the right rug for the room implies knowing the difference between area rugs and carpets and acknowledging the different types of rugs.
In addition to various styles, colors, and patterns, the shape, the material, and the technique are essential factors to consider when choosing a rug to complement an interior design project of any design style.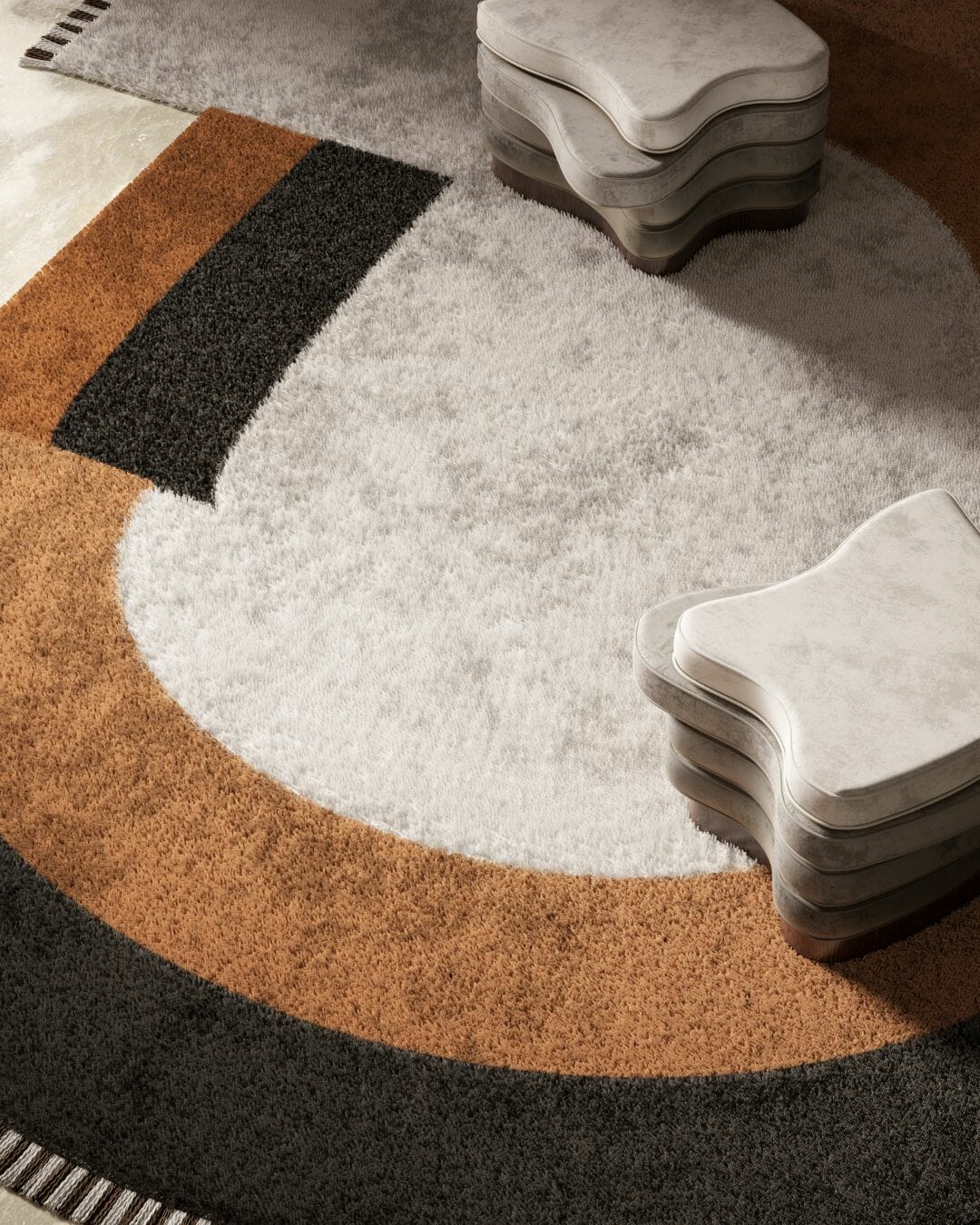 What Are The Different Types Of Rugs?
Shape. Material. Technique. These three elements create different types of rugs. Some have the perfect shape for decorating a modern living room, a spacious hallway, or decorating a kids' playroom. The material of a rug creates distinguished types of rugs. There are fibers better for dining rooms than others, usually the fibers that are more resistant to stains. And the same goes for the techniques. For sure there is a technique that performs better in outdoor rugs than others.

Get ready to discover different types of rugs by shape, material, and technique.
By Shape
Different types of rugs have different shapes. Some shapes are more common than others, such as rectangular shapes. However, a peculiar shape always fits best in a specific room, considering the room's area, function, or design style.
While rectangular rugs are the most common shapes for different types of rugs – and the first choice for many interior designers – other shapes can be the best option for you. For instance, a round shaped rug can be the solution for a small living room, while an irregular rug is a pick for those looking for a dash of sophistication.
The shapes of the different types of rugs are divided into two main categories – organic shapes, typically irregular or asymmetrical, and geometric shapes, which include round shapes and polygons. But let's discover the different shapes of area rugs:
Irregular – an irregular shape can be organic or geometric. Irregular rugs make a statement in any room. A compelling and unexpected form is the best option for complementing a luxury living room or giving the finishing touch to a kids' bedroom or playroom.
Rectangular – the most common and most popular rug shape is rectangular. This shape is popular due to antique rugs and tapestry's long tradition. Rectangular rugs are still the most dominant shape among the different types of rugs. Rectangular rugs are still the safest option since its the most conventional form.
Square – different types of rugs have different shapes. Even though square rugs are very similar to rectangular rugs, area rugs with a square shape fit better in contemporary interior design projects.
Round – round rugs are modern and refreshing. This shape is the perfect floor covering solution for small living rooms, modern dining rooms, or commercial interior design projects. Round rugs are also very playful. For a bold interior design, combine different types of rugs by layering rugs with different shapes and colors.
Oval – oval rugs are intriguing and sophisticated. Rugs with oval form stay between a round rug and the most beloved shape of all types of rugs, the rectangular one. Oval rugs are an excellent substitute for rectangular rugs and add a bold update to your interior design.
By Material
There are so many different types of rugs that the material is one of the most important features when choosing a rug. The room where the rug will be placed, or its purpose, also helps pick out the right rug to complement your design.
Each material makes a different type of rug. The different types of rugs are divided into natural and synthetic materials. Wood, silk, botanical silk, and other eco-friendly options are examples of natural materials. Synthetic materials include man-made fibers, often made from plastic or recycled plastic.
While natural materials are great for kids, synthetic materials are better for contract projects because they are easier to vacuum and clean and are very resistant to wear too.
Discover the different types of rugs according to different types of fiber:
Wool – If rectangular is the most common shape for rugs, wool is the most common material. This natural fiber is biodegradable, has a unique softness, and is an excellent material for decorating a kid's room or tying a dining room together. This material is hypoallergenic, easy to clean, and resistant to stains and color wear.
Silk – there's no doubt that silk is one of the most luxurious rug materials. Among the different types of rugs, silk rugs are the ones with higher maintenance. Silk can absorb many colors and has a unique natural glow. Unlike wool and synthetic fibers, silk is less long-lasting room. Nevertheless, a silk rug is perfect for decorating a wall.
Botanical Silk – pure botanical silk is a biodegradable vegetable yarn from wood pulp collected from consciously managed forests. This natural fiber offers a similar appearance to wool. However, botanical silk is more delicate than other natural fibers, requiring more commitment to care and maintenance.
Cotton – cotton has the benefit of being a natural fiber, biodegradable, and cheaper fiber. But cotton rugs also fade quickly, keep stains, and wear off very easily. These types of rugs are suitable for those who change their decor often. While it is cheap, a cotton rug won't last a lifetime.
Polyolefin & Polypropylene – these are synthetic fibers that are comfortable and highly resistant to water and light. Easy to clean, highly durable, and easy maintenance, polyolefin and polypropylene are also easily recyclable. These long-lasting fibers produce the best rugs for commercial spaces and contract-grade products.
Econyl – this synthetic fiber is made from plastic and ocean waste. With a conscious production process, Econyl is a material that excels in durability, practicality, and performance. Similar to polyolefin and polypropylene, econyl is a contract-grade material.
By Technique
Different methods of making a rug determine different types of rugs. The manufacturing technique defines the pile's length, the texture's softness, and even the use of the rug.
The different types of rugs can be made by hand, using a machine, or in a blend of hand and machine. The technique defines not only the rug type but also its durability and comfort.
Discover the different types of rugs by manufacturing technique:
Hand-knotted – as the name indicates, hand-knotted is a handmade process that uses an ancient technique and is the slowest way of making a rug. This rug manufacturing technique consists of tying every knot in a rug using a specific loom. The rug's fringe is made from vertical threads linked. The foundation is built from horizontal threads, and each knot is tied to the vertical lines, snipped, and then tied once more to secure it.
Hand-tufted – even among the handmade rugs, there are different types of rugs. The hand-tufted rugs are made using a tool called a tufting gun. This type of rug is made by pulling a loop of yarn through the rug's backing.
Hand-hooked – in contrast to tufting, the weaving technique used in hand-hooked rugs keeps the loops of yarn intact. It uses a tool like a pistol to help in the weaving process. The loops then stay in place instead of the sheared yarn, giving it a distinctive colored appearance. Futhermore, the loop finishing is the best for outdoor use and water repellency.
Flat-woven – rugs made with flat-woven techniques don't have a pile. This type of rug is made on a loom, using a specific weaving technique to fully entwine the yarn instead of sticking it out to form a pile. Flat-woven rugs can be made by hand or machine.
Machine made – The machine rugs are made on an industrial and large scale, using a machine called power looms. The power loom is electrically automated and controlled by computers, making the process quick but not so durable and detailed as the handmade rugs.
Now that you know different types of rugs by shape, material, and technique, keep learning about the rugs' world by subscribing to our newsletter.