An outdoor rug can make any space more stunning, but to find the right one, it's necessary to pay attention to some details. In this article, you will find a guide to help you in this task.
We always say that there is no area where a rug can't be. And here we are again repeating this phrase to show that a rug in the outdoor area can be your best acquisition to enjoy sunny and beautiful days surrounded by the comfort of the best materials and still elevate your space with the beauty of the perfect piece.
Any deck or patio can be decorated with the help of an outdoor rug. There are many options, pieces with different hues, designs, sizes, and shapes. To help you choose the best one for your space, we created this guide where you will learn how to choose an outdoor rug.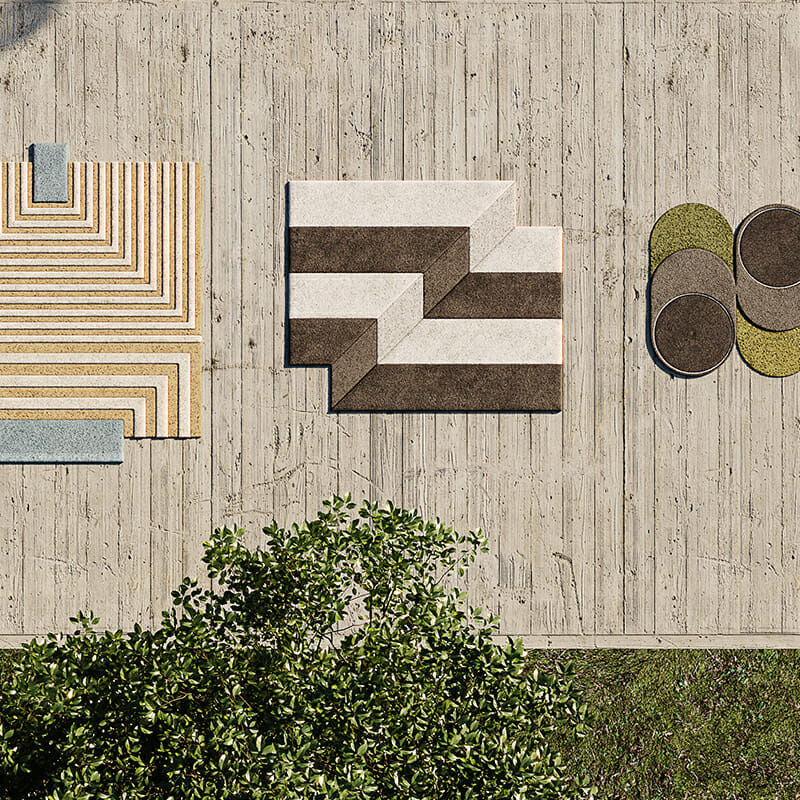 Before starting our tips about how to choose an outdoor rug, we will explain some questions that we might have about this kind of piece.
What are outdoor rugs made of?
Outdoor rugs are made with natural fibers such as sisal, hemp, jute, and seagrass, because they are very durable, sound-absorbing, and provide a lot of texture that this area needs. For this type of rug, synthetic materials like polypropylene or plastic are also utilized in addition to natural fibers.
Are outdoor rugs waterproof?
What defines if an outdoor rug is waterproof is its material, and that's why not every piece is waterproof. Some materials, meanwhile, are more suitable for rainy weather than others. Outdoor rugs made of polypropylene perform well in environments with high wetness and high foot traffic. Polypropylene's capacity to absorb makes it an excellent material for waterproof this type of rug because it won't develop mold or mildew when exposed to moisture, increasing its toughness.
Can I use an indoor rug outside?
It's not a good choice to use an indoor rug inside because this type of rug is made with a material that is not resistant to outdoor areas, so with time, it will be injured by the sun, weather, and rainy. An outdoor rug needs to be made to the exterior conditions. Otherwise, it will not last for a long time.
Now that you know the basics, we will point out three essential topics to pay attention to to find the perfect one.
1. Materials
We already mentioned that outdovarious in a variety of materials – when looking for an outdoor rug, it's essential to pay attention to it – cause sobettercan be better to suit your patio than others. We will highlight some of the main materials used to make an outdoor rug:
Polypropylene: rugs made with polypropylene are perfect for use indoors or outdoors because they are stain, mold, mildew, and chlorine resistant.
Polyester: this material is a great choice if you need a rug to withstand the sun, heavy foot traffic, and rain; outdoor rugs made with this material have high quality, and they are also water-resistant.
Natural Fibers: outdoor rugs made with natural fiber can provide texture and warmth to a spplacing better to place them in covereis better d outdoor areas because sun exposure can damage them.
2. Style
There are many options for outdoor rugs – with different shapes, colors, and materials. Before shopping for one for you, it's essential to consider your outdoor area aesthetic and match it with the perfect piece.
3. Size
As for what happens when choosing a rug for an indoor area, choosing the right rug size is essential to stage a rug like a pro.
One of the common mistakes when choosing a rug for the outdoor area is to get a small one. If you place the rug on the deck, ensure that the outdoor rug will cover most of the area.
If you are going to stage it on a living outdoor, remember that the rug needs to be large enough to cover all large pieces of furniture. For the outdoor kitchen, pay attention that the rug should surround the table by at least two inches.
After these tips, we are sure you are ready to shop for the perfect rug. Take a look at some stunning ones from TAPIS Studio:
No products were found matching your selection.