Pastel area rugs are the translation of charm and beauty into a timeless piece. In this article, you will discover how to combine pastel area rugs with different interiors.
Pastel colors are a rainbow of soft and candy hues that can bring the dose of romance that any space needs; when combined into rugs, the result is instantaneous sophistication with a touch of charm. Pastel area rugs are one of the best asks for an attractive interior design.
Therefore, add a layer of sophistication and create a stunning interior; there are many benefits that pastel area rugs can bring to an interior design. The soft and candy hues can bring romance, joy, happiness, and coziness, and they are easy to combine with different interiors – since most of the pastel colors are neutral. Are you curious to know how to combine pastel area rugs and bring all the charm and sophistication of these pieces to your interior design projects? Keep reading to discover.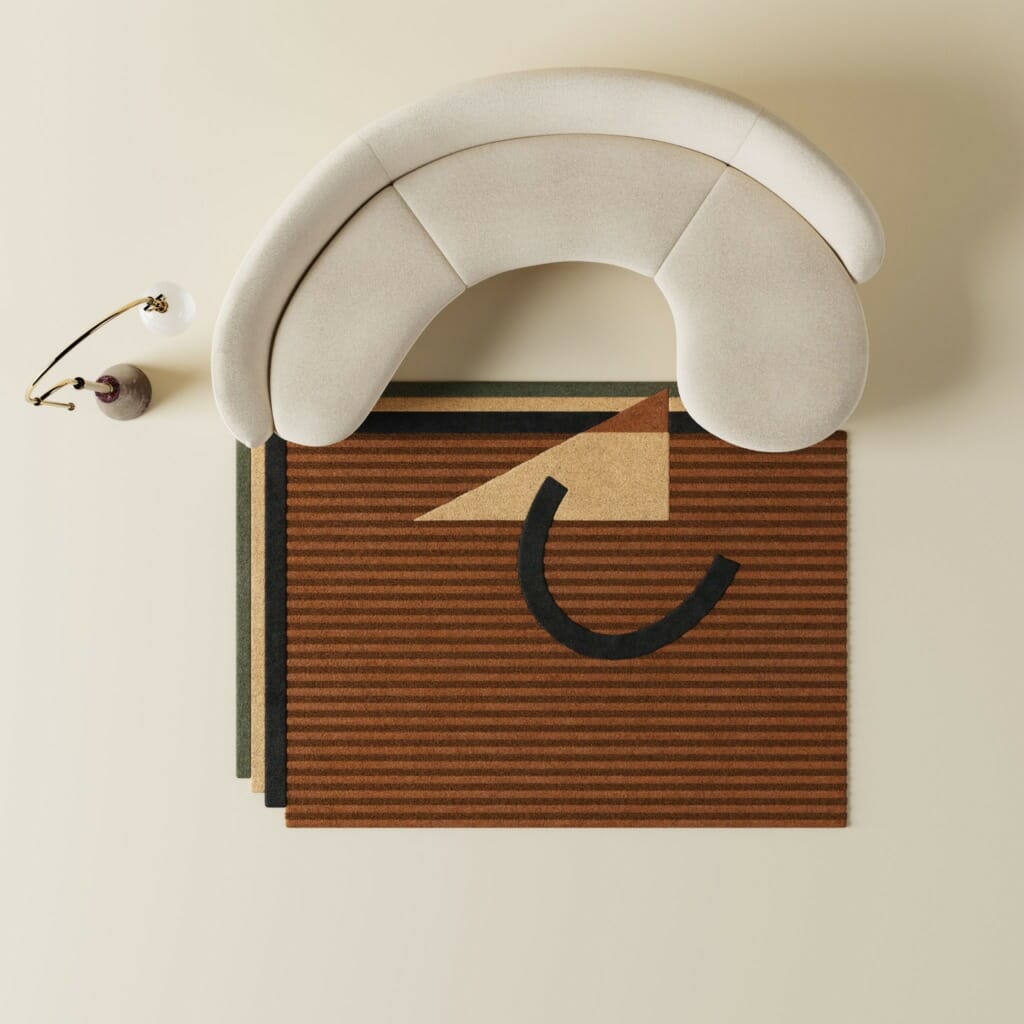 Pastel Area Rugs for Interiors
We are about to enter the world of pastel rugs for interiors, where you will discover everything about how to combine these pieces with different interiors. So, if you still have questions about what are a pastel area rugs or would like to discover more about it, you can read our article on what is a pastel area rug and then come back here.
Ready to enter the incredible world of pastel rugs for interiors? So let's start our journey.
Pastel area rugs are an incredible way to improve your interior design project by adding a warming and welcoming feeling; as we already highlight, pastel area rugs also feature a timeless and elegant look – which can add a touch of sophistication to any room.
There are some ways to add these timeless pieces to your project – our first suggestion is to combine pastel area rugs with white; this is, so far, one of the easiest ways to incorporate this kind of rug and will make the candy colors the star of your layout, bringing all the charm and peaceful vibes that pastel tones can provide.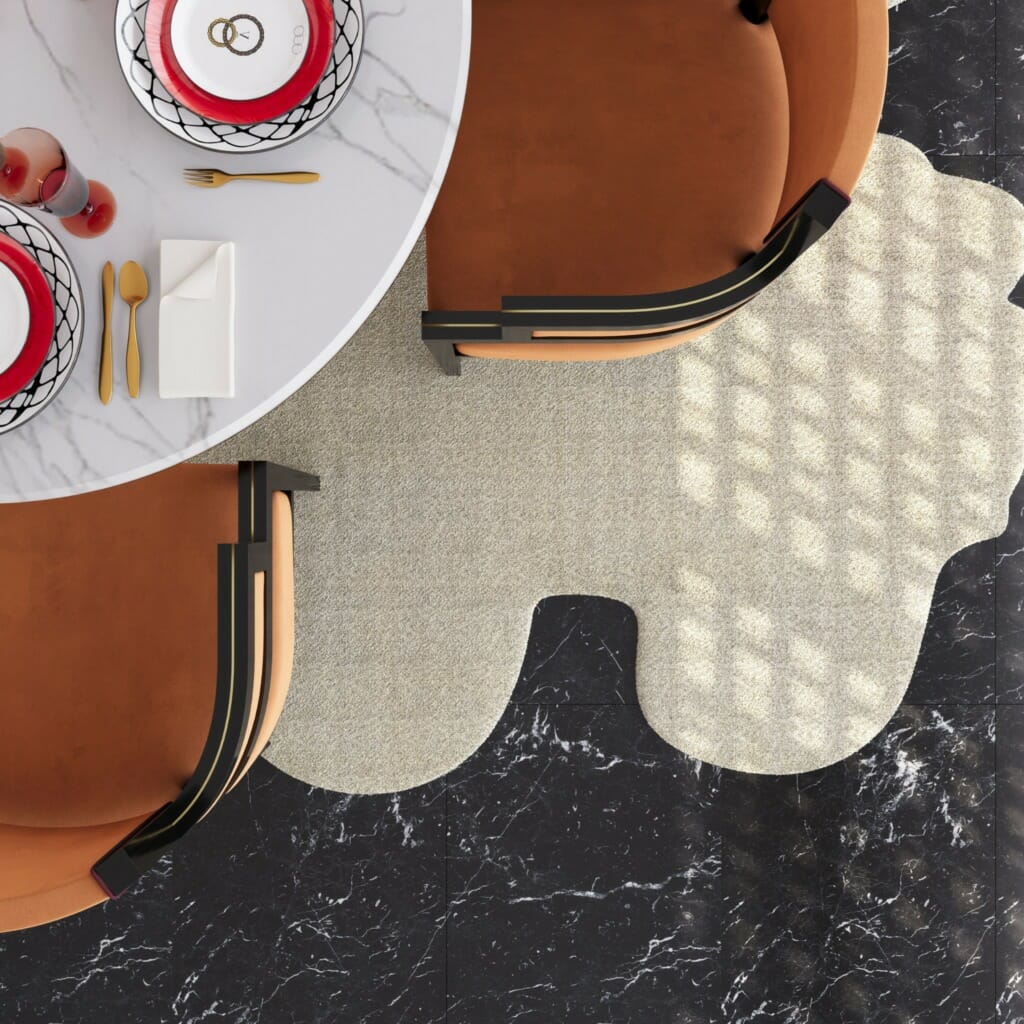 You can also incorporate pastel area rugs into your maximalist layouts; that way, you can combine the charm of the pastel hues with the strong fierce of the maximalist interiors. An excellent way to integrate pastel rugs into this kind of interior is to choose a pastel color rug with the same shade and tones as the interior. Maximalist interiors ask to go bold and to use creativity, so you can also layer a pastel rug with a patterned rug for an intense look.
Depending on the colors, pastel area rugs can work well in different styles of interiors. For farm and country styles, yellow and blue shades work very well to bring a harmonious vibe; for modern and contemporary styles, the millennial pink or white can bring the right amount of sophistication, and the warm pastel colors can add a Hollywood regency vibe.
There are many tones of pastel colors. To bring the perfect vibe to your interior design project, our tip is to play with different color schemes and find the combination that matches your project's vibe while adding the touch of sophistication and charm that pastel area rugs can provide.
The incredible world pastel area rugs will continue but focus on different room divisions. Keep scrolling to continue the journey.
Pastel Area Rugs with Different Rooms Divisions
There is no place where pastel area rugs can't be – these rugs and their rainbow of soft and candy colors are perfect for adding a peaceful and tranquil vibe to any room division. In any home space, pastel area rugs can be an excellent choice. Easy to combine, versatile, and with incredible feelings associated, what are you waiting to incorporate pastel area rugs into your designs? Ideas? We have some for you; discover some ideas on how to combine pastel area rugs with different rooms divisions: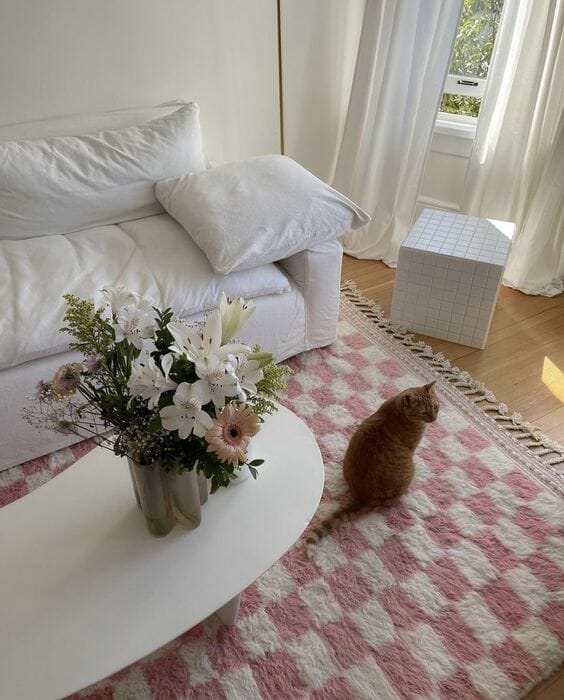 The bedroom is a refuge – where we go to refill our energy and rest after a long day. The perfect bedroom rug is the one that helps to increase the calm and tranquil vibes of the space. For that reason, pastel area rugs can be an excellent addition to this space. You can play with the soft candy hues to bring the peaceful vibe that this space requires. For a romantic layout, you can go with a soft pastel pink rug, but if you are looking for a relaxing vibe, you can add a pastel blue rug.
Are you looking for a way to make your living room stand out? Try a pastel rainbow rug or a multi-colored pastel rug if you want to keep your living space colorful and unconventional. This option will function best when surrounded by neutral hues to not overwhelm the space. You can use white, beige, and earth hues with colorful accents around the rug. But with you
Another idea for using pastel area rugs in a living room interior design project is to add a warm and inviting vibe; you can choose from a rug with warm hues such as pastel orange, pastel red, or pastel yellow and combine it with timeless furniture to active the perfect feeling that this home space needs.
Pastel area rugs in a hue like mint green would be ideal for the kitchen because this is one of the busiest rooms in the house. When pastel hues are used in the kitchen, the shiny surfaces and vibrant colors will produce a peaceful atmosphere while also adding a timeless look to the room.
Pastel area rugs can help to give a spa vibe to any bathroom – if you want to activate this feeling in your bathroom project, pastel green or pastel blue are the perfect addition. Play with different tones and combine them with a pastel area rug.
The entryway can give the guests a preview of your house – to give a peaceful vibe and make your home charming from the first step; pastel area rugs will be your best allies – you can explore the scheme colors of the interior design layout in pastel colors at the entryway rug to add the perfect charming vibe to the space. Therefore add a tranquil vibe to your home's first impression; a pastel area rug will also allow you to play with other home decor elements.
Our journey through the beautiful world of pastel area rugs and how to combine them with different interiors are about to end. In this article, we discovered that pastel area rugs could be an excellent choice to add a timeless and charming look to any room. Now, you can continue this path by discovering the incredible 9 best pastel rugs to complete your interior design project.