It's time to glimpse the future and discover the interior design trends that promise to shake up the world!
Join us on a journey to explore design trends that promise to reinvent interiors worldwide. Step into the future by discovering the hottest tendencies, from concepts and styles, colors, and materials to the new vision of living; we have gathered everything you need to know to update your projects for the future! Welcome to the Interior Design Trends Forecast by TAPIS Studio; keep reading to explore more.
A New Chapter for Interior Design Trends
We will start our journey into the future by exploring the interior design trends that promise to highlight projects worldwide. From biophilic design to colorful interiors, the revival of classic to the craftmanship feelings; these are the most iconic tendencies we emphasize for this future. Read on to discover more about each one.
Embrace Nature: Biophilic Design
Welcome to a future where the interior embraces nature! Biophilic design is a dominant trend that continues to captivate interior design enthusiasts and revolves around incorporating natural elements into living spaces. From lush greenery and flowing water features to organic materials, the aim is to create environments that promote well-being and connectivity with nature.
As rug lovers, we will not forget our beloved pieces, which is one of the best ways to accentuate this trend. Natural fiber rugs, with their earthy textures and patterns inspired by the outdoors, infuse spaces with warmth and an authentic connection to the natural world, enhancing the overall ambiance and creating a soothing sanctuary.
Bold Expressions: Crack of Color
Colors hold the power to transform spaces and evoke emotions. The "Crack of Color" trend encourages the incorporation of vibrant hues as bold statements in a design. Whether it is a vividly painted wall or a striking furniture piece, these pops of color serve as focal points, adding energy and visual interest to a room.
To complement and anchor these color palettes, rugs play a crucial role. They provide a foundation that harmonizes the diverse colors, creating balance and cohesion. A well-chosen rug can act as a canvas, tying together the vibrant elements of a space and elevating its overall impact.
Timeless Elegance Reinvented: The Modern Old
In the future world where nostalgia meets innovation, the "Modern Old" play a crucial role. This interior design trend blends classic elements with modern materials and technology. The result is a space that exudes timeless elegance while offering the conveniences of the present. To enhance this delicate balance, rugs can be the perfect transitional elements and add an extra layer of comfort and coziness.
Artisanal Charm: Craftsmanship Feelings
Craftsmanship and handmade elements infuse spaces with a sense of authenticity and personalization. The "Craftsmanship Feelings" interior design trend celebrates the beauty of bespoke pieces and artisanal charm. From custom furniture to hand-painted murals, these unique creations elevate the ambiance of any interior.
Rugs also play a significant role in this trend; thanks to their intricate weaves and handcrafted details, these beloved pieces are work of art that adds an extra layer of beauty and character to any space.
A Thread of Inspiration: Colors and Materials
Colors and materials set the tone for interior space and offer endless possibilities for creative expression. The interior design trends reveal that earth hues, pastel tones, and bright colors are taking a huge role in home layouts, and the materials recall eco-friendly and sustainable options. Scroll down to explore the interior design trends and be inspired for your upcoming projects.
Colors
The interior design trends highlight earthy tones, warm shades of red and orange, pastel colors, and monochromatic schemes taking the spotlight. These palettes evoke a sense of harmony, warmth, and serenity within a space.
And, of course, rugs are an essential tool to enhance the chosen color scheme further. Whether it is a rug that complements the earthy tones with natural fibers or a vibrant rug that adds a pop of intensity to a monochromatic room, the right choice of rug can tie the color story together, infusing the space with texture and visual interest.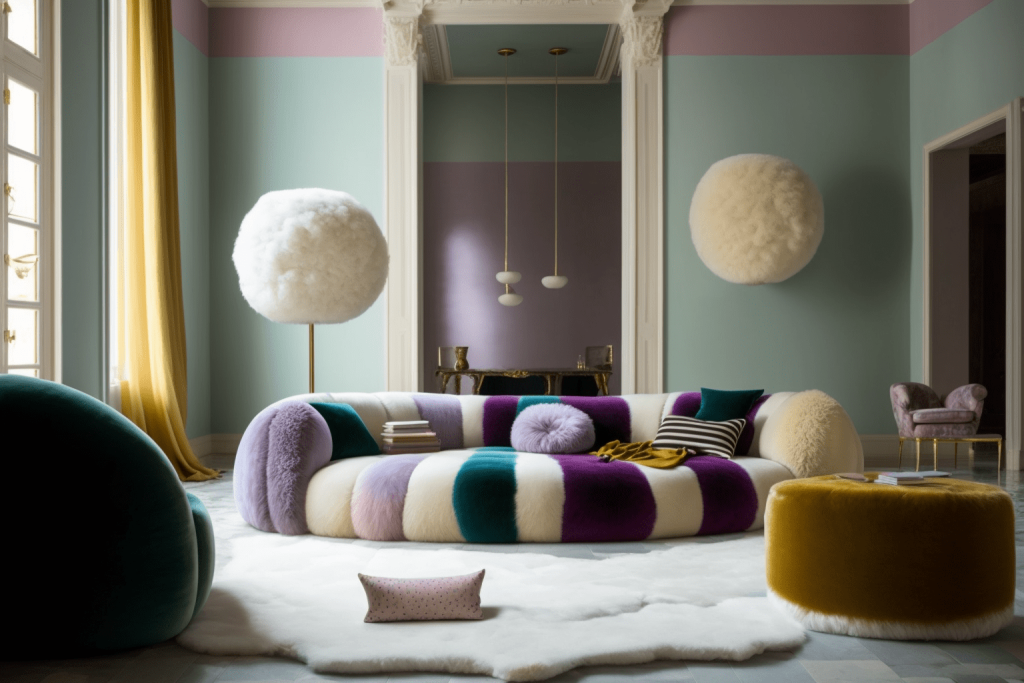 Materials
Now, regarding the materials, they play a vital role in shaping the ambiance of a room and in our future of interior design trends. About the materials, we highlight pure clay, which embraces the beauty of imperfection and handmade work and brings a sense of authenticity and organic beauty to interior spaces.
And also, the natural stones, which are a sustainable choice, exude timeless elegance and add a touch of luxury to modern designs. The wood veneers, which focus on craftsmanship and warm tones, can create a welcoming atmosphere and add a sense of natural beauty to any room.
In our journey to the future of materials, we could not forget the rugs crafted from natural fibers or featuring intricate patterns inspired by these materials; they will add depth and texture to the overall composition and can be the perfect complement for these trend materials.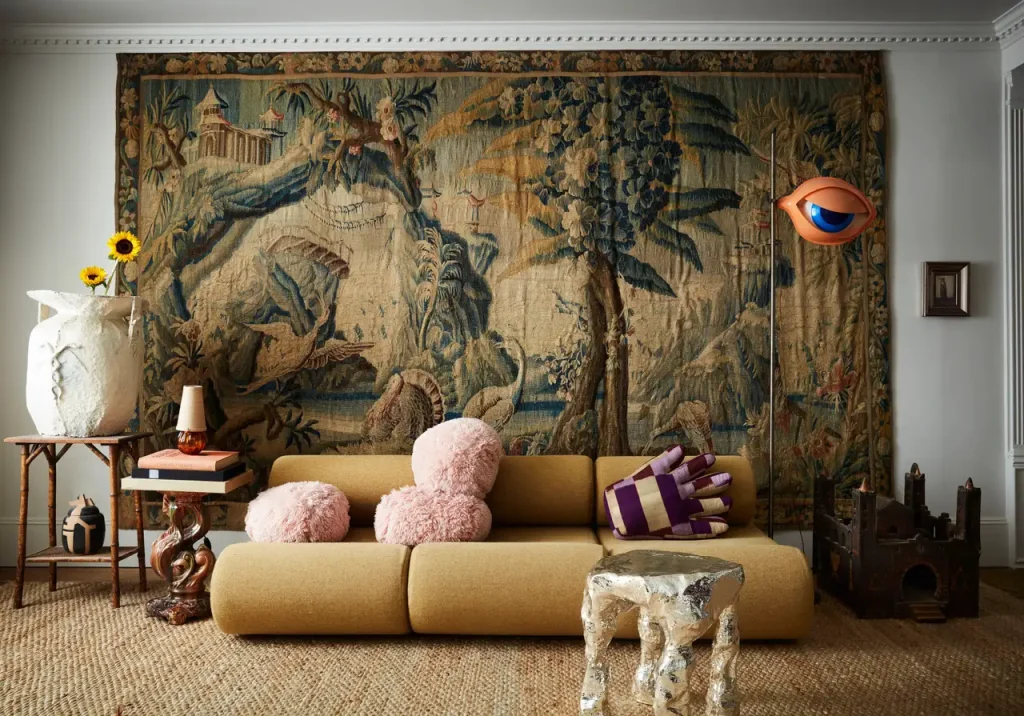 Home Sanctuary: Future of Human Living
We arrived at the last stop of our journey through the future- the future of human living. We highlight the latest interior design trends and utopian visions where homes seamlessly integrate with nature and prioritize sustainable practices; in this future, interior spaces will become home sanctuaries that promote well-being and relaxation.
But there is another essential element in the future of human living; technology, which will simplify daily tasks and enhance comfort, while personalized spaces cater to individual needs with flexible layouts and adaptable features.
And in a home sanctuary, there is one piece that can´t be missing; the rugs! Thanks to the soft textures, comforting warmth, and visual appeal, the rugs will be in the future of human living, transforming a room into a haven of peace and tranquility.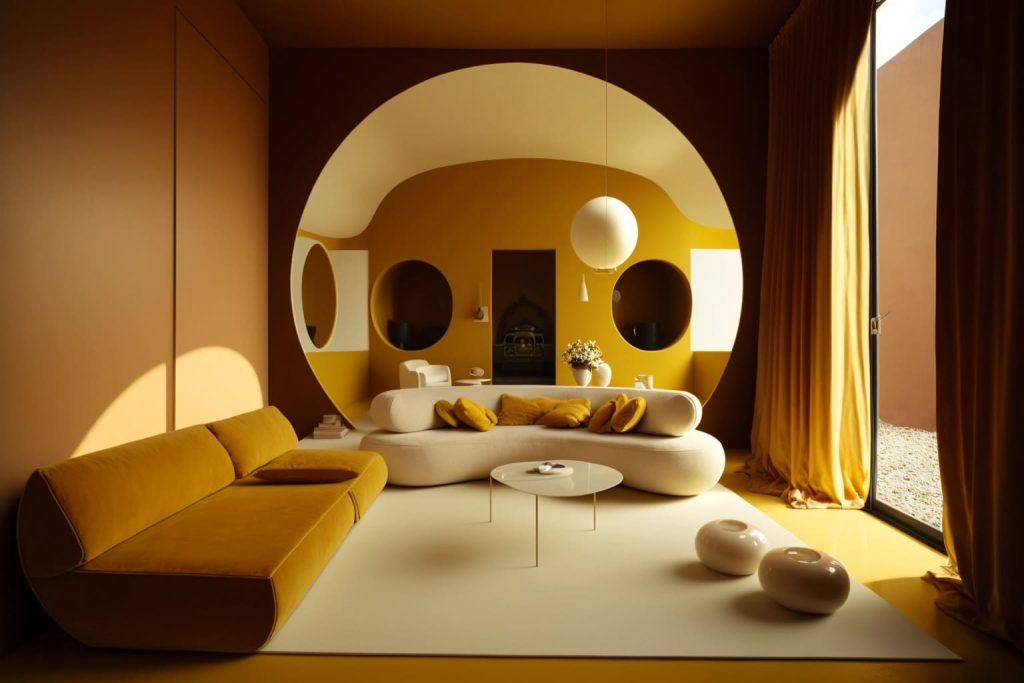 WOW! The future is already here, and it looks incredible! Our journey to the future and interior design trends reveal endless possibilities. From biophilic design and crack of color to the modern old to craftsmanship feelings, these trends provide a wealth of inspiration to redefine living spaces.
Would you like to continue this travel? Embrace the global design trends and elevate your projects to new heights by downloading our Global Design Trends ebook and immersing yourself in the captivating world of interior design trends. Your journey awaits!