Green rugs are an important element in interior design. Not only do they add a touch of luxury and elegance, but also promote color therapy, creating a peaceful and rejuvenating atmosphere.
Check out these striking projects by interior designers who were inspired by the palette!
Green rugs, with their natural hues and textures, bring a sense of tranquility and serenity to any space, while making a bold statement. From luxury hotels and restaurants to houses and apartments, designers are increasingly incorporating green rugs into their projects to add an extra touch of elegance and sophistication.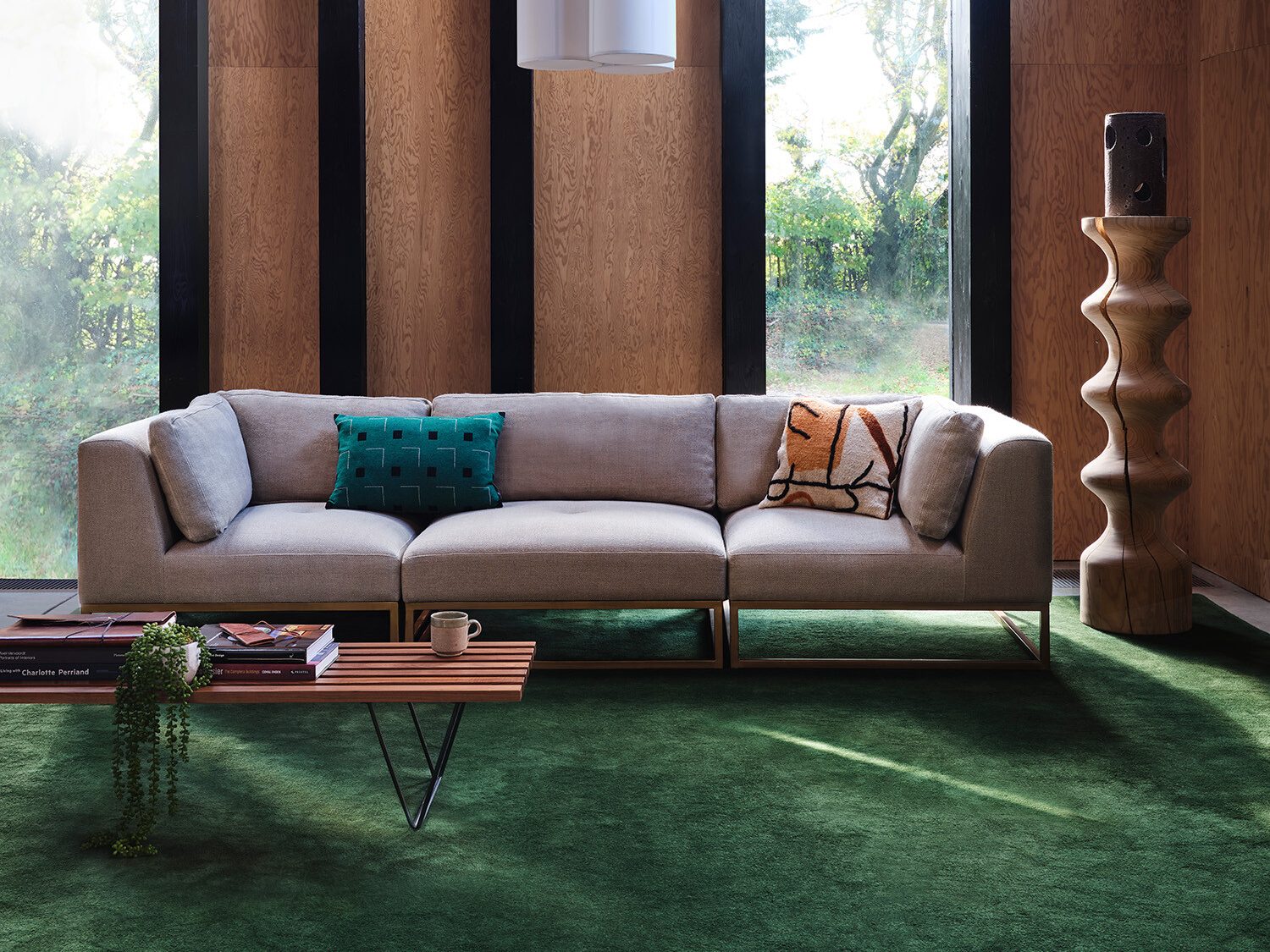 Green Rugs: The Power Of The Colors
Whether you prefer a Modern or Maximalist style, there is a green rug that can suit your design needs. So, why not add a touch of green to your interior design and experience the benefits of color therapy in your home?
As mentioned earlier, one of the key elements of interior design is color. Just as in Feng Shui, which uses different techniques to harmonize the energies of environments using materials, and shapes, colors are powerful allies. Color therapy, also known as chromotherapy, is a holistic approach to healing that involves using color to balance the energy centers of the body or the spaces we live in.
CREATES A LUXURIOUS ATMOSPHERE: Green is a versatile color that can be used in many different interior design styles, from modern to traditional. When paired with luxurious materials like silk or velvet, green rugs can add a touch of elegance and sophistication to any space.
PROMOTES RELAXION: As mentioned earlier, green is a calming and soothing color that can create a sense of peace and tranquility in a space. When used in areas like bedrooms or living rooms, green rugs can help promote relaxation and reduce stress.
ADDS NATURAL BEAUTY TO THE SPACE: Green is the color of nature, and when used in interior design, it can bring a sense of the outdoors inside. Green rugs can create a natural and organic feel to a room, making it more inviting and comfortable.
PROMOTES BALANCE AND HARMONY: Green is a color that is associated with balance and harmony. When used in interior design, it can create a sense of equilibrium in a space. By incorporating green rugs into a design scheme, you can create a cohesive and well-balanced atmosphere.
We have prepared below a list of 9 projects by interior designers who have transformed the aesthetics of their work by using green rugs in their decoration. Check it out:
1 – The Surf Club Surfside Hallway by, Anil Kakar
This entrance designed by Designer Anil Kakar made an artful impact in a couple's vacation home at the Residences at Four Seasons Hotel at The Surf Club in Surfside. The soft lines of the furniture were enhanced with two artistic sculptures and a stunning green rug.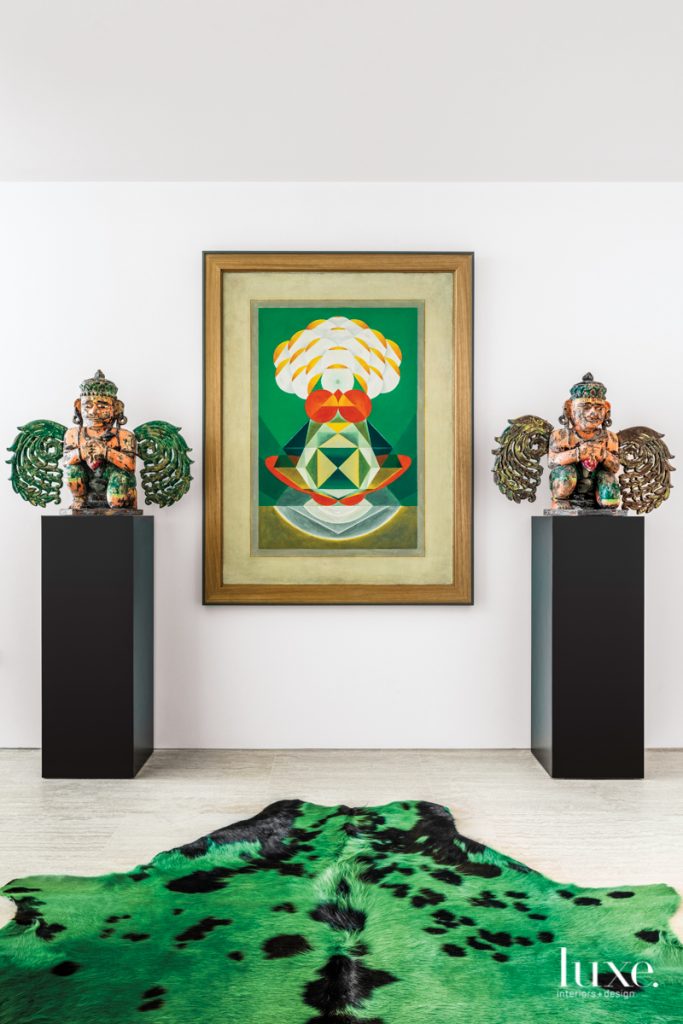 2 – A Colorful Manhattan Apartment, by Katie Ridder
With softer tones and combining geometric patterns, this living room by Katie Ridder in the heart of New York used the green palette to balance the other colorful elements that make up the room, leaving it more cohesive and harmonious.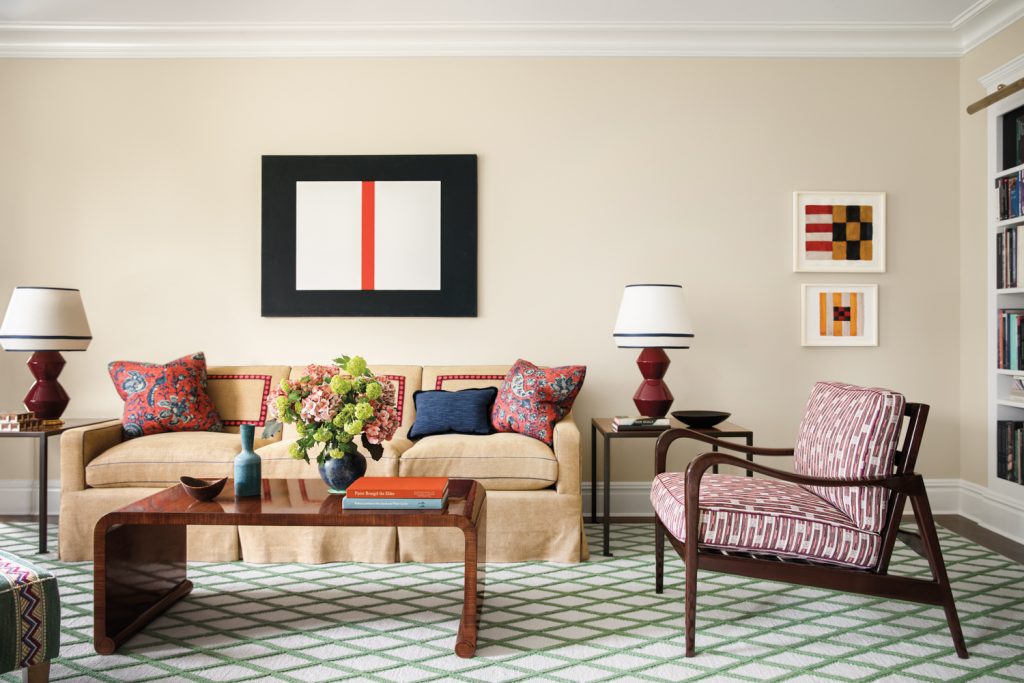 3 – A Contemporary Living Room by Sashya Thind
"I wanted to create a place to stay still and slow down, to gather your thoughts and rejuvenate-a reprieve from the city," says interior designer Sashya Thind, who created this thoughtful house in a color palette of sea foam green, gold, and charcoal gray.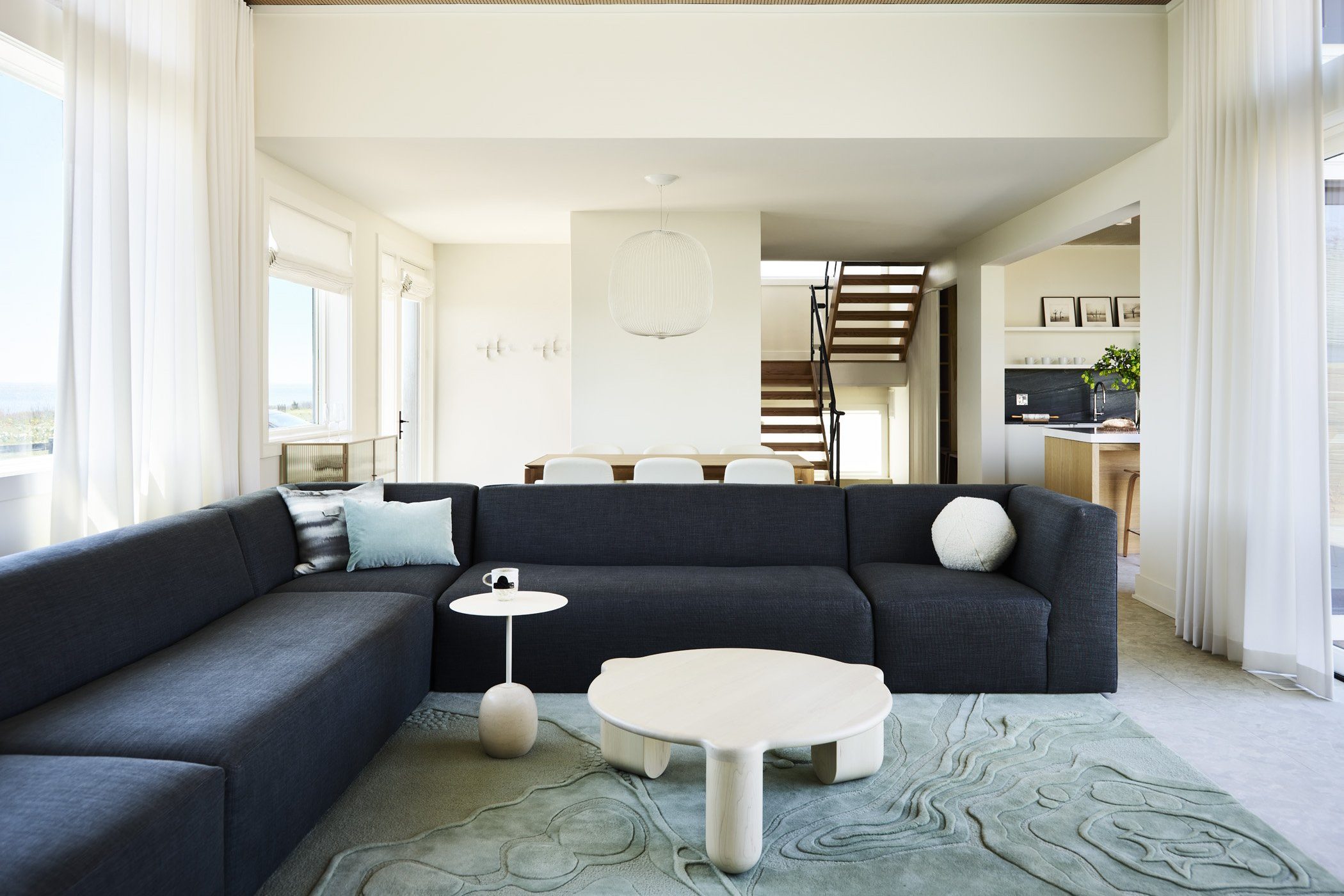 4 – Reading Corner, by Casa Botelho.
Green is a restful color for the eyes, which can help improve concentration and focus. If you have a home office or study area, a green carpet can create a calming environment that supports productivity and learning. Check out this reading corner created by Casa Botelho: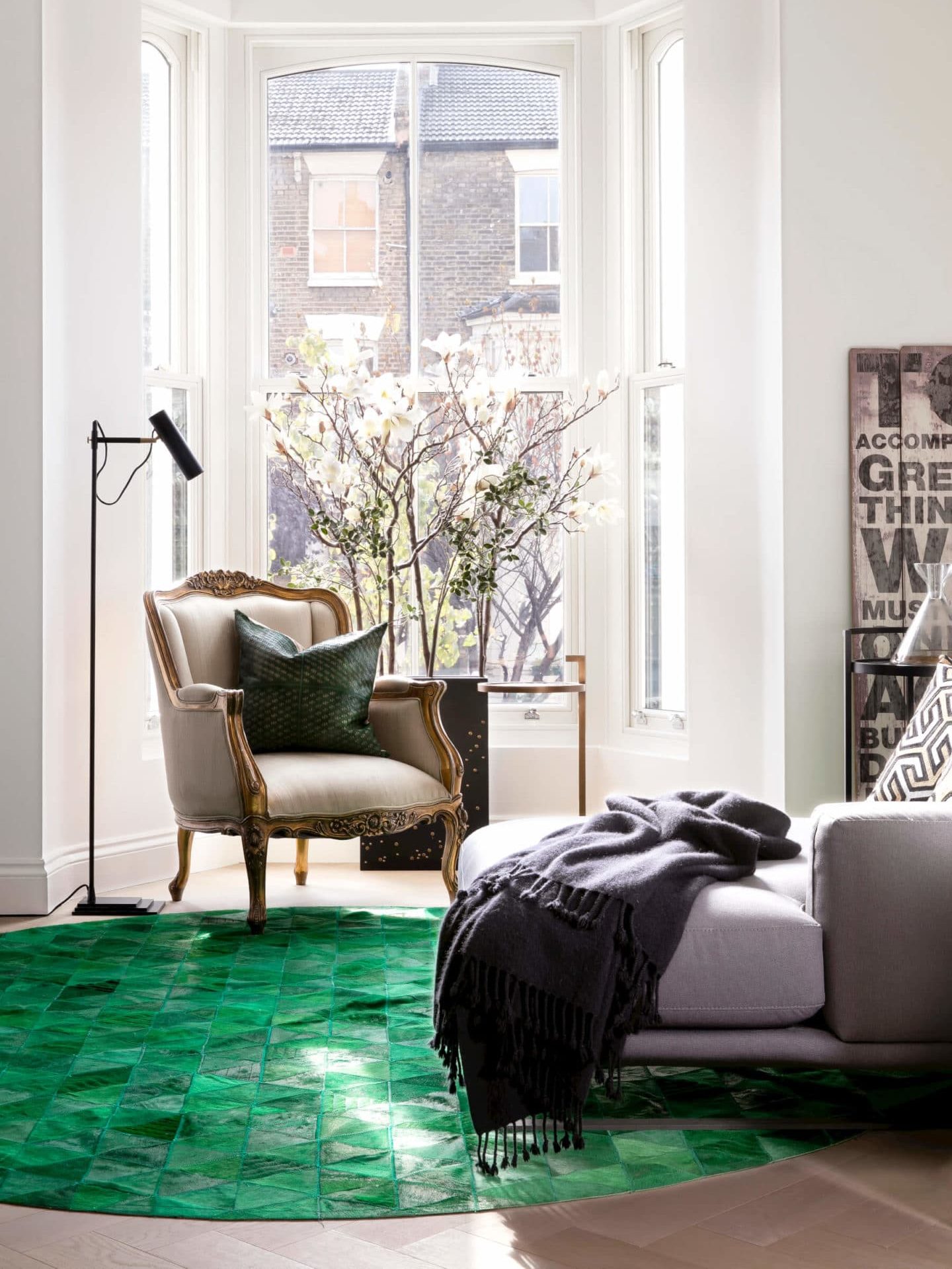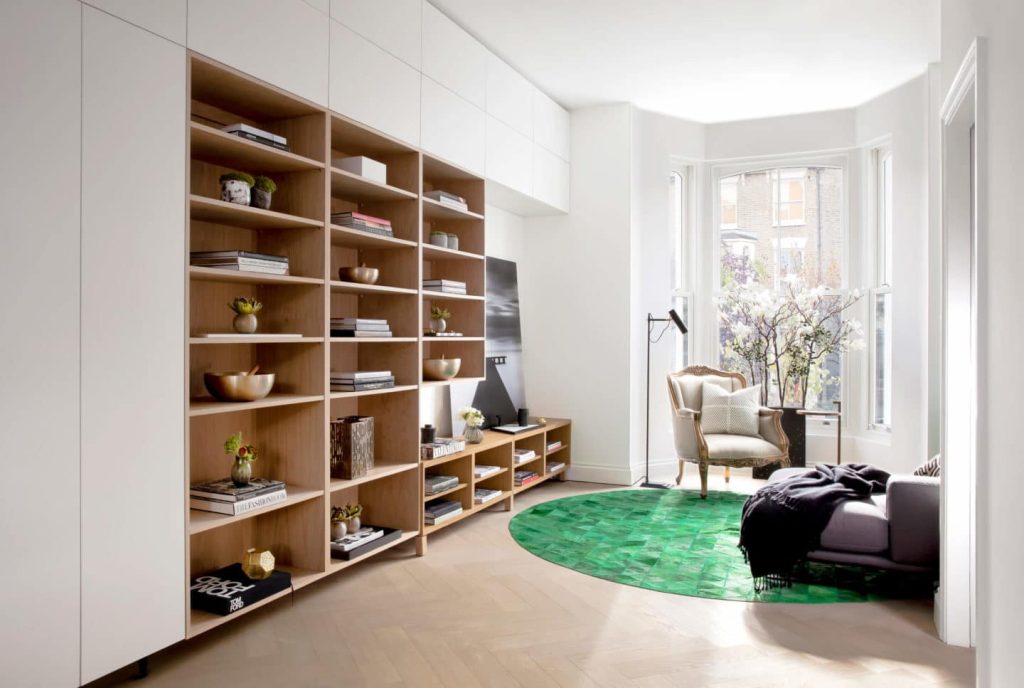 5 – Maximalist Living Room Cranbrooke, by Cynthia Ferguson
Color, color, and more color! This maximalist living room designed by Cynthia Ferguson brings out all the energy that green brings to spaces! The striped rug matches the walls, the lighting details, and also the pattern on the furniture.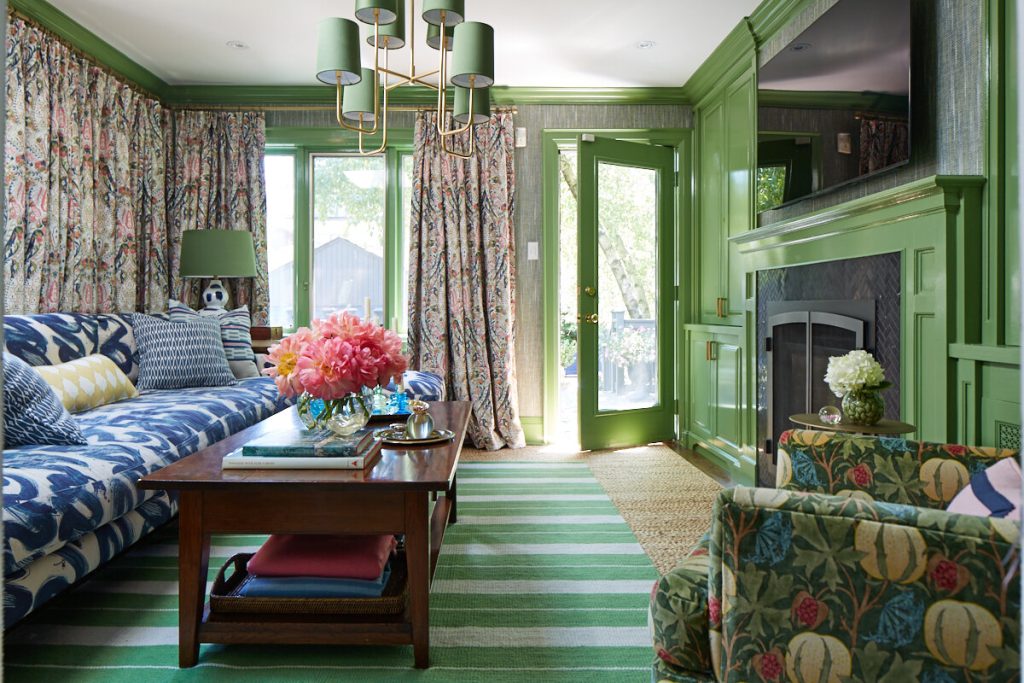 6 – Clinton Hill Living room, by Mk Workshop
The Mk Workshop Studio chose a darker, velvet-textured version of green rugs to create a sober, decorative living room decor.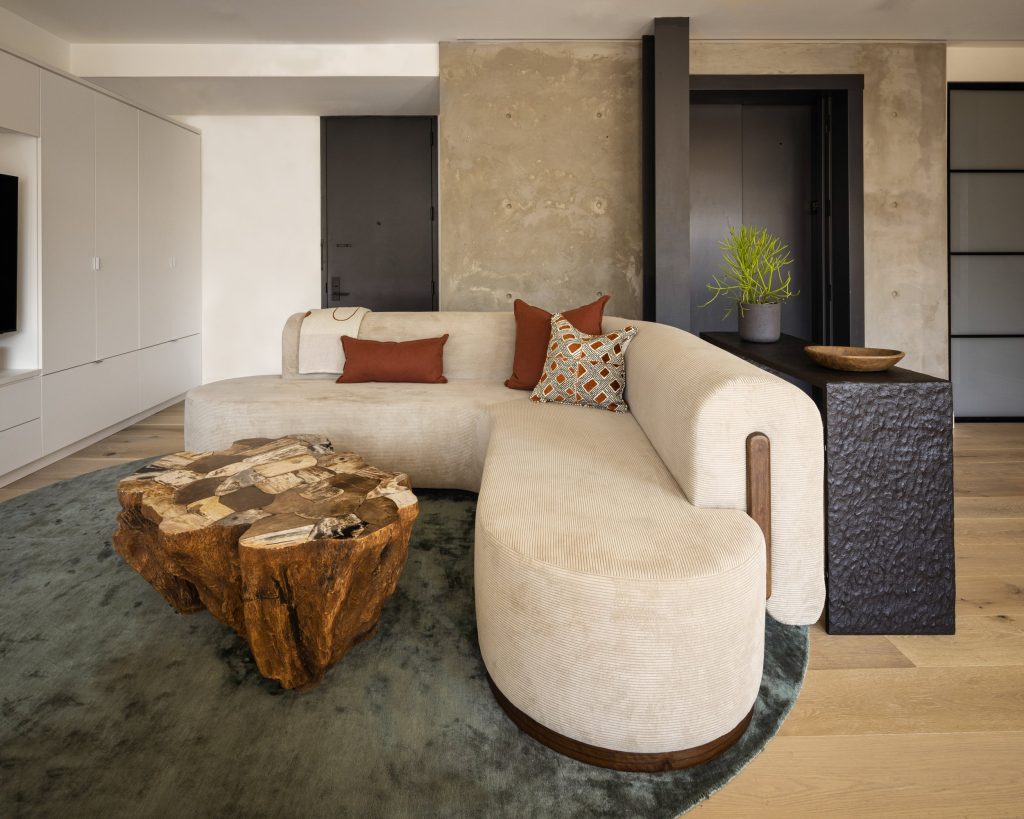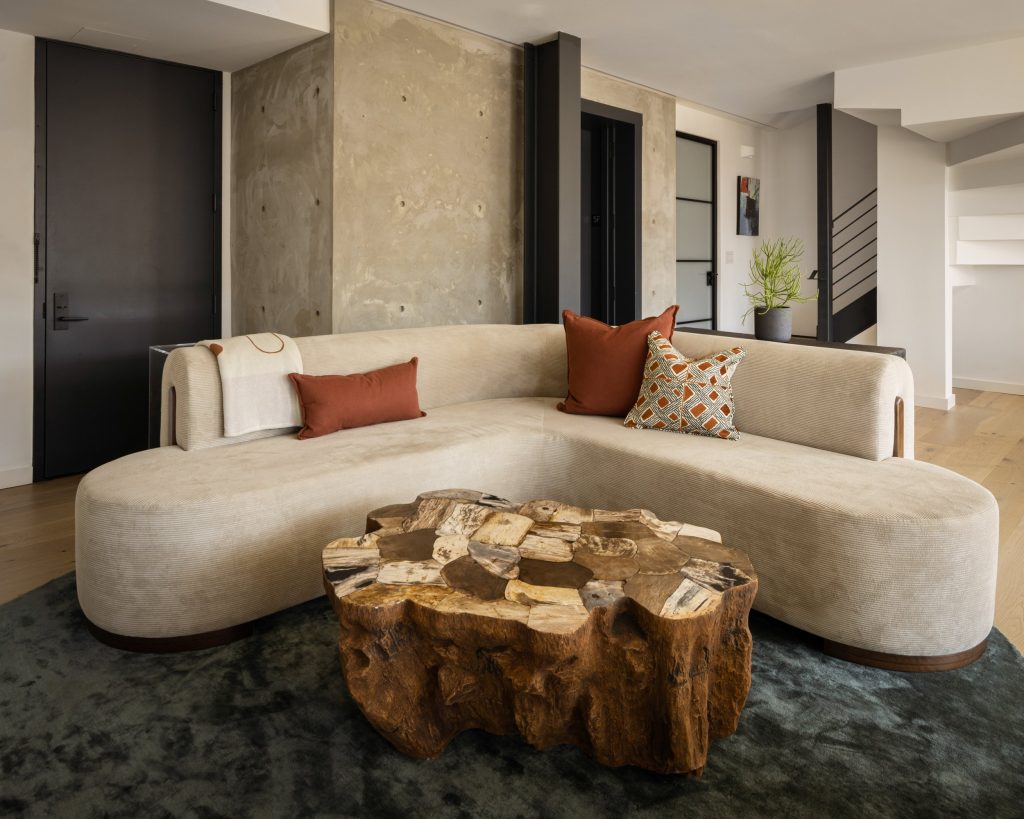 7 – A Mid-Century Modern Dining Room, by Simon Bevan
There is nothing like blending green with woody tones to create a mid-modern century aesthetic. Simon Bevan created a super inviting dining room with iconic furniture and a patterned rug with green and earthy tones.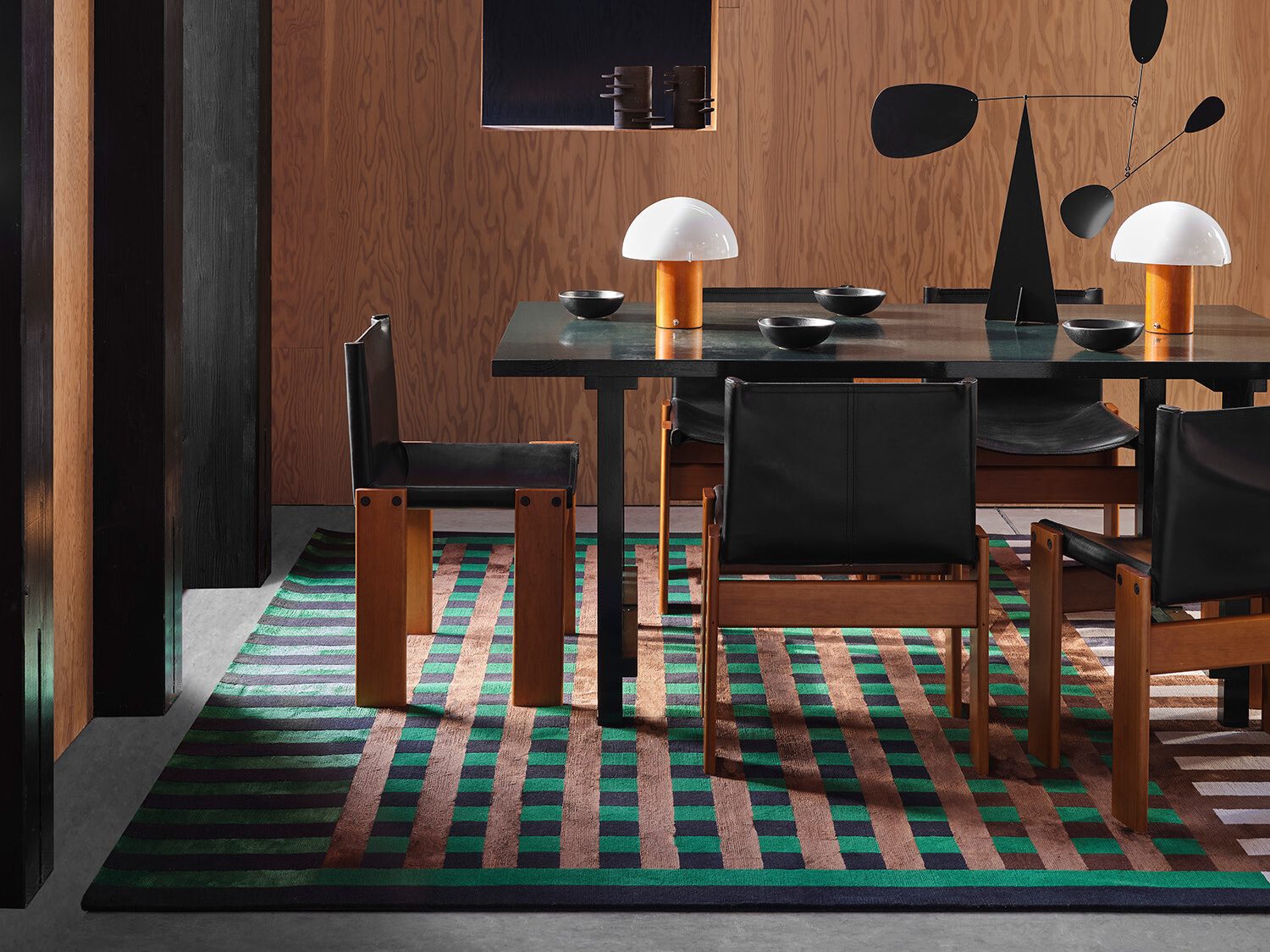 8 – Traditional Alabama Lake House Bar, by Phillip Studio
With lots of velvet lining, this bar in a traditional lake house designed by interior designer Phillip Sides, brings all the luxury that color is capable of bringing to the setting.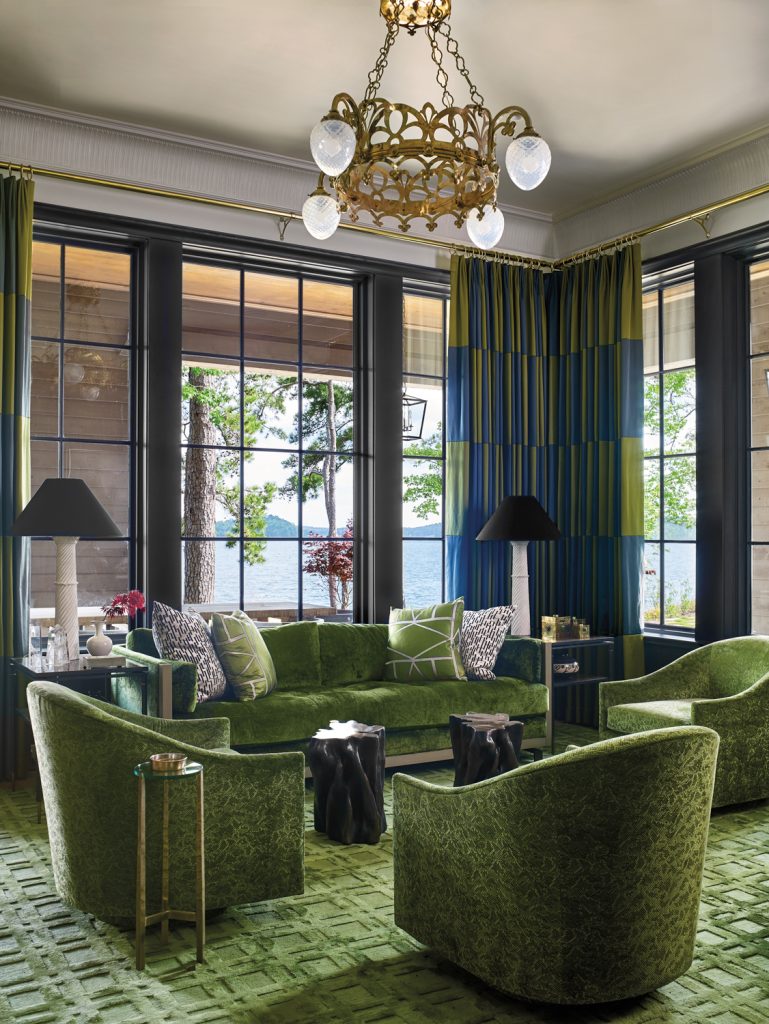 9 – The Peacefulness Master Suite in Nashville by McAlpine
The master suite of this Family Home by McAlpine in Nashville features all the calm and peacefulness that green rugs bring to the room.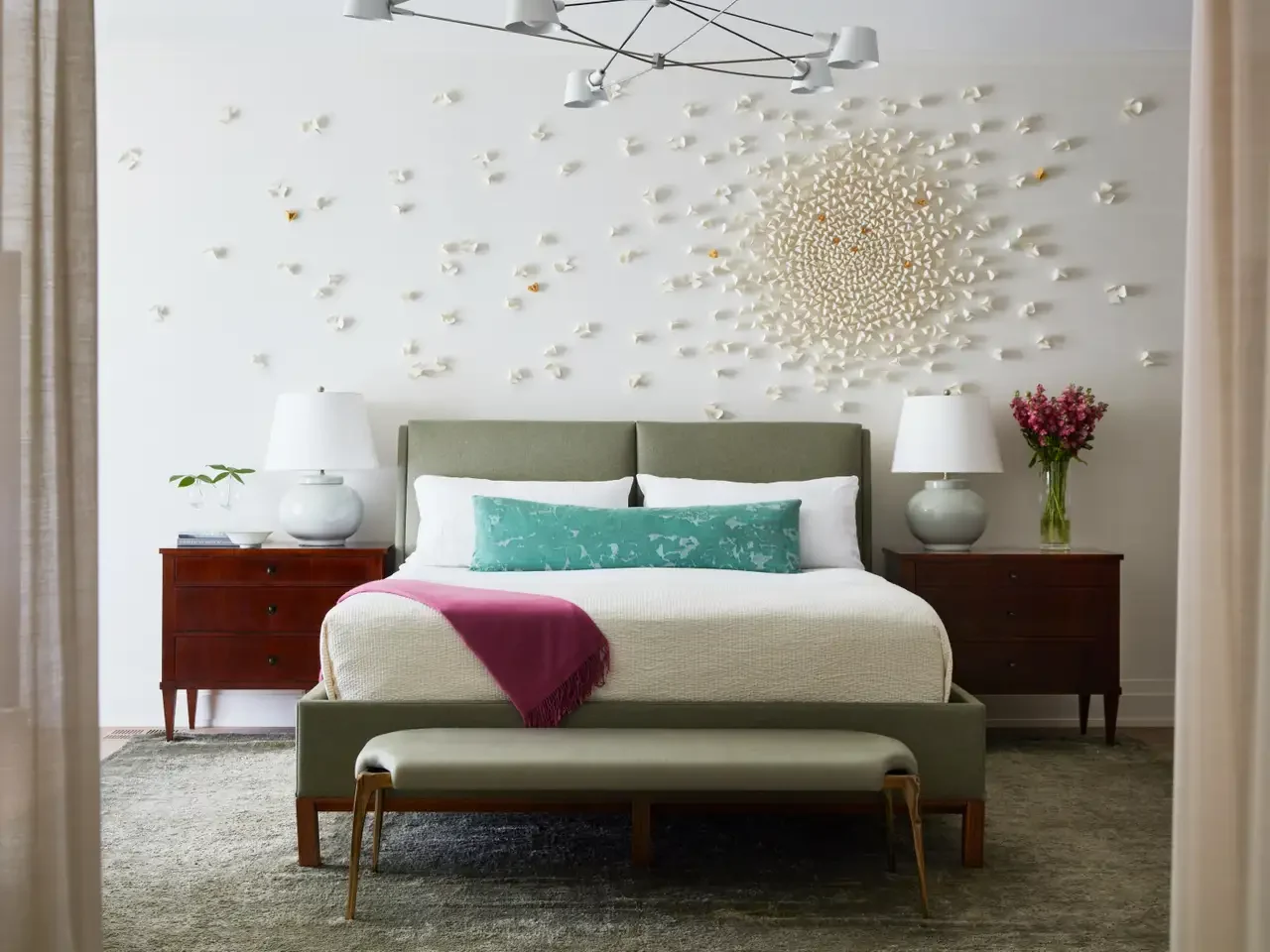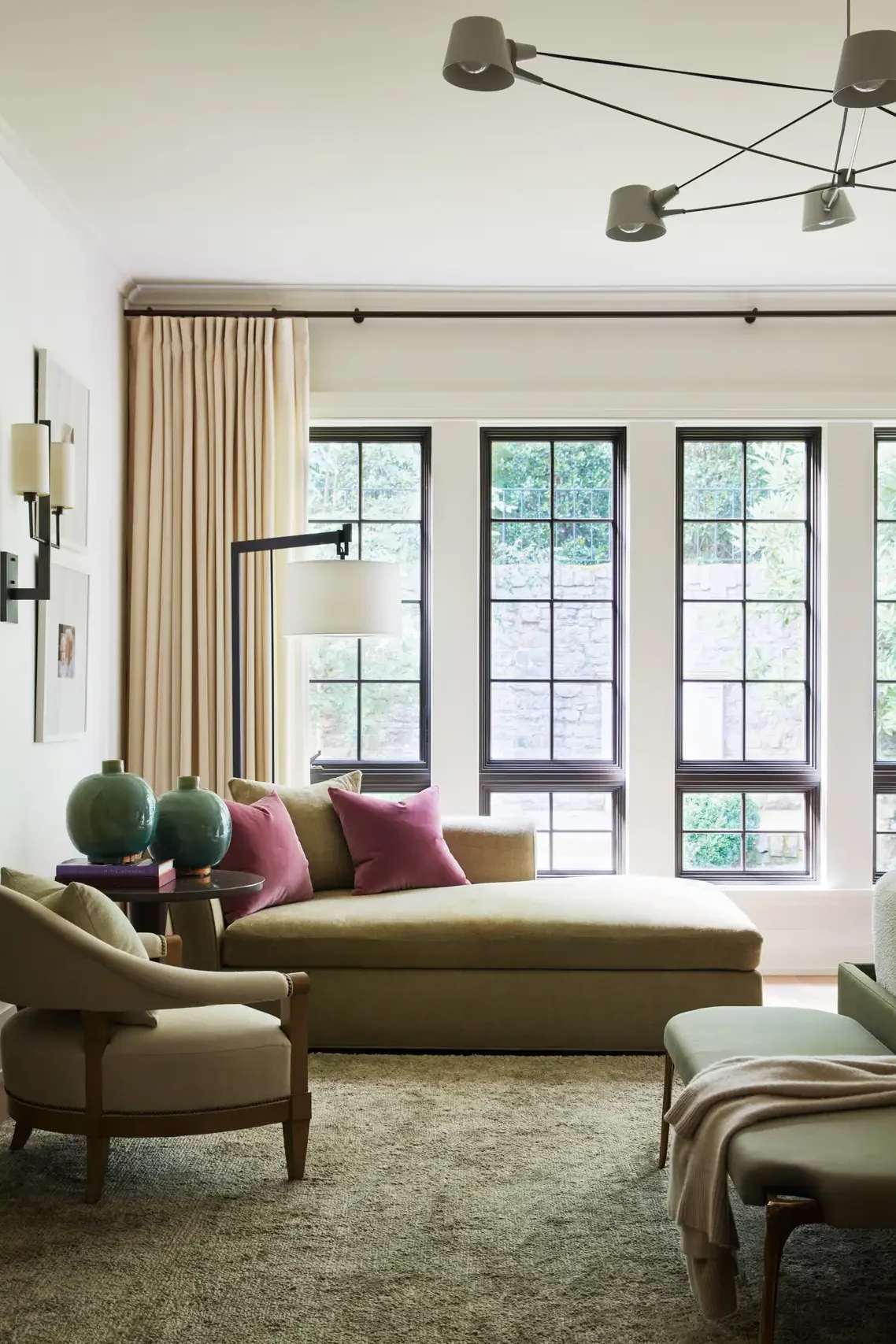 8 Green Rugs By TAPIS Studio:
As seen, by incorporating green rugs into your home or workspace, you can not only rock your space's décor, but also promote relaxation, creativity, focus, and overall well-being.
So how about taking advantage of the opportunity and ensuring unique and lively pieces? TAPIS Studio offers modern, bright, curated, and artistic handmade rugs to complete your project with exciting shapes, vibrant colors, soft textures, and eco-friendly materials meant to last a lifetime!