Showcasing modern rugs, eclectic decor, and a lot of character – this stunning project by Thomas Hamel proves that traditional interior design can be surprising.
Traditional interior design can be bold and surprising – as this stunning residence in Sydney demonstrates. Thomas Hamel was the interior designer responsible for this renovation, where beautiful furnishings, incredible decor accessories, and modern rugs are the stars that infuse the layout with a unique style and personality. Let's explore more about its details!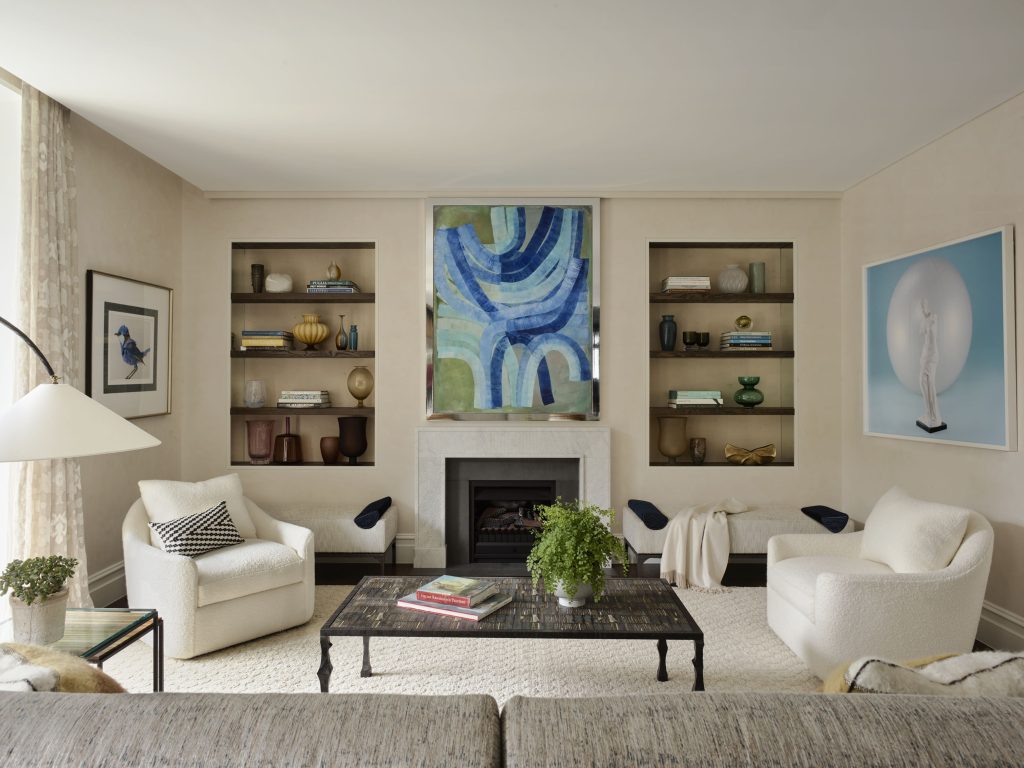 A Story About Treasures
It's common sense that the more you know about your client's personality and tastes, the easier the renovation, which leads us to the story about this renovation and, mostly – a surprising treasure.
When Thomas Hamel welcomed the task of remodeling a Victorian residence, he also received a book from its owners, and it was a true gem for any interior designer: a compilation with all the references, dreams, and inspirations they have for the home.
With the treasure book and knowing what the clients wanted for the design – it was easier for Thomas Hamel to create a home that resonated with the owner's personality and taste. Surprisingly, Hamel discovered most of the references in the book had an eclectic and lively flair, which directed the designer to bring it to life in this traditional interior design.
Besides the precious book, this Sydney home is a treasure for itself – located in the city's eastern suburbs, it dates from the Victorian Era, featuring beautiful details from this style – mainly in the facade and some part of the interior. Now, more than a historic home, it's also a space that breathes lively design choices and charming details.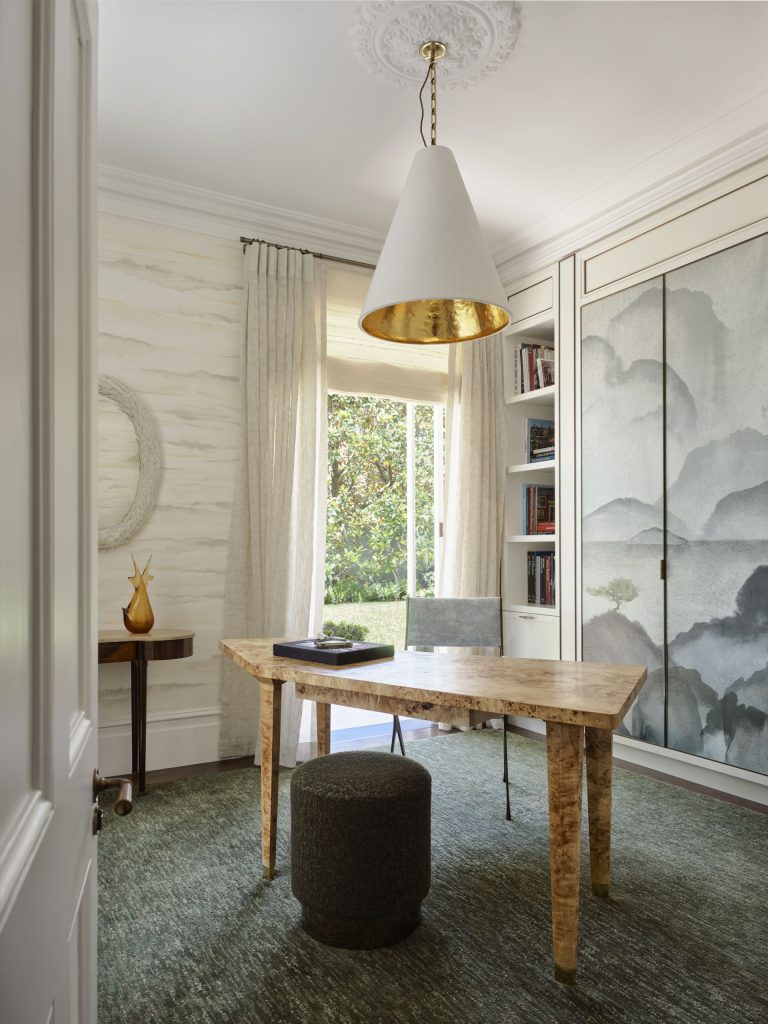 The Lively Home
Thanks to the collaborative work between Thomas Hamel and Tzannes Architect, this beautiful Victorian home now breathes life in every detail. Tzannes was responsible for the architecture work and the first stage of the renovation, and Hamel brought to life the traditional interior design with a modern twist.
The generous home has multiple levels, with a stunning outdoor area and remarkable features connecting past and present. Those who look at its facade can imagine a royal residence with traditional elements. Still, those who step in have a completely different view – a historical home with colorful furnishing and many layers of objects that infuse the space with more character.
Through each detail from this traditional interior design, there is a sense of character mixed with history and lively objects that bring the right amount of personality that the pages of the treasure book shared with Thomas Hamel.
The entryway is a chapter of enchantments; dressed in a themed wallpaper, the room tells a story about character, luxury, and thoughtful choices, while the formal living room brings rich furnishing and modern rugs to create style and comfort – without mentioning the impeccable match of contemporary and vintage furniture that establishes the connection between past and present.
In the formal dining room, a rug delimited the area while infusing the space with modern and colorful vibes; the combination of furniture from different eras and a stunning panel from the owner's collection complete the room full of details and charming compositions.
In the main bedroom, a classic design emerges with straightforward furniture and decor. Still, it showcases a rich interplay of materials and textures as the rest of this stunning traditional interior design.
The overall look of this beautiful Sydney home demonstrates precisely what we start saying: when you know your client's desires and motivations, it´s easy to design a masterpiece – and this one – is a beautiful treasure hidden in Sydney.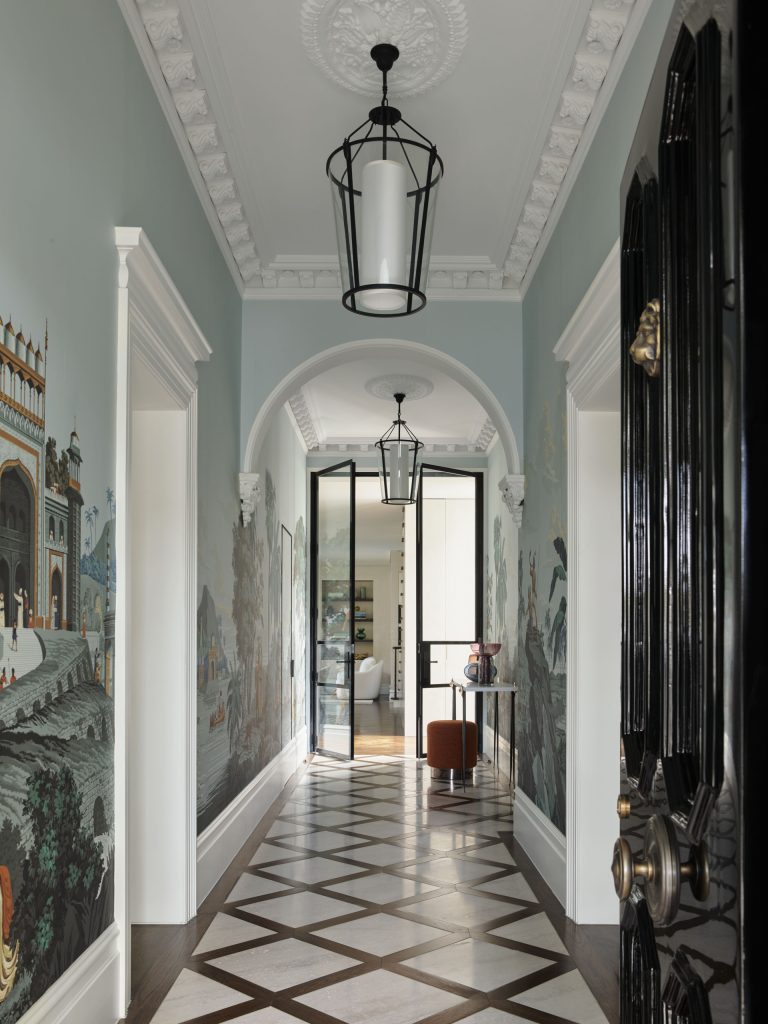 The Realm of Modern Rugs
Layers of interest make this interior design unique, and the modern rugs elevate it to a new height of sophistication and comfort while helping to embrace a contemporary flair. In this fantastic project, the rugs play a fundamental role, embodying the home with a sense of style and uniqueness.
From neutral tones to colored rugs, almost every room of this home design is graced with a textile piece. Inspired by this traditional interior design masterpiece, we have selected stunning rugs from TAPIS Studio Collection:
This traditional interior design by Thomas Hamel proves that even the most classic design can be surprising and full of character. We hope you have enjoyed this remarkable home tour and found the push you need to infuse your interiors with more personality. Check out 9 Best Modern Rug Ideas For Revamp Your Interior Design Project for more inspiration.