Using an Art Deco area rug to decorate an interior is a true work of art! The piece, which originated in the 1920s movement, brings a touch of luxury and freshness to any environment.
Close your eyes and think of a 1920s movie with lots of jazz, glamour, and luxury. The Art Deco style is precisely a representation of all the vitality of shapes, colors, and textures that the whole of Europe was experiencing at the time. The style, which has influenced fashion, design, and architecture, is still in vogue today and is easily adapted to suit any style of interior decoration.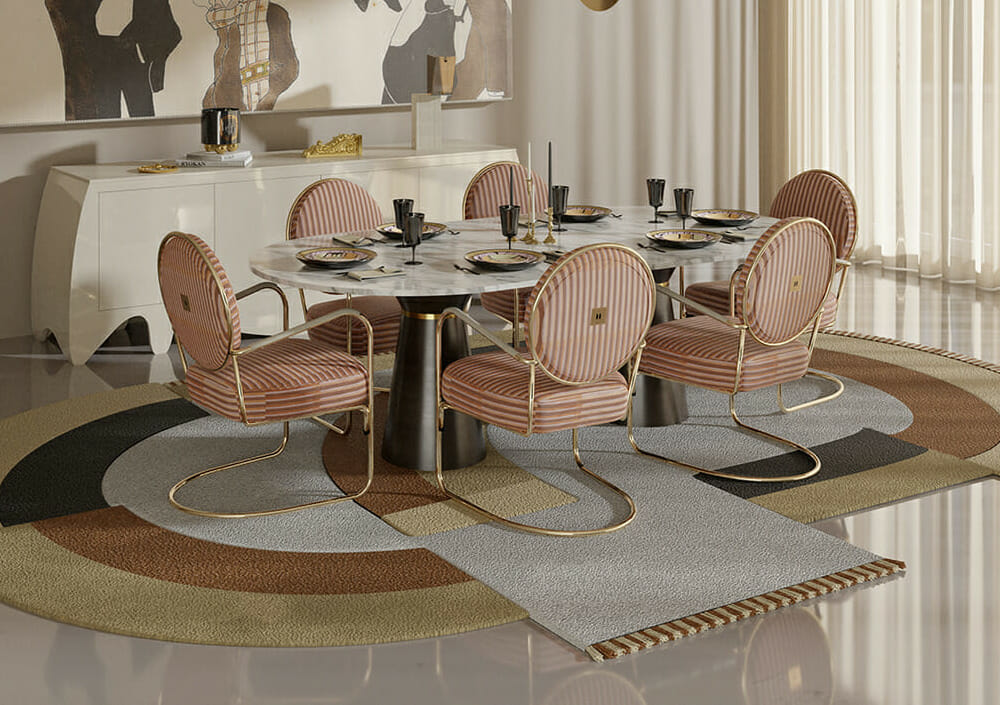 To understand more details about the emergence of the art movement, its main characteristics and all its influence in the world of interior design, try reading our specific article on what is an Art Deco rug and how to style it. In today's post, discover some tips for using an Art Deco area rug to complete your interior designer project like a pro!
The Advantages Of Having An Area Rug
Unlike a wall-to-wall carpet, an area rug is a smaller piece that covers only part of the floor. Also, area rugs are lighter and more portable than traditional rugs, and are often used as an overlay. Because they are both beautiful and practical, area rugs can be easily picked up and carried from one room to another. Some benefits of having an Art Deco Area Rug as part of your interior design project:
They add heating
Enlarge the room decor
Reduce noise
Area rugs protect the floor from demage
Are pieces of art
Reduce allergies
Make cleaning easier
They can change an entire room
Last a long time!
Tips To Decor Using an Art Deco Area Rug
As seen, Art Deco interiors are guaranteed to bring a touch of old-school glamour and flair to your living space. With this in mind, we have made a list with some tips on how to stylize your rooms using an Art Deco area rug:
1 – ART DECO AREA RUGS FOR LIVING ROOM:
An excellent idea to add a touch of luxury to your home decor is to go for an Art Deco area rug in the living room! As the piece usually has strong colors and striking prints, no matter how simple the furniture you have, an Art Deco area rug for the living room will certainly be the highlight of the space, drawing all the attention to it. It is a great option for those who have small areas, but still would like to decorate them with style and good taste.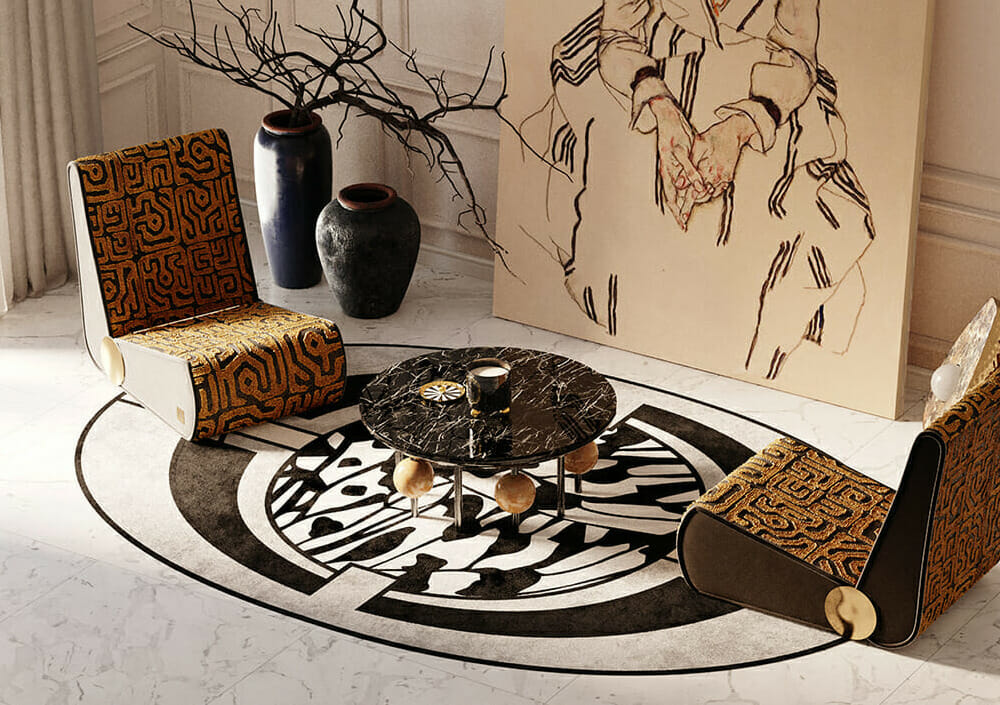 2 – PAIR IT WITH METALLIC ELEMENTS
Some materials are essential to the characterization of the Art Deco style, and the use of metals is one of them. The generous use of gold and steel in architecture, for example, paid tribute to the wealth that the new industries created at the time. Therefore, If you're looking to create a space that evokes glamour and delight, opt for furniture and decor with plenty of metallic elements. Using accessories and furniture with metallic finishes such as gold, silver, and chrome details can make all the difference in contrast to a beautiful neutral art deco rug.
3 – CHOOSE THE RIGHT FURNITURE
To create an entire room decorated in this style, there is also the option of choosing, in addition to an Art Deco area rug, Art Deco furniture. The pieces inspired by this style present high-end craftsmanship blended with luxury and glamour. Some main pieces from this style are sideboards, armoires, generously sized chairs made of exotic woods like zebrawood, and chrome and mirrored elements. Marquetry, for example, is the art of creating elaborate geometric patterns out of several types of wood – this technique is usually incorporated into Art Deco furniture.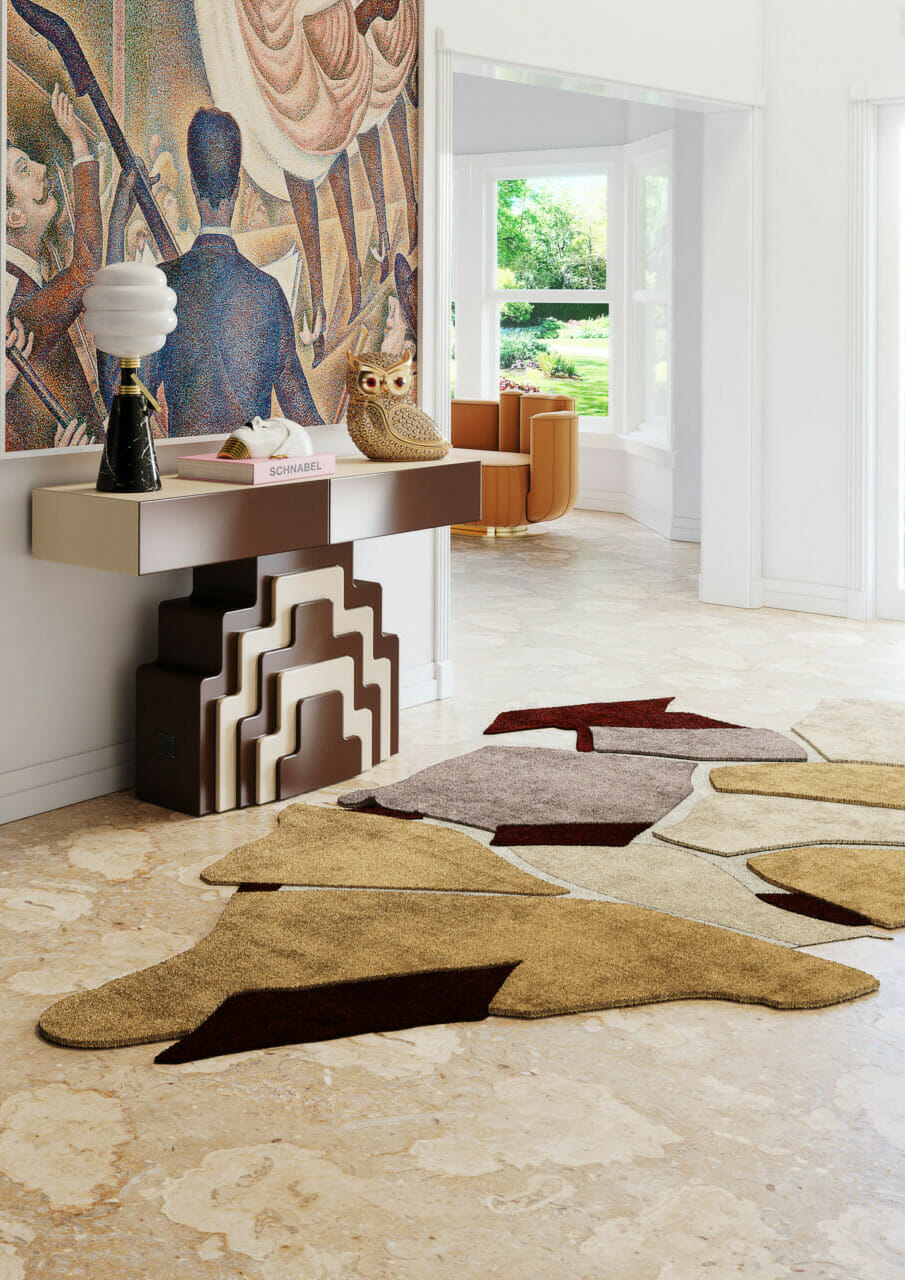 4 – CONSIDER A WARM PALETTE
Besides the choice of elegant and sophisticated materials, depending on the room, you can use a warmer color palette to create a more sumptuous and cozy look, which can be well suited to a living room or dining room, for example. For environments such as the bedroom – which are more tranquil and attenuated – , choose softer colors, such as creams and beiges. They combine well with silver or chrome details, and are a beautiful complement to the polished wood and lacquer finishes, also typical of the Deco period.
5 – TRY PLACING IT ON THE WALL
An Art Deco rug is an art form, so display it creatively! To stand out in the interior decoration, we invite you to hang a stunning Art Deco area rug on the wall. These types of tapestry are trending in interiors worldwide, providing boldness and highlighting that rugs are pieces of art that can the star of any space.
6 – BE BOLD AND THINK OUTSIDE OF THE BOX!
Nobody remembers small achievements. Just like this decorating style, be bold, be exciting, and think about the aspects of the room that you want to highlight. In a place full of soft tones, an Art Deco area rug with a geometric pattern and strong colors will transform the room's decor. Focus on strong lines and geometric shapes and guarantee a unique decoration rich in details and emotions.
Now that you've taken note of our Art Deco area rug tips, be sure to also check out our article with the perfect Art Deco rug styles to complete your project like a pro! Check it out!