The entrepreneur of Anastasia Beverly Hills transforms her modern house into an artistic and luxurious place
Having a creative and vivid soul, Anastasia Soare, known as the "Queen of Brows," is a Romanian-American businesswoman, CEO, and founder of Anastasia Beverly Hills. The entrepreneur, who is hugely captivated by design, displays her personality and rich taste in her oasis-like Beverly Hills house. The rooms are bright and contemporary, providing a flexible setting to display Soare's collections of artifacts and mid-century modern style furniture.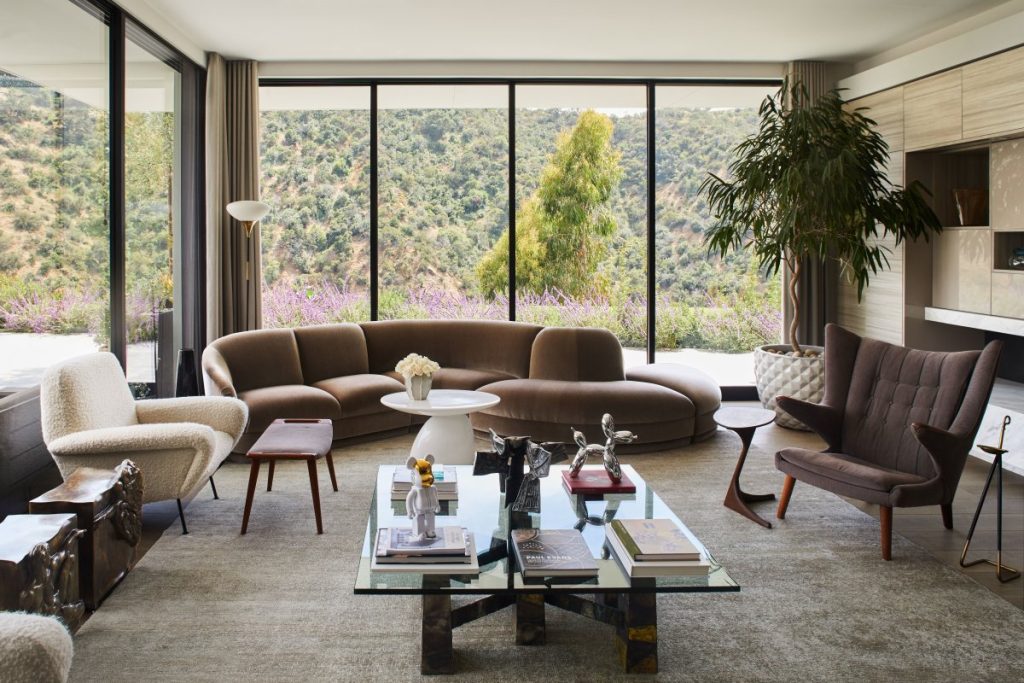 According to Anastasia Soare, colors keep her upbeat. For that reason, even though she chose grayish colors, she opted for a warm shade of gray, she also mentioned that she prefers to mix fabrics "I wanted to have this incredible feeling of zen—but then you look at the different pieces closely, and your eye is surprised."
This living room is the perfect example of what Anastasia Soare said. It clearly radiates a comfortable and zen feeling through its neutral and serene colors, different types of texture in the fabrics, and, of course, through the mid-century pieces, including a Hans Wegner-designed papa bear chair and a Vladimir Kagan-designed couch. On the coffee table, there are small sculptures by Jeff Koons and Kaws.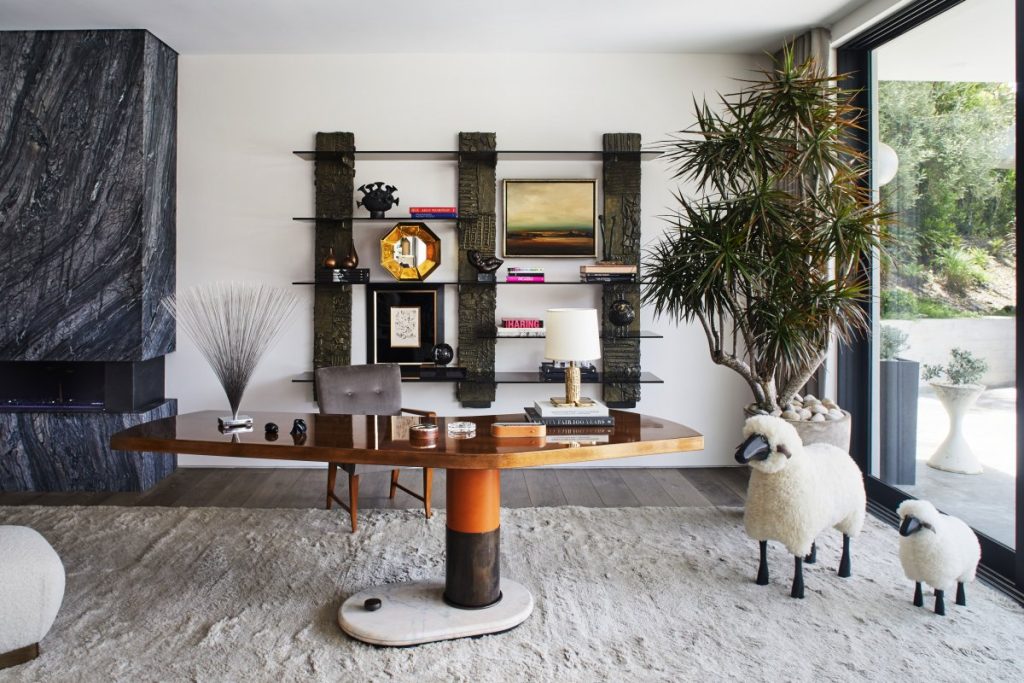 The businesswoman is also her own interior decorator and has a deep interest in design. She sources items at auctions, concentrating on mid-century furniture (including 1st dibs and some of the larger houses). A visitor is presented with magnificent items by designers from the era, such as Ponti, as well as others like Paul Evans and Hans Wegner, as they move from room to room.
Anastasia Soare is very attentive to details and pays them a lot of dedication. For example, in the office, a Gio Ponti-designed desk and a Luciano Figerio-designed lamp are present. It also has the Paul Evans-designed shelves feature objects and works from Alexandra Nechita and J.M.W. Turner.
This design is extremely creative yet smartly well put together, connecting every detail beautifully and enlivening the room.
Some items are first introduced to Anastasia Soare's home and, after a while, reupholstered to fit the space perfectly. For instance, in the master bedroom, two Italian chairs have been given new life in crushed velvet, while a Federico Munari sofa has been revived in moss green. "I thought that I needed some color in the bedroom, and the green worked with the green outside". Additionally, the Pucci de Rossi–designed side table is the same color as the crushed velvet. All this proves, once again, that Soare is highly detail-focused and committed to her work.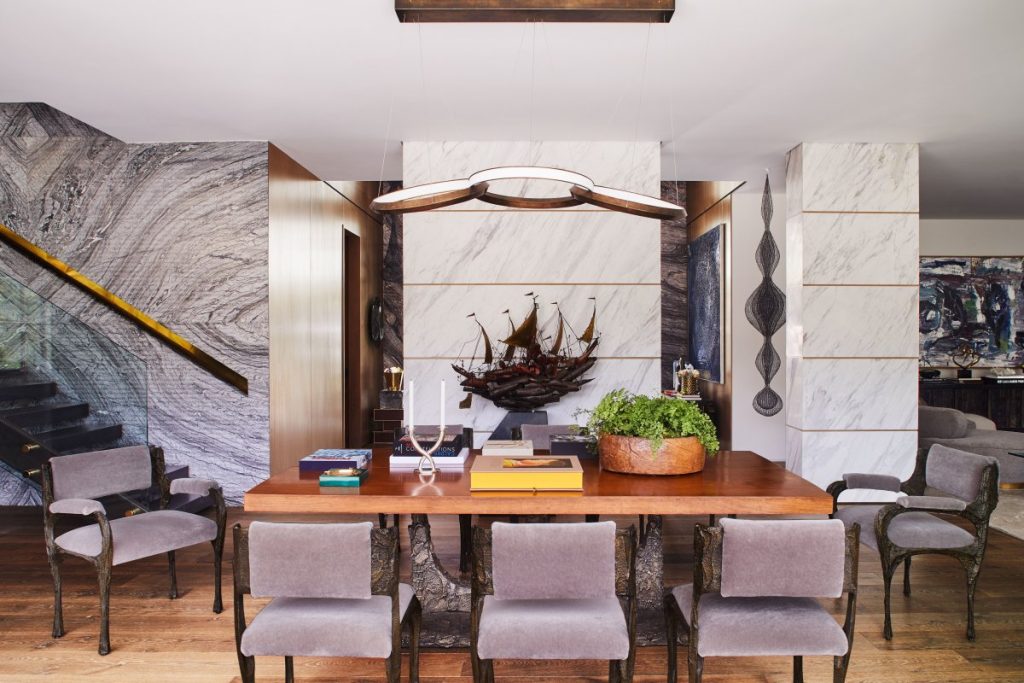 Each corner is welcoming and well-planned, with artwork and objects that have been placed with care and effort, and the dining room is no exception. Located in the heart of the house, this room is decorated with a chandelier designed by Christopher Boots and a unique table and chairs designed by Paul Evans. On the walls, some of the 160 slabs of Italian marble are exhibited in a charming way. The stone is hammered on purpose so that this material appears more like a natural stone.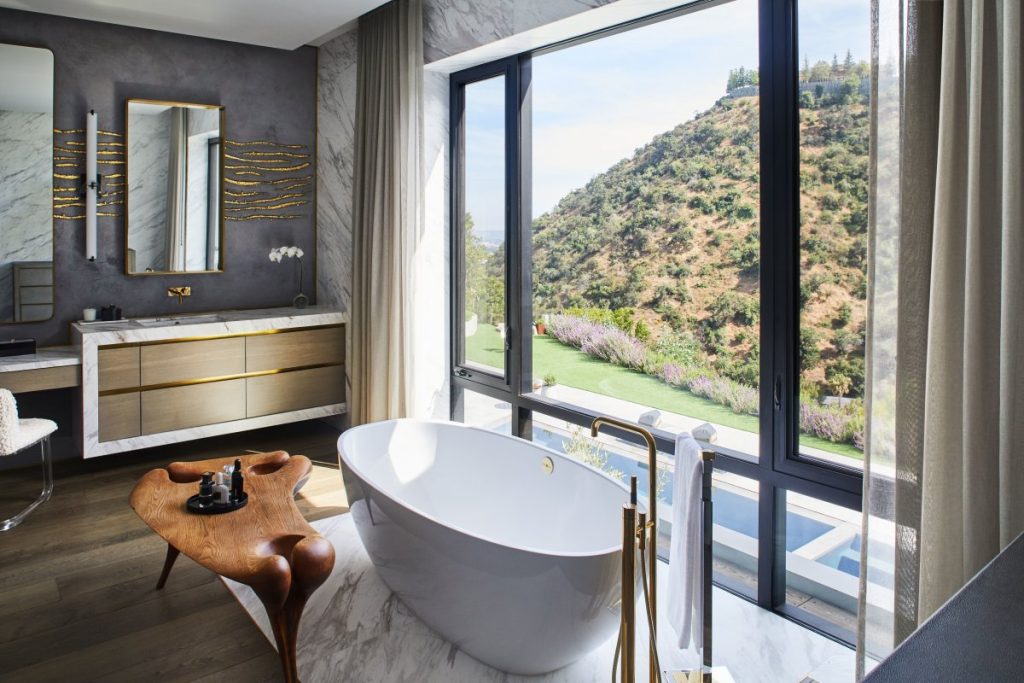 One of the house areas where personality is usually expressed less is the bathroom. Habitually, this space is mainly inspired by modern design or through some design type that provides calmness. However, Anastasia Soare was able to produce a luxurious and contemporary bathroom with diverse, rich materials that still radiate individuality and fun.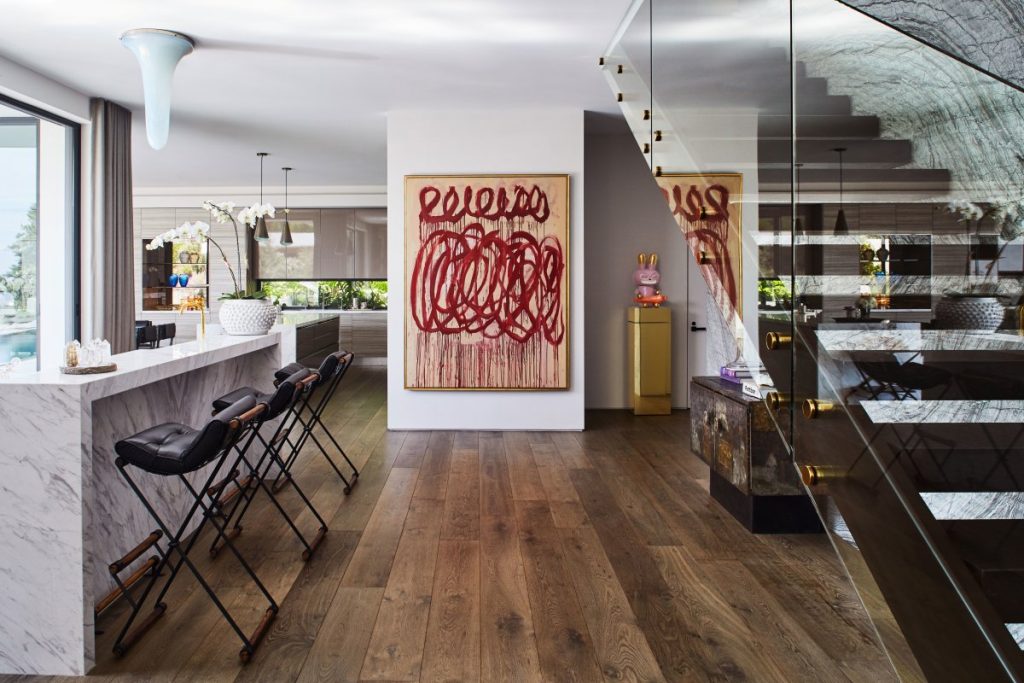 Anastasia's house is mostly based on a serene and lavish but still amusing vibe. She reflected this perfectly in the bar, "Everything is so earthy that I felt like I needed a little oomph", said Anastasia Soare about her marble bar, "I felt like I needed a little fire because everything is really zen. The bar area is where you want to have a little fun".
What an interesting tour! This is definitely one of the most elegantly-creative home projects! Now that you are inspired by this gorgeous house, find out how to achieve this look through some mid-century modern rugs.