Coastal rugs protect our seaside escape and are perfect for adding a touch of glamour to summer days. Check out 12 incredible models to complete your decor.
Summer days are back, and there's no better way to enjoy the best of the season than spending time surrounded by friends and family at your summer house. Whether you're relaxing by the beach or having a barbecue around the pool, creating new stories and sharing moments is what it's all about.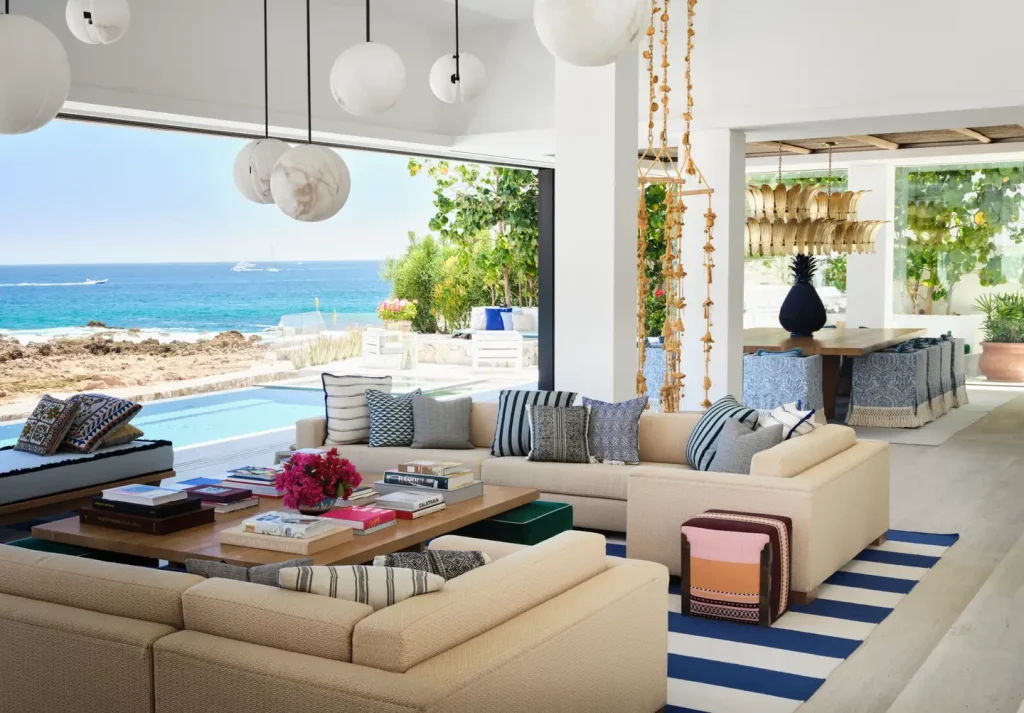 Choose the right outdoor furniture when decorating your beach house, as rugs are keys. Not only do they add style and comfort to your space, but they also need to be durable enough to handle the sand and saltwater. That's why coastal rugs are the perfect choice for any beach house.
As experts in the world of interior design, today's post is especially dedicated to helping you create the best outdoor moments while complementing your space. So, in addition to showing you how to choose the best outdoor materials, we've brought you 12 ideas for coastal rugs that will transform your summer home into a stylish and comfortable retreat. Check it out!
Best Outdoor Materials for Coastal Rugs
The first step in choosing the perfect coastal rug is considering the best outdoor materials. Some of the most durable and easy-to-clean materials for outdoor use include polypropylene, jute, and sisal. These materials are perfect for withstanding the harsh conditions of beach living, so you can enjoy your rug for years to come.
POLYPROPYLENE : rugs made with polypropylene are perfect for use indoors or outdoors because they are stain, mold, mildew, and chlorine resistant.
POLYESTER: this material is a great choice if you need a rug to withstand the sun, heavy foot traffic, and rain; outdoor rugs made with this material have high quality, and they are also water-resistant.
NATURAL FIBERS: outdoor rugs made with natural fiber can provide texture and warmth to a spplacing better to place them in covereis better d outdoor areas because sun exposure can damage them.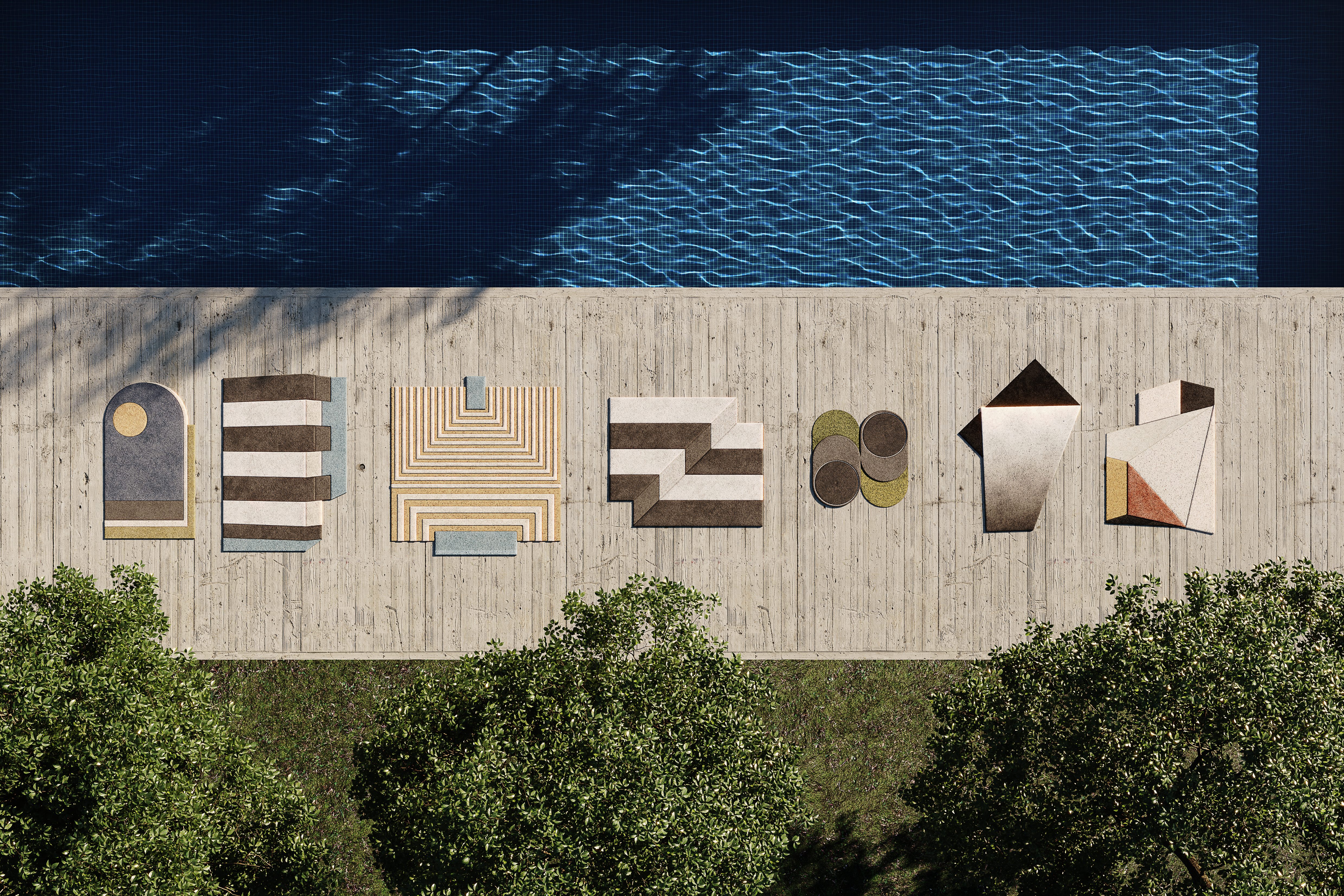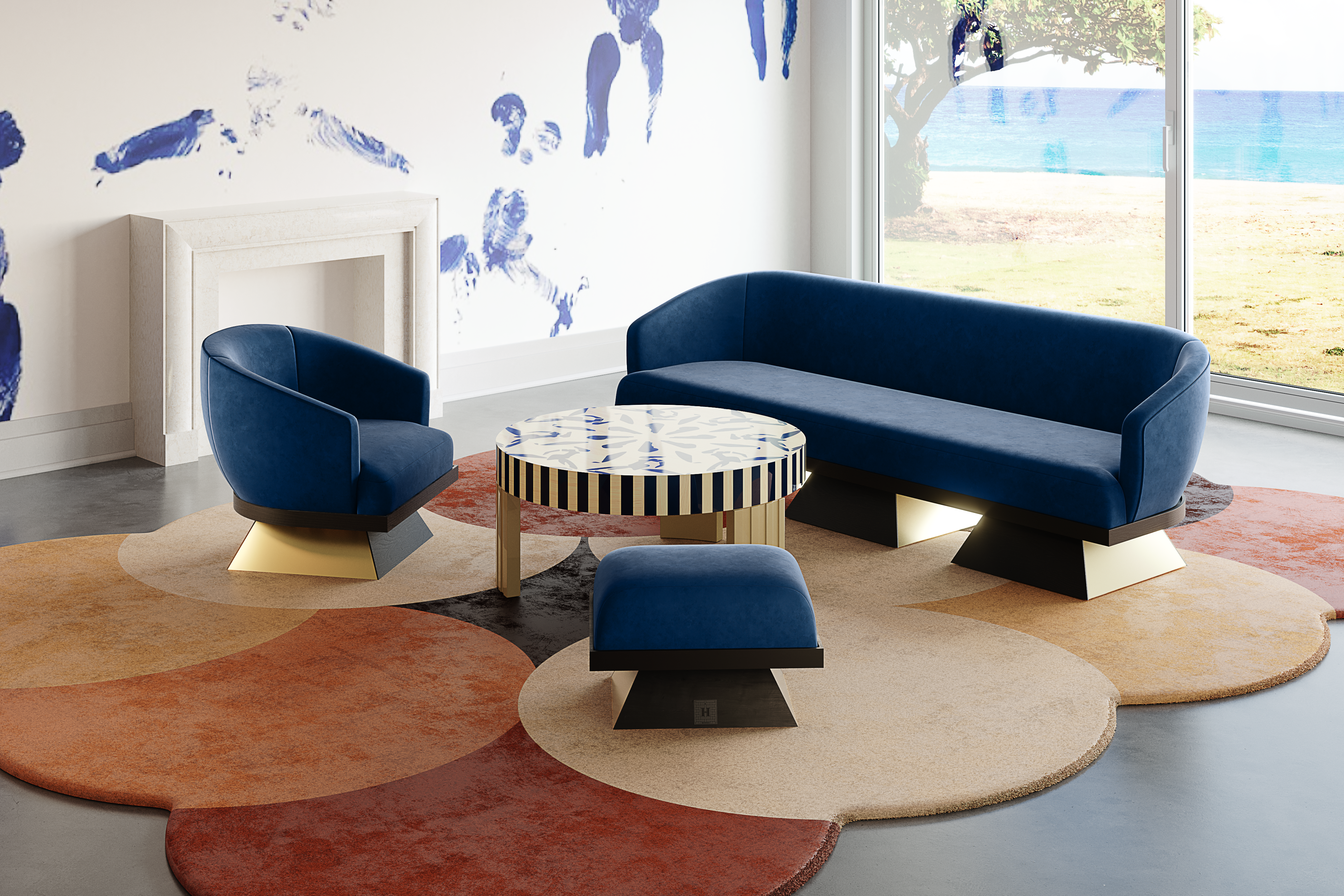 Neutral Coastal Rugs
If you're looking for a classic and understated look, neutral coastal rugs are the way to go. Colors like beige, brown, and gray can help create a peaceful and relaxing environment, perfect for a beach retreat. Plus, neutral coastal rugs are versatile and can complement any decor style.
For example, Tapis Shaped #005 and Tapis Essential #001 create an eclectic aesthetic perfect for areas such as the living room, fitting under a statement sofa or when paired with a beautiful coffee table. Same for Tapis Essential #007, a modern rug that brings back mid-century modern vibes mixed with Memphis style, perfect for dining rooms. Same for Tapis Oval Steel #019, a regular shape selected to complement an interior craving a comfortable element to highlight the room.
Shaped Coastal Rugs
For a fun and playful touch, consider shaped coastal rugs. Whether you opt for a differently rug, or a familiar one, these unique shapes add a whimsical touch to your beach house. Plus, shaped rugs can make a statement on their own, without needing any additional decoration.
Resistant to UV light, water, and wear, these rugs are perfect for beautifying your outdoor or pool area while shaping your decor. Tapis Retro #014, for example, is a rug with an irregular shape and timeless colors, inspired by architectural lines. Tapis Retro #013 is a black, grey, and green rug with a geometric shape that has a unique texture that adds a new sense of motion to the room. Made of lyocell, a biodegradable fiber made from wood, Tapis Retro #018 is another creative, sophisticated, and satisfying coastal rug. Finally, Tapis Retro #010 is a statement rug with an irregular shape and monochromatic hues.
Sassy Coastal Rugs
If you want to make a bold statement in your beach house, then edgy coastal rugs are a perfect choice. These rugs come in vibrant colors and bold patterns, making them the perfect statement piece for any room. Whether you choose a geometric pattern or a bright and bold color, a sassy coastal rug is sure to add personality and style to your space.
With vibrant aesthetics and whimsical hues, Tapis Shaped #059 is a modern rug with an irregular shape part of a collection of trendy rugs with contemporary flair for timeless interiors. Resistant to UV light, water, and wear, Tapis Shaped #039 is suitable for indoor and outdoor use and perfect for creating a light aesthetic in your beach house decor. Tapis Magenta #07 besides being a rug chosen for the Pantone color of 2023, is perfect for an irreverent interior look, from the floor to the walls. Finally, Tapis Kids #019 is a rug that adds a playful and colorful moment to any room, especially the ones shared with kids.
In conclusion, choosing the perfect coastal rug for your beach house is all about finding the right balance between style and durability. By choosing the best outdoor materials and considering the options suggested above, you can create a comfortable and stylish getaway that is perfect for beach life.
TAPIS Studio has the perfect models to complete any decoration style with high-end and indoor outdoor rugs. Enter the product page and check it out!