Tommy Hilfiger's Chief Brand, Avery Baker, turned a century-old house into a unique family house with help from Nicoline Beerkens and Sjoerd Markx.
Avery Baker, a fashion executive for Tommy Hilfiger, deeply appreciates Amsterdam's picturesque canal houses and their charming 17th-century architecture. Her family house, situated in a tranquil neighborhood with stunning canal views, is a yellow brick dwelling built in 1924.
Avery Baker and Tony Kurz value the importance of a cozy and welcoming home. They collaborated with Sjoerd Markx and Nicoline Beerkens to bring their vision to life. Together, they worked diligently to create their perfect family house.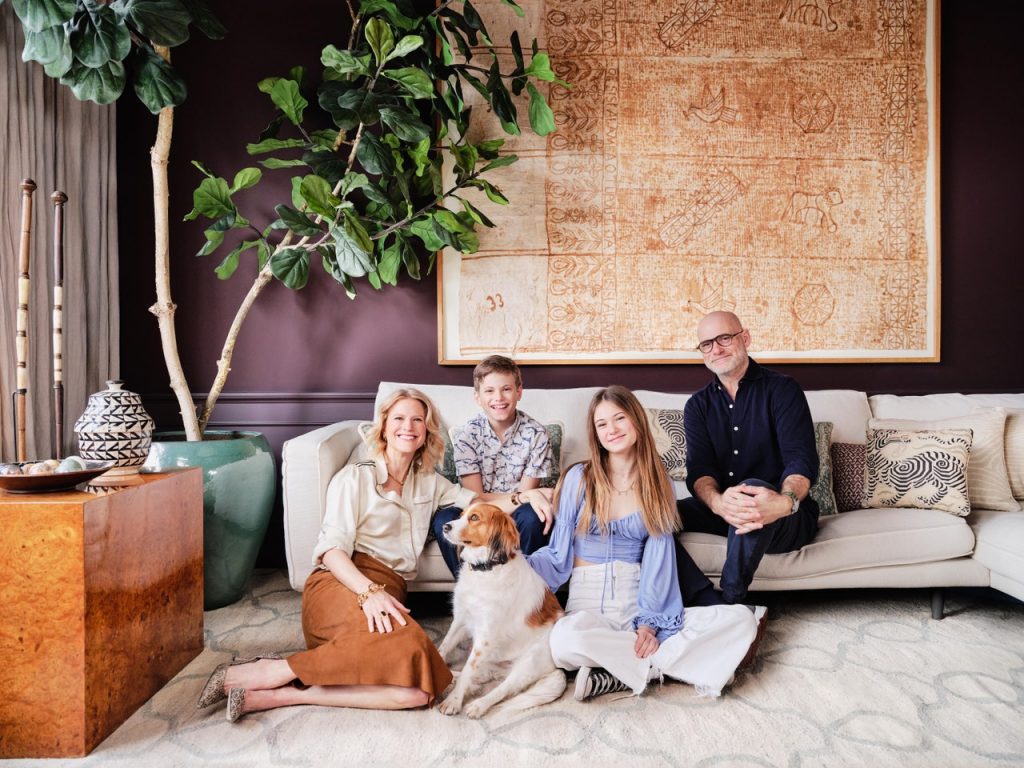 The Family House
Sjoerd and Nicoline have combined classic and contemporary styles to create a cozy family house for the Chief Brand of Tommy Hilfiger. They aimed to achieve a comfortable living space that embodies happiness and comfort.
The living room of the stunning family house focuses on elegance and nature. The interior designer deliberately utilized natural elements such as Belgian linen and seagrass wallpaper to achieve a luxurious ambiance. Baker and Kurz aimed to enhance natural lighting and connect with the surrounding greenery by installing beautiful open windows.
The living room adorns with a magnificent Ralph Lauren sofa and accent pillows, beautifully complemented by Cordoba walls in a rich shade of deep purple. The antique artwork further enhances the classic ambiance of the living space.
Avery Baker's family room exudes a cozy and welcoming atmosphere. The custom cabinet seamlessly blends a Grillo Belgian bluestone fireplace, while a comfortable Ralph Lauren sofa completes the inviting ambiance. An Anthropologie coffee table and a beautiful jute rug are featured to complete the look, along with caramel-toned wall coverings that add a sense of tranquility.
The family house's powder room exudes a serene and sophisticated ambiance, accentuated by a stunning hand-painted botanical mural skillfully created by Baker's friend, Hanneke Jongsma. Additionally, the space showcases a sink with attached taps on the cabinet and a mirror sourced from the family's collection, further enhancing its charming appeal.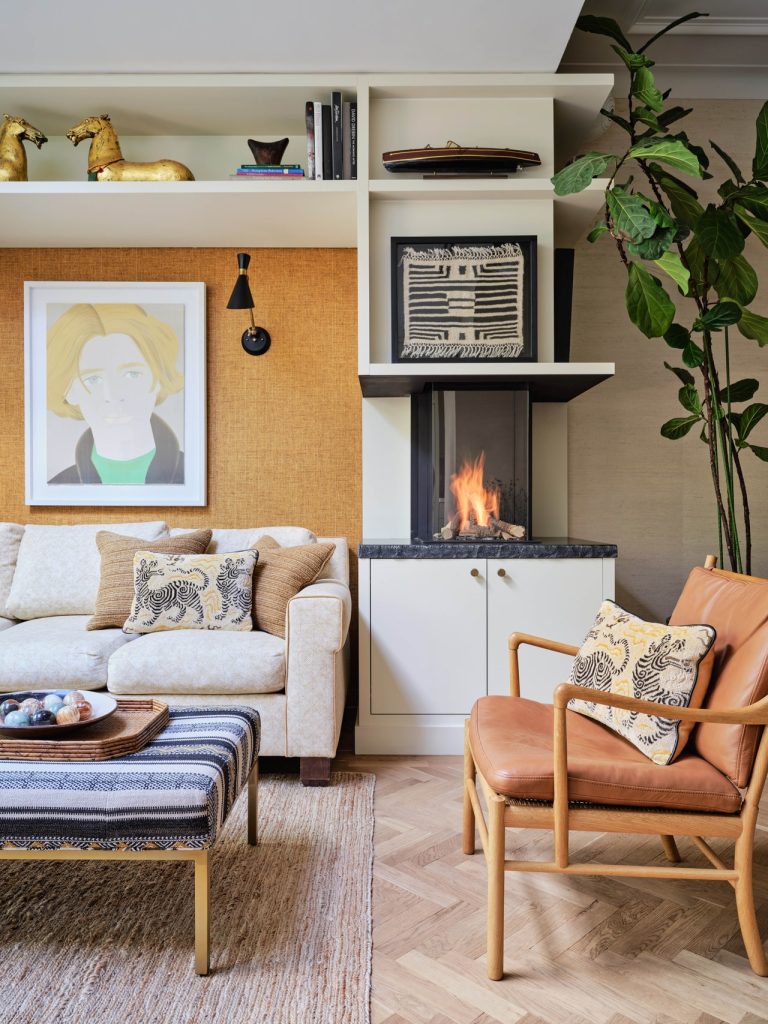 Baker and Kurz purchased a stunning mosaic floor in Amsterdam, which now graces their family house kitchen. The couple added a comfortable seating area to the space for casual relaxation before heading to their vintage and chic dining room for dinner.
The dining room with beautiful vintage furniture, including a vintage dining table and custom-painted chairs, refreshed with a new oak top. The addition of a geometric Senna rug and an elegant light fixture on the ceiling further enhance the vintage atmosphere of the dining area.
Expansive glass windows connect the beautiful patio and garden to the kitchen of Tommy Hilfiger's Fashion Executive. A particular highlight of this fantastic family house is the counter made of Belgian bluestone and a custom leather stool, which adds a touch of elegance and sophistication to the space. The home's backyard is a work of art, surrounded by lush greenery.
The overall atmosphere of sophistication and serenity beckons us to explore the exquisite primary bedroom of Avery Baker, which embodies her distinct taste and style. The personalized headboard and stunning pillows contribute to the peaceful ambiance of the room.
Avery Baker family house has a unique dressing room designed by Atelier Markx and Nicoline Beerkens. The custom RAL-painted cabinet and Thibaut's Baltimore wallpaper in cream color create a fashionable and peaceful ambiance. The main bathroom is next to the dressing room and boasts beautiful natural marble, custom brass mirrors, and taps. It also features a unique wall lamp and chair, adding a touch of sophistication to the overall design.
A Tommy Hilfiger Fashion Executive desired a balance between practicality and the beauty of the interior design details. The result was a stunning vintage-inspired home that combined rich textures, color schemes, and materials with a relaxed, informal ambiance. The interior design details create a personal and unique space that reflects the owner's style and personality.
This lovely family house is the perfect example of the combination between luxury and a classic place. We hope that the stunning home of Avery Baker, the Chief Brand Officer of Tommy Hilfiger, has inspired you as much as it has inspired us to create a living space that bleeds both luxury and vintage charm. Discover more inspiration for your living space by exploring our interior design projects.