Learn how to transform your home with elegance and sophistication. Discover the power of Neutral Tone Rugs in decoration. Surprise yourself!
In recent years, we have seen a rise in the use of the minimalist style and its popularity worldwide. This style brought a new approach to the universe of interior design, focusing on the simplicity and functionality of spaces, offering a sense of calm and tranquility in any environment. An effective way to add a dash of coziness to a minimalist room is through the use of neutral tone rugs. In this article, we will explore and show how an interior can be cozy and magnificent using neutral tone rugs.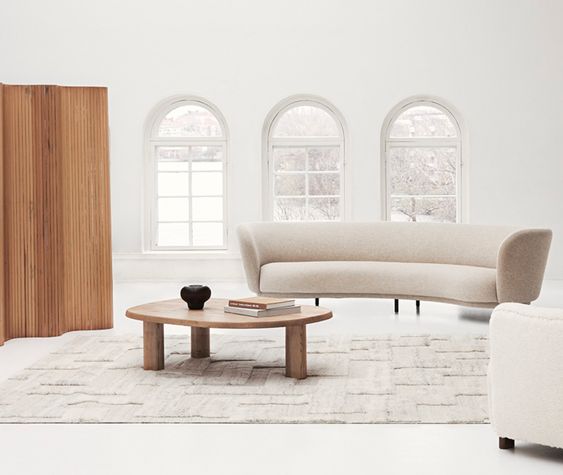 In the minimalist style, the premise is "less is more". It's a style that focuses on simplicity, functionality, and visual balance. Neutral tone rugs fit this approach perfectly, offering an understated and elegant base for any room. Neutral tones such as white, beige, gray and soft earth tones are considered the foundations of minimalism. They provide a sense of serenity and help create a harmonious atmosphere. By opting for rugs in these colors, you establish a solid and versatile foundation for the rest of your decor.
How to use
We will then explore the use of this neutral tone rug, presenting its advantages and examples of how to apply it. The advantages are:
Versatility: Neutral tone rugs are incredibly versatile, as they quickly adapt to any decorating style. They complement bright colors and bold prints, as well as other pieces of furniture, without visually clashing.
Sense of Spaciousness: Neutral tones can make a space feel larger and more airy. This is particularly useful in small environments where a sense of spaciousness is valued.
Easy Maintenance: Neutral tone rugs hide dirt and stains better than darker-colored rugs. Additionally, they are generally made from durable materials that are easy to clean, making them ideal for use in high-traffic areas.
Let's now identify some examples of where you can use these neutral tone rugs inside your home:
Living Room: In a minimalist living room, a neutral tone rug can be placed under the sofa and center table. This creates a soft focal point and provides a cozy feel. Combine it with furniture with clean lines and neutral tones to maintain the minimalist aesthetic.
Bedroom: For a peaceful and relaxing environment, opt for a neutral rug next to the bed. In addition to bringing comfort to your feet, it will help to delimit the resting area. Pair it with bedding and curtains in muted tones to create an oasis of serenity.
Home Office: In a minimalist workspace, choose a neutral tone rug to define the office area. This helps visually separate the space and creates an atmosphere of concentration. Opt for an ergonomic office chair and a clean desk to complete the look.
Kitchen: Although less common, rugs in neutral tones can be used in the kitchen to bring a touch of softness and comfort. Place a rug next to the countertop or near the dining area to create a subtle contrast with the more sober elements of the kitchen.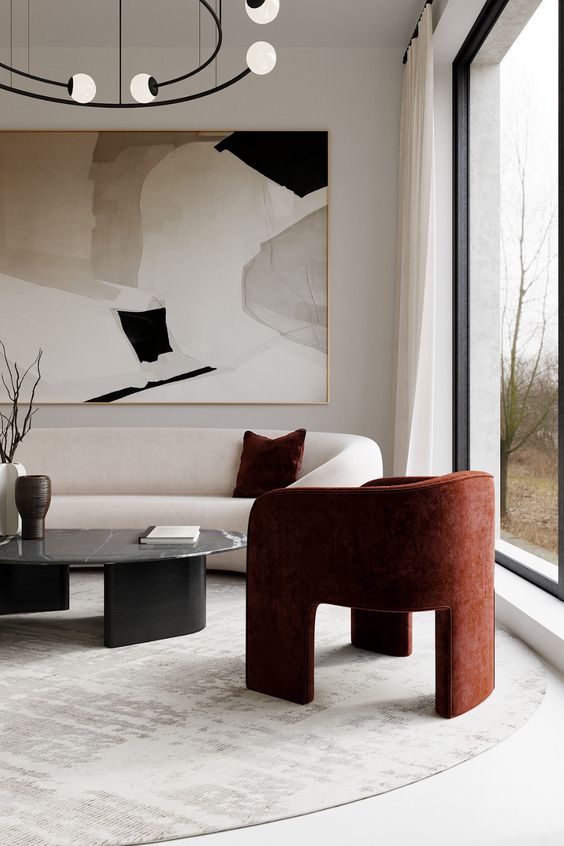 When it comes to decorating a space, the choice of rugs plays a crucial role in defining the style and atmosphere of the room. Rugs in neutral tones are a versatile and elegant option, as they can be easily combined with furniture and accessories to create a harmonious and sophisticated look.
If your style is more daring and contemporary, you can use a neutral tone rug as a base to highlight modern and vibrant furniture pieces. Choose a rug with an attractive weave or subtle geometric patterns, pairing it with boldly designed furniture and bold colors to create a striking visual contrast.
When pairing neutral rugs with furniture and accessories, it's important to consider texture and patterns. If you have a plain neutral tone rug, you can add visual interest using textured throw pillows, subtly patterned throws, or decorative vases with different finishes. These details help create optical layers and make the space more appealing.
In conclusion, this article has sought to provide a comprehensive guide on how to use neutral tone rugs to enhance the aesthetics and functionality of spaces. By investing in neutral tone rugs and following the guidelines provided in this guide, you can create a solid foundation for your interior decor, adding a layer of comfort and style to spaces. We hope this guide has been helpful and inspired you. If you're still looking for more inspiration, visit TAPIS Studio to find the perfect rug for your space.