Discover how pink rugs can completely transform your home. Let's explore some of the projects with unique pink rugs that bring elegance and softness to the space.
Having a pink rug in our home can really uniquely transform the environment. These items manage to add a touch of personality to the space and this bold choice to place a rug in this distinctive color in your home provides a sense of style and irreverence. In addition, it also manages to create a warm and cozy atmosphere. Let's explore some projects where the designer in question was not afraid to choose a pink rug to bring the touch of sophistication that the space needed, showing examples of how you can do this in your place.
Pink Rugs: Vibrant Splendor in Enchanting Environments
Choosing the right rug to complete the decor of our space can make all the difference. When we have the audacity to opt for a pink rug, that same choice can be even more complex, bearing in mind that it is a bold color and unusual color in the interior of our homes.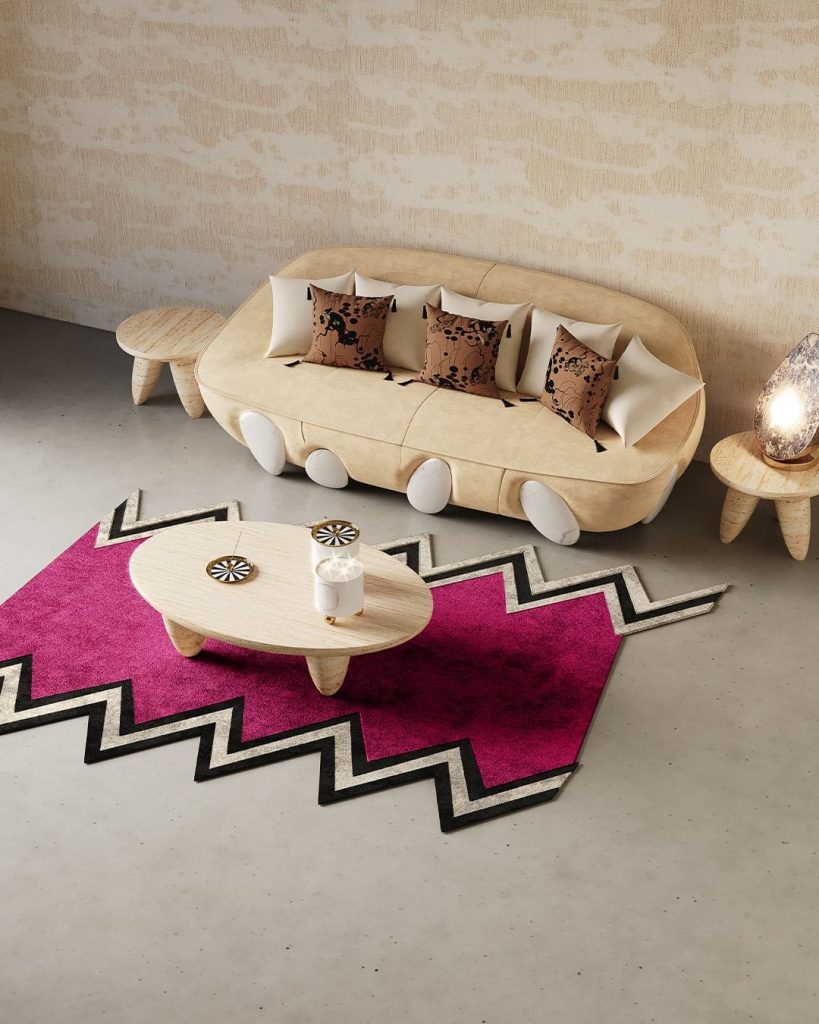 So let's list some of the advantages of using pink rugs in our home, covering topics ranging from coziness to the sophistication of this choice:
• ADDING LIFE AND CHEERFULNESS: Pink rugs are an excellent way to introduce bright, vibrant colors into an environment. Generally, pink is associated with feelings of happiness, calm, love and serenity, contributing to a more relaxed and welcoming environment. By choosing pink rugs, it is possible to create a visually appealing focus and transform any space into a pleasant place;
• UNIQUE PERSONALITY AND STYLE: A pink rug is a bold choice that shows personality and style. It can become a standout element in a neutral room or even in environments that combine with other decor elements in the same pink tone to create a harmonious and cohesive aesthetic. Be it a modern or more archaic style, the pink rug can adapt to different styles of decoration, adding the touch of individuality it carries;
• WARMTH AND COMFORT: Pink rugs, especially those with a soft texture, provide a cozy and comfortable feel to the space. These are ideal for creating an inviting atmosphere, in living rooms or bedrooms, for example. The combination of pink with the smooth texture of the rug creates a pleasant visual and sensory experience, promoting relaxation and well-being;
• VERSATILITY IN DECORATION: Although pink is often associated with feminine styles, pink rugs can be used in different contexts and are not limited to any specific audience. These can be combined in neutral tones, such as gray or white, to create a soft and elegant contrast. In addition, pink can complement other colors to add liveliness to the environment;
As we have listed, using pink rugs really brings several advantages to the interior of our homes. In addition to adding color and joy, these allow you to express your unique personality and style. We are now going to present some projects in which the designers used pink rugs to decorate the space.
1- The Upgrade, by Studio Thomas James
Here we have the first project we will present in which they choose pink rugs to decorate the space. This project is by Studio Thomas James, and as we can see, the studio uses a pink rug in the center of the living room, underneath the two sofas. This rug clearly brings a vibrant and lively feeling to the space, being the total contrast in the environment.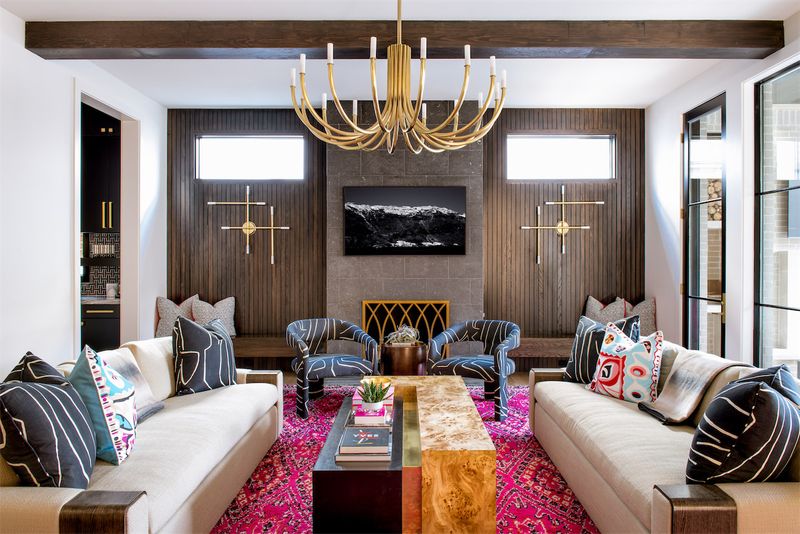 2- The House with THE Closet, by Charlotte Lucas Design
In this second project, by Charlotte Lucas Design, we once again have the pink rug appearing in the center of the room, this time in the dining room. This time in a softer tone, we can see that the pink rug appears in the environment as a common thread in the rest of the decoration and not so much as a focus of contrast for the space.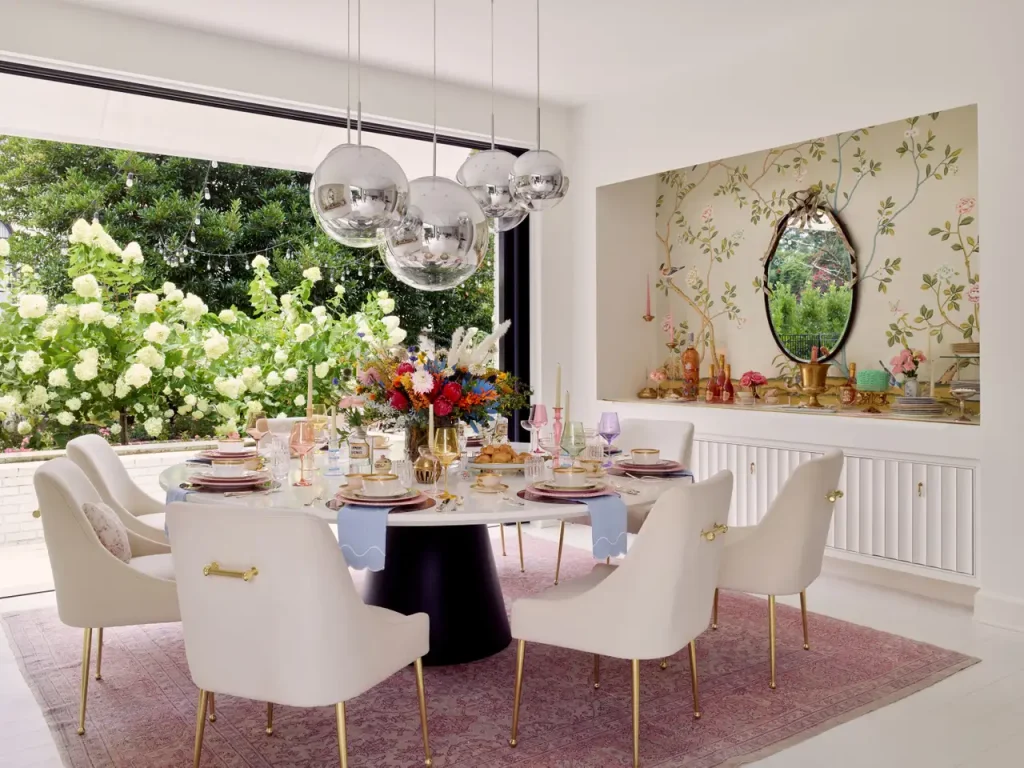 3- Beverly Hills Home, by Lenny Kravitz
We are now moving on to a project by Lenny Kravitz, where we are once again able to identify the pink rug as an element of harmony in the decoration, as it combines with other elements of the same pink tone.
4- North London Apartment, by Rachel Chudley
In this project we see a rug that really differs a bit from the ones previously presented. In this one, we have another type of pink rug that is possible to find and quite usual. Rugs that mix different colors, like pink, black and brown in this case. In many cases, these rugs are excellent choices as they bring the pink contrast right from the rug, transporting this contrast to the rest of the environment.
5- Kips Bay, by Sasha Bikoff
Once again, we have a project, this time by Sasha Bikoff, where we can find the same pink rugs that mix different colors in the same rug. In this one, we have pink as a color that completes the space, not as the actual accent color as seen in previous projects.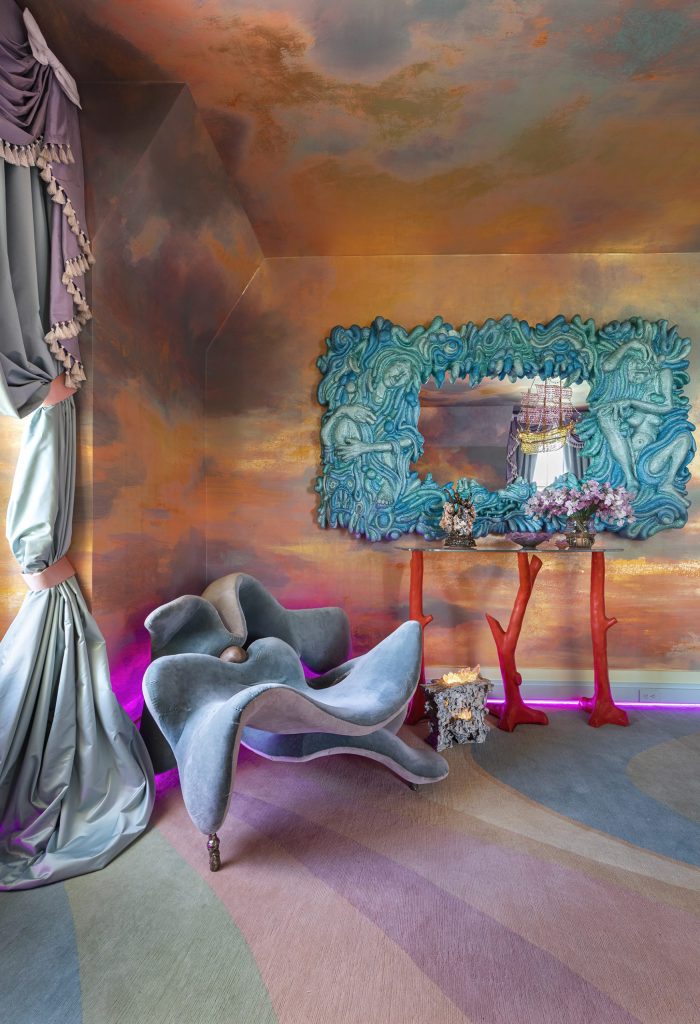 6- Hilltop Residence, by Studio Shamshiri
We return to a project where the pink rug really appears as a contrasting element in the environment. In this project by Studio Shamshiri, we can see a modern living room with very neutral colors and a very open and bright space. However, the presence of a pink rug does not spoil the beauty of the place, on the contrary, it brings the vibrant touch that this division needs.
7- West Village Penthouse, by Wesley Moon
For the last project, this one by Wesley Moon, we have a project where we see pink not only in the rug but accompanying it in other pieces of furniture, contrasting with the rest of this bedroom.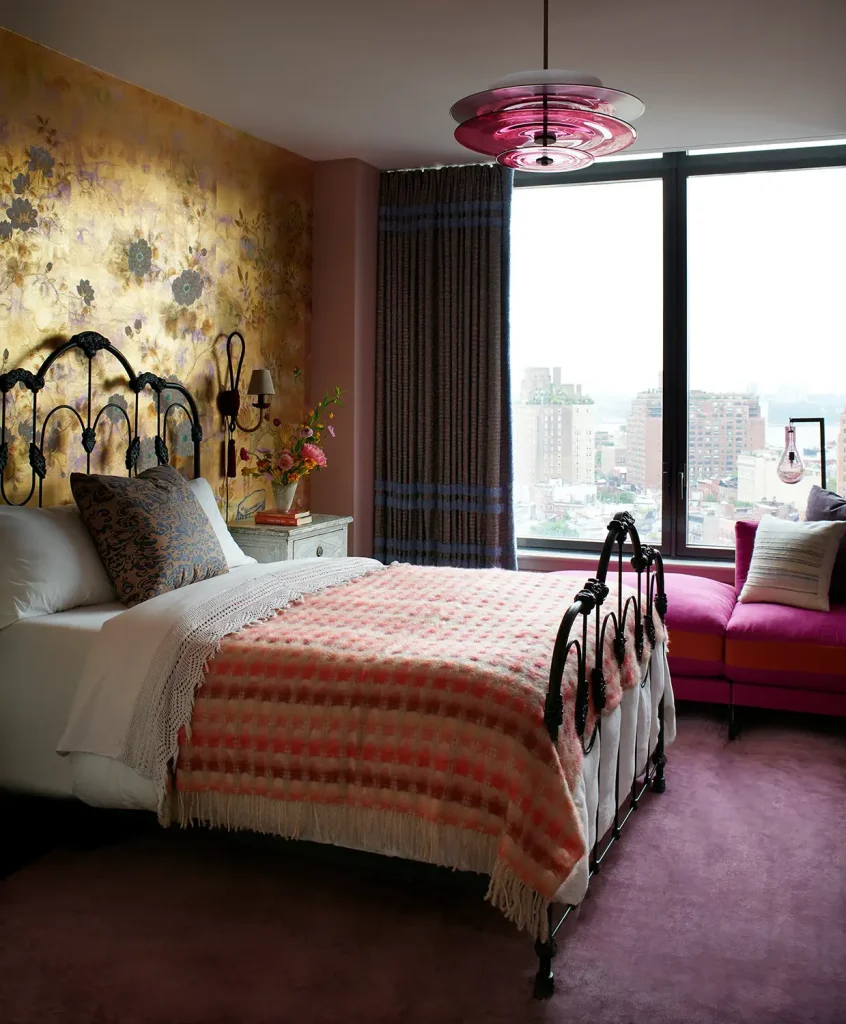 8 Pink Rugs by TAPIS Studio:
We then saw the advantages of having a pink rug in our home, as well as presenting several projects in which we demonstrate how to use the pink rug, despite its different styles and the different intentions that its use can carry. We hope we've inspired you, if you're looking for even more inspiration you can visit TAPIS Studio to find the perfect rug for your space.