Discover nine wall rugs that will add the touch of boldness that your interior design project needs.
Rugs are perfect for everywhere… and wall rugs are here to prove it. With different shapes, colors and textures, rugs are trending not only on the floors but also on the walls – showing that there is no place where a rug can´t be.
More than beautiful, wall rugs are a bold addition to any home space – from living rooms, bedrooms, and entryways; these rugs can give a room an authentic touch while boosting its aesthetics and comfort.
Wall rugs help to make a space more beautiful, bold, and unique, but it also has other benefits, such as making the room cozier, isolating the room's noise, and reducing its echo. Do you have any more doubts that wall rugs are perfect for any room? Neither do we.
To help you to find the ideal wall rug for your interior design project, we select nine wall rugs from TAPIS Studio; read on to discover them.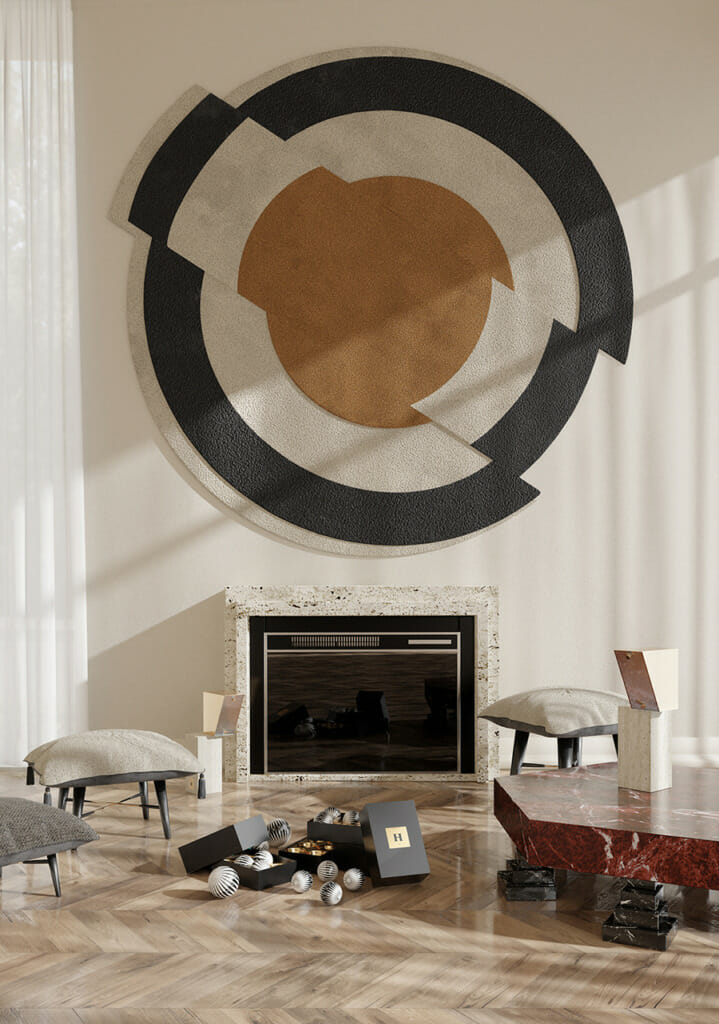 TAPIS Studio´s Choices – for each room division
There are many types of rugs, and each can be the ideal choice for a specific home division, style, or need. To help you to find the perfect rug to highlight your interior design project and make the walls the star of your room – we selected nine rugs from our collections that can be the ideal choice for you.
Here, you will find rugs that are the perfect match for living rooms, bedrooms, and entryways – but remember – this is just a suggestion, and these rugs can be perfect for any wall in your layout. Time to discover this unique selection:
Let´s start with the living room – the heart of any home and the central point of many designs. For many homes, the living room is not a space – but a meeting point for gatherings, relaxing times, and beautiful memories. It´s in the living room that many home stories begin, and in that space, the magical feeling of being at home starts.
Wall rugs are perfect for the living room – they can help to pull the room together by combining the fabrics, design, and textures with the room decor; they can also provide a source of warmth to the space and make the space even more inviting and thanks to it soft surface wall rugs also can make the room feel more comfortable.
For this special home space, we selected three wall rugs that can add a bold and unexpecting vibe: TAPIS Stock 04, a bold rug with an unseen shape that will add a playful vibe to any modern living room; TAPIS Menízia #06, a handwoven rug with an eclectic style which is the ideal piece for an artistic layout and the TAPIS Shaped #26, a rug that brings back mid-century modern vibes mixed with Memphis style and which promises to be the star of any space.
If the living room is the heart of any home, the bedroom is its refuge. The bedroom is that special space where we refill our energy and rest after a long day. It is the space we can go to when looking for a peaceful room and a quiet moment – and that is why it should be one tranquil space of any home; the perfect bedroom rug can make a difference in this space.
For this dream space, pastel hues and soft textures can make it even cozier and inviting – our selection of wall rugs for the bedroom highlights pieces that can set a charming and peaceful atmosphere while adding a bold touch.
The colors and textures can set the ideal atmosphere for a dream bedroom, that is why our wall rugs selection highlights the TAPIS Pastel #21, a charming rug that combines a bold shape with a delicate green hue; TAPIS Pastel #16, a rug with soft hues and lovely silhouette and the TAPIS Shaped #17, that combines earth tones and organic shape.
The entryway is responsible for the home's first impression; it´s the place that invites the guests to discover more about the layout and also gives clues about what is coming next. Adding a wall rug to that space can give a bold and unexpected impression and make it stand out.
A luxurious entryway rug can make your entrance design from ordinary to extraordinary, and in our selection, we highlight three wall rugs to make any entrance more glamorous and bold.
With bold shapes and strong hues, this selection can provide a remarkable first impression in any home: TAPIS Retro #04, features monochromatic hues and solid lines; TAPIS Shaped #32, has strong colors and geometric shape, and the TAPIS Shaped 10 combines soft earth hues with. a bold shape.
These nine pieces show that wall rugs are the perfect addition to any space, adding an extra dose of glamorous and boldness to make the room stand out. We hope you have enjoyed our curated selection of the best 9 wall rugs to complete your project; enjoy discovering more pieces that will set the perfect vibe for any room division.