Explore Tommy Hilfiger's stunning home, designed by Martyn Lawrence Bullard. Discover the perfect blend of luxury and modern style in this iconic residence.
Born in Lewisham, a London neighborhood, Martyn Lawrence Bullard is an interior designer recognized as one of the world's leading interior designers. Martyn is a multi-award-winning designer, having been named one of the top 100 interior designers in the world by Architectural Digest, consistently featured on Elle Decor's A-List, and listed among the top 25 designers by The Hollywood Reporter. Apart from that, Martyn is also a popular television personality. He starred in the Million Dollar Decorators series and hosted Hollywood Me, along with many television shows in over 65 countries worldwide. For reasons like this, we can refer to Martyn Lawrence Bullard as one of the most famous designers in the world.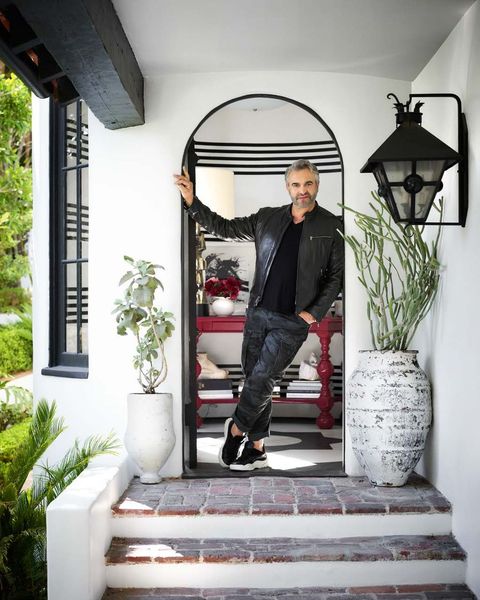 Through his popularity, Martyn got a portfolio of exclusive clients from the world of fame, including Kylie Jenner, Khloe Kardashian, Kourtney Kardashian, Tommy Hilfiger, Christina Aguilera, among others. His main work is recognized for the residential projects he undertakes, but the designer has also designed several top-notch hospitality properties around the world. His style is described as eclectic, luxurious, sophisticated and comfortable. Focusing on colors and patterns, Martyn likes to offer unique spaces and environments.
Golden Beach Tommy Hilfiger's House
So let's explore this project by Martyn Lawrence Bullard. This project, called Golden Beach, is an interior design project for Tommy Hilfiger's residence. As we can tell from the name association, Tommy Hilfiger is a renowned fashion designer known for his luxury clothing brand.
Completed in 2007, this project by Martyn Lawrence Bullard is located in one of the most desirable addresses in Florida. This residence is a stunning example of modern style, which combines clean lines, luxurious materials and a neutral color palette. The objective of this project was to create an elegant and sophisticated environment that, above all, reflected Tommy Hilfiger's personal style.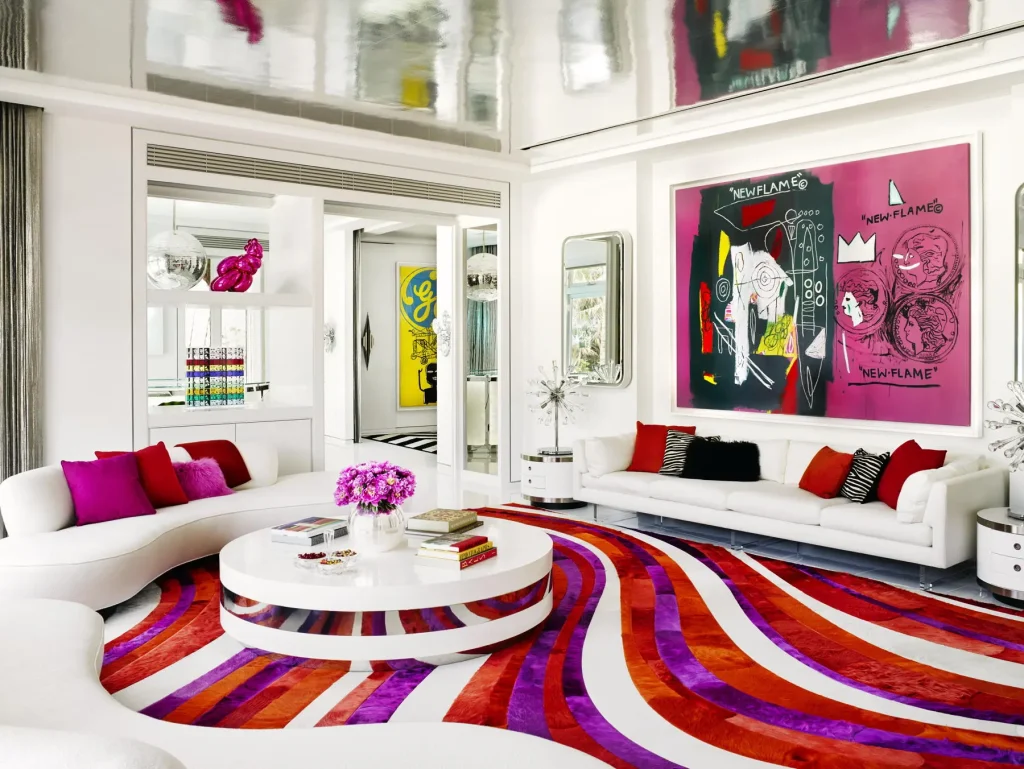 Few projects are as extravagant, eccentric and incredibly fascinating as this one by Martyn Lawrence Bullard. Let's explore each room of this house, from its base to the most meticulous detail.
Room by Room
Upon entering the house, we are greeted by a luxurious entryway that already shows us what to expect from the rest of this project by Martyn Lawrence Bullard. A large and spacious room, free of details and details. A simple space that only has a mirror and a painting on the wall that divides the rest of the house.
Next, we are confronted with a spacious living room that embodies the essence of modern style. The white walls, as we already had in the entryway and will continue to be in most of the house, and the minimalist design furniture create an elegant and welcoming environment, such as the incredible sofas and the center table that complete the space.
The rug chosen by Martyn Lawrence Bullard will be the main item for this room. A centerpiece, bringing texture and life to the space. A rug that combines the white walls with red and purple. An eccentric shade that leads us to the elegance and power of colors. We were also able to see some items that match the colors of the rug, including pillows, decorative items and even the painting.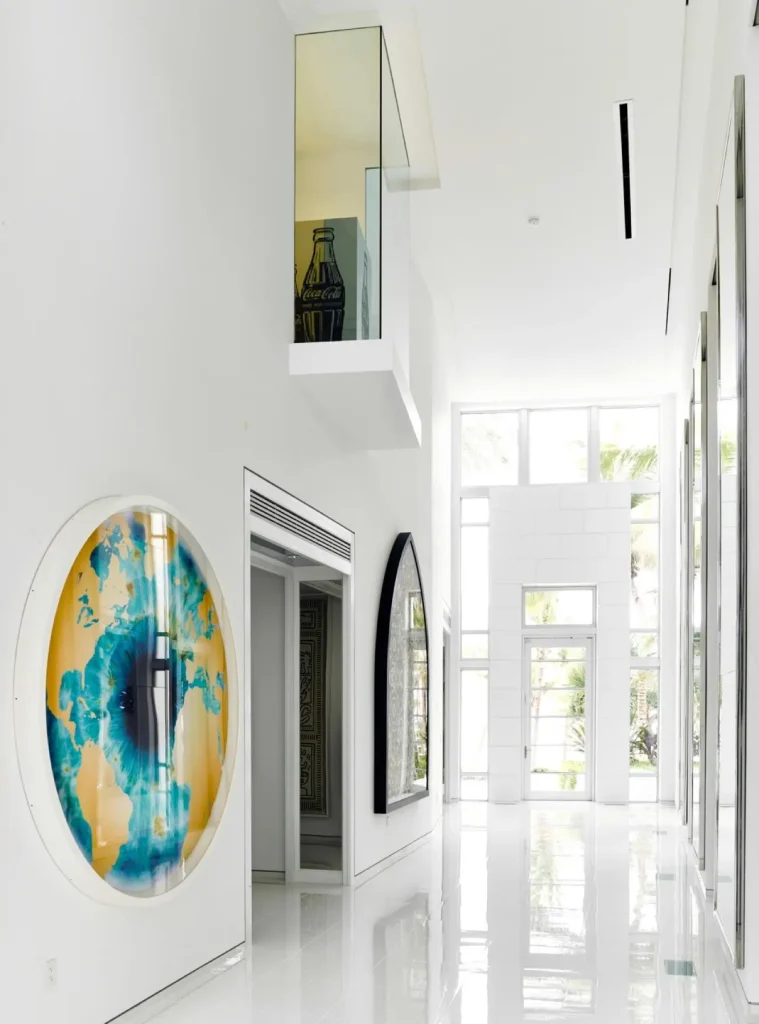 The main bedroom is a true haven of tranquility and elegance. With a neutral color palette, soft textures and modern furniture, this space conveys a sense of serenity. Once again, an eccentric design is visible in this space, with a bed in a unique style. A plush rug next to the bed would provide comfort when stepping on it first thing in the morning.
Carrying the identity of the Tommy Hilfiger brand into the interior of this project, Martyn Lawrence Bullard chose the office, and what space would be best to do this, to carry that same personality. We can see the brand's characteristic red and blue on the walls. We must also highlight the incredible choice of furniture for this place, with a desk following the same minimalist trend as the rest of the house, with the red chairs at the front.
The dining room is yet another space where Martyn Lawrence Bullard spared no expense. An imposing dining table and luxurious upholstered chairs, the atmosphere invites visitors to enjoy memorable meals in an atmosphere of pure sophistication. We cannot talk about this place without highlighting the majestic suspension lamp that we have in this space. In addition, the richly adorned curtains that add a touch of elegance to this environment. A pleasant atmosphere that is completed by the, once again, eccentric rug, in shades of black and white striped in zigzags.
The bathroom in this project by Martyn Lawrence Bullard is also worthy of mention. They reflect the modern style in its fullness. A totally simplified space, with a simple mirror and washbasin, had everything to be a discreet place. However, the designer did not miss the opportunity to create another vibrant space, with the walls full of drawings of bananas, in their entirety. This is yet another example of what the designer likes to bring to the interior of a home, always starting from the clear idea of creating a standout space.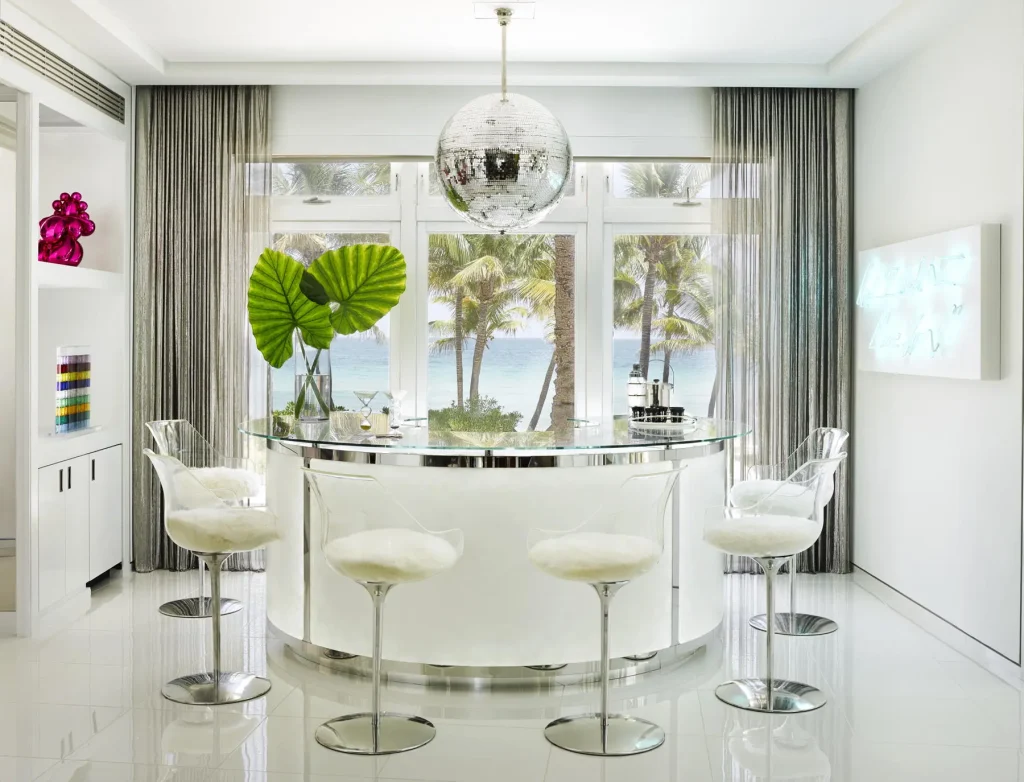 This project by Martyn Lawrence Bullard is the perfect example of a modern and elegant space. The renowned designer worked on this project with the aim of making each location unique and vibrant, preventing any space from becoming secondary. If you want to explore more of Martyn Lawrence Bullard's projects, we have another article where we demonstrate the incredible residential projects of this designer. If you're looking for even more inspiration, visit TAPIS Studio and explore everything we have to offer.