Statement rugs are a powerful tool in interior design, capable of transforming a room from drab to dynamic with just one piece. Check out 5 projects to inspire you:
They can add color, texture, and pattern to a space, instantly elevating it and creating a focal point that draws the eye. In this blog post, we'll explore the use of statement rugs in interior design and how they can enhance the look and feel of a room.
Best Interior Projects With Statement Rugs
A room can be instantly transformed with the addition of a bold rug that introduces a new color or color scheme. Whether it's a bright, punchy hue or a softer, more muted shade, a statement rug can add depth and interest to a room that might otherwise feel flat or uninspired. 
To help you understand a little better the use of this powerful resource in the world of interior design, we have selected five projects below that have gained an extra touch of elegance with the use of statement rugs. Check them out:
1 –  The Mid Century Modern Kew Residence – By John Wardle
At the Kew Residence, located in Melbourne and featuring Victorian ash walls, floors and ceilings, three brightly printed rugs were arranged under a wooden coffee table. It is worth noting that the idea of layering statment rugs is a technique widely used in interior design, as it is not only a trend, but also adds more texture, dimension, and interest to the spaces.
This property features artwork in vibrant colors that complement the touches of color and elegant shapes found in the rugs. The house's renovation by John Wardle Architects studio highlights unique moments of woodwork and finely designed and crafted furniture to celebrate the art of cabinetry. With a Mid Century Modern Style idea, using wood as the primary material and neutral tones allowed the client's extensive art collection to add color, pattern and texture in various places to reflect the individuality of the space.
2 – The Walsh Bay Penthouse – By Greg Natale
This two-story, three-bedroom apartment is an award-winning project led by interior designer Greg Natale and features the creative use of curves and soft colors, including soft pinks and yellows. Curves can be found in the staircase, fireplace, marble kitchen island, bathroom walls, modern European furniture and even statement rugs.
In the living room, the choice of curves and colors, which very much follow the Memphis style design, worked together to create a sophisticated and serene space that combines luxury and comfort. Rugs inspired by this style movement are a great way to add personality to an interior, as this style demonstrates that being bold and daring is never too much.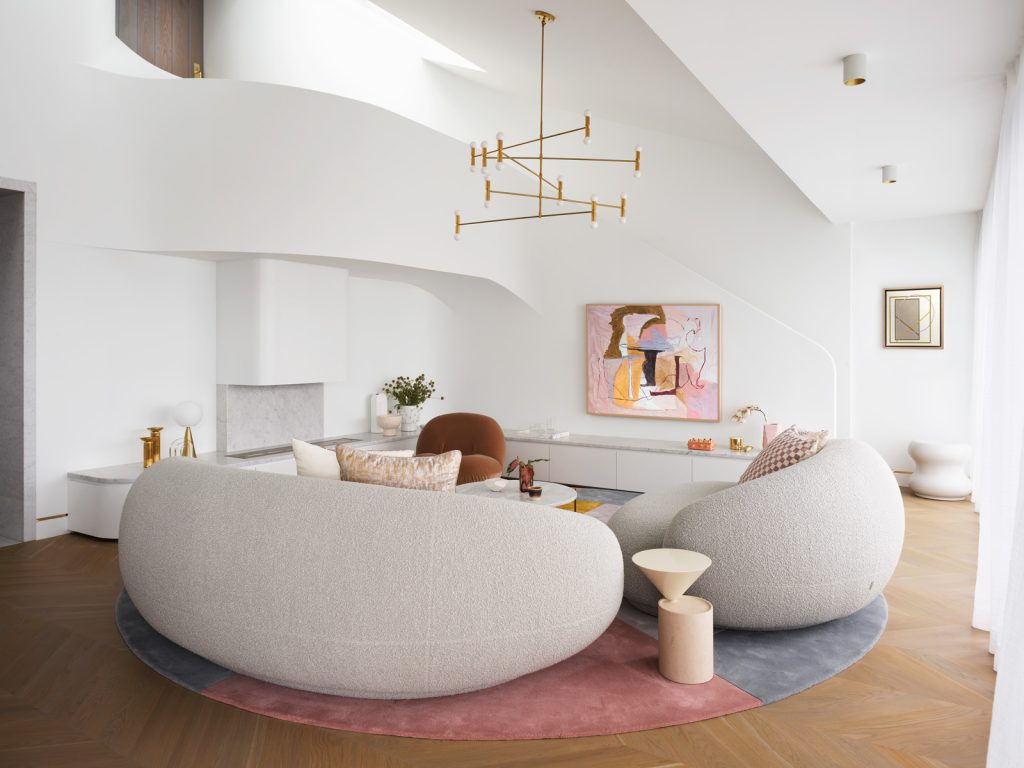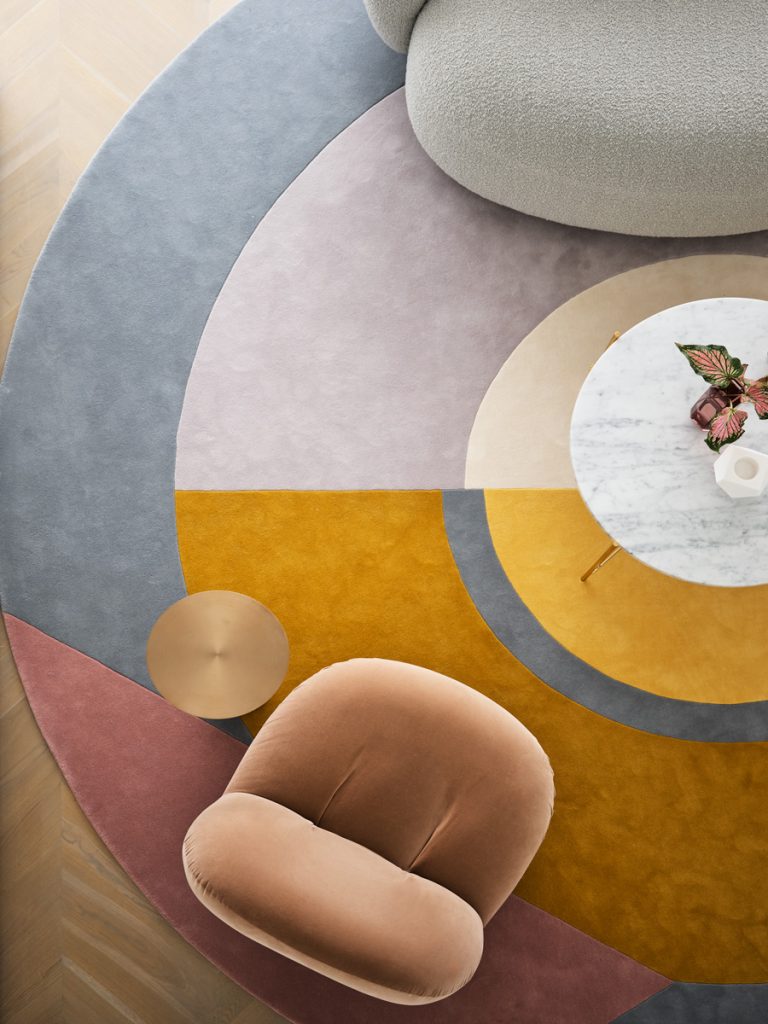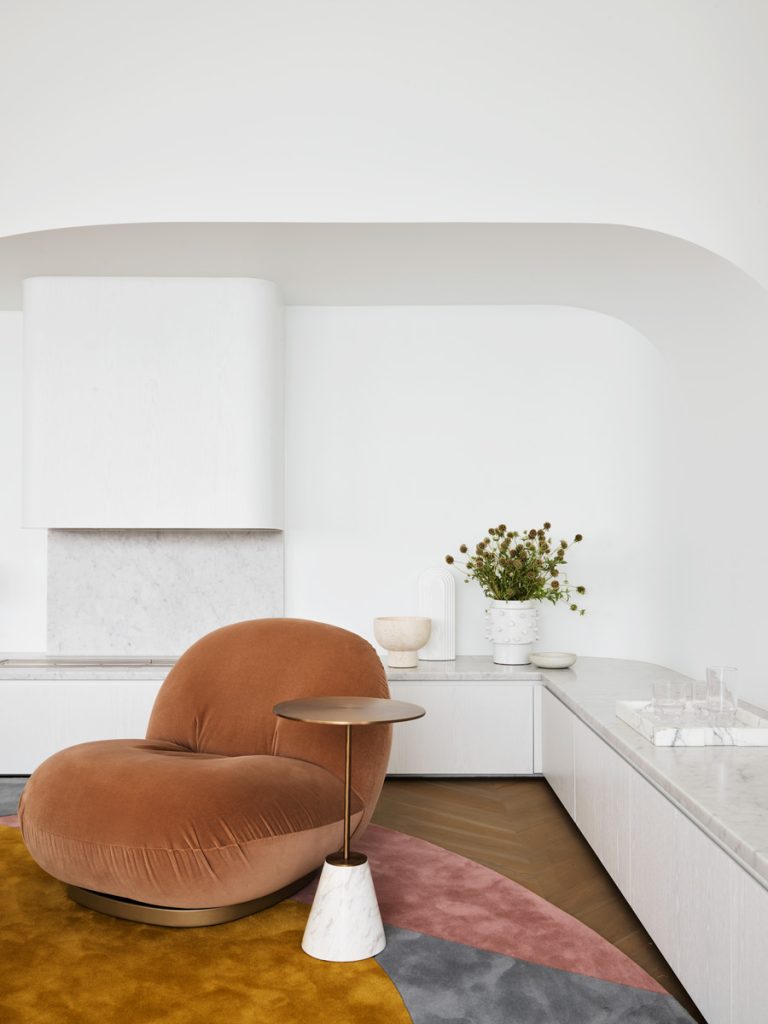 3 – The Historic Schoolhouse Apartment – by White Arrow
To celebrate the heritage of an 1800's school in Brooklyn, White Arrow used Retro and geometric statement rugs to create a relaxed and attractive atmosphere at the same time. In every room of the New York apartment, one can find rooms that are cheerful, rich in detail, and very well decorated.
The choice of rugs was thought precisely to bring lightness and clarity to the rooms, which serve as the focal point of the living areas thanks to their playful shapes that combine textures in tons of lilac, green, yellow, and dark blue.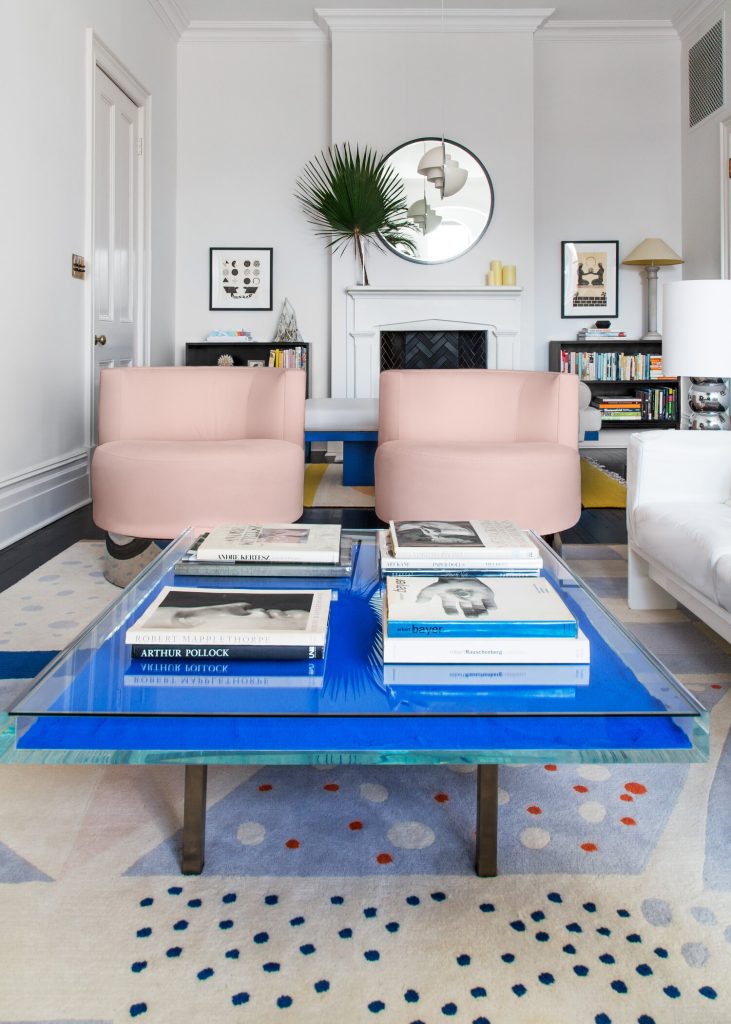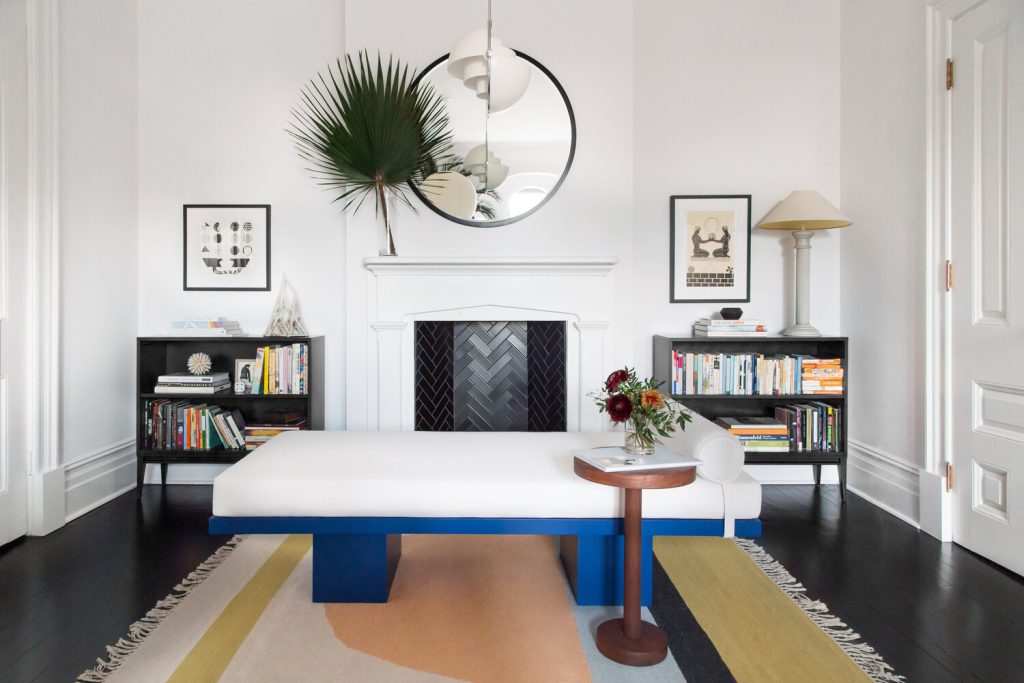 4 – The Colorful Victorian Old Louisville House – by Bethany Adam
We cannot fail to name projects that feature statement rugs without mentioning this colorful Louisville home. Although it is more conventional in style compared to Bethany Adam Interiors' other projects, the design and decorating approach of this renovation was historically considered. 
Materials were carefully selected to withstand the wear and tear of a young family with pets, while the furniture was chosen to complement the classic Victorian style of the home. For the living room, the professional chose to match the decorative items with the same colors as the carpet to create unity to the space. Striped rugs are classics in decoration and stand out for their versatility and for the elegance they add to the room, making any space unique and different.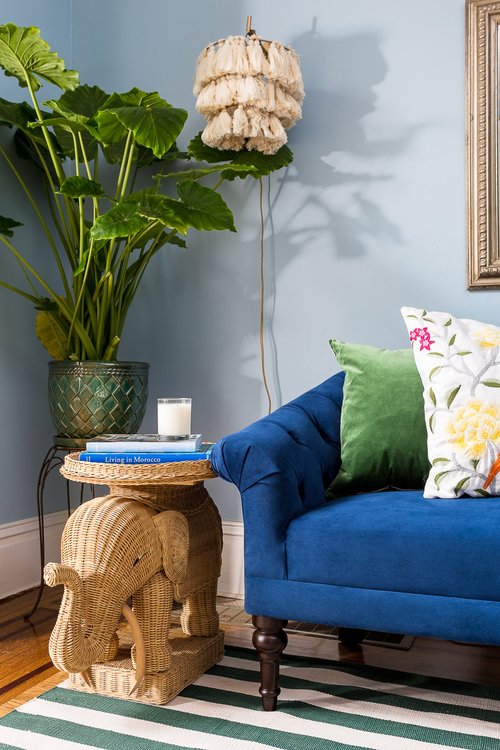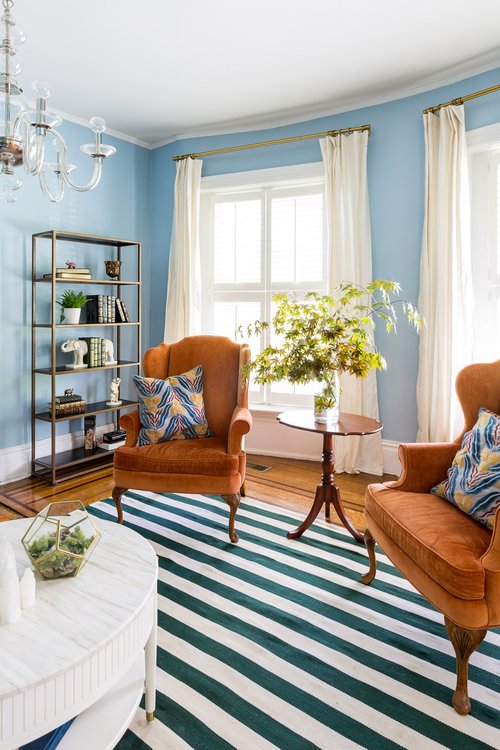 5 – Quai Aux Fleurs Apartment – By Fleur Delesalle
This elegant Paris apartment, located on Île Saint-Louis, features walls and ceilings in creamy pink tones, with curtains hung at high heights to highlight the ceiling height. The style is a mix of modern, traditional, and minimalist, with references to the Art Deco style – very popular in Paris during the 1920s.
The project, by Fleur Delesalle, has large spaces and lots of natural light. In the living room, the highlight is the choice of cozy decoration, achieved through the use of pastel colors overlaid with deeper tones, which also follows in the choice of statement rugs. "There is a lightness in the composition of the whole apartment, complemented by striking touches of color within a palette of soft materials." Layers of textures, such as leather, velvet and polished metal surfaces, add richness to a minimalist aesthetic that is evident throughout the home.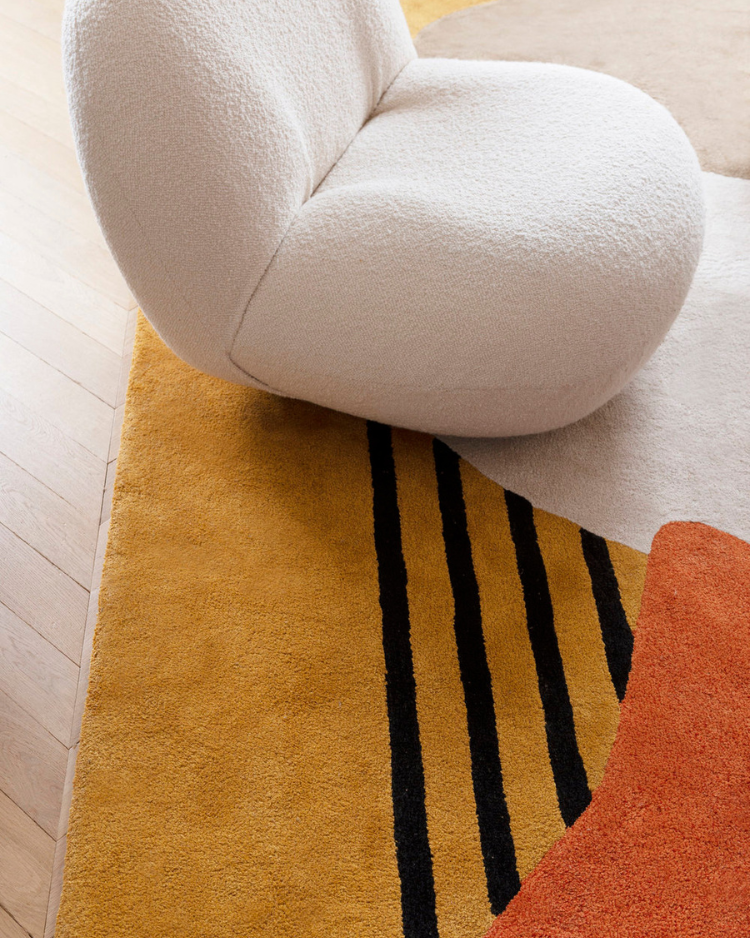 As seen, statement rugs are a versatile and effective tool in interior design. They can add color, texture, and pattern to a space, instantly transforming it and creating a focal point that draws the eye.
To continue to be inspired by environments thought through in every detail, check out the TAPIS Studio project page. Find modern, bright, curated, and artistic handmade rugs to complete your project with exciting shapes, vibrant colors and soft texture.