Let's dive into this charming apartment in the core of Manhattan, where colored rugs elevate the interior style with elegance and vibrancy.
Elena Frampton, Founder and Creative Director of Frampton Co, gives every space a purpose and brings out its spirit. Talented for creating inspiring solutions and redefining elegance with colors to create a comfortable and livable interior.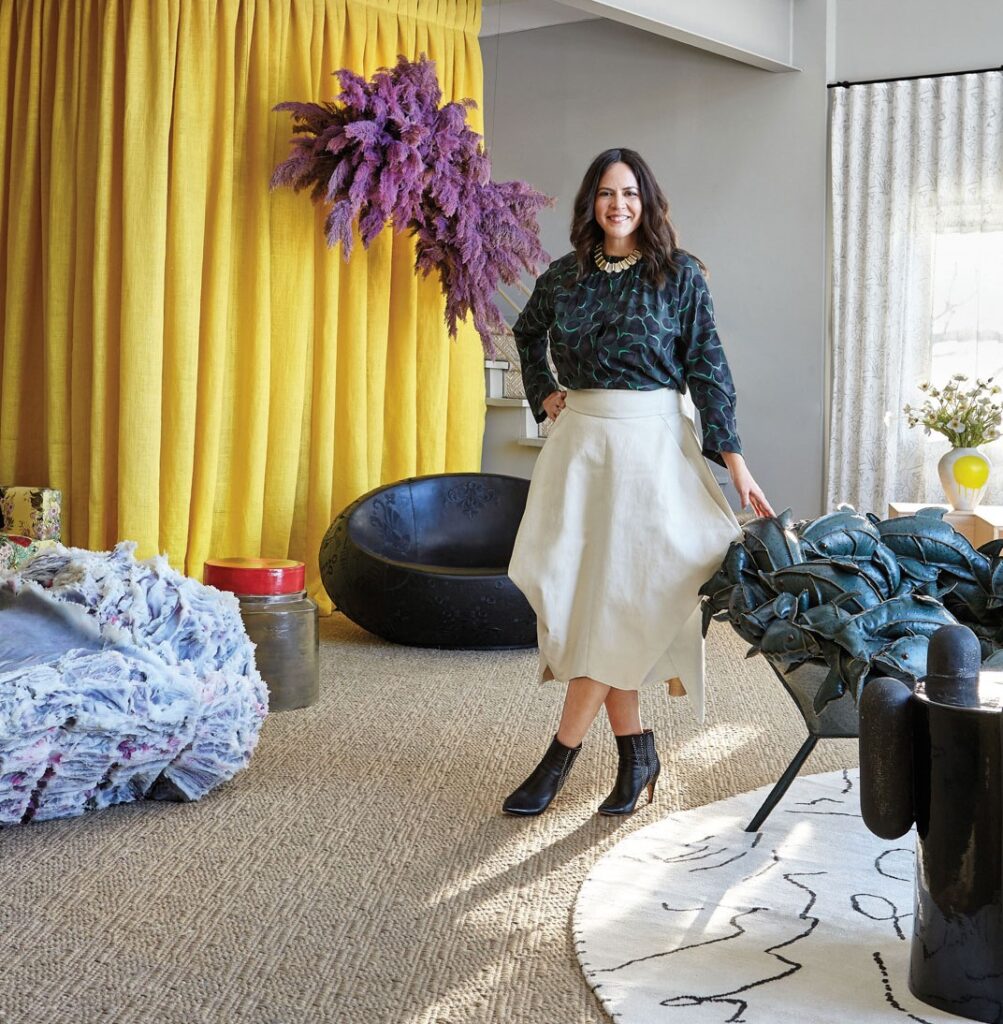 Create Harmony in your space with a touch of colored rugs
The art of transforming your living areas with the proper colored rug will give your house style and life. This article will discover how colored rugs can breathe life and personality into the living space and what steps and tips to follow to achieve the perfect combination of colors and simplicity.
These ideas will guide you whether you aim to create a cozy retreat, a vibrant conversation area, or a harmonious blend of colors and patterns through this charming house in Manhattan.
I- Creating Mood and Atmosphere with Color in Your Home
Define the ambiance you want your room to reflect by looking at the unique vibes each rug color emits.
Colored rugs designs are attractive but may also make a space look crowded. Keep the larger pieces of furniture and the walls of your room neutral to balance the space visually. By doing this, the area won't appear cluttered.
We can see the layering in colored rugs and vintage furniture silhouettes. The white space, taking, for example, the sofa in gray or other neutral palettes such as white, beige, or cream, so here is the touch of Elena Frampton on how she toned down the color and made the rug pop in the living room.
II- Balancing with wall color
Consider the color of your walls when selecting a rug. A rug that complements or contrasts with the wall color can create a striking visual impact.
You can coordinate with the wall, whether with wallpaper or paint. This choice can change the whole mood.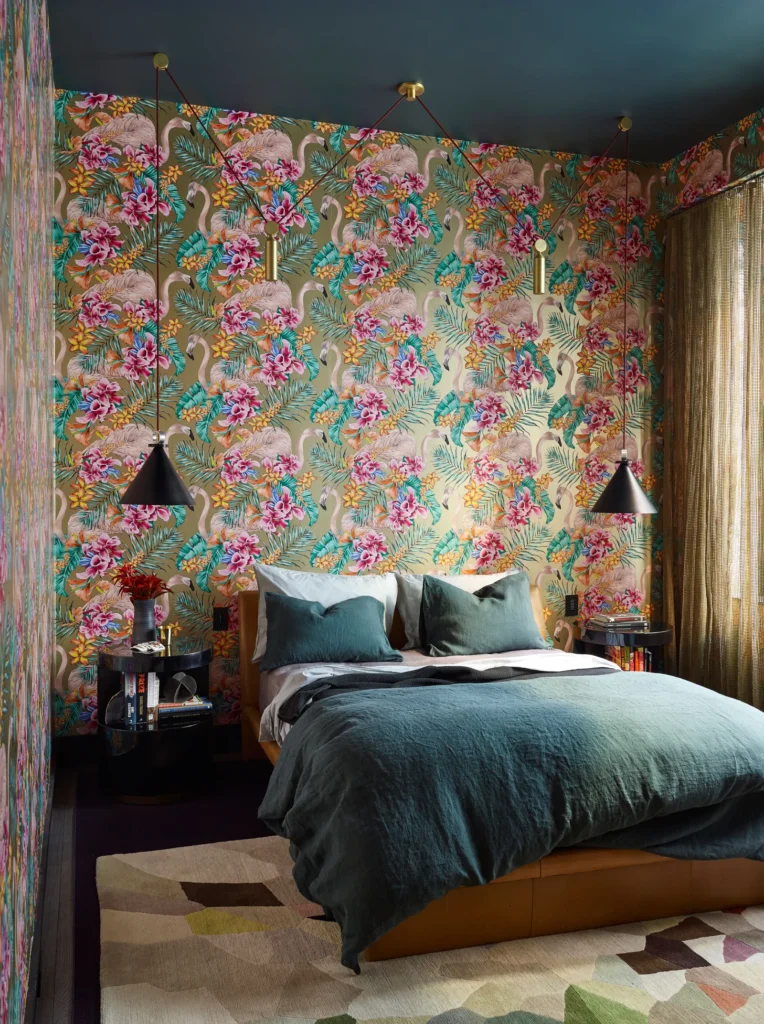 For example, wallpaper acts as an exotic backdrop in the guest bedroom. We can see how that matches perfectly with the multicolored rug without bringing so much tension. In open spaces like Halls or Dining rooms, colored rugs can define different areas.
III- Considering Textures
A vintage Sofa sits atop a green rug in the living room. This rug's exquisite texture sets it apart, captivating the senses at first touch. Crafted with the utmost precision and artistry, you can see handwork in each fiber. Its texture is a harmonious dance of silk and wool that adds a touch of luxury to any room with its intricate details, making every step a tactile smooth.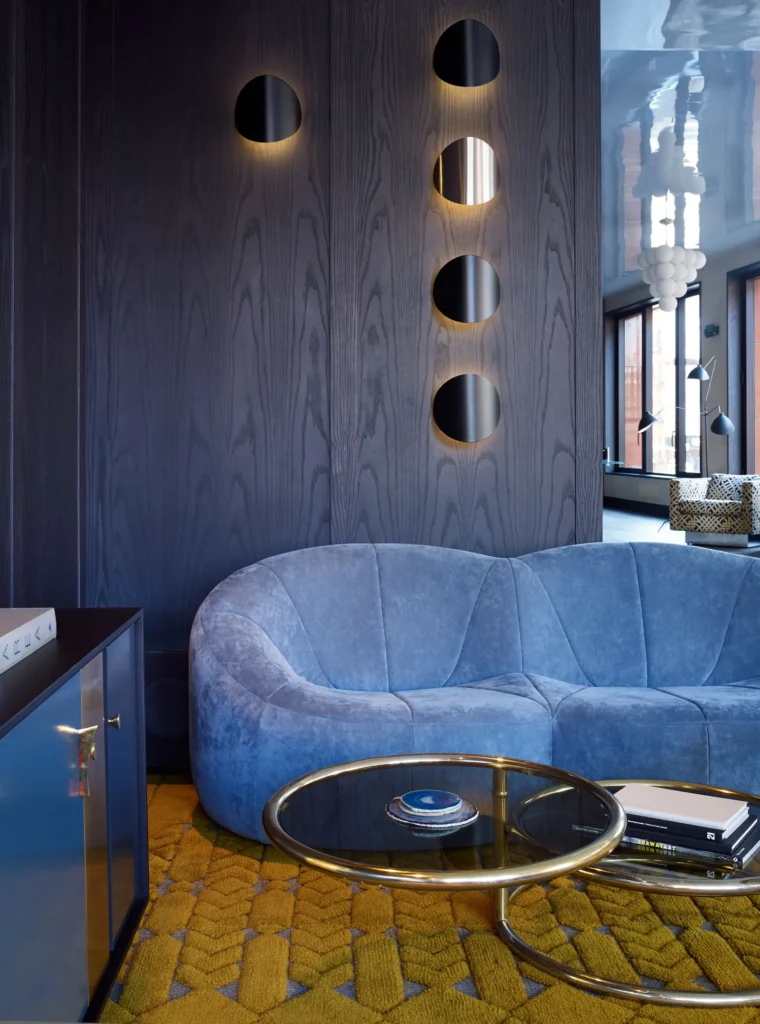 IV- Mix and Match styles
Mixing and matching styles in interior design can create genuinely captivating and unique spaces. Check out this luxurious, sumptuous bedroom with an Italian bed adorned with this modern silk rug.
This juxtaposition of luxurious and vibrant elements created by Frampton can produce a harmonious and visually stimulating environment.
V- Coordinate with furniture
Coordinate the colors of the rug with your furniture and decor items. This can create a beautiful and polished look. A vibrant pink, red, or orange rug can add a pop of color and visual interest with a neutral-colored sofa in grey. Like in this apartment, the designer mixed these tones to make it look like an artistic painting.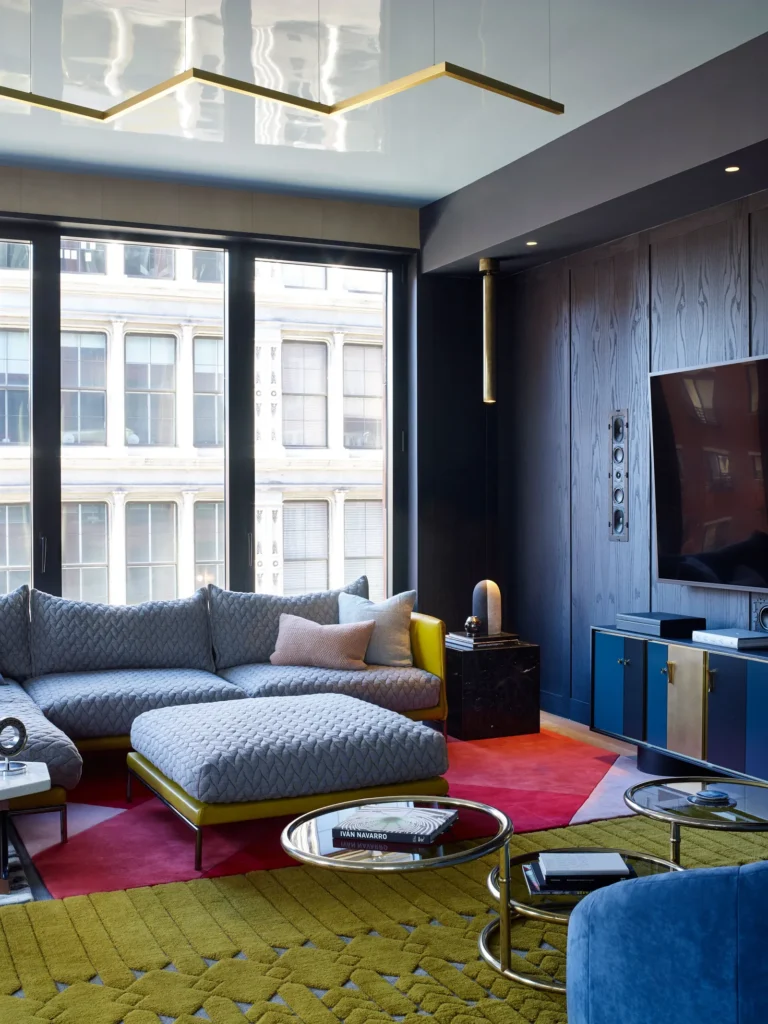 Colored rugs are more than just floor coverings; they are transformative elements that redefine a space's style and ambiance.
In interior design, the magic often lies at the intersection of creativity and expression. By daring to mix and match styles, such as blending contemporary design with vibrant colored rugs, you open the door to endless possibilities.
So, as you embark on your design journey, remember the power of colored rugs to redefine and revolutionize your living spaces. Embrace the freedom to experiment, mix and match, and make your home unique, and that was the way Elena Frampton designed this gorgeous house based on her client's taste.
In this beautiful dance of colors and styles, your living space becomes a reflection of your soul, where every step you take is paved with inspiration, creativity, and the undeniable charm of colored rugs.
Discover more about our Rugs by Design Styles selection and get inspired to create a unique and charming living space.