Let us guide you through the magical journey of designing the perfect kids' small bedroom, where every detail counts.
Who says that bigger is always better? When it comes to kids' small bedrooms, they can be truly beautiful! In fact, small spaces can provide a cozy, den-like feeling that kids absolutely adore. So why not embrace this unique aspect of the small bedrooms and create a design that truly celebrates its size?
With clever storage solutions, we understand the importance of creating a space that meets the needs of both parents and children, while also reflecting the latest trends in kids' small bedroom design.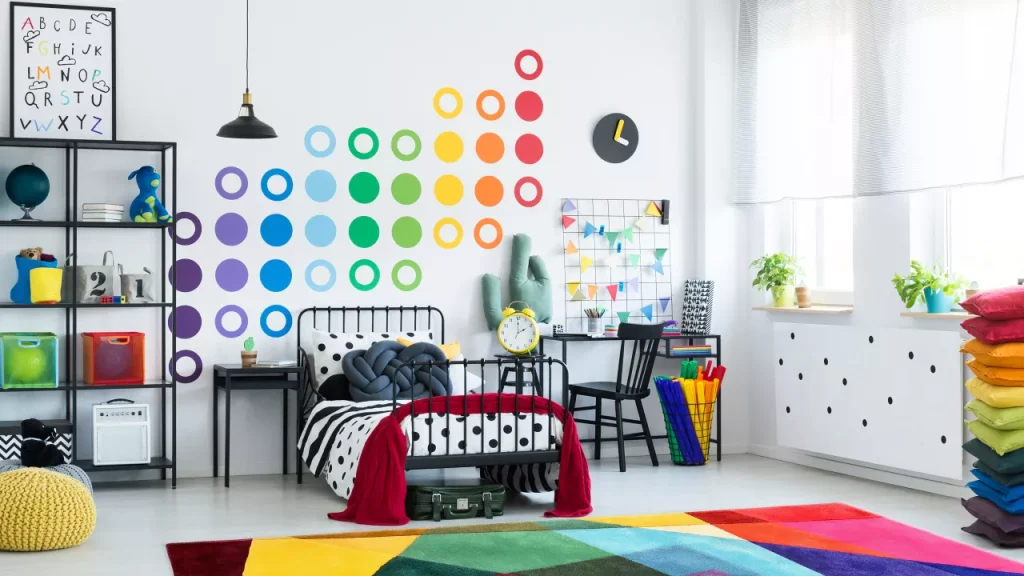 That's why we've curated a collection of ideas that are sure to inspire and delight. Whether you're looking for storage solutions, playful decor, or cozy bedding, we've got you covered.
So explore with us and discover how you can transform a small bedroom into a functional and stylish oasis that the kids would love for years!
1. The Fun Patterns
When it comes to creating a unique and playful space for a child, the possibilities are truly endless with a little imagination and a few strokes of a paintbrush.
Experts suggest using calming hues like blues, greens, pinks, lilacs, and neutrals, as these tones create a peaceful atmosphere that's perfect for rest and relaxation.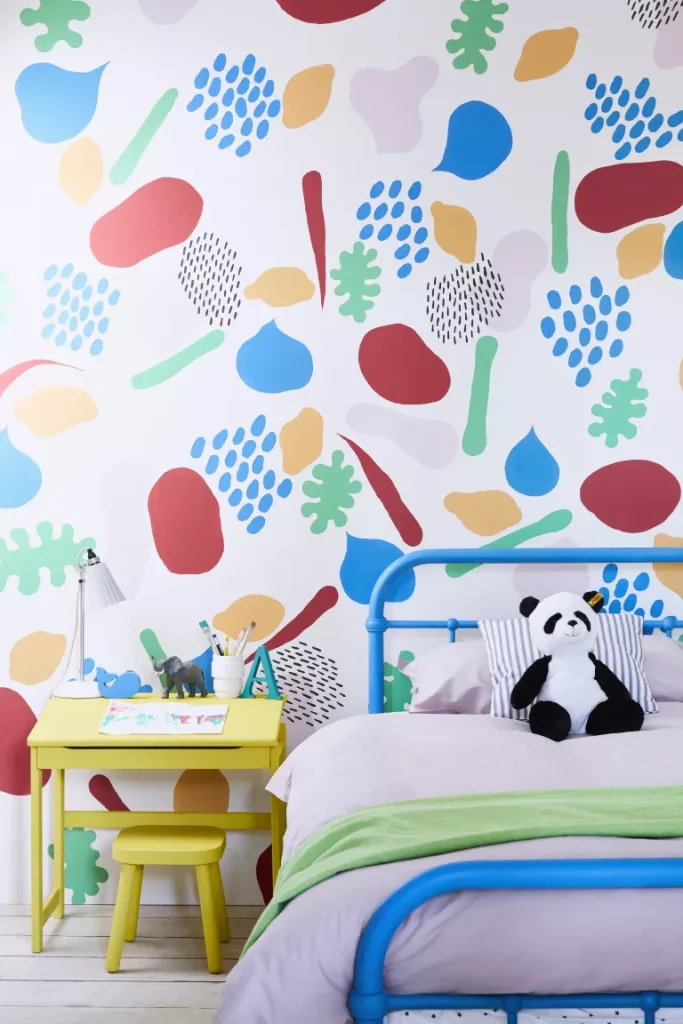 It's important to consider the natural light that the room receives, as this can greatly impact the colors you choose.
Yellow and red are energizing colors that should be used sparingly or avoided altogether. But don't let that hold you back from incorporating a pop of vibrant color like yellow, which is always a popular choice in kids' small bedroom designs.
2. Maximizing Space Under-Bed Storage
When designing a child's small bedroom, it's important to start with a safe and practical furniture layout. Begin by considering the position of the furniture – the ideal spot is typically as far away from the door as possible, but still with a clear view of it.
This creates a sense of safety and security for the child. Additionally, take into account the other activities that will take place in the room, especially for younger children.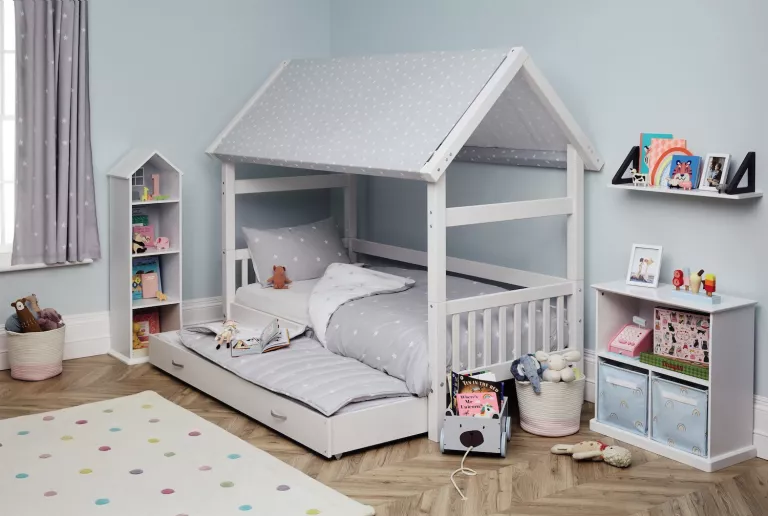 Utilizing the under-bed space, you can super-size the storage potential. Gaining a world of storage opportunities for all of the kids belongings.
By prioritizing safety and practicality in your furniture layout, you can create a small bedroom design that is both enjoyable and functional for the kids needs.
3. Monochromatic Color Scheme
Children's interests can change rapidly, from superheroes to unicorns and everything in between. As kids grow up, their tastes and personalities evolve too, and their small bedroom decor should reflect that. With each stage of development, a new restyle may be needed.
Begin with neutral walls and then add pops of color and personality through fun accessories like bunting and wall art. Just like starting with a blank canvas is not only manageable but encourages creativity.
Adding co-ordinating pillows will liven the room whilst keeping costs at bay, an achievable makeover that can be frequently mixed up.
This approach allows for a simple makeover that can be changed up frequently to keep up with the child changing tastes.
4. Space-Saving: Wall Storage
When it comes to designing and decorating a kid's small bedroom, ample storage should be a top priority. With all the toys, books, clothes, and other belongings, you'll need a variety of storage options to keep the space neat and tidy.
One clever way to maximize space in a kid's bedroom is by utilizing the tops of wardrobes for storage boxes. This keeps infrequently used items out of sight and creates more floor space.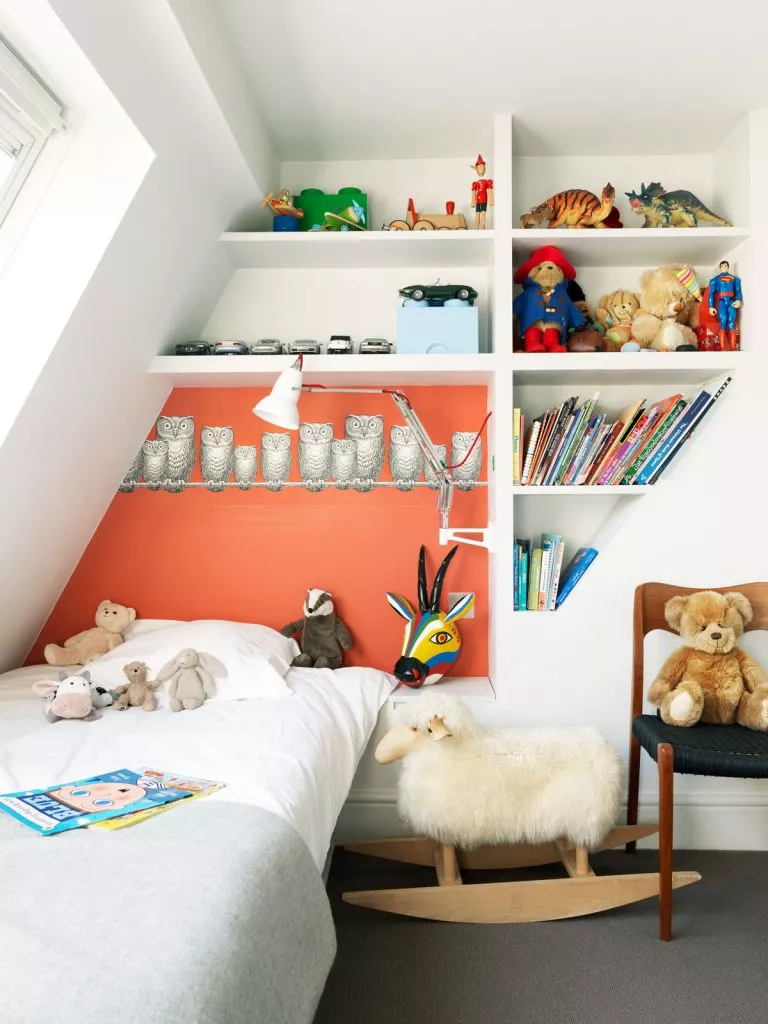 Additionally, adding shelves to the walls can create a functional and stylish storage solution. Display toys or books on the shelves to make them a decorative feature, or use baskets and boxes to organize smaller items and maximize the space.
Transforming an awkward and sloped ceiling space into something practical and stylish. By utilizing an angled wall and sloped ceiling, you can create a unique and functional space.
5. Insert a Playful rug
Another easy and practical idea to decorate a kid's bedroom is to lay down a play rug. Not only does it add color and texture to the room, but it also provides a soft and comfortable surface for your child to play on.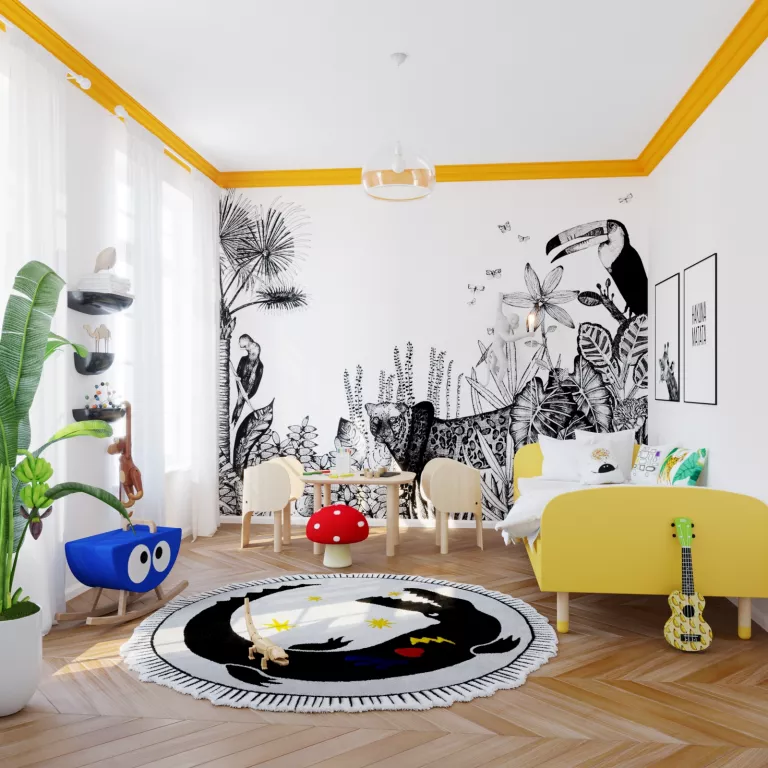 You can easily store the toys in boxes on wheels under the bed, making it easy for your child to access them whenever they want to play. This way, you can keep the small bedroom clutter-free and organized, while still providing a fun and inviting space for your child to enjoy.
6. A Stylish Bunk Bed
When designing a shared small bedroom, or even just a smaller space, it's important to maximize the floor space for playtime and activities. That's why bunk beds can be such a great solution – they free up more space for movement and play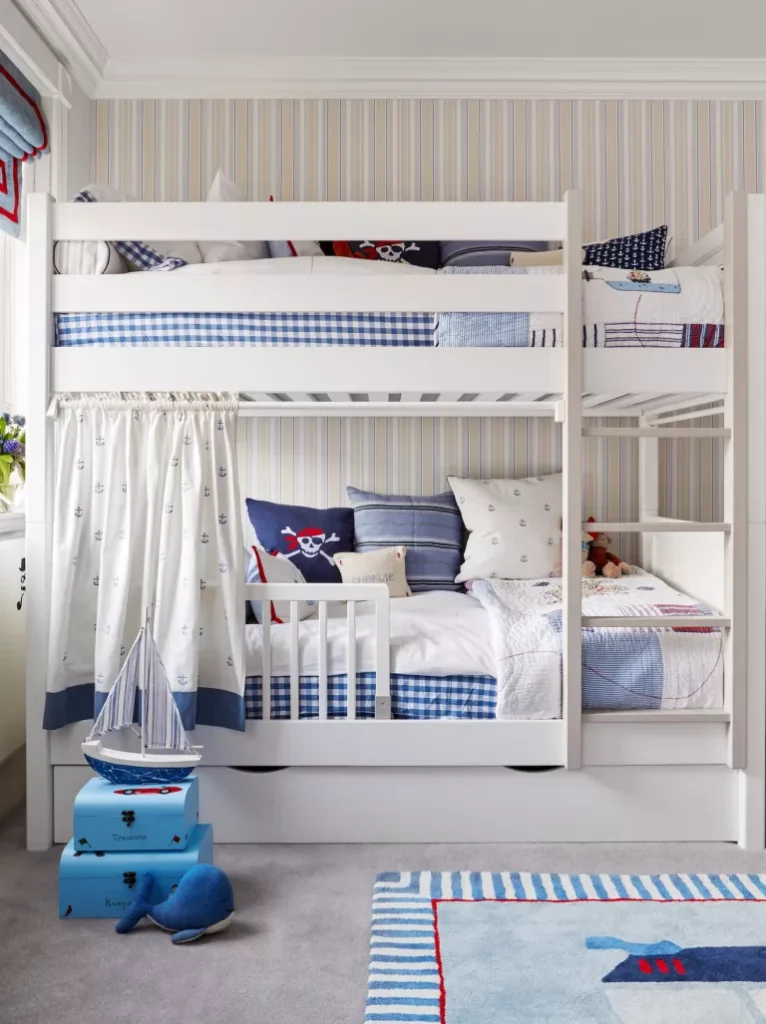 And even if the room is not shared, having a bunk bed can come in handy when hosting sleepovers or having a friend stay over. Plus, bunk beds can come in all sorts of fun designs, making them a great option for adding personality to the small bedroom.
7. Wall Light For Night Time
Lighting is an important consideration when designing a kid's small bedroom. Natural light is ideal, as it promotes a healthy sleep schedule and helps regulate their circadian rhythm.
However, it's also important to have a good artificial lighting plan, including ambient lighting for relaxation, task lighting for homework or reading, and accent lighting to highlight decor or create a fun atmosphere.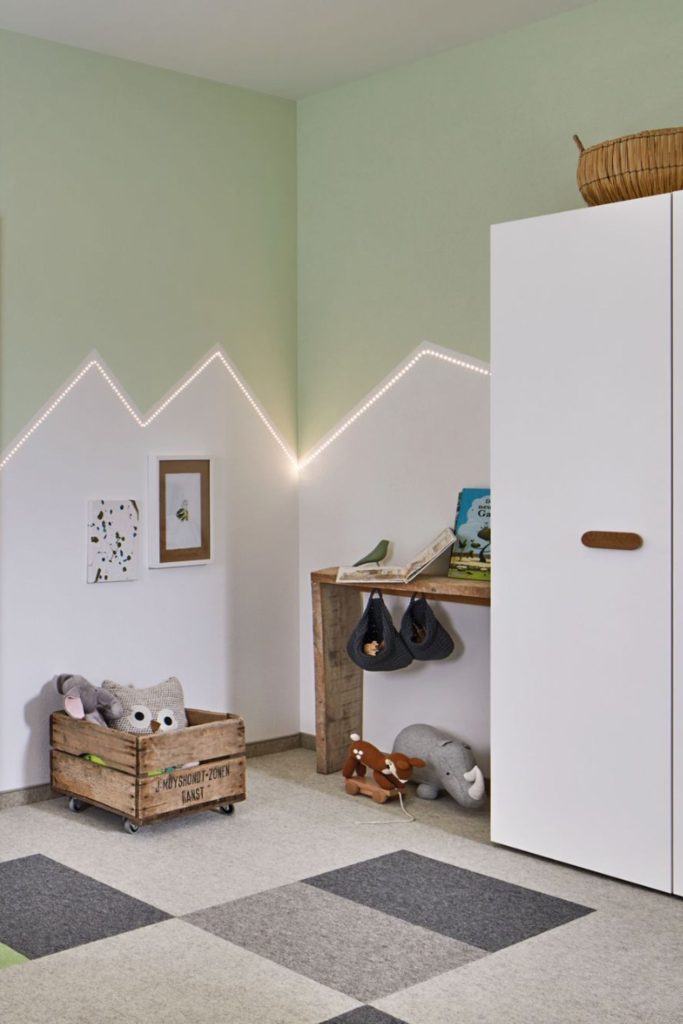 It's also important to consider in the kid's small bedroom the type of light bulbs you use, as some can be too harsh or emit a blue light that can interfere with sleep. LED lights are a great option, as they are energy-efficient and come in a range of color temperatures to suit different needs.
When it comes to night lights, in small bedrooms, they can provide comfort and reassurance for young children who may be afraid of the dark. Opt for soft, warm-colored lights that won't disturb sleep or disrupt melatonin production when designing the small bedroom.
And don't forget about safety considerations, such as ensuring cords are out of reach and fixtures are securely installed.
8. Infuse Personality with Unique Furniture Pieces
Give a child's small bedroom a touch of personality, by adding unique decor and accessories that reflect their interests and passions.
This could be anything from posters of their favorite superheroes or movie characters to a cozy reading nook with their favorite books. Consider pops of color with fun bedding or curtains, or even painting an accent wall in their favorite hue.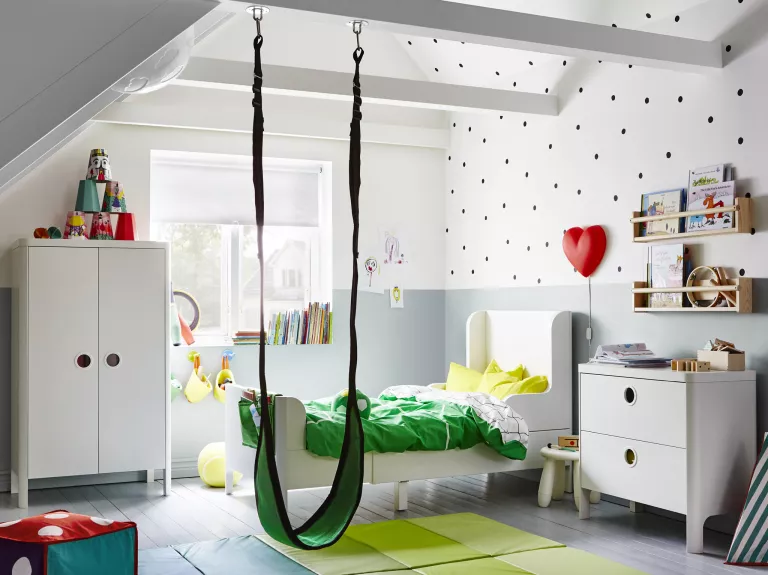 Don't be afraid to get creative and incorporate elements that showcase your individuality and make the small bedroom truly your own just as we see in the images above.
Designing a children small bedroom can be a fun and creative process, but it's important to consider practicality and functionality as well. When it comes to creating a small bedroom for kids, there are many tips and tricks you can use to maximize space and make the room feel bigger.
Thank you for reading this article on kids' small bedroom ideas. With a little creativity and some careful planning, you can transform even the smallest bedroom into a dreamy space for your child to grow, play and rest. We hope this article has given you plenty of inspiration and ideas for your next design project. For more interior design inspiration, be sure to check out our Interior Projects.