Experience timeless elegance at Maison Vilucchi's iconic Los Angeles home. Discover the captivating sophisticated charm and boundless inspiration
In the realm of life's unexpected turns, the story of this magnificent Los Angeles home shines with a resplendent truth. Amidst the stillness of the night in 2019, fate intervened, as a burst water pipe shattered the tranquility of a Mediterranean-style mansion designed by Maison Vilucchi
Devastating by the reality of widespread water damage, forced to evacuate their beloved sanctuary, they embarked on a journey with Maison Vilucchi and the homeowners to restore what was lost, seeking a contractor capable of resurrecting the essence of their cherished Los Angeles home.
From the ashes of destruction emerged a symphony of resilience and inspired creativity. The homeowners, driven by an unwavering determination, set forth on a path of architectural rebirth. Their dream Los Angeles home began to take shape, an exquisite manifestation of their collective aspirations, melding timeless elegance with modern innovation.
The homeowners were introduced by chance to the Maison Vilucch innovative builder and designer Tancred Vilucchi. Maison Vilucchi was forced into action and prepared to work his creative magic in a flash because he had little time for lengthy preparations.
The task at hand was no ordinary task; it involved a massive interior rearrangement within a 929-square-meter house. As Maison Vilucchi embraced the art of improvisation, allowing new and creative ideas to grow, adaptability and resourcefulness became the project's guiding principles.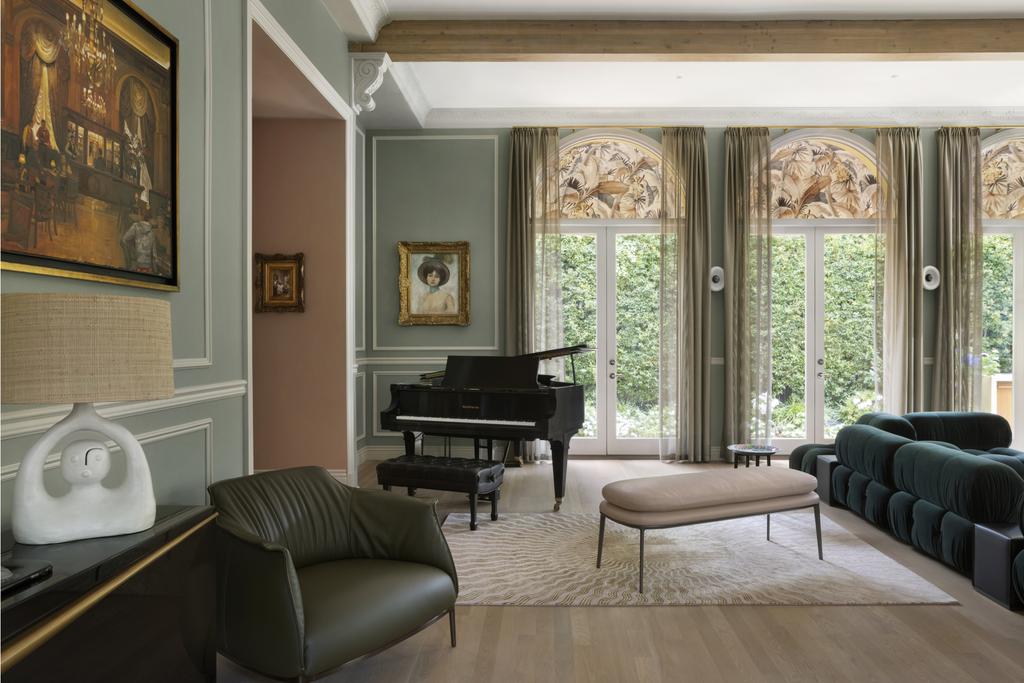 The homeowners, longing for a space that resonated with their lifestyle, sought balance amidst the sprawling dimensions. With unwavering dedication, Maison Vilucchi embarked on a delicate dance, carefully recalibrating proportions and scaling, ensuring that the Los Angeles home transcended its perceived vastness and embraced a newfound intimacy.
Maison Vilucchi recognized the paramount importance of infusing the space with a sense of belonging, an enchantment that would entice the homeowners to return and reclaim their abode.
As the image above reveals, Maison Vilucchi leaves no detail untouched, infusing the space with a profound sense of thoughtfulness and intention. The meticulously selected rugs, carefully placed within the piano room and entryway, breathe life into these areas, elevating their ambiance and imbuing them with a captivating allure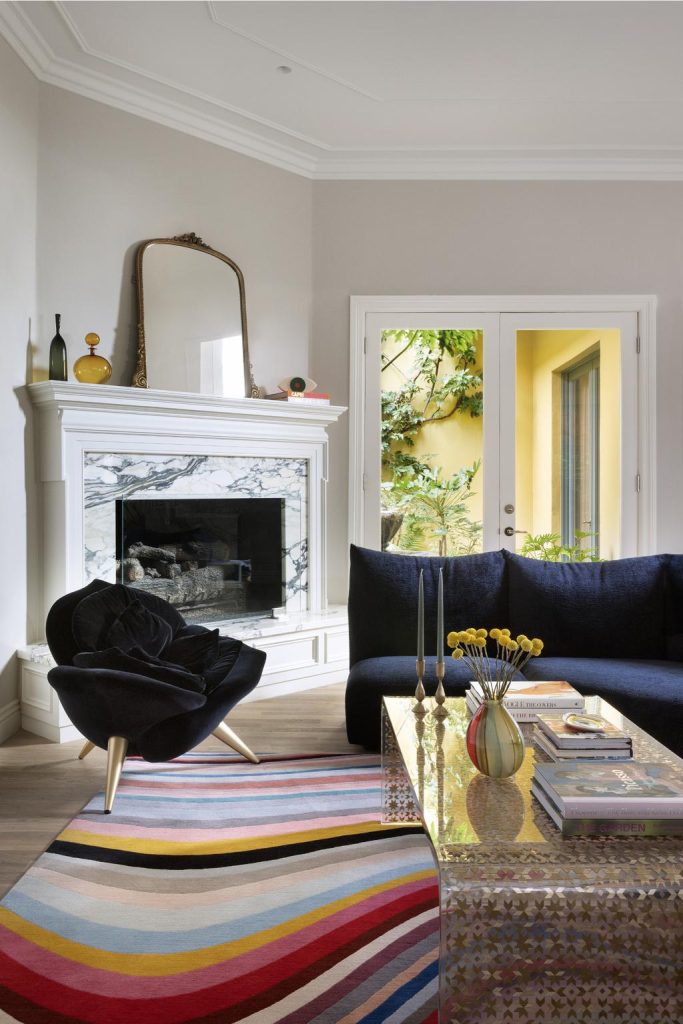 As Maison Vilucchi immersed himself in this ambitious undertaking, he became a maestro of harmonizing spaces and crafting an environment that spoke to the homeowners' souls. His unwavering presence on-site, his nimble adaptability, and his unwavering dedication transformed the project into a masterpiece of fluid creativity.
In the photos above Maison Vilucchi's keen eye for design extends beyond the superficial, delving into the realm of emotion and sensory experience and that's why we see in the interiors above a colorful rug into a minimalist room and in contrast a minimalist rug into the playroom.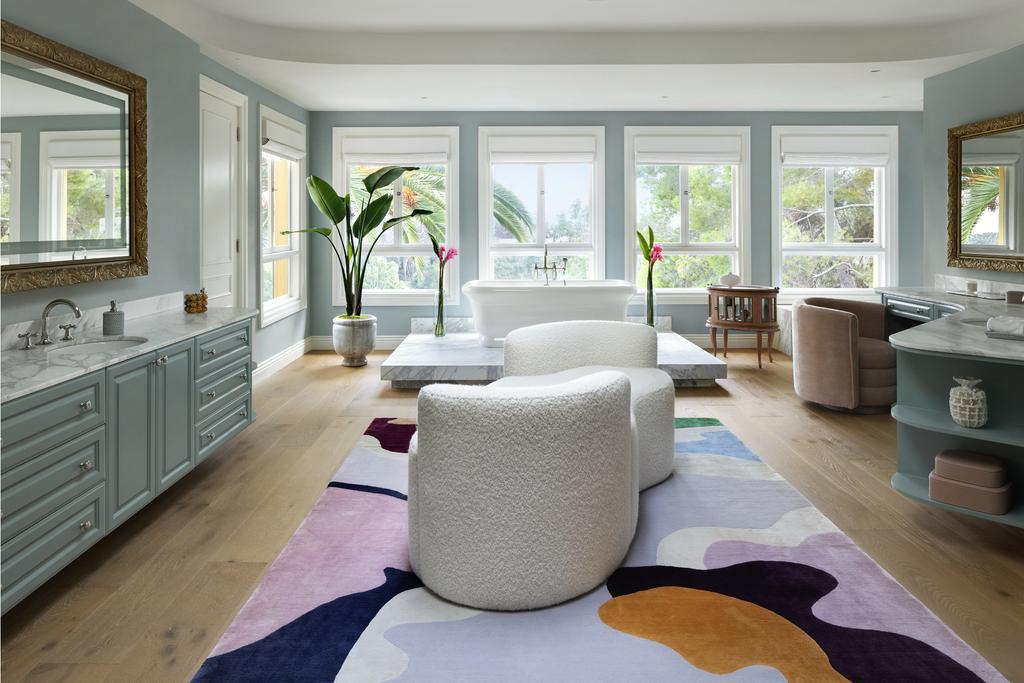 Maison Vilucchi's ability to seamlessly merge practicality with boundless imagination serves as an inspiration. It reminds us that in the face of seemingly insurmountable challenges, with a dash of improvisation and a dash of audacity, we can transform the ordinary into the extraordinary.
The exquisite cabinets and the sofa with the vibrant rug serving as the room's focal points, together with the bathtub that appears to be above a stage, are all seen in the picture above.
The homeowners, guided by an unwavering belief in the power of resilience and the allure of the unknown, dared to seize the moment and build a sanctuary that surpassed their imagination. Their journey serves as a reminder that life's unexpected twists can become catalysts for unparalleled growth and the realization of our most cherished dreams.
Maison Vilucch creates a mesmerizing tapestry in the world of design where comfort and style seamlessly converge. Their Los Angeles house encourages both visual enjoyment and a warm embrace thanks to well-picked rugs and thoughtfully managed areas. May we be moved by their creativity to bring intention into our own places and design havens that foster both style and comfort.
We sincerely hope that this tour of the Los Angeles home has sparked your inspiration for future projects. As we have witnessed, the beauty of design often reveals itself as a delightful surprise, challenging us to embrace spontaneity and prepare ourselves for the unexpected. For further inspiration, please feel free to check out our Interior Projects.