Enter the heart of Manhattan and experience a place that contrasts modern and traditional decor, showing Sandra Nunnerley 's signature.
As Sandra Nunnerley reflects upon her unique path, it becomes evident that her deep-rooted connection to architecture and the fine arts is the guiding force behind her transformative work.
This fusion of disciplines allows her to seamlessly meld the past and the present, forging a unique design language that transcends conventional boundaries.
With a discerning eye for detail and an innate understanding of the interplay between space and emotion, Sandra Nunnerley weaves her architectural expertise and artistic sensibilities into a tapestry of unparalleled elegance.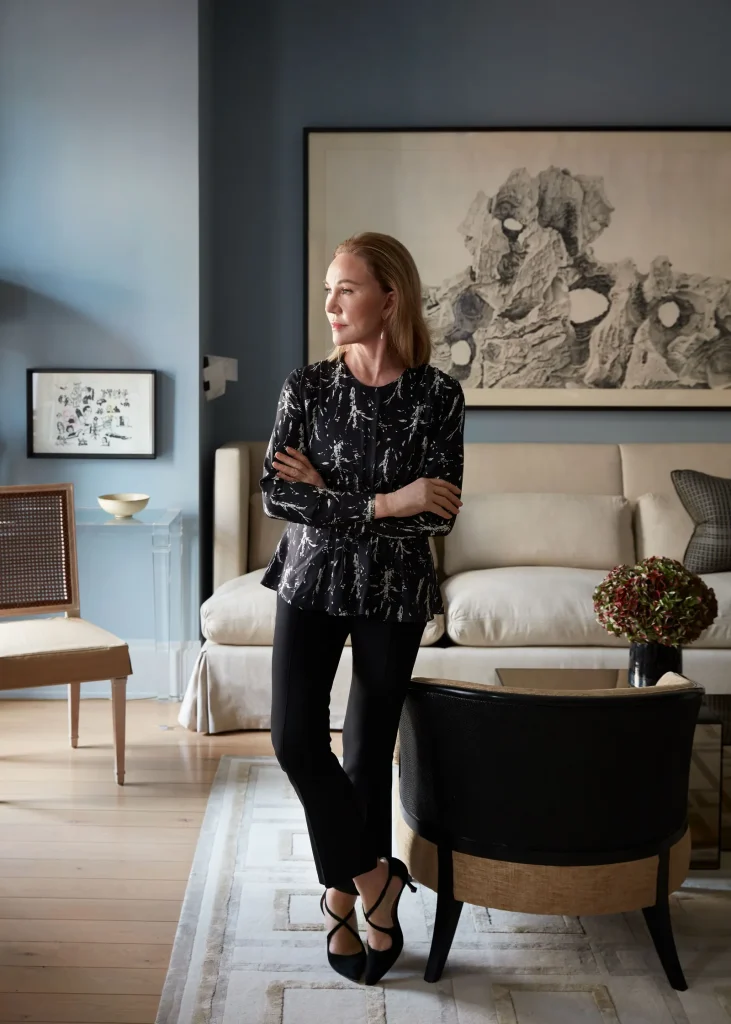 Through her journey, Sandra Nunnerley has honed her craft, mastering the delicate dance between heritage and modernity. Her designs are imbued with a profound sense of balance, where the echoes of the past reverberate alongside the pulsating energy of the present.
As she embarks on each new venture, Sandra Nunnerley remains steadfast in her commitment to creating spaces that transcend mere functionality. Sandra Nunnerley strives to awaken the spirit, stir the imagination, and foster an enduring connection between individuals and their surroundings.
In conversation, Sandra Nunnerley shares her belief in the intrinsic value of a home as a sanctuary, particularly in the present. She acknowledges the profound significance of having a space where one can retreat, recharge, and reconnect with oneself.
Within this very notion, Sandra Nunnerley's own sitting room comes to life, a space for refreshment, reflection, meditation, and the renewal of one's energy.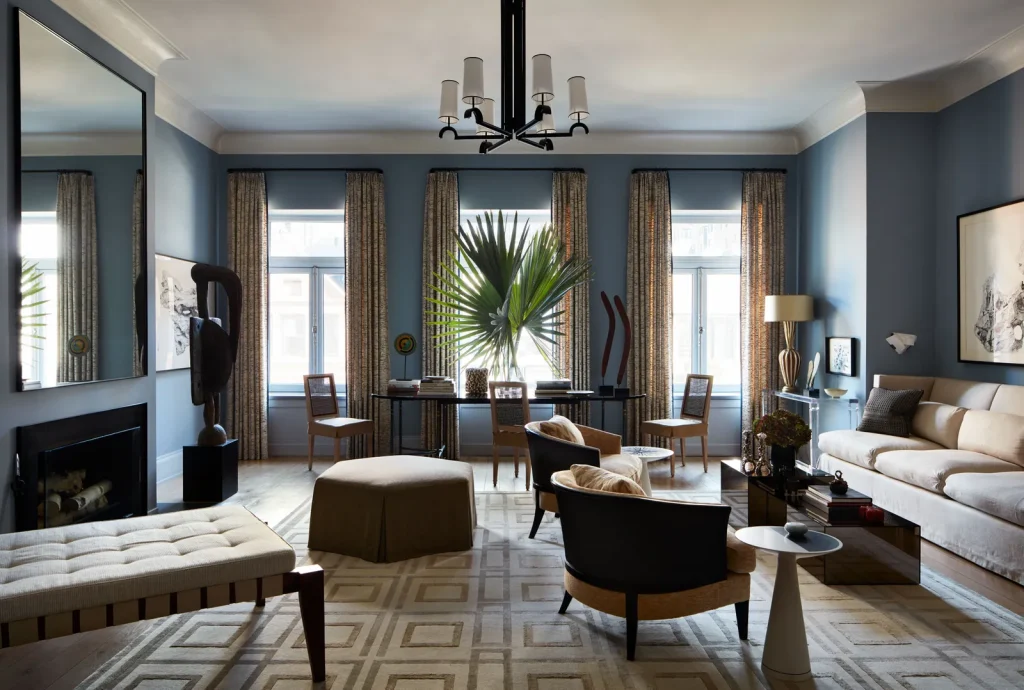 Sandra Nunnerley discerning eye for design is evident in every corner of the room. Here, the contemporary furniture of her creation gracefully mingles with cherished 18th-century antiques, tribal art that tells stories of distant lands, and iconic 20th-century designs that have left an indelible mark on art and design.
But it is not just the individual pieces that captivate; the thoughtful arrangement and interplay between them create a truly captivating tapestry.
Each element has been carefully selected to complement and enhance the others, resulting in a visual symphony that celebrates the diverse range of Sandra Nunnerley's influences.
Luxurious silks drape elegantly, inviting touch and admiration, while roughhewn linens offer a tactile counterpoint. Many of these textiles are unique pieces collected over time, each with its own story. Others are fabrics that Sandra Nunnerley herself has designed.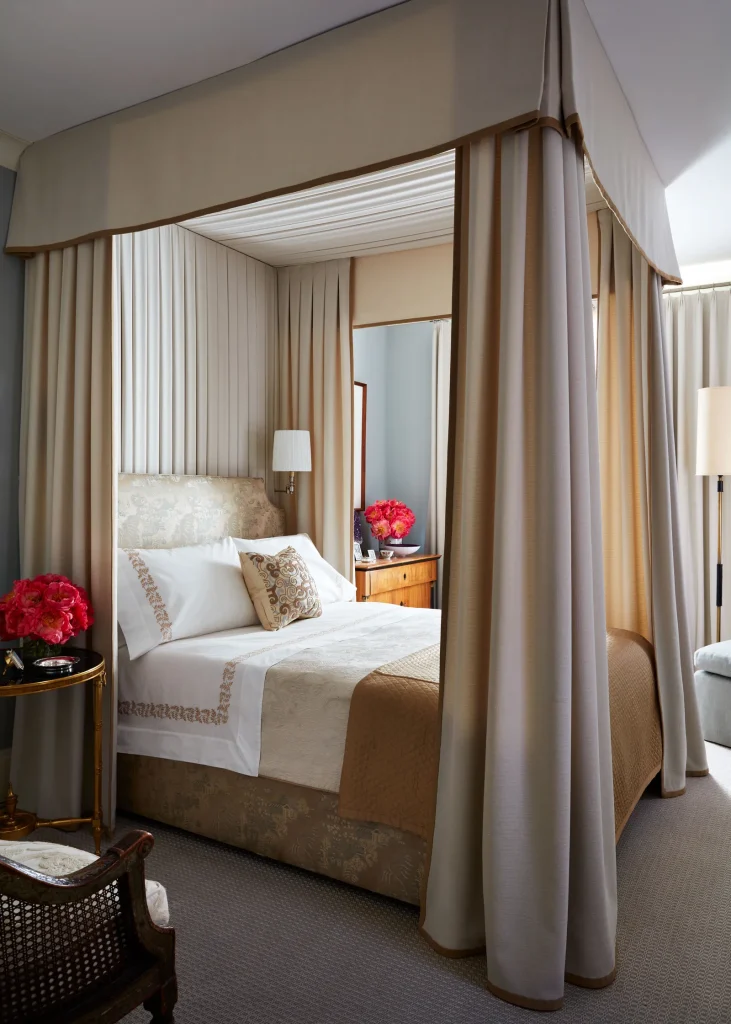 In Sandra Nunnerley's opinion, the bedroom is more than just a place to sleep; it is also a haven of peace and solitude where one can fully unplug from the outer world. She has designed her bedroom in Manhattan to be the ultimate retreat and a haven of peace since she has a profound knowledge of the innate need for solace.
At the center of this tranquil haven stands a custom-designed canopy bed, an exquisite creation that evokes a sense of being enveloped in a room within a room designed by Sandra Nunnerley. This architectural masterpiece becomes the focal point, inviting rest and rejuvenation.
The headboard, adorned in vintage Scalamandré fabric, serves as a visual ode to the wonders of an ancient city, adding a touch of timeless elegance to the space. It echoes the depth and beauty of the world that lies beyond while enveloping the room in a cocoon of comfort.
Display on the wall is a painting that depicts Sandra Nunnerley's adventure and serves as a reminder of the Inca Trail, which she once traveled to the magnificent Machu Picchu. It is a potent representation of exploration, tenacity, and the beauty of facing the unknown.
The bedroom becomes a sanctuary where these beloved possessions intertwine with the soothing ambiance, cultivating peace and equilibrium. In Sandra Nunnerley's bedroom oasis, the outside world fades away, leaving only a space of respite and reflection.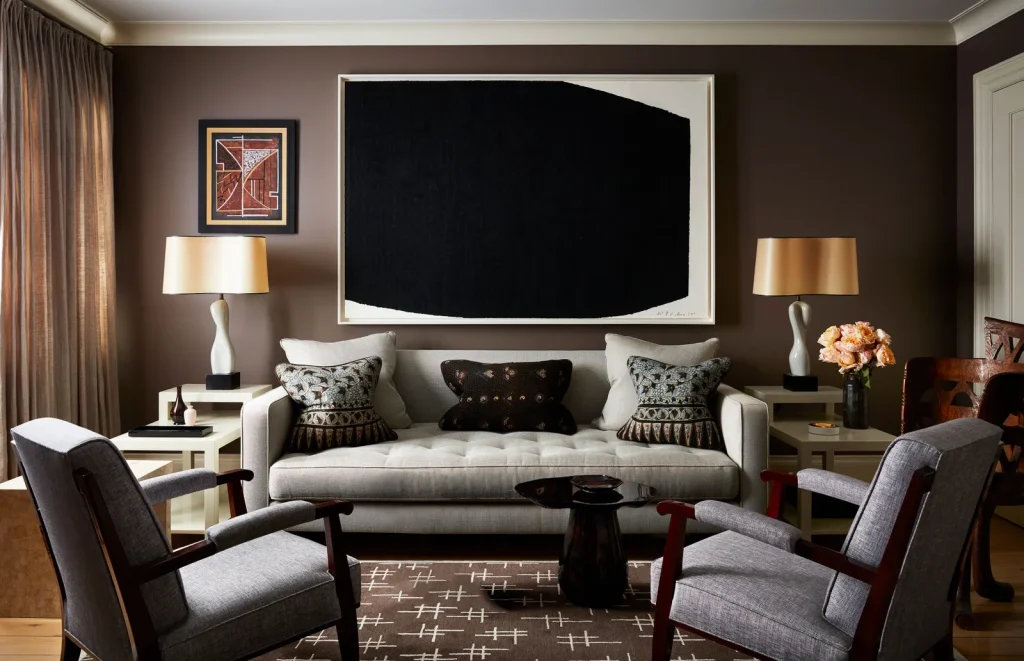 The character and depth of the space are enhanced by the skillful juxtaposition of the several eras, which generates a lively debate. Sandra Nunnerley's ability to push the boundaries of conventional architecture and create an atmosphere of curiosity and timeless charm in her home is demonstrated by this interplay.
From the turn of the century, the Upper East Side townhouse is transformed into a place of refinement where the spirit of invention coexists with the echoes of history. It is evidence of how design can transcend time and produce classic and modern environments.
Sandra Nunnerley has created a setting where each component contributes to the overarching narrative. The apartment demonstrates her ability to balance classical design's rich tradition and contemporary aesthetics' inventive spirit.
Sandra Nunnerley orchestrates a symphony of style with a strong awareness of space, materials, and form, encouraging us to appreciate the beauty that results from the peaceful coexistence of periods.
Embrace the interplay between past and present, and dare to explore the boundaries of convention. Let your designs reflect each space's unique story and personality while fostering a sense of tranquility and inspiration. For further inspiration, please feel free to check out our Collections.

Photography by Stephen Kent Johnson/OTTO