Cristina Hoyos and Melanie Weber from 10. Studio designed a stunning Mid-Century Modern Miami home. Let's look at this incredible interior design.
Cristina Hoyos and Melani Weber are the designers behind a breathtaking Mid-century modern home created for clients who love to entertain and showcase their impressive art collection of emerging contemporary artists.
Interior design clients want to emphasize their artwork, walls, and indoor and outdoor lighting. The clients desire a home that is both accommodating for their growing art collection and suitable for raising their young children. Let's explore the combination of Mid-century modern style and captivating artwork.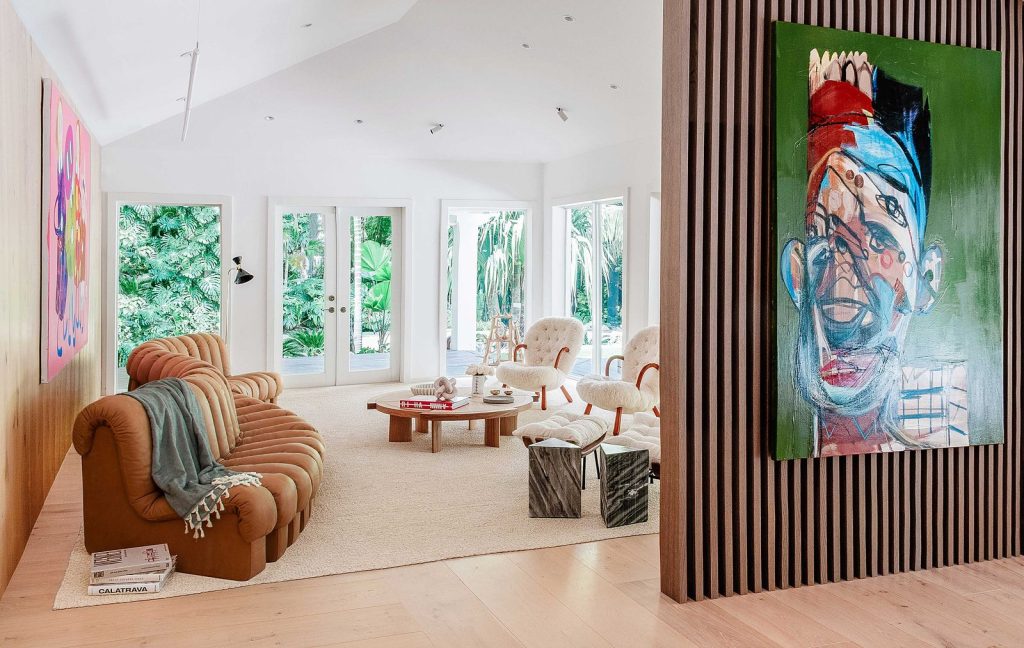 Inside the Mid-Century Modern Style
Alfonso Jurado, an architect, collaborated with builder Eduardo Arenas to renovate this house. They had to dismantle some primary walls to increase natural light and establish a more spacious layout. Most of the walls were painted white to provide a neutral canvas for the artwork. The living room is adorned with a Dea Italiana screen that illuminates the space and a stunning GaHee Park artwork that adds a unique touch.
The vintage furniture in the living room is exquisite, including the Clam chair by Philip Arctander and the lounge chair by Martin Eisler and Carlo Hauner. In addition, there is a beautiful artwork by Jordi Ribes in the living area. To complete the living space, an Eny Lee Parker Oo floor lamp is placed alongside the Sede's Snake sofa from DDC, while a perfect coffee table from Cassina's Rio sits atop a Brazilian rug.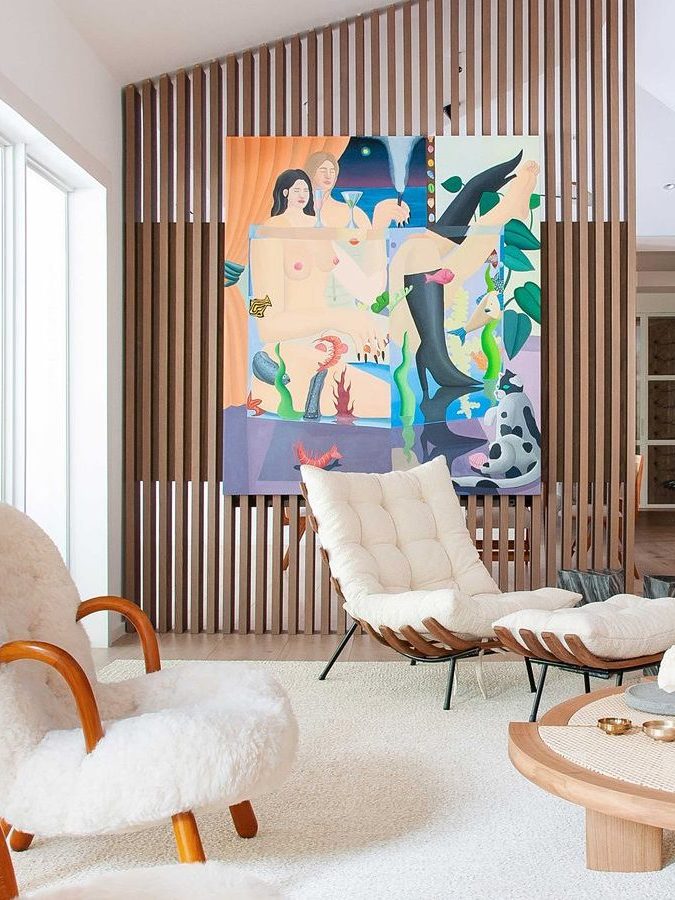 The design team combined modern pieces with vintage-inspired accents to create a sophisticated yet cozy vibe without drawing attention from the art. One fantastic feature of the Miami House is that the art pieces appear to be floating behind the furniture, just like in a museum, according to Weber.
The hallway showcases mid-century modern design with its impressive artwork and elegant appearance. It displays an Emily Mae Smith piece, leading to a Nicolas Party artwork. The French oak flooring from Pianeta adds a touch of sophistication to the space.
The dining room has beautiful decor, featuring a stunning painting by Genesis Tramaine and a screen from Dea Italiana that separates it from the rest. The dining area also has a vintage 1950s Italian chandelier hanging above a mahogany table and cane chairs designed by Martin Eisler.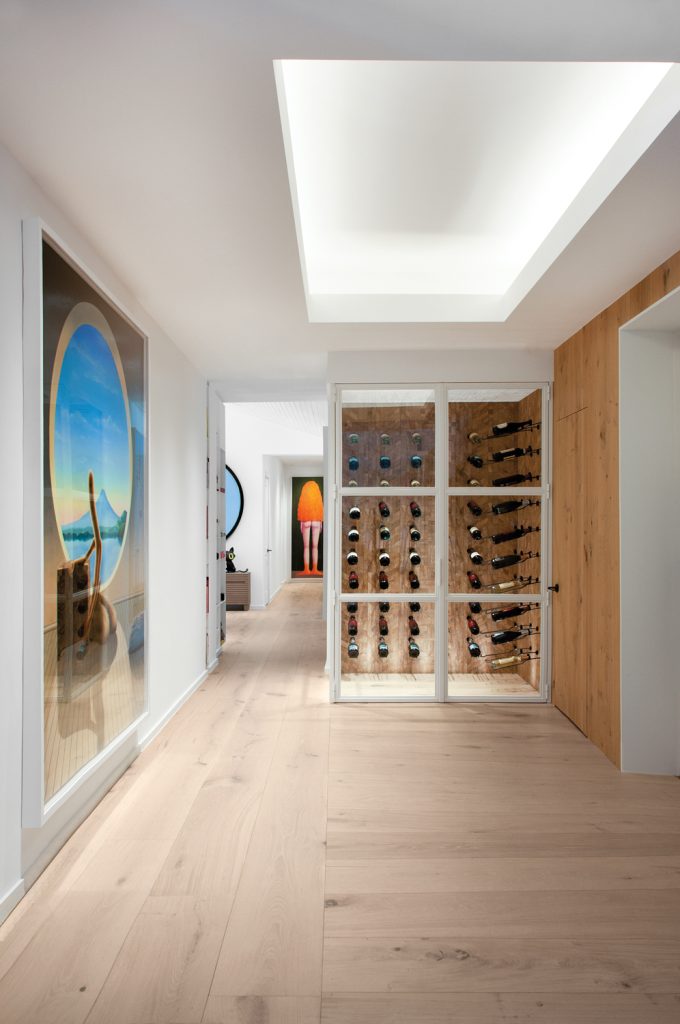 The Interior Design Studio focused on using a neutral color scheme and incorporating natural materials such as vintage furniture and raffia-like rugs. The primary bedroom showcases this stunning combination beautifully.
The mid-century modern style of the primary bedroom is adorned with artworks by Jordi Ribes and Otani Workshop. A Poltrona Frau's Times bed takes center stage, flanked by Thomas Hayes Studio tables holding Astep lamps. The room has a romantic and natural ambiance, with a Finn Juhl sofa, a unique ABC Carpet & Home and Design rug, and a custom bench. Reach pendants have been added to enhance the overall look.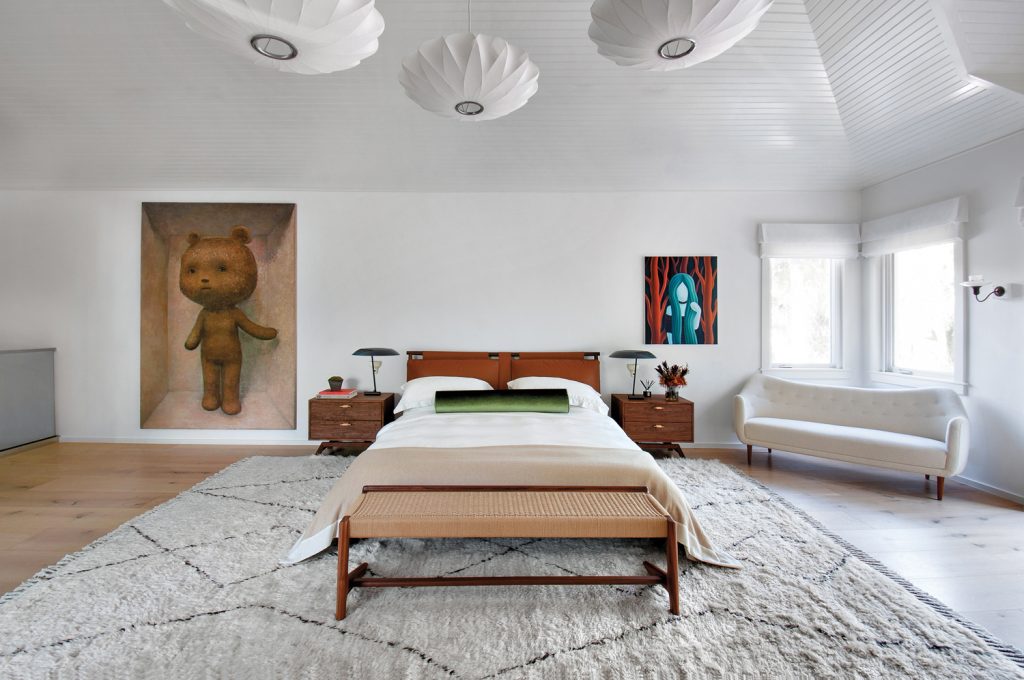 This Miami home has an exceptional selection of artwork that fits perfectly with the mid-century modern style. Even the children's playrooms and bedrooms are adorned with art pieces and mid-century furniture. The daughter's bedroom has a lovely blend of white and pink colors, with artwork by Super Future Beautifuliful features the Ducduc Litchfield bed, a Beni rug, and a Lightplatena wall sconce To complete the decor.
Above is the Kim Markel chair in the daughter's bedroom custom desk with a Dora Dalila Cheffi piece. An RH picture lamp illuminates the artwork. On the left side of the desk is a work by Szabolcs Bozó. The art pieces spread throughout the room create a serene and playful atmosphere.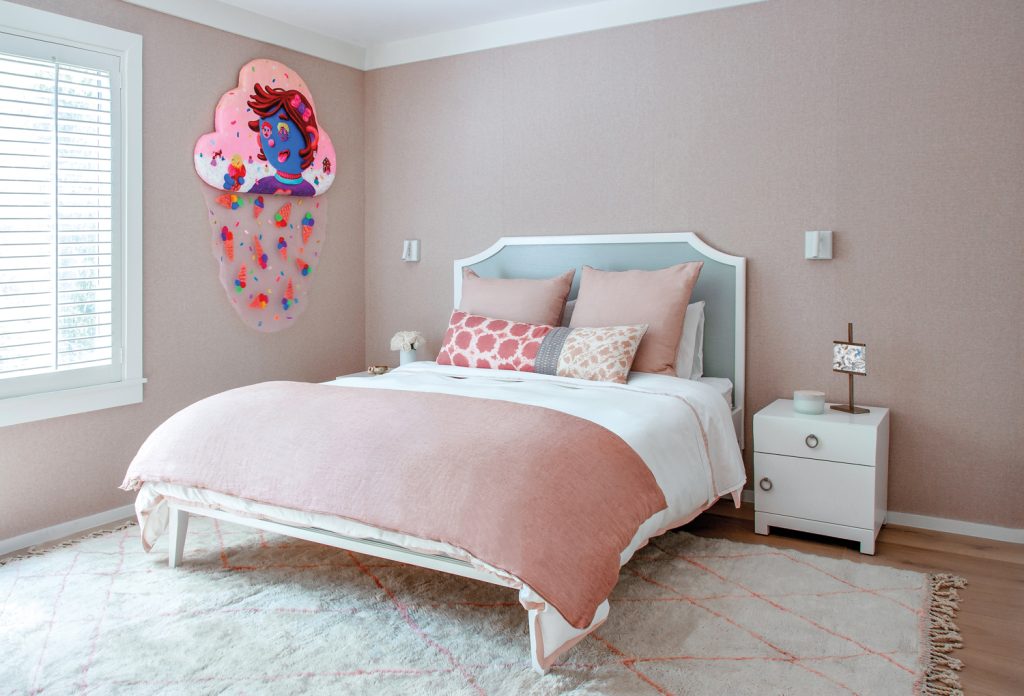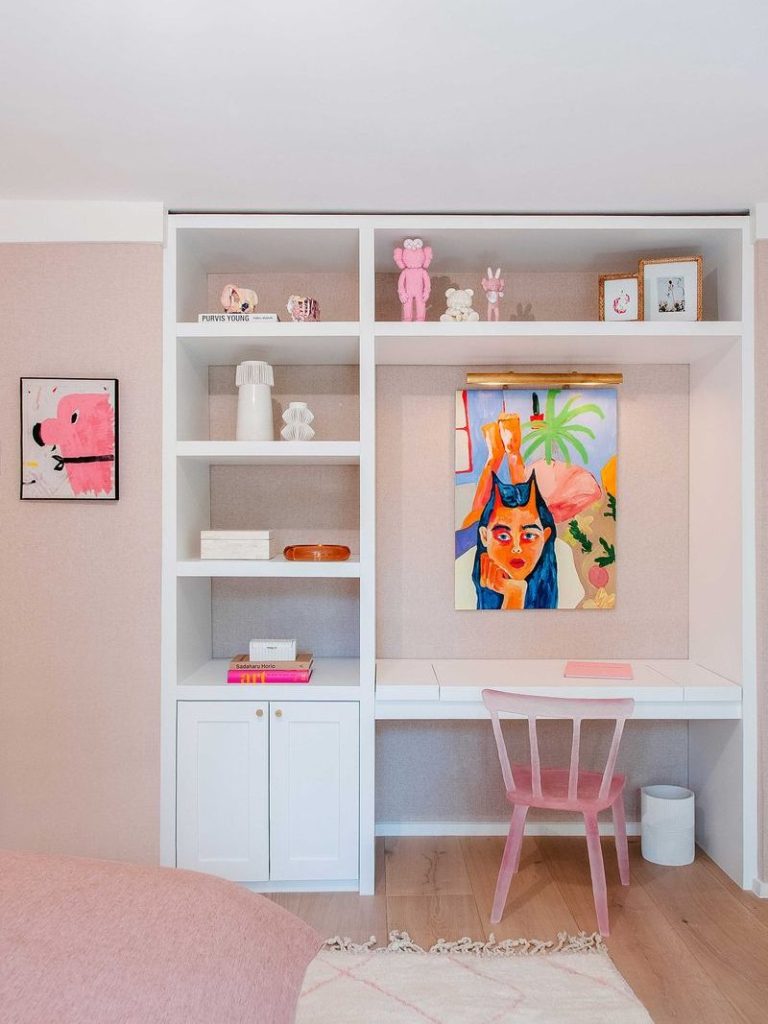 Mid-Century Modern Style is the Answer.
The Miami House, envisioned by the talented team at 10. Studio is an awe-inspiring architectural masterpiece. The interior design is a harmonious union of the client's art collection and carefully selected vintage furniture pieces, culminating in a sophisticated and exceptional living space. The house's overall aesthetic is a classy combination of mid-century modern with an eclectic twist, which imbues the property with an art gallery-like magnificence.
This exceptional project is a testament to the team's talented execution, providing the family with a functional and aesthetically pleasing home enveloped in a captivating world of art. We hope this incredible project inspired you as much as it inspired us. If you are looking for further inspiration, look at the How to Pair Mid-Century Modern Rugs With Any Style we provide to elevate your living space.

Photos: Yara Virreira